POV Holder:
Jon
Next POV
April 12th
POV Used
?
POV Ceremony
April 14th
HOH Winner:
Jon
Next HOH:
April 17th
Original Nominations:
Sabrina & Rachelle
Current Nominations:
?
Have Nots
Neda, Arlie, Rachelle and Heather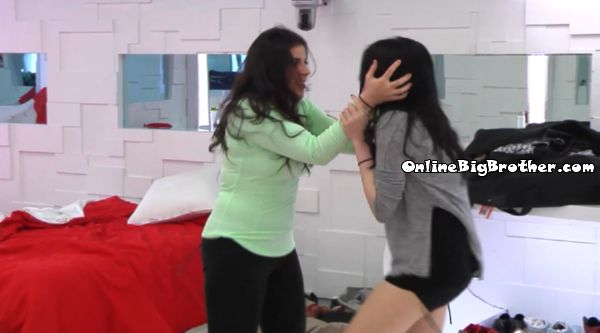 12:40AM Gremlins celebrating in the bedroom.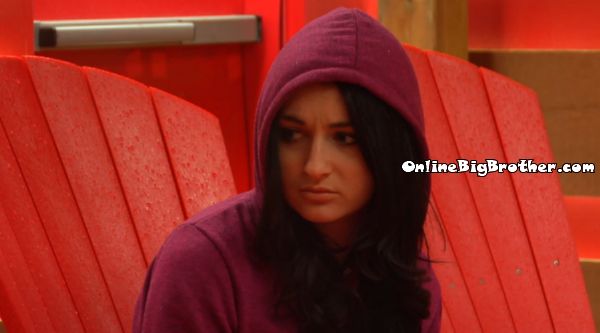 12:46Am Gremlins hot tub

Sabrina thinks Jon is going to use the veto on one of them, Rachelle seems pretty convinced to. They wonder which one he'll use it on. Racehlle keeps saying how stupid Jon will be if he doesn't keep them in the game.
Rachelle – "If we can win this game"
Sabrina – "I will freak out.. Even if we get to final 4 it's the coolest thing ever"
Sabrina says Allison is going to freak out when she goes up.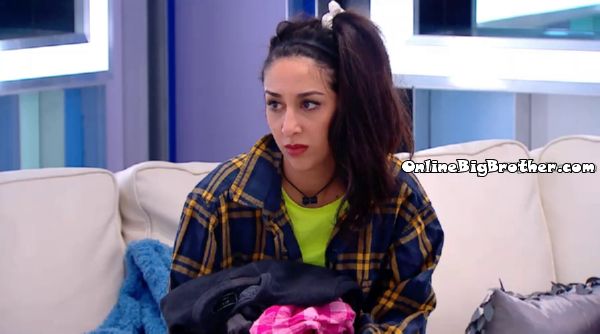 12:51AM HOH Neda and Heather
They are agreeing to get ALlison out this week and the gremlins next week.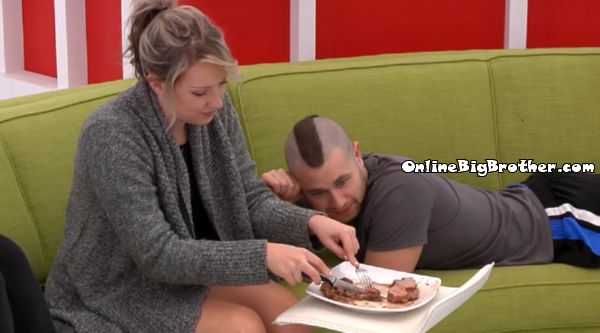 1:05AM Allison eating a giant hunk of Meat while Arlie a have not watches in agony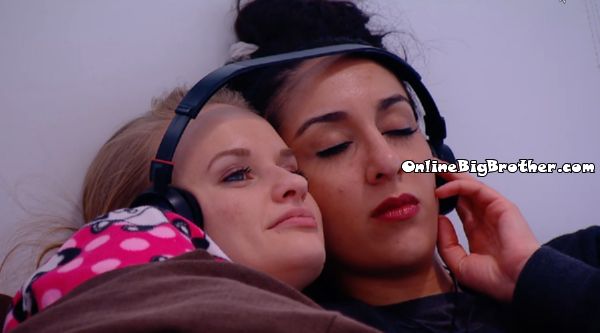 1:09AM HOH Jon Neda and Heather
Jon points out how Allison has gotten closer to Arlie, "Playing the flirt card".
Neda asks if Arlie is actually fully onboard with getting out Allison. Jon- "I think so"
Heather – "Also honey.. there's a secret.. want to know it"
Jon -YA"
Heather – "Come closer.. so did I tell you they gave us cake mix.. they gave us cake mix and I hid it. "
Jon – "Shut up"
Heather – "We'll make a cake for JAnelle's birthday and Allison's but mostly for Janelle"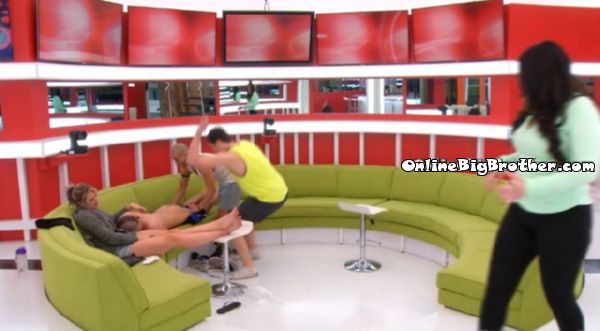 1:32am Allison and Arlie laying on the couch. Allison says she's starting to get paranoid. Arlie says it was noticed. Adel and Jon sneak up to Arlie. Adel grabs onto Arlie's pants and pulls them down allowing Jon to spank his bare butt.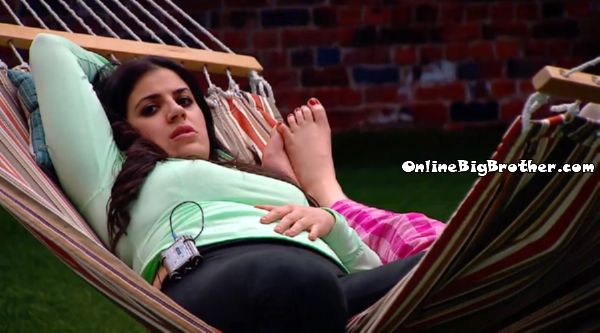 1:39AM Sabrina and Rachelle Hammock
Sabrina – "Oh my God we're staying"
Sabrina – "everything I've done since week 3 has been for you"
Rachelle – "We could win this game"
Sabrina says the only thing that can f** them is if they don't win HOH this week. Sabrina says the sides are 4 vs 3 now. (Jon, Neda, Sabrina, Rachelle vs Arlie, Heather and Adel)
Sabrina – "We're against Heather and Adel"
Rachelle – "We have no competition.. the only ones I know I am good at are endurance the rest I don't know if i'll be good or bad"
Sabrina says if it's endurance she won't get off this time.
They start running scenarios if they win HOH next week. There options are Adel, Arlie or Adel and Heather and BAckdoor Arlie.
Rachelle tells Sabrina she would be such a good lawyer, "You would look so fierce in your blazer" .
Racehlle says she hates HEather wonders why everyone loves her. Sabrina – "Even Jon likes her a lot.. she has to go"
Sabrina wonders if Heather knows the plan to get out Allison. Rachelle thinks she does.
Sabrina points out Jon might be using them to get out Arlie and Adel then cut them out.
Rachelle- "we got the brains, the will, the positivity"
They high 5, "We have three people in our way.. "

(Video is long)
2:04AM NEda and Racehlle Neda tells her she's trying to get Jon to use the Veto on her. Neda doesn't want her to say anything to Sabrin though.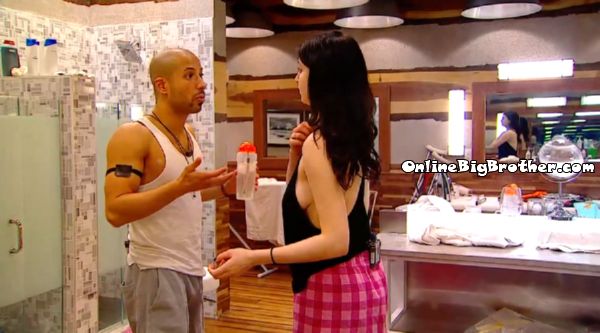 2:13AM Adel and Rachelle BAthroom
Adel asks her if she's been talking to "Them"
Rachelle says yes
Adel – "Is it working"
Rachelle – "ya I talked to NEda and Jon"
Adel – "You go to be nice with Heather.. talk to Heather.. give them the reason you are good at endurance you can help them"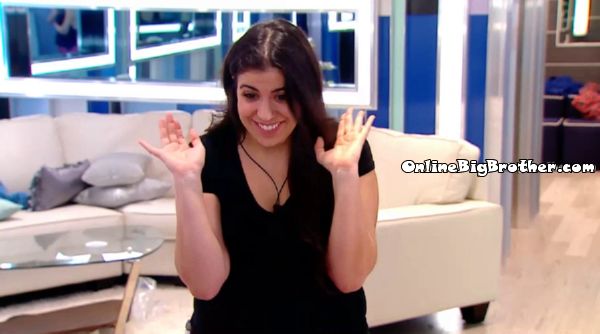 2:20AM Jon and the Gremlins in the HOH
Jon tells them to act surprised.
Sabrina asks who is on board with getting out Allison. Jon says Neda is and the gremlins that is saved plus Heather.
Sabrina – "We're good right.. Final 4"
Jon mumbles something and Sabrina squeals with delight.
(do you like this final 4?)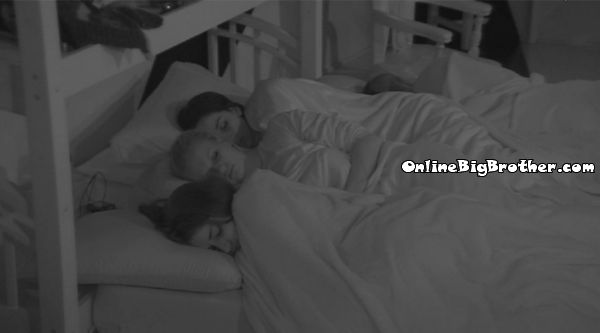 3:20am Goodnight
[polldaddy poll=7964297]