POV Holder:
?
Next POV
April 12th
POV Used
?
POV Ceremony
April 14th
HOH Winner:
Jon
Next HOH:
April 17th
Original Nominations:
?
Current Nominations:
?
Have Nots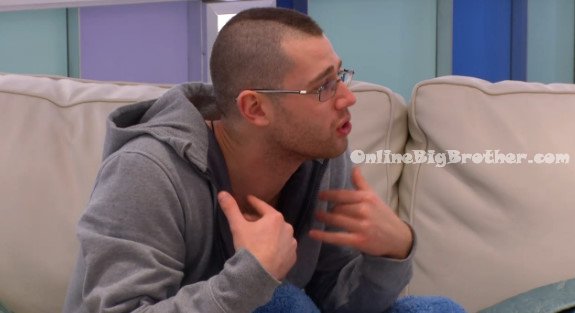 12pm Up in the HOH room – Jon asks now I am wondering if when I was using the "Q-word" if Kenny was offended by that. Allison and Arlie both say no that Kenny was the one defending you. They talk about how the q word means weird and that's how Jon was using it. Arlie says Kenny plays a straight man really well. Allison comments on how Kenny was straight man longer than he's was a gay man. Allison says he was known to be quite the ladies man too. Jon says now he's the man's man. Arlie brings up the conversation about whether its a choice or not a choice .. you know like in certain countries like back in the day when people would legit get like stoned to f**king death for being homos*xual? Why would they choose it?! If they know that they might just get a stone bashed into their face? It would be like I would probably just stay with girls. Jon says yeah. If you think you are actually going to get murdered because of it.. and did get murdered because of it. I'd probably not! I'd just choose the living one! But then that's just .. I don't want to even get into it because I used to think that way too and my mind was changed by a lot of facts that people would say to me and I was like I guess I would never choose to be gay if .. Adel says you know how you said that we don't choose to be straight… Adel asks how do you know you're straight. Arlie says you know when you were young and you would get a b*ner looking at girls..
Big Brother blocks the live feeds and when the feeds come back the house guests are talking about how they picked teams for the have / havenot competition. There are going to be two teams of 4. Jon tells Neda up in the HOH room that he is going to throw it because Sabrina is on his team and he is a have anyway's because he's HOH. Neda says that Allison will probably be mad. Arlie comes up and says to Jon don't get it 100% bro. Jon says no I won't. Arlie says I will cook you dinner every day bro. Jon says I would rather you, Neda and Heather not be havenots. Arlie says thank you and leaves.
Have / HaveNot Competition TEAMS:
Team 1 – Neda, Arlie, Rachelle and Heather
Team 2 – Jon, Allison, Sabrina, Adel
Here is a live feed leak photo of the have / havenot competition
12:30pm – 12:50pm Sabrina comes up to the HOH room and tells Jon we have to win! Jon says oh I know. Sabrina says it would be the worst week ever if I was havenot again. Sabrina says and I would be separated from Rachelle. Jon says oh yeah. Rachelle joins them and Sabrina starts talking to Jon about why he shouldn't put them up / try and get them out. We will literally owe you because we know we are supposed to go this week and next week! Sabrina says we are a duo and you and Neda are a duo. People want to break you up. Rachelle says if you keep us I could win and get out the people you can't take out. Sabrina says we will be loyal to you and not go against you until final 4. She tells Jon if you keep us we will vote for you. Jon says I just need to think about it and think about numbers wise. Sabrina says I know you're close to Arlie but maybe he will try and take you out next week because he knows you can't compete. If we do this we are guaranteed the next three weeks. Whoever you decide to go to final two with ..then we won't break that. Jon says let me think on it. I am glad we had this talk. Sabrina says if you want to put us up that's fine if you want to back door someone. Jon tells them he will tell them when he decides what he's going to do.. Adel comes up and tells Jon please try your hardest bro! You need this on your resume!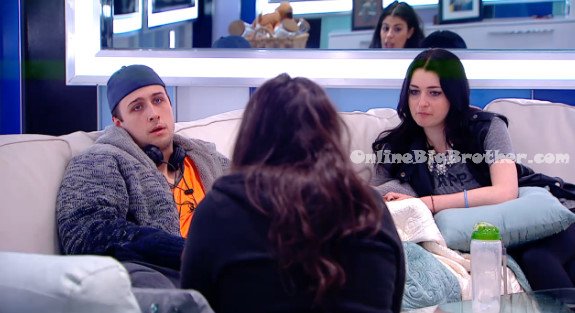 1pm Big Brother blocks the live feeds.. When the live feeds return – Adel is in the bathroom talking to Sabrina about how bad he wants to win the havenot. He says Allison wants to win .. Sabrina says I want to win so bad! Adel says you've got to convince Jon to win it. Heather joins them. Adel says we need to win it to put Heather on slop. Heather says she's going to win it. Meanwhile under the stairs Jon and Neda talk about Sabrina/Rachelle..
1:25pm – 2:20pmBig Brother blocks the live feeds again ..
2:20pm – 3pm The live feeds return and the house guests are all up in the HOH room still waiting for the havenot competition to start. Jon says holy f**k Neda hasn't been on slop since the first week! Adel, Jon and Arlie continue to joke about throwing the competition. Jon says 100% either Arlie or Adel will be on slop! Adel keeps saying that he isn't going to throw it (Both Jon and Adel are likely going to throw it as they have been saying how bad they want to put Sabrina on slop again.) Neda tells Adel his jeans are the douch!est jeans she has ever seen! Sabrina and Rachelle go into the storage room with Jon and stuff their faces! Rachelle says imagine if the competition was eating I would barf. Rachelle keeps eating even though she keeps saying she is so full. Soon after when she stops she says she's so ill.
3pm Big Brother blocks the live feeds again ..
5:30pm Still blocked..
[polldaddy poll=7958558]
Stay connected and interact with other Big Brother Fans on our Facebook page.
And Follow: @BigBspoilers and @Dawgsbigbrother on Twitter for the most up to date spoilers.
Share it YO!!
Tweet