POV Holder:
IKA
Next POV
?
POV Used
No
POV Ceremony
March 17
HOH Winner:
IKA
Next HOH:
March 20
Original Nominations:
Paul & Heather
Current Nominations:
Paul & Heather
Last Evicted Houseguest
Kyle, Anick
Have Nots
Jon, Allison, Paul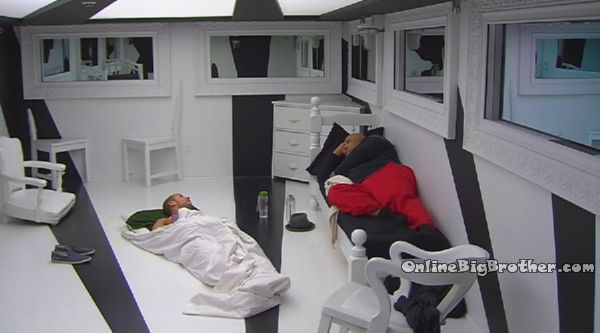 8:35pm Adel and Paul HAve Nots
Adel – "I got them right where I want them.. I swear to god guy I swear to god "
Paul – "Arlie won't go back on his word with heather
Adel – "Sure he will
Adel – "Bro we have everyone right where we want them Heather is going home 110% I swear on it bro"
Adel – "She's not a good competitor all she did was suck up with the guys
paul – "She said to SAbrina .. oh you know we can travel together right
PArul – "I don't think Rachelle likes her
Adel – "week one Rachelle and Heather were arguing and Rachelle said I swear to god I will punch you in the face."
Adel – "When girls say that it sticks with them"
Paul – "Sabarina doesn't like Heather I can tell.. she thinks Heather is fake"
Adel – "Sabrina is the fakest out of everyone here"
PAul – "she says she has a agent in LA and she's going to be a actress"
Adel – "you know what she tells Rachelle? I'm going to introduce you to my agent he's going to make you famous"
They laugh Adel – "There playing with each others mind.
Adel explains that Kenny and Andrew feel like they are a team, Arlie and Jon are a tekam. Adel adds that Arlie and JOn are expecting from Andrew and Kenny.
Adel says if they win HOH next week they put Andrew or Kennt up and the entire game is changed.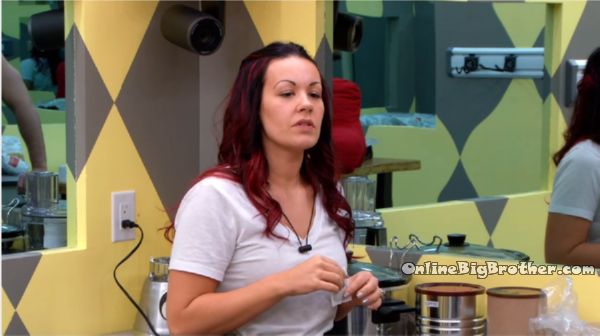 8:42pm Storage room Arlie and Sarah
Sarah talking about voting out Paul and what she will say to IKA. She's not as enthusiastic about it but is going to tell IKA that she swore om her kids lives that she wouldn't send Heather home.
I can then say i'll work on the new girl and after the vote comes out say the new girl flipped.
Sarah – "They don't give a f** about me anymore" (Girls alliance)
Arlie – I think we should keep Paul.. It's such a small thing for Paul to win HOH
Arlie – They (Andrew/Kenny) are just f*** with your game
Sarah – Sabrina is on board with doing that (Voting out Paul)
Arlie that is because Sabrina is in the prettiest spot ever and she doesn't give a sh!t about Sarah's game.. "They are going to do whatever they want they don't listen to me.. we're not part of their group"
Arlie – "tomorrow we have lots of time to talk.. but you have to think about it.. I told them valid reasons to keep PAul.. it's not worth exposing you"
Arlie is saying that he's building an alliance without any cracks. He's got Adel and Jon he believes them they are solid.
Arlie – "Jon Loves you.. I can prove adel 150%.. we can work on a 5th but us four right now is looking really good"
Sarah – you don't feel like Adel's already too attached to IKA
Arlie – I'm with him 1 million percent.. he so happy and grateful to have an alliance.
Sarah "New girl is wanting to vote out HEather says it benefits her game"
Arlie – New girl is very close to Andrew"
Arlie says Allison is a potential 5th for their team once Andrew goes
Arlie – "Neda is the f** out she's a snitch.. the 5th can be expendable"
Arlie Stresses that the guys are not looking after their games , "Mull this over tonight tell them whatever you want but in the end you do what the f** you want and I 'll do what the F** i want"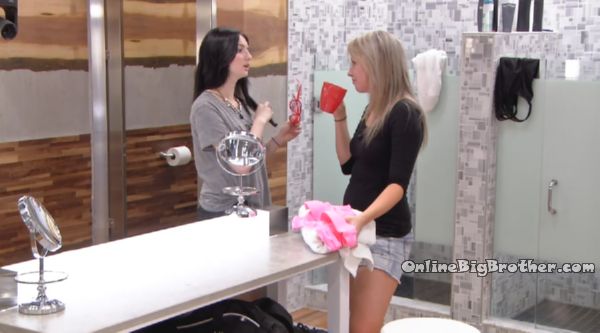 9:08pm Rachelle and Allison BAthroom
Rachelle wants to know who she is voting for. Allison says she's weighing all options it's a tough spot to be in.
Allison – "I want Heather out.."
Rachelle – "better for your game.. but you don't want all the boys against you.. you'll have the girls"
Allison doesn't feel if she does go with the girls that they will have her back.
Rachelle says it goes either way the boys or girls, depends on who she wants to be with.
Rachelle adds that voting out HEather will be a sign of trust to the girls.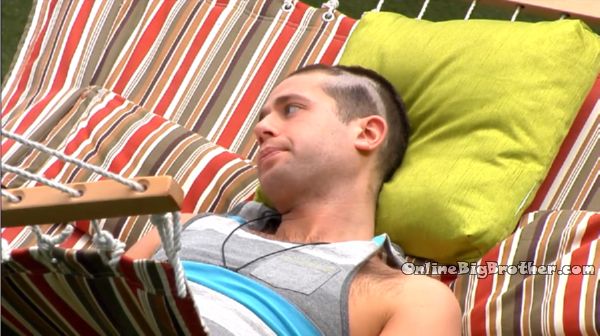 9:22pm Arlie alone in the Hammock while. He's making some moves I wonder if it'll work out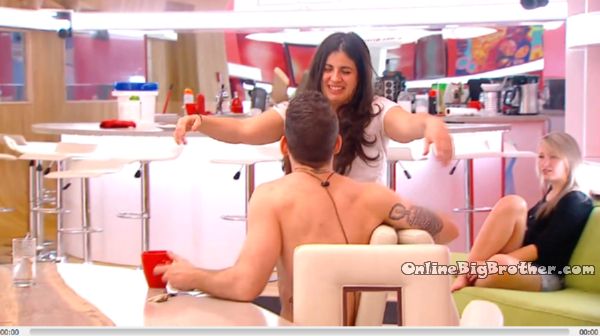 9:25pm The faces of Sabrina as she gives out Hexes to people aroudn the house who "wrong" her.
Lots of house guests laughing and having a good time from this.
9:33pm Jon waiting at the inside the main bedroom. He's been there for 5 minutes seems like he's waiting for Sarah who's in the bathroom getting ready for bed. (he sacres her)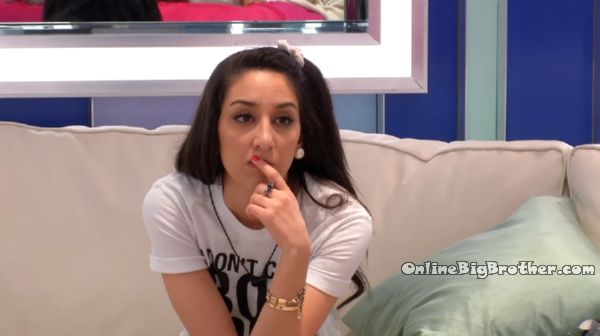 9:35pm HOH Ika and Neda
Talking about Jon not liking Andrew.
IKA – If we got rid of Kenny we're taking away the glue that keeps them together
IKa – Andrew and Jon love Kenny.. Kenny has to go
NEDA – Sarah loves Kenny
IKA says that Sabrina told her it's really hard for her to vote out Andrew, This worries IKA.
IKA is worried that Andrew will persuade Sabrina
NEda thinks if Kenny leaves Andrew will grab onto Sabrina and turn her against them. IKA says that Sabrina is liking Andrew on a personal level.
Neda says the one thing about ANdrew is he's a real boys boys week one he was telling a story about how he was supposed to be on last season of Big Brother Canada.. Feeds switch to the Sarah and Kenny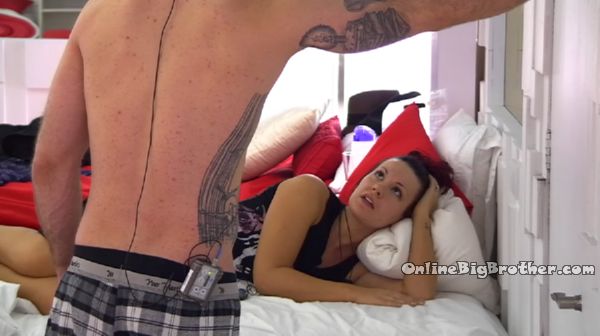 9:41pm Kenny and Sarah Bedroom
Sarah wants him to be honest with her and let her know if she votes for Heather to leave will it screw them up.
Sarah – "How can I trust someone I literally only met 3 weeks ago"
Kenny says he loves gordo, Jon and all the guys but she's the only one he fully trusts.
Kenny is hearing that Jon is spreading sh!t all over the house about Andrew.
Sarah – "As crazy as Sabrina is.. I can't deal with her grade 9 sh!t.. I know I was grunting at the table but the things she (Sabrina) does"
Kenny – I know I know.. i'm a big giant baby with a beard… theres a level and a line and she … "
Sarah – We're being idiots and she is being real
Sarah says Sabrina reminds her of her kids.
Kenny thinks Sabrina is very emotional and very intelligent, ":That makes her dangerous.. I'm glad she's on our side.. sooner or later she's going to have to choose which side"
Kenny tells Sarah if voting out Paul damages her game do not do it.
Sarah says that IKA will be voting out Heather if it's a tie.
Sarah – "If Andrew wants the new girl to last a couple more weeks it'll be smart for him to get her to vote with the girls"
Kenny – this is the crossroads to where this game is going to go.. all I need is one of those fgirls to win HOH and i'm f***d.
Sarah – "They (Girls alliance) want Andrew gone more than they want you gone.. he is the target not you"
Sarah – I don't want to go against the five I want to keep it going.. theres lots of people that want him gone"
Kenny and Sarah both agree that sabrina is going downhill right now. They know she s helping them a lot in the game but it's getting a little much.
Sarah – She making it so obvious that she's trying to get your attention
Sarah says that Jon is catching on to Neda being a double agent.
Sarah says that Jon lowers the girls defenses "He's the goofy newfy"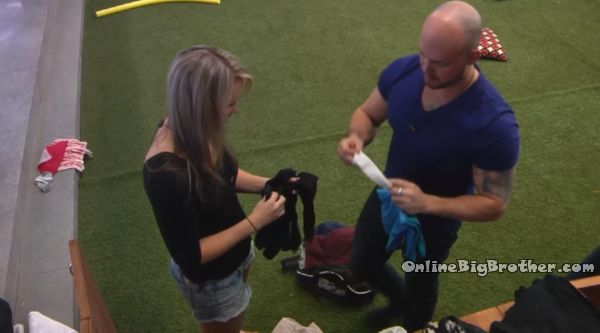 10:08pm Washing machine Andrew and Allison
Andrew still trying to talk her into voting out Paul, "It's your game to not just Kenny, Arlie, Jon and the other people that are voting in that direction". Andrew goes on and on about hoiw he'll still hang out with Allison if she votes out Heather.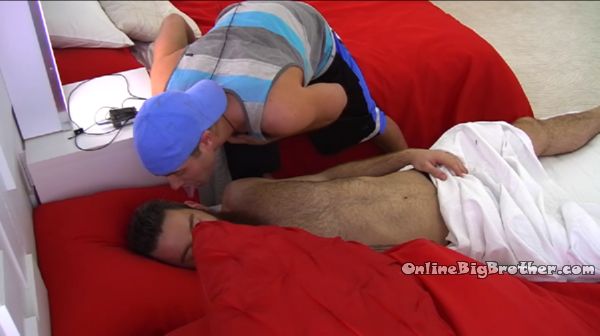 10:22pm Bedroom Neda, Sabrina, Rachelle and Sarah. Rachelle is licking parts of Kenny.
Arlie joins them and licks Kenny's face he wakes up.
Arlie, Sabrina and Neda leave. Sarah points out how rude it was of the three to barge in there wake them all up.
10:40 Kenny protecting his jewls
Want to watch the Big Brother Canada 2 live feeds? Bypass the geoblocking with HideMyAss VPN and be Canadian Anywhere:

(It's tough to watch Big Brother Canada from the US. Circumvent the Geo Blocking and watch the Show and the Live feeds straight off Slice's website. Using a pay VPN is very easy and free of malware, I do not recommend using a free service as these are notoriously trouble. $11.00 A month Sign up here
[polldaddy poll=7877882]