POV Holder:
Allison
Next POV
?
POV Used
?
POV Ceremony
March 24
HOH Winner:
Racehlle
Next HOH:
March 27
Original Nominations:
Allison & Heather
Current Nominations:
?
Last Evicted Houseguest
Paul, Kyle, Anick
Have Nots
Adel, Sabrina, Heather, Arlie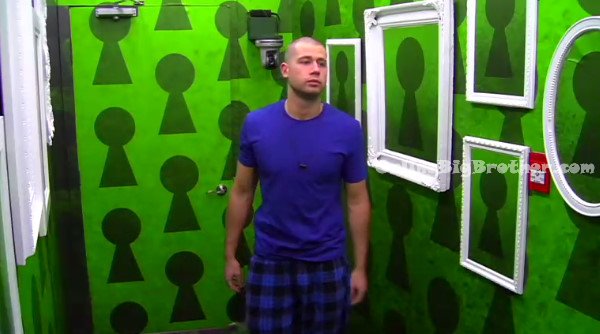 Want to watch the Big Brother Canada 2 live feeds? Bypass the geoblocking with HideMyAss VPN and be Canadian Anywhere: For ONLY $11.00 A month Sign up here
ARLIE was given a MARSHA the MOOSE TASK..

3:35pm Arlie when into the diary room and then the feeds were blocked. When they return – Arlie is walking around really down and depressed. He plays a game of cup cake challenge where he stacks and after looks really down and depressed. He says today is really not a good day. He heads out to the backyard and talks to the guys about how down he is on slop. Andrew tries to build him up and tells he needs to make sure he keeps eating. Arlie heads inside to the bathroom and talks to Allison about how down he is and how its just not a good day for him. He says that he is putting on a strong face but he's just not feeling good. He tells her that it looks like she put on a little weight since being on slop. She asks um really?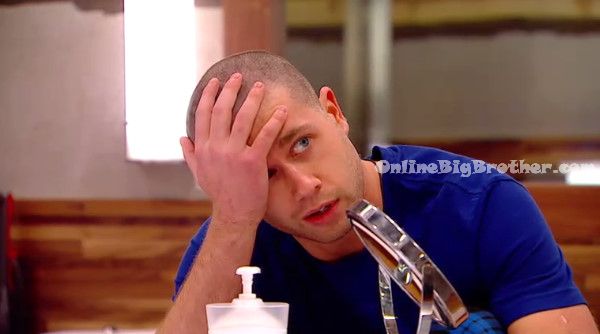 Arlie goes into the bedroom and tells Adel that he is really starting to crack – You making a lot of noise at night when I am trying to go to sleep is really starting to PISS ME OFF!! Arlie asks Adel to knock it off. Adel says sorry okay no problem. Adel tells Arlie that he really feels like he is the only one he can talk to in the house. They hug it out and Arlie leaves. Arlie heads into the HOH and talks to Andrew and tells him that he is really pissing him off because he talks over him some times. Andrew says thanks for telling me I had no idea. I wasn't aware that I was doing that. I am sorry and I'll do what I can to make it not happen again. Arlie says yeah that's cool I am just having a tough day. Andrew says thank you for letting me know. Andrew asks what is it specifically. Arlie says when I talk, you talk over me .. and if I am saying something you pay more attention to someone else that says something. Andrew says that he's sorry and didn't notice that he was doing that. He says that he will try and stop and I am really sorry. I have actually head that before. Arlie tells him that it makes him feel better that he is owning up to it .. that attests to your character.. Andrew says he's sorry and that he'll work on it .. Andrew leaves. Arlie starts laughing about how easy that was. He tells himself that he needs to slow down… I have to win this!!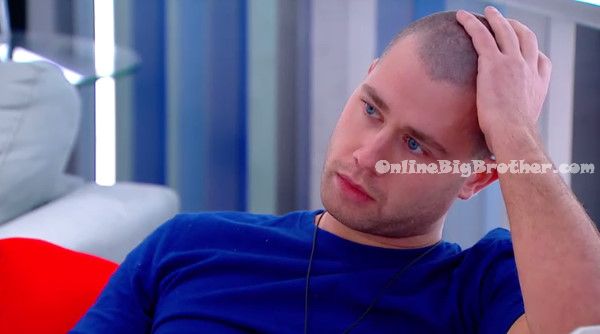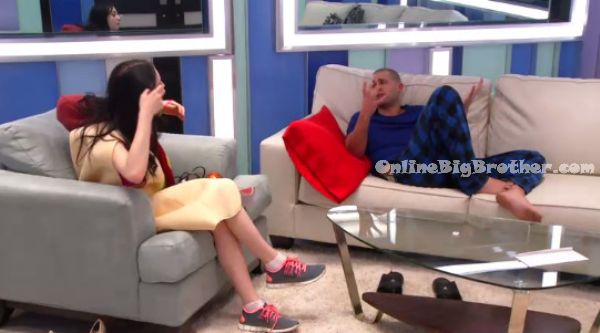 4pm – 4:20pm In the storage room – Allison talks to Andrew about how Arlie told her that she looked like she was gaining weight. Andrew says oh man that's not a good thing to say! Meanwhile Rachelle joins Arlie in the HOH room. He talks to her about how he's loosing it today! Arlie tells her that he feels like he really likes her but that she's a B***H to him. I feel like you never give anything back to me .. Rachelle says you feel like I'm a b***h. I am sorry .. sometime I am in my own world and don't mean to. Arlie says I feel like you could give to sh*ts if I died! Rachelle says Oh my god! Arlie I care about you and like you so much! They talk it out and they hug. Arlie heads downstairs and goes out to the pool and sits in a chair. Sarah comes over and tries to talk to him but he tells he doesn't want to. She asks him if this is all just part of his game? Arlie says no. Sarah says well you are the master mind..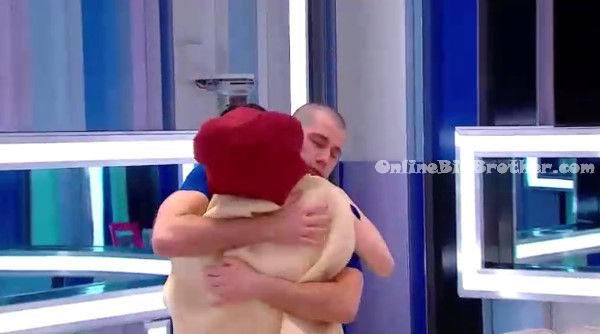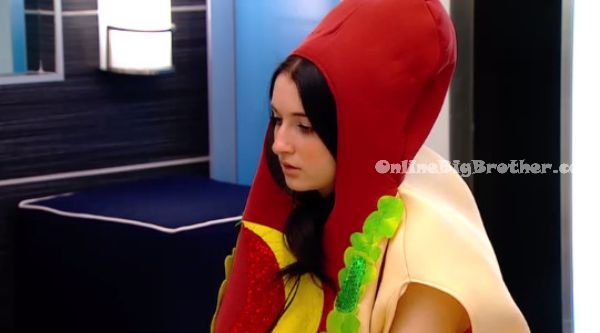 4:25pm Up in the HOH bathroom – Rachelle is talking to Sabrina about what Arlie said to her and how he's been acting. She then asks Sabrina if maybe its a task?! Sabrina says or maybe it's not because if we figure it out then maybe we don't get a reward. Meanwhile outside the bathroom – Arlie tells Heather that her voice is cracking me some times!! Your voice grinds me! Heather says she's sorry. He says no its okay, I am just cracking today. He tells her that she is killing it in that suit. She says thanks you. She heads back downstairs. Arlie heads out to the backyard and sits down by Ika in the hammock. He says that he is hating this game right now! Arlie tells her that some times the way you look at me .. it looks like you hate me … like the devil is inside you!
4:40pm Arlie then goes to talk to Sabrina in the havenot room. She asks him how he feels. Arlie says I just feel like s**t. When I came in here I didn't think I would be in the back ground as much. I am just cracking. I feel like people just don't like me. Sabrina asks Andrew and Kenny? Arlie says yeah and with other people. Sabrina says like Rachelle. Arlie says yeah and you some times. I feel like people even in our alliance don't tell me anything. Arlie tells her that she is extremely emotional! I am really worried about coming up to talk to you about things. I even think that Canada is viewing you that way. Sabrina says that she isn't emotional only about things that are personal like my weight or something. Sabrina says that it worries her that he sees her as emotional. I don't want Canada to view me as emotional. Sarah cries a lot too, you don't see her as emotional? Arlie says yeah you, Sarah and Kenny are top of the list to me in being emotional. At the end of their talk Arlie tells her that he knows she is going to be an amazing mother one day ..just from this talk I know that. Sabrina gets called to the diary room. Arlie grabs Jon to talk to him but when they sit down by the pool Arlie tells him that he smells like s**t! You smell horrible right now… we might have to have this talk later on..
4:55pm – 5:15pm Arlie then goes into the storage room and talks to Kenny about how he ignores him some times. Arlie tells Kenny that he feels like he thinks he is better than him. Kenny says that he is really sorry and didn't mean anything by it. Kenny apologizes and tells Arlie to tell him to knock it off if it happens again. Kenny starts to walk away and then starts to cry. Kenny says that this has just happened to me before and I feel horrible. After Kenny leaves Arlie says that was horrible! I feel so bad! Then the voice comes over the speaker in the storage room and tells him he's doing a great job. The voice tells him to be a little more light hearted. Arlie head out into the kitchen and says that he is starting to get out of his funk. The others are talking about s*x and all of a sudden Andrew asks Neda if she's ever had s*x before? Neda says yeah why? Andrew says just because you are the person that talks about it the least. Neda says just because my mom and family are watching. Arlie gets up and heads to the bedroom. He sits down with Sarah and Sabrina. Arlie tells Sarah that her breath smells horrible right now! He says I need to move back a bit. Sarah apologizes and leaves to go brush her teeth. Sabrina says that at first she thought this might be a task but realizes its not. She comes back and they talk to Arlie and try to reassure him about his place in the final five. He thanks them for the talk. Sarah tells him shes been looking at him all day thinking about how good looking he is.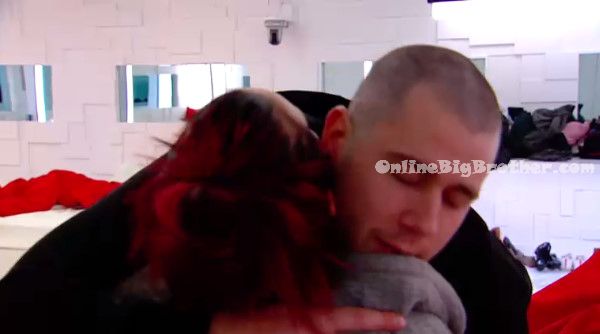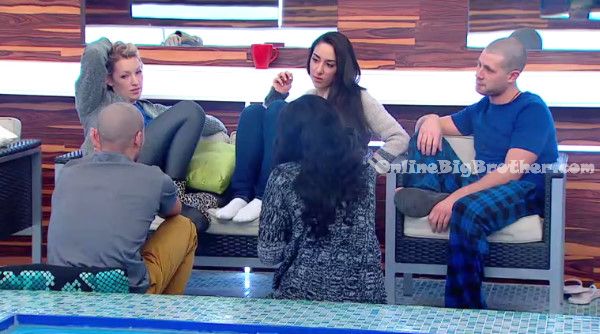 5:15pm – 5:30pmBig Brother blocks the feeds… When the feeds come back Arlie joins Allison, Neda, Ika and Adel by the pool. Arlie grabs Neda to go talk to her over on the hammock. After they leave Ika asks what's going on!! Adel tells her to drop it, you've already been apart of it.. just drop it. Allison says if he say anything it might not happen. Adel says lets just go inside. Ika says in a snarky voice okay. Meanwhile in the hammock – Arlie and Neda are talking about her when she licked Kenny's toe. Arlie brings up how Kenny said he flushes the toilet with that toe too.. Arlie tells her that she is fun to hang out with.. we should hang out more in here. She says she wants to .. there are some people who she doesn't want to hang out with but he's not one of them. Arlie says give me a hug. The horn sounds and JOn has to run out to the pool to dunk again. Arlie heads inside the house.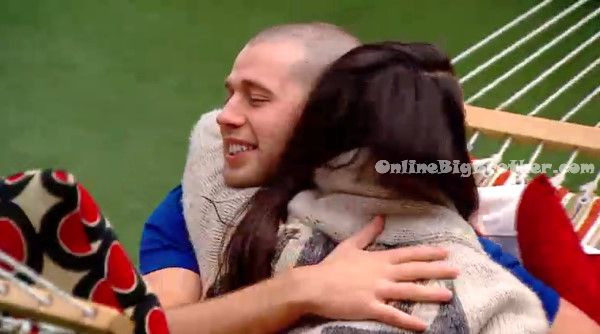 AT THE END OF THE FOLLOWING VIDEO YOU HEAR MARSHA THE MOOSE TALKING TO ARLIE!!
5:35pm Arlie heads into the diary room and MARSHA THE MOOSE starts talking to him "CONGRATULATIONS ARLIE YOU DID IT!!" Big Brother then cuts the feeds….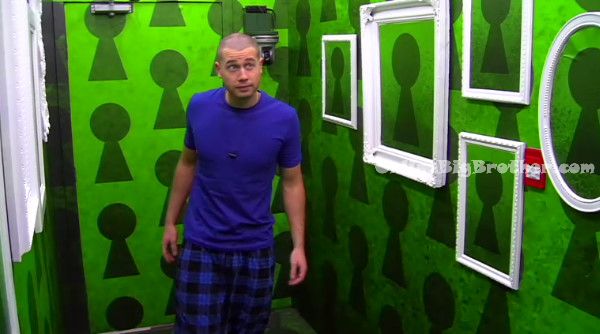 5:45am – 5:55pm The feeds come back and Kenny and Sabrina are talking about what Arlie was going around saying to each of them. The head into the HOH room to talk more about it. Each of them share the stories of what Arlie had told them. Kenny says what a d**K! Sabrina says I feel like we need to go make him feel better and make him feel like he has friends. Come! They head down stairs. Allison and Sabrina give Arlie a hug.
6pm Out in the hammock – Ika and Neda are talking. Neda starts crying..

Check out the NEW OBB Forum https://forum.onlinebigbrother.com/
Stay connected and interact with other Big Brother Fans on our Facebook page.
And Follow: @BigBspoilers and @Dawgsbigbrother on Twitter for the most up to date spoilers.