POV Holder:
Kenny
Next POV
?
POV Used
?
POV Ceremony
April 7
HOH Winner:
Heather
Next HOH:
Apr 10
Original Nominations:
Kenny & Allison
Current Nominations:
Sarah & Allison
Have Nots
Sarah, Kenny, Rachelle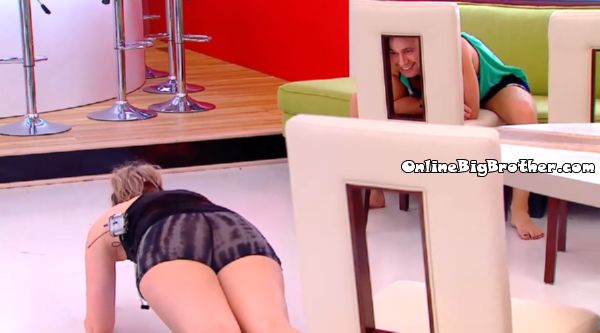 10:21pm RAndom chit chat Arlie, Allison (They were told by production they will be doing some Diary room sessions tonight starting at 10:30)
Arlie I can't believe my a$$ got kissed 5 time today
(Allison comes back inside from working work with NEda, Heather and Adel)
Allison wonders if she should shower or if she can do her Diary room session looking like she does.
Arlie like looking at her all sweaty, it makes him think of other things.
Allison does a plank ask him to watch and see how long it takes her to sweat.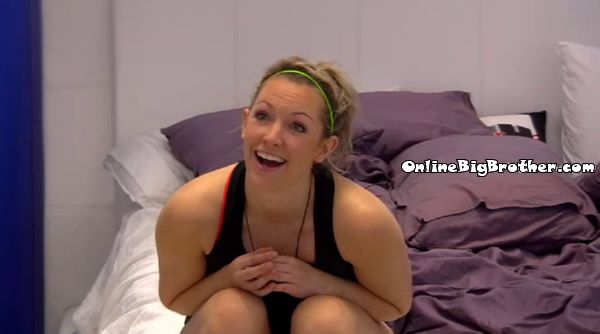 10:43pm HOH Arlie, Jon, Heather and Neda
They are going over the conversation with Sabrina. Arlie – "she's 1/2 being funny about how much she openly hates me"
Arlie says It's more like 6 vs 1.5 than 6 vs 3. Arlie knows that it sounds conceited but Kenny is a BEAST and the gremlins are really not a threat.
Allison asks them if Canada didn't put Andrew up who would they all have wanted out first Kenny or Andrew.
Jon – "Kenny is ways smarter than Andrew to.. In the game Kenny was way smarter.. that is what I meant in the GAME SMARTER"
Arlie says Kenny 100% Andrew trusted him and Kenny is a much bigger game playing threat.
Allison says Andrew distracted her from the game.
Allison – "there is a plus side to Andrew leaving if Andrew was still in the game I would be like ______ "(See the image above)
Jon – You did get distracted… yup
Neda asks her if he told her about the 1st5
Allison says she wasn't told anything about 1st5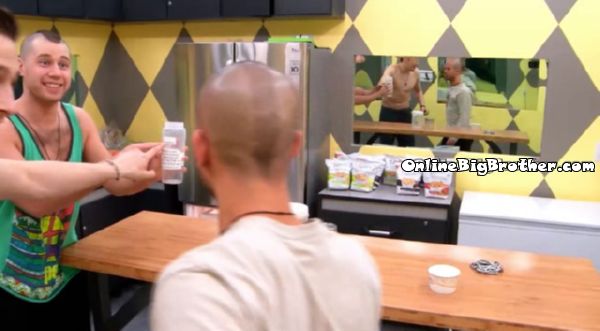 11:08pm Deli Adel and JOn Storage room
Arlie finds the label on his bottle that Sarah put before, Tabasco sauce label that they called Tasco. Adel calls tasco his "son".( tabasco is a brand name. Production doesn't want them to say brand names on the live feeds )
Jon says when he told them he couldn't find "tasco" he actually hid him first.. but when he went back to get Tasco it was gone. Jon adds that Sarah say him hid it the first time.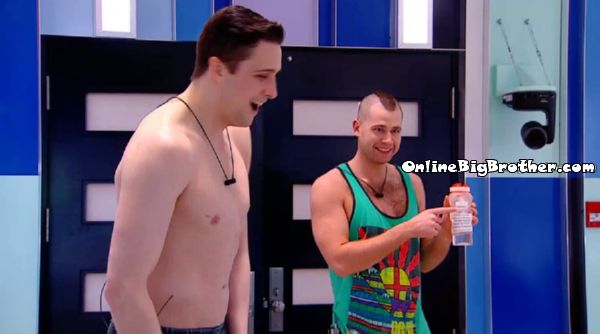 11:12pm HOH Jon tells the girls about Tasco
Watch the beginning of the video for the Tasco story and watch the end to see Neda and Allison play fight.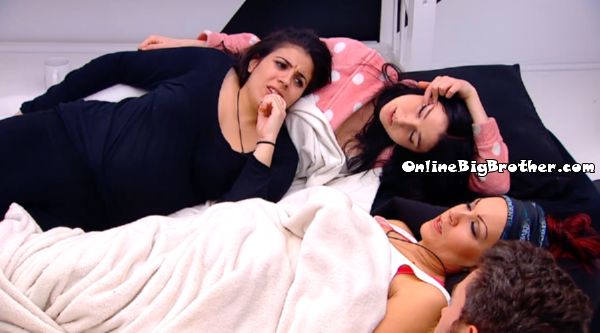 11:14pm have nots Gremlins, Kenny and Sarah
Talking about who to put up. Rachelle wants Jon and Arlie up. Sabrina wants Jon and Neda. Kenny anmd Sarah kinda flip flop between two of Neda, Arlie, Jon.
Kenny's worry is if they put Arlie and JOn up theres a good chance POV is played adds if they put up Jon/Neda first Arlie may not play in the POV, "We leave it the same for sure it's the only way to make sure Jon leaves"
Sarah says if NEda and Jon are on the block and POV is played Arlie goes up.
Kenny and Rachelle are a bit scared if Neda goes up she might go home. Sarah agrees she comment on how much it would suck to use your HOH to get out NEda.
Kenny says heather and Adel are together because they were on the outs for so long he's always said the ones on the outs are talking.
Sarah – "We let our egos take over and when Canada put us up we wallowed in it instead of picking ourselves up" She suggests they should have started working on building relationships up with the other players.
Sarah – "The people on the outs we just let them be on the outs. "
Kenny says if they would have held onto power Arlie would have stuck with them.
Sarah now suggesting Arlie and JOn and if POV is played Neda goes up. Rachelle agrees. Sabrina says if Neda goes up she will go home. Sabrina thinks Jon will in the POV and arlie will have the votes to stay.
Sarah isn't sure she says Jon can be pretty persuasive he would be able to save Neda.
Kenny – "Jon and Arlie final answer"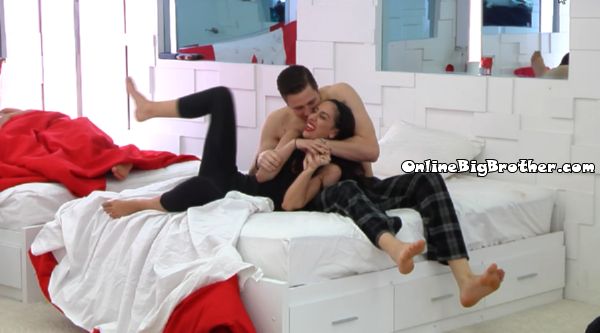 11:40pm Wrestling
Adel wants his nickname to be Tasco, "I'm spicey"
Neda's 1st nickname was "Balls" but she made the guys figure out another one.
Adel and Jon decided on "Neda the floater Caltar"
Jon asks them what Allison's Nickname will be "It's either Alley Cat or Xena or the Big Z"
They tell him Xena starts with a X not a Z
12:00AM Bathroom Rachelle and Sabrina
Sabrina is sad because her game got exploded. She's able to turn things around and make her sound like the victim.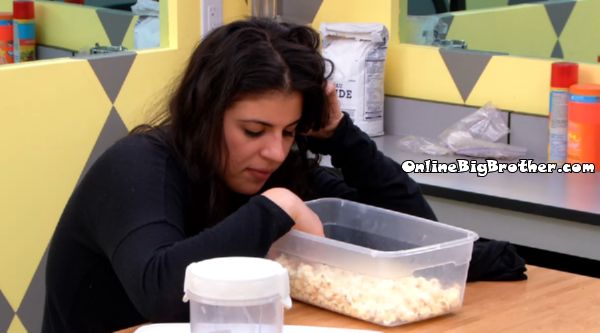 12:51AM KABOOM