POV Holder:
Andy
Next POV
Aug 17th
POV Used
?
POV Ceremony
Aug 12th
HOH Winner:
ANDY
Next HOH:
Aug 15th
Original Nominations:
Jessie and Spencer
Current Nominations:
Last Evicted Houseguest
David, Nick, Jeremy, Kaitlin, Howard, Candice, JUDD
Have Nots
Aaryn, Helen , GM, Elissa
9:18pm Spencer and Andy
Spencer: "Who should I put up next week"
Andy will respect whoever Spencer puts up he understands why Spencer would be targeting Helen. Andy says Helen has never done anything to him to betray his trust so he's doesn't want to see her go but he'll honour Spencers HOH.
Spencer lost a lot of trust and respect for Helen because she was after Howard and him so hardcore. She kept saying how Howard is her friend but she really wanted to chop his head off.
Andy says for what it's worth Helen told him she's done coming after Spencer anymore.
Spencer: "this is what I think and this is in complete confidence if Helen fell everyone will try and get Elissa out because Helen is her insulation right now… If Gm or Aaryn win HOH the next week they will try to break up Amanda and McCrae.. This will obviously keep us safe and whoever survives that will come to us"
Spencer knows this is thinking ahead 3 weeks but still it could play out nicely for them.
Andy says if Helen and Elissa go up he would want Elissa to go.
Andy says if Helen left, Elissa would be a chicken with her head cut off but if Elissa leaves Helen's fire will be lit and she will come after them bazookas blazing.
Spencer thinks if Helen left, Elissa would be rude to everybody and not talk, "She would be just a wreck"
Spencer: "GM wants Elissa out so bad and I think Aaryn feels the same way.. "
Spencer says neither of them can beat Helen in the final 2 he also doesn't think Helen will be a biter jury member once she has time to think about the game moves she'll respect whoever gets her out.
Andy doesn't think McCrae has made many personal connection in the house he might be short on jury votes.
They chat about the MVP vote. Spencer thinks it was America. Andy agrees but think it could also be JUDD.
Spencer says Helen and Elissa have both come to him and said they want Amanda out.. so that makes a lot of sense if America is voting because the brenchel army will nominate Amanda.
They agree Elissa was crazy during the house meeting last month. Andy says she was like the Candice thing where Elissa thought she was coming up on top but she really wasn't, "It made Aaryn look so good".
Spencer agrees
Spencer: "Hey did Aaryn piss you off tonight at dinner"
Andy: "oh when she said that's disgusting.. ya she did"
Spencer: "That pissed me off to.. what a f**** b!tch"
Andy: 'She justs not use to having to be careful about what she says"
Spencer: "Sorry you had to hear that bullsh!t"
Andy : 'I really don't think she's a bigot but still I don't like comments like that… insinuating that men being in love is disgusting"
Spencer: "I heard that comment and I was like Bite your tongue b!tch"
Andy: 'Aaryn is the remnants of the last shitty person that is here.. but I've seen so much growth from her but I still get tinges that she's an a$$hole"
Spencer talking about Jessie being "empty pretty" but her skin is so smooth it's like "Cream". During the photo booth pictures Jessie jumped on Spencer's lap. He explains to Andy that he put his closed hand on her waist out of respect for Jessie and Marilyn.
Big Brother 15 N*de flashback times here
10:16pm Backyard They are getting ready to play Hot Potatoe. Jessie is telling Amanda about her dream. She was making out with Spencer and could feel his beard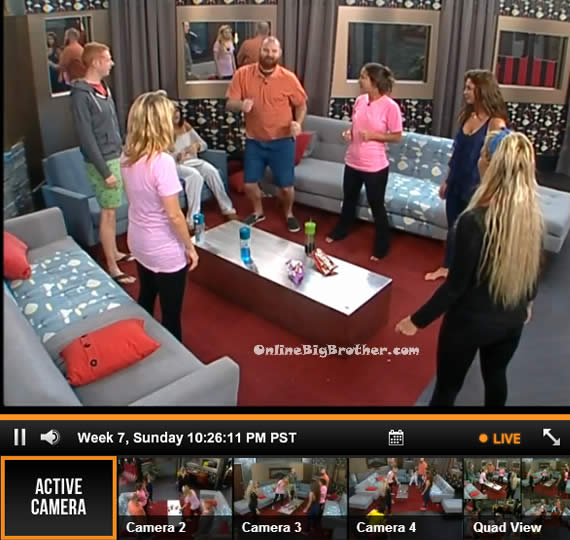 10:30pm Hot potatoes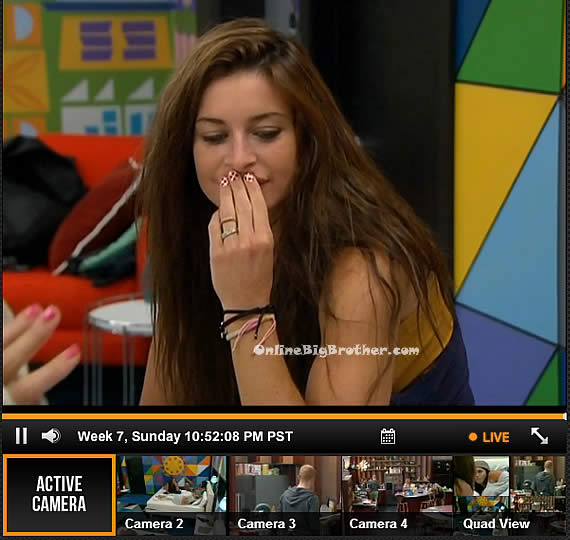 10:51pm Bedroom Elissa, AManda and McCrea
Elissa: "Aaryn's been acting really weird.. "
Amanda Thinks this is her have not personality she's sleeping a lot.
Amanda points out that Aaryn has been really nice to Elissa lately so that might be it.
Elissa agrees thinks perhaps that is what is happening.
Andy joins them (Drink)
They tell him Aaryn has been acting weird she wants to keep Jessie. Andy: "I'll go talk to her smooth it over it'll be fine i'm not worried"
Amanda Isn't worried either.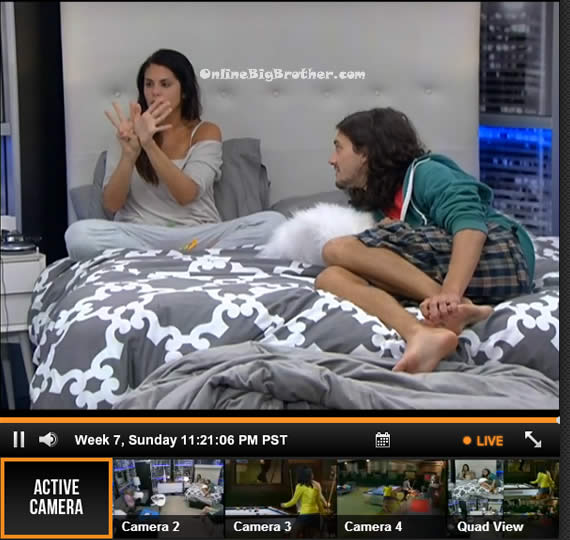 11:09pm McCrae, Aaryn and Gm
McCrae says he wouldn't be surprised Candice and JUDD were having s$x in the jury house. If not with Candice then with a handler. Aaryn agrees. GM doesn't think JUDD would sleep with Candice.
11:11pm HOH Amanda and Aaryn
Aaryn says she talks to Jessie all the time but she never told Aaryn the plan to backd** Amanda.
Aaryn knows that Jessie was going home so she offered herself up as a pawn in the case where Jessie wins HOH next week. Jessie wouldn't tell her who she would put up.
Aaryn: 'She thinks that me and you are besties" They don't think Jessie will give Aaryn any information and in 3 days it won't matter.
Andy and McCrea join them (3am alliance meeting)
They compare notes from the day.
Amanda tells them that Helen told MC they want Amanda out final 6.
MC adds that Helen told him Aaryn is coming after him
MC says Helen may want Aaryn nominated next week
Aaryn: "She said that about me"
Amanda: "Don't worry she said the same thing about me"
Amanda wants to know if they can get GM to back door helen
Aaryn thinks they can get GM to do anything they just need to offer her a deal and she'll do it.
Aaryn brings up that Helen wants to solidify her, Amanda, and Aaryns relationship she said MCCrae is in the middle.
Aaryn is really worried about Helen telling people to nominate her. Both Andy and MC tell Aaryn Helen does this to people all the time she's also told them she will honour the 2 week deal with Aaryn.
Amanda says the worst case is if Helen wins the next HOH or POV.
Aaryn: "if she's talking like that and I get HOH i'll backdoor her"
Amanda: "well ya.."
Aaryn still freaking out about Helen targeting her. Amanda explains to Aaryn why she's safe if she goes up and why McCrae and Andy made the side alliance with Helen. The side alliances are to prevent 2 of them to go up at the same time.
Amanda: "lets say they put up GM and Spencer POV is used and you go up.. it's you and Spencer we have 3 votes you stay and next week she's made herself a HUGE target and can't play for HOH" Amanda adds Aaryn can then win the HOH and get Helen out.
Aaryn isn't convinced she's safe. They explain to Aaryn how she is safe and all the side alliances are just in place to make it to final 4.
Amanda: 'you know how many times i've heard Helen wants me out the next week"
Andy "I've been cooling that pot for weeks"
Andy "the way Spencer talks he has no idea that Aaryn is allied with me"
They agree GM should stay final 5. Andy and McCrae do not think Spencer will put them up.
They cannot decide who would the best person in the to take final 5. Aaryn and Amanda want GM, Andy and McCrae wants Specner.
Andy says Elissa really sucks at competitions.
McCrea says as long as three of them stay off the block they have the votes to stay, "The 3am has all the votes that you need"
Aaryn: 'So who would we put up"
Amanda: "I would start with GM and Spencer"
Amanda explains they do not want Helen to win the Veto because she wants to backdoor Helen. If Elissa wins the Veto they will tell her the plan is to backdoor aaryn so Elissa uses it to take GM off the block they put Helen up and vote her out.
Andy: "Oh my God.. i'm so glad i'm not playing in next week's HOH"
You can re-watch ever second on the feeds using the flashback feature.. It's just like a DVR and is super easy to use. click this link for a Free Trial —> Subscribe to the Big Brother Live Feeds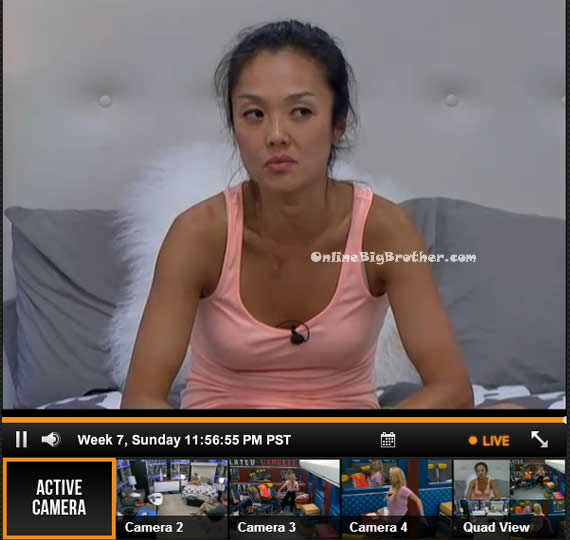 11:56pm HOH Helen, Andy and McCrae
Helen wants them to get rid of Aaryn before Elissa. The Reason is Aaryn is such a competition beast and Elissa is shitty at them.
They all share stories about how poorly Elissa does in the competitions. Helen thinks it's her nerves.. Aaryn thrives under pressure and Elissa crumbles. Helen about Aaryn: She is going to HOH her way through the game":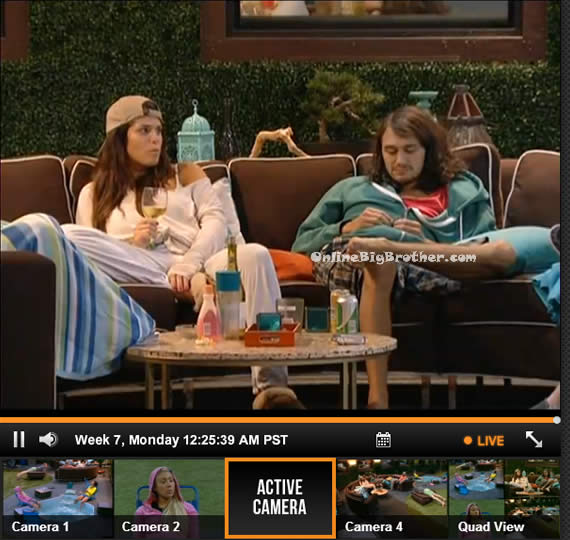 12:26AM Backyard Talking about movies for the past 30 minutes. Specner says leather face from Texas chainsaw massacre is the same size as him. "And that dude can run"
[polldaddy poll=7309671]