POV Holder:
Elissa
Next POV
Aug 24th
POV Used
Yes
POV Ceremony
Aug 26th
HOH Winner:
Aaryn
Next HOH:
Aug 22nd
Original Nominations:
Elissa and Helen
Current Nominations:
Helen and Spencer
Last Evicted Houseguest
David, Nick, Jeremy, Kaitlin, Howard, Candice, JUDD, Jessie
Have Nots (head cheese and habaneros)
GM, Amanda, Helen and Elissa
1:30pm – 1:55pm Up in the HOH room – Andy tells Helen that he is considering voting her out. Andy tells Helen I know you aren't coming after me but you have been consistently been coming after people that are loyal to me. Elissa says Amanda and McCrae aren't loyal to you. Helen says if you vote me out then you will have people coming after you that have never been coming after you. Helen tells Andy he is the swing vote and she needs him. Helen says that if Spencer makes it to the end he will win, he will start winning soon and will have the record for being on the block so many times. Helen says I will vote for Spencer because I will be shocked at how good his game is. Andy says you are not swaying me by threatening me! You are actually pissing me off! Elissa says I am not threatening you. Helen says I am not threatening you! Andy says you just called me up here and threatened me! Helen says I am sorry I don't mean to do that, I just really really want you to consider keeping me. Andy says I am considering it. Helen says people have been in my ear that I can't trust you and I am sorry for listening to that. I really don't believe it and I am sorry for thinking it. Elissa says I am not threatening you.. it just scares me for my game and yours for Spencer to remain in the game. Ginamarie joins them. Elissa says this is the Amanda show. Right then Amanda walks in and asks why her name is coming up. Is this a bash Amanda or what? What are you saying about me? Because you just said yesterday that you would not throw me under the bus. Amanda says Aaryn just came up to me and said you are saying bad things about me. Elissa says that's not true, that was Aaryn. Amanda says so Aaryn is making things up? Helen and Elissa say they are just campaigning for Helen to stay and for Spencer to go. Amanda says Aaryn came down to me crying saying you are threatening her and that she is scared. Andy says I was threatened too. Amanda says and Andy is obviously Andy is upset too. Elissa says its not threatening its a big brother game move to say I will put you up on the block if Helen goes home. Amanda says that is a threat. Amanda says your friend Aaryn is crying down stairs. Andy says you threatened me I would much rather you said to me I am your friend and I want you to keep me. Andy tells Elissa she threatened him. Elissa says I didn't threaten you! I am so tired of listening to you! I am going to go to the diary room and talk about what you said to me. Elissa leaves. Ginamarie says she sees both sides its kind of a threat and kind of just a game move. Andy asks what the hell is going on with her?!! Helen says I don't know.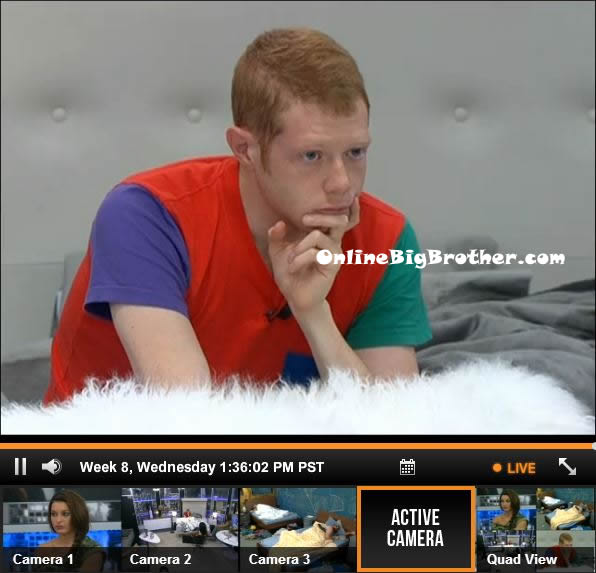 1:55pm McCrae, Spencer, Ginamarie, Amanda, Andy, Helen and Aaryn are in the HOH room talking about how crazy Elissa is. Andy explains the threat to McCrae and he says 100% that was a threat. Aaryn then tells them the conversation she had with Elissa and all the things she said. Amanda says just so you all know, Elissa got permission from production to be able to sleep with the down comforter. Big Brother cuts the feeds. When the feeds come back. Aaryn is talking about how Elissa said she will stick around because America and Production will make sure she stays in the house. Amanda leaves because she is tired of talking about Elissa. Aaryn says that I haven't been talked to like that since high school. Ginamarie says if anyone talked to me like that it would be two hits, me hitting you and you hitting the floor. She doesn't want to hear what I have to say because she think I am a peasant. I have been trying to get her out since week one. Andy says Elissa thinks I am supposed to apologize to her now. Aaryn says just tell her how right she is and let her think that because she is going home next week. Never mind she will probably get a power and not go home because "America loves her". McCreae leaves. Gina says and people think that I am nuts! She is on a whole other level!! Aaryn says this is why Jeremy went home because he was a bully .. and so your best friend is doing the same thing. Helen apologizes for Elissa and says that all of your HOH wins are credited to you. I am sorry she said that to you. Aaryn says I can't believe I let that happen to me. Amanda says she isn't all there. Helen thinks Elissa is trying to distance herself from me. Aaryn says Helen what if your son was here and he was talked to like that!? Helen says I am sorry I wast here for that. Amanda says well you were here when Andy was threatened and crying. She is hurting you more than helping you and its been like that since the beginning of the game. I love you but its not a good idea to threaten people when you are on the block. Aaryn says we are not working with her (Elissa) Ginamarie it's over! Ginamarie says I know! If I was back in New York I would slap a bit*h! Aaryn says my biggest fear was to not be manipulated. The honest people leave and the manipulative people stay. My greatest fear has happened and I don't trust anyone but you Ginamarie.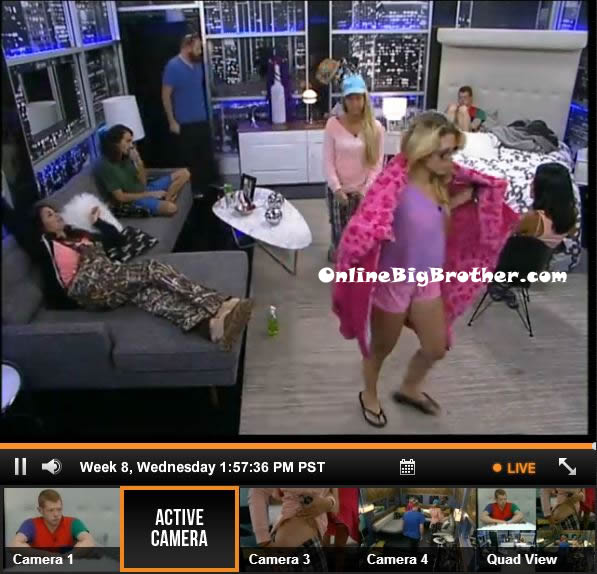 2:15pm – 2:20pm In the lounge room – Amanda, Andy, Spencer and McCrae talk about how sick of Elissa them are. She gets away with everything. Andy says if Elissa is portrayed as she thinks she is and I am portrayed as the villain I am going to kill myself. Amanda says well Helen's fate is sealed, it has been since the beginning. Spencer agrees. Amanda asks what is the point of Elissa saying she is going to complain in the diary room. What are they going to do about it!? Amanda, McCrae and Spencer all say we aren't coming after you Andy. Amanda talks about how she hates that Ginamarie was wishy washy about it being a threat or not.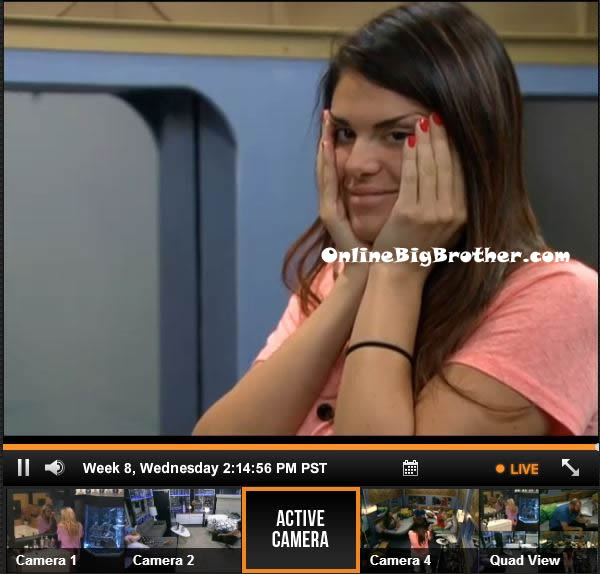 2:25pm Elissa is back up in the HOH room talking to Ginamarie about how she wasn't threatening them. She says threatening is cursing and stuff I did not threaten him. Gina tries to explain how it was kind of a threat. Amanda and Andy join them. Elissa leaves.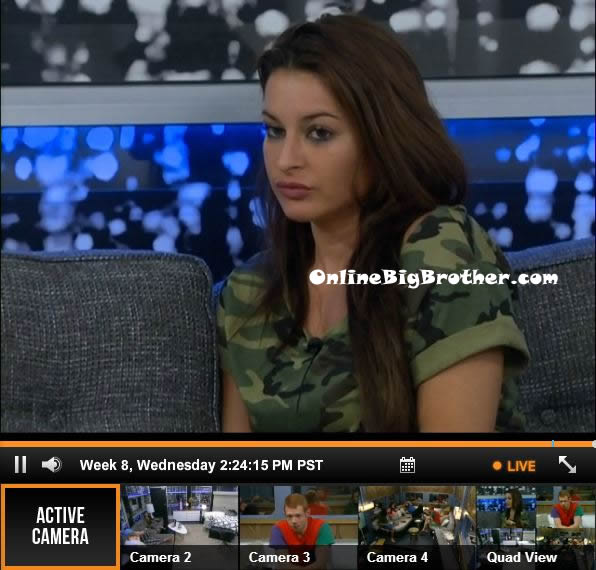 Gina talks to them about how Elissa wasn't even listening to her what she was trying to talk to her. Helen hugs Andy and Aaryn and tells them she loves them. Helen leaves. Aaryn, Ginamarie, Spencer and Amanda continue to talk about Elissa. Aaryn says that Elissa told me I would never have the type of life she has. Amanda says wow! Ginamarie's nose starts to bleed and leaves. They tell her its because its so dry in here. Aaryn says Elissa basically said I was a loser no body and that my HOH's mean nothing. Amanda says why didn't she win them then? Amanda says she is literally crazy. Aaryn tells then about how Elissa says she should have been paid to be here because she would never have subjected herself to people like us. Amanda says then leave! Aaryn says tells Amanda that Elissa said you were a master manipulator and that you have played a flawless game.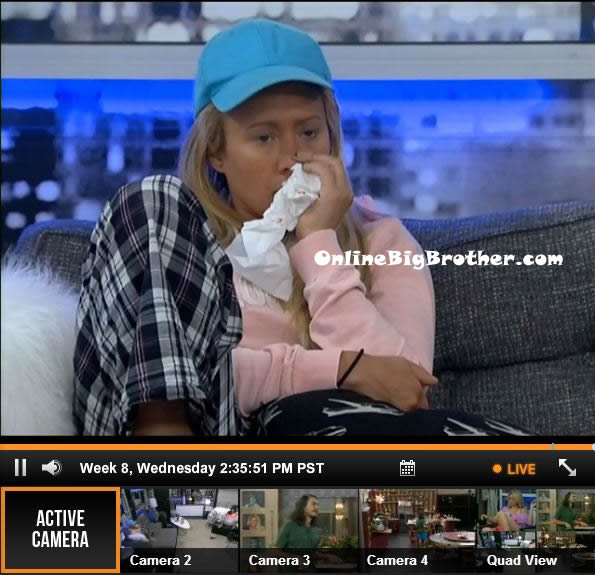 2:40pm – 2:50pm In the lounge – Helen is talking to Andy. Helen says Elissa was just trying to help keep me here. Just like we would try to keep you here. At least I think Elissa would try. Helen starts crying. She tells him that she loves him and that she would love to see him, Aaryn or Elissa make it to the end of the game. Andy says if you go I feel like Elissa would put me up in a second. Helen says I will talk to her and try and convince her not to. Andy starts crying and says that he has and is so thankful you are in this game. Andy says even if I did vote to keep you I don't think Gina would. Helen says I realize that now. Helen says I think Aaryn and Elissa would be great together but I know they won't ever be able to work together. Andy says if Elissa was a rational good game player she would have tried to help you but she just sh*t on your chances of you staying. Andy says I could have lied to you and not told you, that you are going home but I just couldn't. Why did she have to win that veto, I want you here over her so bad. (It's a full on water works right now, both crying.) Helen says she is okay with leaving. Andy says you might get a chance to fight your way back into the game. Andy says I just wish you could have been more with Amanda and McCrae than with Elissa. Helen says that she will look back and think about all the should have, would have, could haves. I made it far though, I could have been evicted week two. Andy says you remember how we met. Helen says I know, we will be life long friends! Andy says I am telling you Amanda never once wanted to go after you. Helen says I love everyone.. we all have to leave at some point. Only one person can win the game.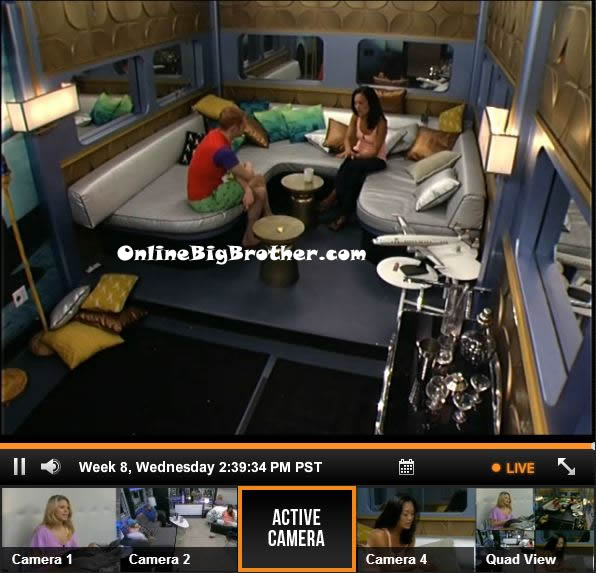 2:50pm – 3:10pm Up in the HOH room – McCrae talks about how Elissa will get a good edit. Amanda and Aaryn don't think she will. McCrae says that she wont get a good edit but she wont get the edit she deserves. Amanda says it is taking so much for me to not just attack her face. Gina says if you did she might actually look better. Aaryn says that this all just sealed Helen's fate.. well it was already sealed but this just put a nail in it. McCrae says that Helen already thinks she is going, she asked me if I wanted her to take anything to Judd. Ginamarie says that Elissa's husband is probably banging some broad right now. Amanda says I like that one! The conversation turns to how Brendon was showing his di*k and how they've all seen it. Aaryn says that his di*k is gross ..its wrinkly, hairy, crocked with big hairy balls. Amanda says eww! McCrae says it's not that bad. McCrae leaves. Amanda says McCrae has a perfect di*k, it's beautiful. Aaryn says I can't believe this happened, I am honestly more pissed at Helen now. Aaryn asks what can we do that's horrible to her. Gina says I could take a sh*t and leave it. Then we could all just use this bathroom so that Elissa finds it. "Sorry I am so used to not being able to afford water." Andy and McCrae join them again. They continue to talk about Elissa and the things she's said.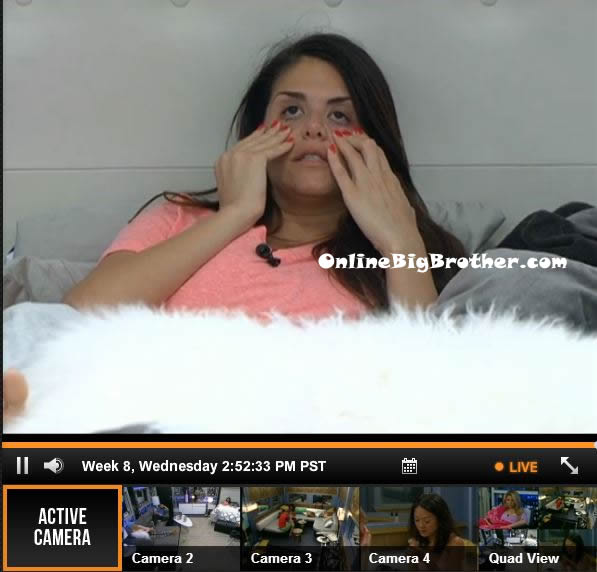 3:10pm – 3:20pm Helen, Elissa and Andy go into the lounge room to talk. Andy tells Elissa I am sorry for coming after you this morning I had just gotten up and you understand if someone says they are coming after you. Elissa says I am sorry too, I didn't mean to come after you. I am just frustrated that Helen is leaving over Ginamarie and Spencer. Andy says I just don't want you and I to go after each other. Elissa says that Aaryn didn't have to put us up. Helen says there are much bigger targets than Andy. Andy and Elissa hug it out. Helen says I got to stay 60 days in the big brother house. I am okay with leaving. They talk about how the its the wall endurance competition will be this Thursday. Helen tells Elissa to stay up there till Sunday if she has to. Elissa says it just suck that Spencer and Ginamarie are staying here. Helen defends both Spencer and Ginamarie. Everyone has earned their spot to be here. Helen gets called to the diary room.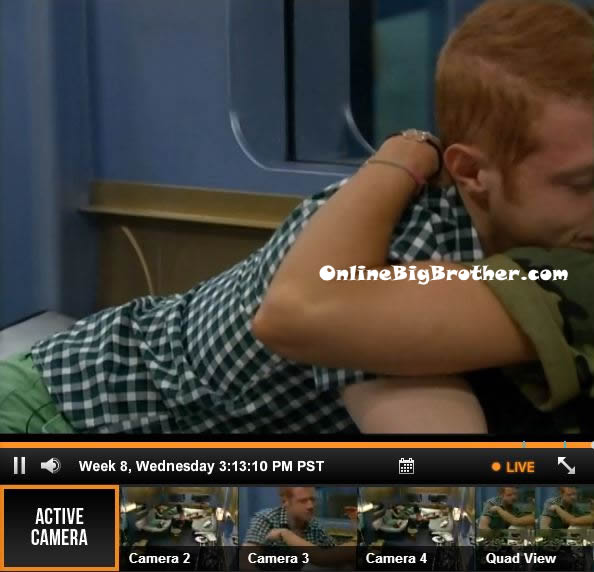 3:25pm – 3:35pm Amanda and Andy join Elissa in the lounge. Amanda says I get it you are trying to protect her. You are definitely a protector like a lioness. Elissa says it's just scary for me because look at the people who are here. There are just liars here, I'm just confused. Bad game players. I am just upset, I just want her to stay. I am not plotting against you. Amanda says no, I know what you're doing. I understand. Andy says yeah like what I would do with Aaryn. They all laugh. Andy leaves. Elissa talks about how mad Aaryn got when I said she wasn't threatening at all to me. Amanda tells Elissa about how Aaryn said Elissa is better than she is. Elissa says I never said that I just said we don't compare to each other – she is a 22 year old college student and I am a married mother. There is nothing that I want of hers and she can't get what I have. Well not like that but you know what I mean. Elissa says that Aaryn is a racist and a horrible person. Amanda says yeah, do you want me to make you some slop? They both leave the room. Elissa says its comical that Aaryn got mad when I said she isn't a threat when I was trying to tell her I wasn't coming after her. In the kitchen – Helen tells then that she just wants everyone to be happy and to have fun for her last 24 hours.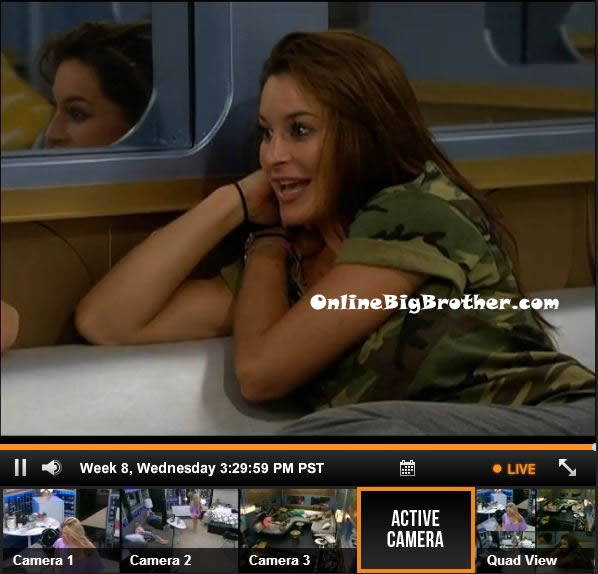 Big Brother 15 Live Feeds FREE TRIAL: FLASHBACK FEATURE
3:40pm – 4pm Up in the HOH room – Aaryn asks how much money would you put on it that if Elissa won HOH she would get Pandora's Box. I would bet all $500,000 on it. McCrae, Gina and Spencer all agree. McCrae says that he hopes production wants her out too. Aaryn says no, they want her here for ratings. McCrae bets she goes into the diary room to be programed with more things to say because she's a robot. Aaryn says if someone was coming back in production would wait unit she left for them to bring her back. Aaryn says I love how people bit*h about her being here when I tried to get her out and you all kept her here. McCrae says you all still bit*h about Candice too and we could have gotten her out week one. Aaryn comes back from the kitchen and says that Elissa said in front of Helen that she doesn't care if Helen leaves we are not a duo. McCrae says that he really thinks Elissa will walk soon especially after this HOH depending on how it turns out. Gina says I will eat puppies and kittens for her to walk. Spencer says you are a havenot, you are not allowed to eat puppies and kittens. They talk about how McCrae cried when Judd left. McCrae talks about how in him and Amanda's relationship – I am the little bit*h! Spencer says you just have heart. They talk about different strategies to winning the possible endurance competitions. Gina says if I have to pee or poop on myself I will. I will take a poop and throw it at her just like a monkey. They tell her she can't do that. (LOL) McCrae brings up a tv show about a guy how threw sh*t at a guy and he got aids from it. Andy says last summer I had a brief fling with a guy .. I mean we didn't really do much but I found out after he was HIV positive. Big Brother cuts the feeds. When the feeds come back Andy says I should be more informed about it but he said there is a 1% chance of getting it from oral $ex. You have to have a gaping wound to basically catch it. They talk about how ring worm was going around the house in the beginning. Spencer says that Jeremy was the host of that.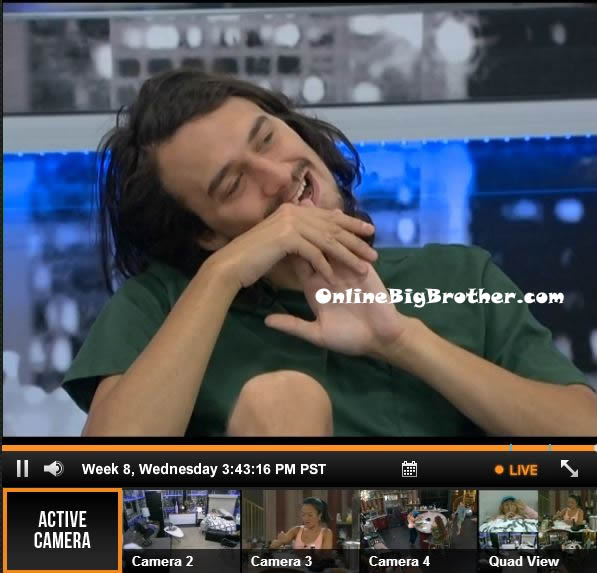 4:05pm – 4:15pm McCrae tells Spencer, Aaryn and Gina that when Amanda had her yeast infection she showed it to him. Aaryn says eww!? why!? He says because I wanted to see it. Aaryn talks about why Amanda shouldn't have used Monistat medication because it causes more infections and her vag!n@ will start to smell like fish. McCrae says well I will let you know when that happens. Andy joins them and says I am so glad I don't have a vag!na. Gina says if I had a di*k I would wack off every day all day! Spencer says you need to spray your vag!na with Lysol. Too much cheese on your taco? Gina says what no I don't have cheese on my taco!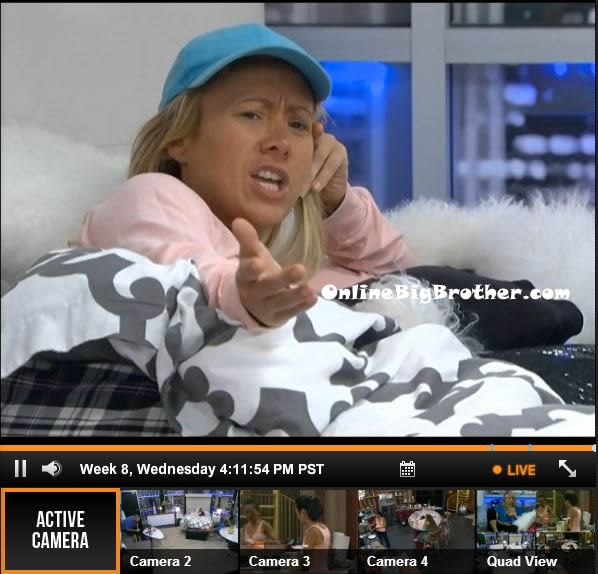 4:15pm Aaryn says "I do have one of the prettiest faces but I'm an overt racist."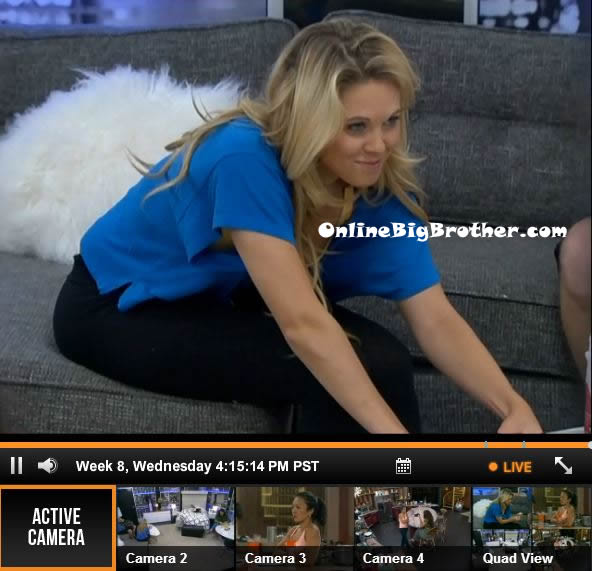 Use the Big Brother Live Feeds to FLASHBACK to SEE what they can't show you on TV:
[polldaddy poll=7329443]