POV Holder:
Elissa
Next POV
Aug 24th
POV Used
Yes
POV Ceremony
Aug 26th
HOH Winner:
Aaryn
Next HOH:
Aug 22nd
Original Nominations:
Elissa and Helen
Current Nominations:
Helen and Spencer
Last Evicted Houseguest
David, Nick, Jeremy, Kaitlin, Howard, Candice, JUDD, Jessie
Have Nots (head cheese and habaneros)
GM, Amanda, Helen and Elissa
Big Brother 15 Live Feeds: FREE 2 DAY TRIAL
11:15am – 11:45am Elissa and Helen are in the bathroom. Elissa asks Aaryn if they can talk after she gets changed. Aaryn says sure. Aaryn heads up to the HOH room and then gets called to the diary room. In the havenot room Amanda wakes up and goes to crawl in with McCrae she tells him that she is going to freak out. She then goes to the rainbow room and grabs a pillow and takes it back to the havenot room to go back to sleep. Up in the HOH room – Elissa and Aaryn are talking about how no one will win against Amanda and McCrae in the end. Elissa says if Amanda is in jury she wont vote for you. Aayrn says yeah I know. Aaryn says I think McCrae I would have a chance against him. Elissa says I want us to have open communication because they are going to eat you alive. Aaryn agrees. Aaryn says they are already coming after me and Ginamarie. I am scared I feel like Ginamarie and I are everyone's target. Elissa says I don't know why you think I would put you up. Aaryn says because Amanda told me that you were. Elissa says I told Amanda that I wasn't coming after her but I didn't say I was coming after you. Aaryn says its difficult because I never know when Amanda is lying or not. Elissa says that Amanda calls you and McCrae children and not in a good way. Elissa says they aren't carrying you in this game, no one will vote for you and I am not trying to be mean. Aaryn says I couldn't put Amanda up over Spencer because we had no idea where Andy was at and if it backfired I would have two huge duos after me. Elissa says this game is about making big moves and I would rather go out today for a big move than to be carried to the end. Your game is bad, you are playing Amanda's game and if you make it to the end you will not win at this point. I see it and when Amanda goes to jury she will make sure everyone else sees it. Aaryn talks about her moves to this point and how it built a bridge to get trust to make it to this point in the game. Elissa says you need to push for Spencer to go and I will push for it because if we don't do it then Amanda and McCrae will win this game. Aaryn says as HOH you need to consult with people.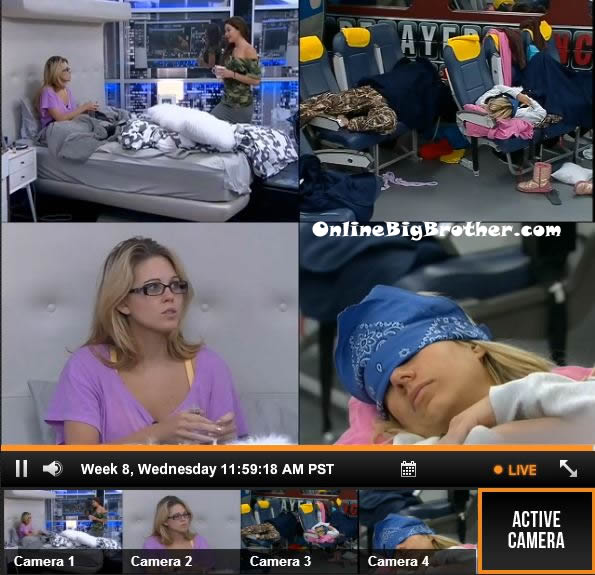 11:45am – 12:40pm Elissa says I would never listen or ask what anyone wants, even as MVP I made all my own decisions. Elissa says I don't think you're a threat. Aaryn asks is that supposed to be an insult? Elissa says no I just don't think you're a threat. Aaryn says I have 4 HOH's and 1 POV how is that not a threat. Elissa says well most of them were luck or because of someone else. If Jeremy was my partner in that one HOH other than Andy than I would have won it. Elissa says I just told you that I am not targeting you and that you're not a threat to me and your taking offense to it. Aaryn says it's just the way you said it. Elissa says it was a bad move to put Helen and I up. Elissa says that Helen said that you are pliable and that's why you were kept over Kaitlin because she had a mind of her own. Aaryn says that's what I am telling you she is at home and I am still here so you have to do what you need to, to stay here. Elissa says if you are you don't make it so Helen stays then I will work with them because I will know I cant trust you. You need to get Andy fired up and to get him to vote out Spencer. Amanda has played a flawless game. Aaryn asks who says that, you? Elissa says no everyone. You wont win because Amanda takes credit for all your HOH and for you staying here. Aaryn says Helen is not my target, Spencer is and I will do what I can to keep him here. Aaryn says if you hadn't won the veto, you would have gone home. Elissa says no. That's what you think and you have thought wrong the entire game. Aaryn says you think I am going to show you all my cards but Im not going to. Elissa says what cards Im not asking you for anything. Aaryn says you are basically calling me an idiot. Elissa says you're not an idiot, you're naïve to think that anyone would vote for you over Amanda or McCrae. Elissa is being super confrontational. Aaryn says I guess I am just being defensive. Elissa says I don't know why you wouldn't want to work with me and why you would see me as a threat. I never viewed you as a threat or as a target. Iam just trying to get you to see how imperative it is that we get them out. Aaryn says if you win HOH I will do whatever you want as long as you have the votes if you are the tie breaker. Elissa says Helen staying is your only chance at getting to te Aaryn asks so who is your target if you win HOH? Elissa says Andy and Amanda, or Andy and McCrae who ever doesn't vote for Helen to stay. Elissa says if we don't get Amanda and McCrae out, they will win. Aaryn agrees. Aaryn says you shouldn't be mad at me if Helen goes. Elissa says I would be made at you because you put us up and it means you weren't aggressive enough to get Andy to vote Spencer out. Helen joins them. Elissa says if Helen goes home its your fault. Helen says Elissa I love you but I feel even if Aaryn hadn't put me up I would still be in this position. I am trying to bring us together not push us a part. Elissa says that's what I am trying to do too. Aaryn says if Andy doesnt vote for you to stay I have no control over that. Helen says Amanda can get into Andy's ear but I can get into his heart. This has been the Amanda show. Helen says I didn't know until now that Andy was more with Amanda and McCrae than with me. Aaryn says if I though 100% that Andy would have voted out Amanda I would have put her up but I didn't think he would. Helen says I know. Elissa leaves. Aaryn tells Helen that Elissa just full on attacked me and told me none of my HOH are mine or mean anything. She said that she is Rachel's blood and no one would want Aaryn here over her. Helen says that Elissa is just frustrated. Aaryn says if McCrae and Andy vote against you then you know everything they have told you is a lie. Helen says I know that. Amanda has manipulated all of us. if I leave then it will just be you and Ginamarie. Aaryn says well Elissa said if you leave its all my fault so if she doesn't go against them then she is going against what she is telling me to do. Aaryn says Elissa wont work with me she looks down on me, she thinks Gina and I are peasants. I don't trust people who look down on me. Helen says Elissa is frustrated. I have spent so much time getting to know you and I love you. It kills me to think that they are trying to kill that relationship with you.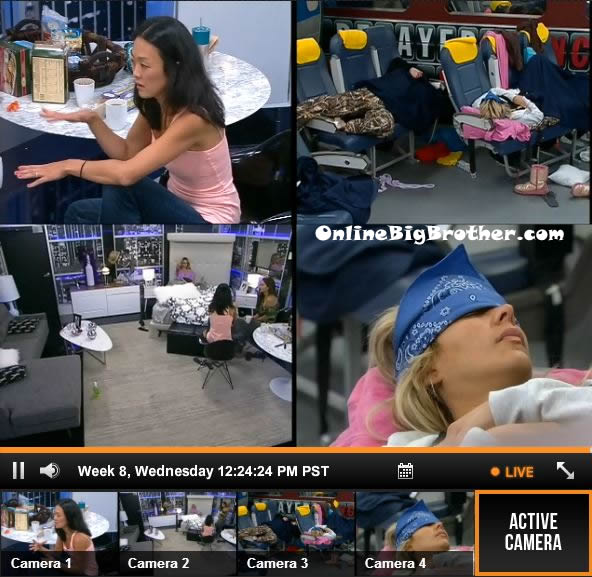 12:40pm – 1:05pm Aaryn tells Helen that Amanda told her that you were targeting me. Helen says why would I do that, I spent so much time building a relationship with you. I've wanted Spencer and Howard out this whole game. They have brainwashed you about me. Helen says people want blood on their hands by getting someone big out. I got Jeremy out, I don't need you on my resume. They are trying to get you out because you would be so good on their resume to have gotten you out. Elissa joins them again. Elissa chimes in to tell Aaryn that they think you're dumb. Helen says hold on, hold on. Helen and Aaryn start crying. Helen says when you volunteered to be a havenot I did too to get to know you better. Aaryn says that if Amanda is saying I don't like you or have ever said anything bad about you its a lie. I have never said anything bad about either of you. Helen says America is watching me as a MOM who can't be saying things like B-I-T-C-H because I have a professional job and I would be unemployable if that was the case. Aaryn says I literally feel like I am going to throw up right now. If you are telling me 100% that you were never targeting me then I can't… Helen says if I said it, it was week two! I want you here! Aaryn asks why is Andy…?? Helen says he is BRAINWASHED, BRAINWASHED, BRAINWASHED!!! Helen says I want to run for public office I can't be seen lying and manipulating. And maybe that's why I go out but maybe one day someone with integrity can win this game. Helen has the full water works going. Elissa says we need to get Andy we are just wasting time at this point. Helen says that Andy needs to go for all the TRAITOR acts he has done! Elissa says we don't need to play nice any more. Elissa says we don't need Andy, five would be a hot mess, we just need 4.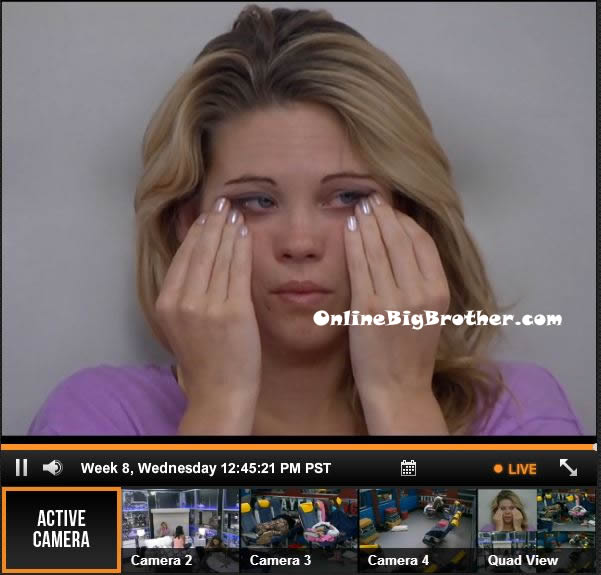 1:20pm Elissa leaves the HOH room again. Aaryn tells Helen that Elissa is disgusting. She says that she really doesn't want to work with her. Helen says this isn't the Elissa I know. Aaryn talks about how Ginamarie is the only one congratulating me and lifting me up. Helen says we should all be lifting each other up and congratulation each other. I am sorry that I didn't do that more. Elissa comes back up and tells them that Andy is on his way back up. Elissa says I feel like I should have gotten paid to do this show. That's why my sister didn't tell me about all this. This is a nutty freak show! Andy comes up but leaves again to put his contacts in. Aaryn heads downstairs. Elissa complains about how annoyed she is and can't handle this.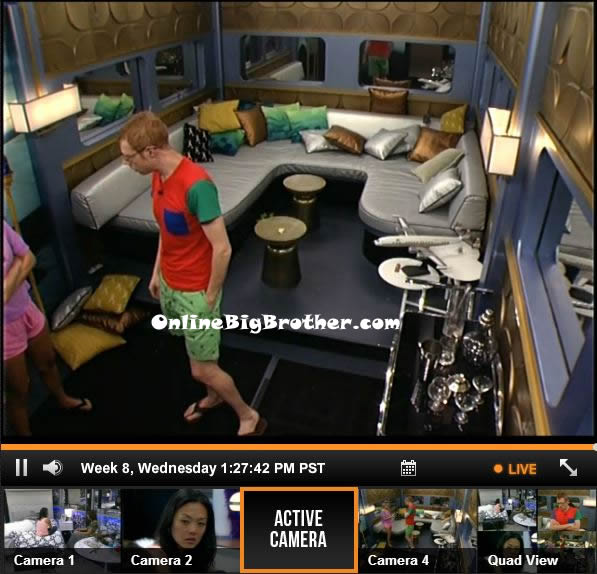 In the lounge room – Aaryn has a quick conversation with Andy. Aaryn says it's bad what's going on up there. They talk about voting out Helen. Aaryn says that Elissa is going to put me and you up if she wins HOH. Andy asks she said that? Aaryn says yeah. Andy says we just have to make sure she doesn't win HOH. Andy tells Aaryn I am not an idiot. I don't want to go to the end with Amanda and McCrae.
Use the Big Brother Live Feeds to FLASHBACK to SEE what they can't show you on TV:
[polldaddy poll=7329443]