POV Holder:
Elissa
Next POV
Aug 24th
POV Used
YES
POV Ceremony
Aug 26th
HOH Winner:
Aaryn
Next HOH:
Aug 22nd
Original Nominations:
Elissa and Helen
Current Nominations:
Helen and Spencer
Last Evicted Houseguest
David, Nick, Jeremy, Kaitlin, Howard, Candice, JUDD, Jessie
Have Nots (head cheese and habaneros)
GM, Amanda, Helen and Elissa
4:28pm Kitchen Elissa and Helen
Elissa crying.. upset because their campaigning isn't going to save Helen. She regrets getting out all her allies earlier in the game.
Elissa: "Candice should have never gone.. Howard should have never gone.. it's so dumb this is all so stupid"
Helen: "You can get your revenge "
Elissa asks if Amanda is going to be coming after her or GM and Aaryn
Helen: "All three of you.. .I don't know what order.. all three of you"
Helen: 'This is why you have to win tomorrow.. to make some deal.. you need them badly"
Helen: 'If you don't win everyone is going to put up Spencer and you"
She explains that Elissa and Spencer have no one in the game so if it's a safer move than to put up Aaryn and GM.
H: "Spencer is right now in a worse position because he's going to be a pawn forever.. he will look like the worst player because he never changed his position in the game"
Elissa says she thinks she would put up Aaryn and Amanda.
H: "and you can be like this is for Helen's eviction"
Helen says she has to keep Spencer off the block it's a waste, "Spencer is a waste of time"
Helen says if Elissa puts up McCrae and Aaryn it will split up McCrae and Amanda. Elissa adds that Aaryn will go home in that scenario.
H: "She will go home and realize shit I should have listened to Helen and Elissa.. America knows who she is and America knows who we are.. I would rather go home with my dignity "
E: "Oh my gosh Aaryn says she's going to get her boobs done with her mom.. oh my gosh"
Elissa adds that she never thought about getting botox and boob jobs at 22.. Elissa points out that she's a mother with real life problems implying that's her reason for Botox and boob jobs.
You can re-watch ever second on the feeds using the flashback feature.. It's just like a DVR and is super easy to use. click this link for a Free Trial —> Subscribe to the Big Brother Live Feeds
4:45pm HOH Aaryn, Amanda, GM and Spencer
Amanda: "we all know that Elissa does no wrong she will never own up to what she does or apologize."
McCrae thinks Elissa will walk he really does. Amanda thinks its a real possibility.
Aaryn: "I will be the Dan tomorrow.. I will be coming up with pep talks all night… this is serious.. she cannot win the HOH"
Big Brother 15 N*de flashback times here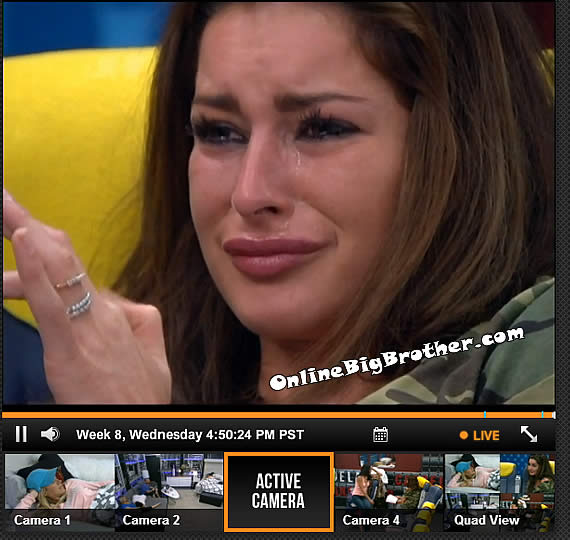 4:52pm Havenots Helen and Elissa Both are getting emotional (Sounds like Helen knows her fate and is trying to prep Elissa for the battles ahead).
Helen is giving Elissa a pep talk between sobs, "do it for the moms out there"
Elissa: "My sister is big brother gold.. and you are saying nobody wanted me in the house.. maybe people did want work with me.. Candice wanted to work with me"
Helen apologizes for telling Elissa to vote out all her allies. "Even if you didn't vote them out they would have gone out anyways.. we could say Gosh Candice and Howard should stay but they would have gone out regardless if we voted. "
Helen at this point my only advice to you is tomorrow you have to win HOH. Elissa has to make deals or they will keep targeting her.
Helen: "Do it for Reilly and the Brenchel army"
Elissa says every time she looks at the other houseguests she sees evil people.
Helen says she's appalled at the things that happened in the game, "I'm even appalled what I've done"
Helen: "I always wanted to go after big people.. I don't regret pushing people to do that"
5:12pm HOH everyone Spencer, McCrae, Andy and Amanda
Andy saying he will sh!t his pants on live TV if a jury member comes back.
Amanda: "How can a 33 year old woman have her head shoved up a 22 year old a$$ hole" (talking about GM and Aaryn)
Spencer thinks it's a jealousy thing, Gm has the blue contacts and bleached hair she's trying to be Aaryn.
Amanda: "If you say anything wrong about Aaryn GM will back her up.. regardless"
Spencer says GM cannot be reasoned with you can't tell her anything.
Amanda: "All you need is a arrogant 22 years old have a 33 year old to back you up"
Andy says he snapped at Elissa today he couldn't handle it any more "She said she never threaten anyone.. She was threatening me.. she said to me If I vote out Helen, Aaryn, GM and her are gunning after him and i'm going home"
Amanda says in Elissa mind that is not a threat it's a "Game move"
Amanda: "God I want Elissa and GM to get into a fight"
Andy: "Elissa will just walk away
Spencer: "Gm will follow her"
Amanda: "I think GM will get rid of me as soon as she can she hates seeing me and McCrae together.. the funny thing I have never been targeting
Amanda: "That's dangerous .. GM will do whatever Aaryn will do and Aaryn will protect GM at all costs.. It's The blonde leading the blonde.. and they are both competitors"
They talk about Elissa and her encounters today how crazy she will look on the show. Andy says there is no way they can edit their conversation that shows Elissa in a good light. (wanna bet)
Amanda: "There is no way Elissa will ever talk to me again after she finds out what I said about her" McCrae says they were already dead to Elissa.
Andy tells them that Elissa is not going to drop off of the HOH he thinks she will fight. They are all thinking that Elissa will put up Aaryn and GM if she wins the HOH. Andy: "She's after the trash in the house.. Spencer"
They laugh at Spencer.
Andy says Helen's mistake was sticking with Elissa as long as she did. Elissa was useful in the beginning weeks but after that she was toxic to Helen's game. Andy says all those weeks Helen would come to him and say they need to get Amanda out not once did Amanda come to him and say they needed to get Helen out.
Amanda: "Gm.. legit on my life her and Elissa are two types of crazy.. how can they take the personality tests and pass it"
Spencer says GM has talked to the physiologist 6 or 7 times. Amanda thinks it's dangerous having them in the house. MC says if GM never hit Candice she is harmless.
Spencer points out that the farthest they get from Candice and Jessie's eviction the more GM hates them it's really odd.
Spencer: "In the event that GM is evicted.. will she either A) wear the hate talking to Julie Chen or B) have it on her hip"
Amanda: "He's probably moved and changed his last name"
MC: "the problem with GM is If you take her out of this game you will never get her vote" (in the finales)
Amanda: "I never think about votes in this game.. it all depends who you are up against.. I know this is horrible to say but who is more dangerous Elissa by herself or GM and Aaryn together.. has anyone else thought of that"
Andy: "I really think Elissa needs to go next week.. I know she isn't coming after me I just think she is dangerous "
Spencer:' Ya"
MC: "Ya"
Amanda: "That is why one of us 4 have to win the HOH"
Spencer gets called to the diary room
Amanda: "Poopy or Gm have to go soon"
MC tells Amanda to stop telling everyone that they are trying to be Elissa's friend everyone knows and once people start getting in spots where they are in danger they are going tell people that.
Andy: "Aaryn baffles me.."
Amanda: "3am is going to have to be 2am.. she doesn't trust you over GM"
Amanda: "She is going f***ing nuts.. she's emotional.. she attacks me.. she's trying to get us to go after each other"
Amanda: "She's trying to turn Elissa on me.. that doesn't help any of us if me and her go on the block tomorrow"
Amanda: "She keeps saying I'm not making my own moves.. I'm not making my own moves.. the DR told me I'm not making my own move"
Andy: "She's been worrying me"
Amanda: "I would rather Spencer in the final 4 with us over Aaryn"
MC: "He's not emotional he's logical"
Andy: "she asks me all the time if this is legit.. shut up it's worked for 9 weeks.. it's legit"
Amanda: "I don't care who goes to final 4 as long as it's us three"
MC: "If Elissa wins it we have to push GM and Aaryn to go up"
Andy: "that is what she's leaning to doing"
McCrae and Amanda say if they win HOH they will put up Spencer and GM and backdoor Elissa but if Elissa wins POV it would be poopy.
MC: "I do want to keep poopy.. " They agree that Poopy will expose them all if she is on the block and in danger.
Amanda: "If we cannot get ELissa out next week then Aaryn or GM has to go"
Amanda: "If we were to back door Aaryn we would have ELissa.. and maybe GM"
Amanda: "She's hurting our game right now.." (Aaryn)
Andy:'YA"
Aaryn joins them. they tell her they plan is to put up GM and Spencer with Elissa being the target. Amanda asks Aaryn who GM will put up. Aaryn says it will be Specner and Elissa and if POV is played one of AManda, McCrae and Spencer.
Spencer rolls in.
MC tells them production will never show how truly crazy Elissa is. Andy thinks they will because he talks about it in the diary room. Feeds cut..
6:17pm HOH Spencer, Andy, Amanda and MC
Guys are talking about which girls are there types. MC says he likes amazons therefore he was attracted to Amanda.
Spencer tells them he likes a very submissive girl, He says he treats them well but wants to be in charge.
[polldaddy poll=7329443]