POV Holder:
Andy
Next POV
Aug 17th
POV Used
?
POV Ceremony
Aug 12th
HOH Winner:
ANDY
Next HOH:
Aug 15th
Original Nominations:
Jessie and Spencer
Current Nominations:
Last Evicted Houseguest
David, Nick, Jeremy, Kaitlin, Howard, Candice, JUDD
Have Nots
Aaryn, Helen , GM, Elissa
9:01pm Spencer and Andy Cockpit
Spencer wants Andy to put him at ease.. He is nervous to death right now. Spencer thinks Helen is mad at him for something he did in the POV and this will jeopardize his votes on Thursday. Spencer says he guessed low on the last question knowing that Andy would guess high. Spencer is glad Andy won so he didn't have to put anymore blood on his hands.
Andy says people are going to respect him this week Jessie is going home. Andy: "There is no way people can be mad at you for not throwing a veto when you are on the block"
Spencer tried to talk to Helen and Elissa but they gave him a funny look
Andy tells him he'll go talk to Helen and smooth it all over.
9:08pm HOH Tub Amanda and McCrae
Amanda tells him the house was pissed off he took so long to get to the Diary room so they could start the competition.
They get in a argument.. At one point McCrae says "F** this" and leaves.
You can re-watch ever second on the feeds using the flashback feature.. It's just like a DVR and is super easy to use. click this link for a Free Trial —> Subscribe to the Big Brother Live Feeds
9:12pm Andy and Aaryn
Andy: "right now i'm leaning towards Jessie" Andy isn't certain though and wants to go over all the options. He wonders if maybe they kept Jessie and used her to take out GM and Elissa.
Aaryn is worried Jessie will put up GM and Amanda, Aaryn thinks Jessie is close to Elissa.
Andy points out if they save Jessie she will be forever loyal to them
Aaryn: 'Spencer is more likely to go after Helen and Elissa than Amanda and McCrae.. the more I think about it the more I think Spencer staying will benefit us"
Andy: 'we just need to met every day and compare the reason to keep and evict them"
Andy says his Gut is telling him if he doesn't get Spencer out of here he will be the reason they are evicted.
Aaryn: "I get that feeling to"
Aaryn says she never really trusts Spencer because he's lied so much to her in the beginning of the game but with Jessie she tells it like it is.
Andy doesn't feel good about Spencer even though he's closer to them than Jessie. He still wants Jessie out he's just playing devils advocate.
Aaryn: "the longer Jessie is here the more chances she has to putting them up"
Aaryn: "Jessie's loyalties is to Helen and Elissa first and Spencer's loyalty is not with Helen and Elissa"
Andy says Aaryn is the only one that knows he's undecided he's been telling everyone his target is Jessie..
Andy: 'I want to keep working both sides" He suspect Helen will put up McCrae and Amanda next week if she wins the HOH. He's keeping it from Amanda because he doesn't want her freaking out.
Andy is going to stop pushing and sit back to see what people tell him. Andy is not going to use the Veto. He'll pull Jessie and Spencer aside and tell them both individually they are safe the other one is the target.

9:28PM bedroom Aaryn and Jessie
Aaryn says she just talked to Andy and he thinks there are more benefits keeping Jessie over Spencer. He doesn't trust Spencer. Jessie says if she doesn't win HOH next week she'll be back on the block. She feels discouraged.
Aaryn: "we're getting to the point where if nothing happens we'll keep being pawns.. We have to figure out a big plan that will benefit the pawns"
Aaryn: "I'm a strong player but i'm not in that four…" (Helen/Amanda/McCrae/Elissa/)
Jessie: "Elissa hasn't done sh!it you should have been in Elissa's position after what you have done.. "
9:35pm McCrae and Andy
MC pointing out that Jessie was excited he won the POV, "It's all so perfect" Andy says right now he wants Jessie out but he's wary of Spencer.
MC: "Amanda is going to push hard for Jessie"
Andy says what is good for their game is good for his game. He thinks Spencer is much better at the game over Jessie.
MC asks him what he wants to do next week.
Andy: "you, Amanda, Helen and Arryn are the only ones I Care about the rest can go"
Aaryn joins them
Andy: 'Next week I want Elissa or GM to go"
Aaryn says Spencer is a big a$$ liar and he's good at it. With Jessie you always know what she's thinking.
Aaryn adds the problem with Jessie is she's got two new targets every time you talk to her.
Aaryn says he's going to bed and might not be up until tomorrow.
9:50pm Bathroom Elissa and Amanda Amanda is talking a bit about the fight she had in the bath rub with McCrae. She points out that MC is in a really bad mood and has been for a couple days now. He's trying to start a fight with her about her being insensitive to people.
They start to talk about the least number competition they win the better because it makes them less of a target. Elissa says it will suck because they eventually need to start taking out superfriends. Elissa: 'I feel like we haven't talked game in so long"
Amanda: "I've always been on the same page as us 5"
Elissa says she feels like people are always talking about final 4 and she's not included. Amanda says she has no final 4 deals and never talks about that with Helen, Andy or McCrea. (See image below for Amanda's facial expression)
Elissa: "Really"
Amanda claims she's only talked final 5.
Elissa says she left her whole family if she has to sit in the jury house with these people she will go nuts, "I would rather make it to the final 4 then go"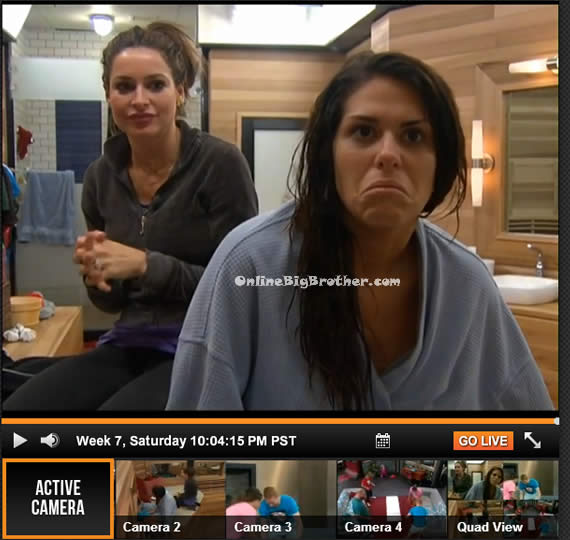 Elissa: "I'm going to go nuts in jury house with them"
Amanda agrees says she feels the same way.
Elissa lists off all the sacrifices she made being on the show. Amanda: 'I've been with you since week one.. "
(Elissa moaning is rivaling Helen's "OK you knows")
Amanda asks her if anyone makes comments about her putting her up. Elissa says no she hasn't heard anything. Elissa asks the same question.
Amanda: 'Aaryn will sometimes make a comment.. she doesn't want to go too far with me.. " Amanda thinks if Aaryn has to decide between Elissa or Helen she will choose Elissa to go but that is the extent that Aaryn is targeting them.
Elissa: "I think Aaryn is too influential.. she has to go.. she's borderline as bad as Jessie.. she gets in the zone in those competitions.. "
Elissa says Aaryn would never have gotten rid of JUDD if she had time to think about it. Amanda points out the jury house is filling up with people that will vote for them and not Aaryn.
Elissa says she's been traumatized by the people in this house.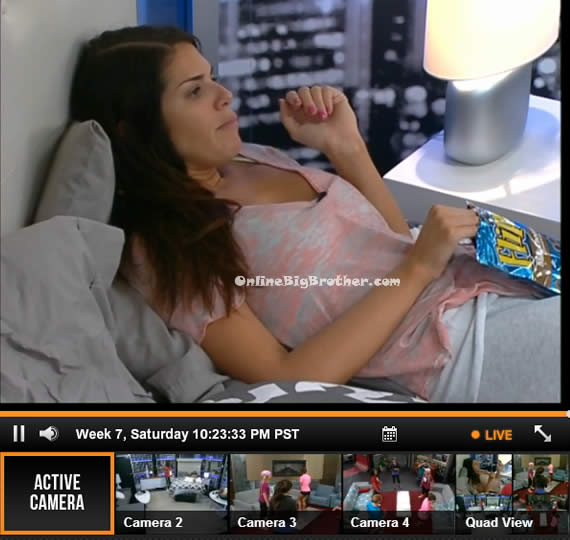 10:22pm HOH Amanda and McCrae
Amanda about Elissa "Oh my god she is so annoying"
MC: "Is she saying she wants to be on survivor"
Amanda says Elissa is complaining that she left her family to be on the show and doesn't want to go to jury early.
Mc: "What a piece of shit"
Amanda: "we all left our families"
Amanda adds that Elissa is saying she will walk off the show if she gets to jury.
MC: "Good then America will get her vote"
McCrae predicts that the first 4 jury members will get to compete in a competition with the winner coming back into the game or America will vote one back in. If that is the case McCrae thinks they should get Elissa out soon so she comes back instead of JUDD.
MC: "She (elissa) mentioned Survivor to me before.. You won't survive one fu*** day on survivor.. "
Amanda: 'she was saying Survivor is better than this.. what the f***"
MC: 'She is delusional everything with her is complaining .. She fuc*** whines all the time.. she's a grown f**** adult and all she does is whines"
They agree that Elissa is trying to make it sound like Gm was more in the wrong than Candice during the eviction where they both feel they were equally responsible. Amanda: 'Aryn does the same thing"
They start chatting about the fight they had.. Sounds like he pissed off at Elissa. Amanda tells hims him he's playing an amazing game and if he can't control his emotion and it ruins his game he'll look back at this time and regret it.
They both apologize for their part in the fight. McCrae tells her Andy is still wanting to get out Jessie but he's weighing all his options.
Amanda says if she wins HOH she'll put up Spencer and GM and backdoor Helen
McCrae: 'I'll put up Spencer and GM and backdoor Elissa"
Amanda: "Why she isn't coming after us"
MC: "Andy might want Helen here.. and Aaryn wants Elissa to go"
Amanda: "That is not smart for out alliance that's personal things"
Amanda: "Aaryn has no f*** say.. she wouldn't be here if is wasn't for us"
Amanda tells him Helen has to go soon and Jessie has to go this week. Amanda claims JUDD told her to get Jessie out as soon as possible. McCrae doesn't believe it. Amanda asks if Jessie wins HOH who would she put up.
McCrae: 'Gm and someone else"
A: 'She won't put up elissa.. every single person we want gone next week she won't put up"
Andy joins them (Drink)
Amanda: 'Specner was supposed to fold.. is he stupid"
McCrea: "Honestly would you ever give up the veto.. cmon"
Amanda: "If I trusted the people that are keeping me here"
10:34pm Playing Hot Potatoes
10:58pm HOH Andy, Amanda and McCrae Andy says he's very much on board with getting out Jessie he's just trying to weigh all the options. Amanda goes over all the reasons they need Jessie out this (same thing we've heard it all season Jessie is responsible for everything and the most dangerous player in the game ever)
Andy: 'He (Spencer) scares me more than Jessie"
Amanda:'That is why he needs to go.. it's all about the order"
Amanda: 'I do't trust Aaryn with Jessie, Elissa with Jessie and Gm with Jessie"
Andy: 'GM and Specner talk game together.. GM does not like Jessie since the beginning of the game"
Amanda: 'I thought Jessie is the plan and I'm telling you if Jessie wins HOH i'm going up"
Spencer joins them.
Spencer tells them if he won HOH he will not put up Andy, Amanda and McCrae. They asks him who GM would put up. Spencer says GM hates Elissa she will be a target for sure.
Amanda: "what is game talk like with GM"
Spencer: "BRO they're going to be picking us off one at a time"
Amanda: "She still thinks that"
Andy: "Gm is about 3 weeks behind in game"
They get alcohol Spencer and McCrae leave.
Andy says he wants Jessie out right now but they need to keep an eye out for Spencer. Amanda: "He's fake as sh!t"
11:41pm drinking and looking at the memory wall
11:53pm Andy says Nick was his type of guy small and cut
They're going through the memory wall deciding based on the picture who would be dating who..
Spencer joking with GM tells her she could be the lesbian couple with Candice.
GM: "SPENCER go f*** yourself.. I don't like the dark meat I like the light meat "
Helen would like Nick.
They say based on looks Jessie would be with Jeremy but based on personality she would be with JUDD
Ginamarie says the old her would have gone for Jeremy the new her went for Nick.
12:15AM Playing a counting game where they all close their eyes and count to 20. If two people say the same number they start back at 1.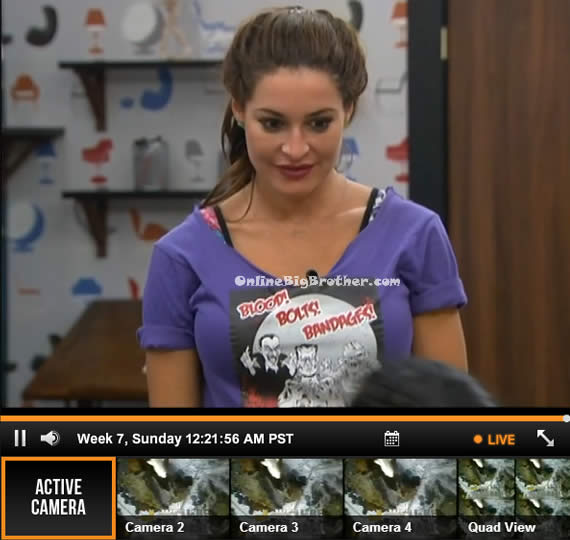 12:23AM Elissa and McCrae
Elissa: "Do you think they are yelling at her for setting up that whole thing"
Feeds cut
When they come back it's Helen in the room talking about the Veto. McCrae is saying Spencer told him he wasn't going to fold and McCrae understand you can't expect someone on the block to throw a veto. Helen talks about her sticking to the plan. (I think they had a plan going into this competition to ensure Jessie did not win the veto. Spencer didn't do exactly what he was supposed to. If he had he would have been throwing the POV)
McCrae leaves. Elissa tells Helen how annoyed she's getting with Ginamarie. GM said 5 things tonight.
12:51AM backyard drinking wine and Random conversations…
We learn Amanda brings a lot of different boyfriends home to family functions.
Andy's dad is difficult to engage in conversation
Andy's never brought a boyfriend home to meet his parents.
Andy's most serious relationship was with a guy that was 6ft7 it was great because he never lost him when they went to the bars.
3 things GM likes about her step dad 1) he know everything 2) he fixes sh!t 3) he takes car of her mom and her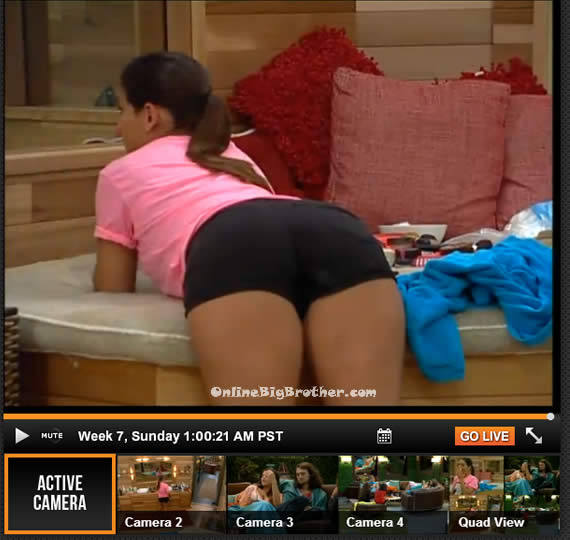 1:00AM
[polldaddy poll=7309671]