POV Holder:
?
Next POV
29
POV Used
?
POV Ceremony
March 31
HOH Winner:
Canada
Next HOH:
Apr 3
Original Nominations:
?
Current Nominations:
?
Have Nots
?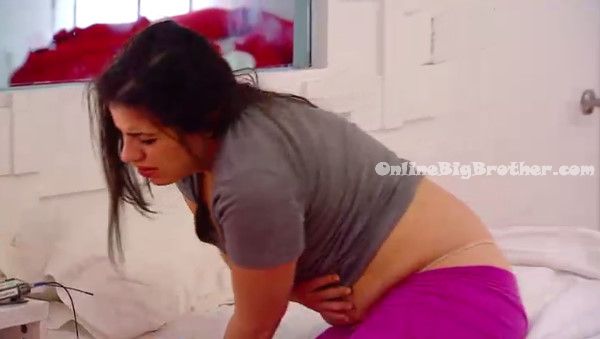 9am Big Brother wakes up the house guests. Sabrina tries to continue sleeping but big brother wakes her up. She complains about throwing up last night and says she doesn't feel good. She asks big brother if she can keep sleeping because she threw up. Andrew tells her they'll want to talk to you in the diary room. Sabrina gets up to go to the diary room. The house guests guess that they'll be having a havenot competition today. Sarah wonders if she will even need to play since she has a slop pass. IN the living room – Sabrina is waiting on the stairs to go into the diary room. Kenny asks her if she over did it on the food last night and that's why she's not feeling well. Sabrina says yeah. Kenny congratulates the others on making it to day 30.

10am ADEL makes fun of Jon for sniffing Neda's butt as they walked up the stairs. Adel says that's a dog trait not a human trait. Andrew says that he went into a shower at a gay club once. He says he was with a bunch of girls that made him. "I had my clothes on the whole time though" Kenny says that when he was in Calgary he picked up a girl at the bar and lied to a girl that his name was Hunter. He says that he ended up dating her for 2 weeks and she thought his name was Hunter.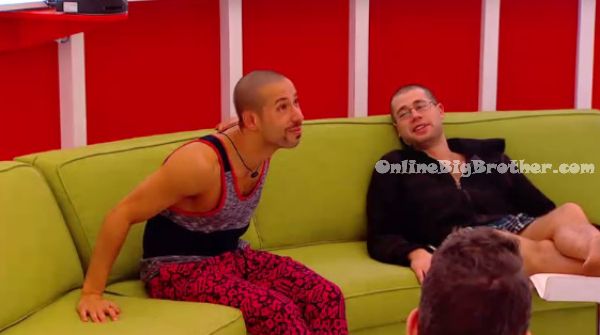 10:30am – 10:55am Outside the bathroom – Neda is painting Jon's nails. Neda tells Jon that they definitely weren't spooning last night. I woke up a bunch of time and we weren't. Jon says it wouldn't matter if we were. Neda says we weren't. That kind of stuff makes us a target. Just you watch we'll get evicted and that will be the reason. I also got up when Kenny woke up and I was facing the other way. They talk about Canada being HOH. Jon says I think Canada likes me. Neda agrees. They talk about how Kenny is acting because he knows that Canada hates Andrew so he is trying to distance himself from him.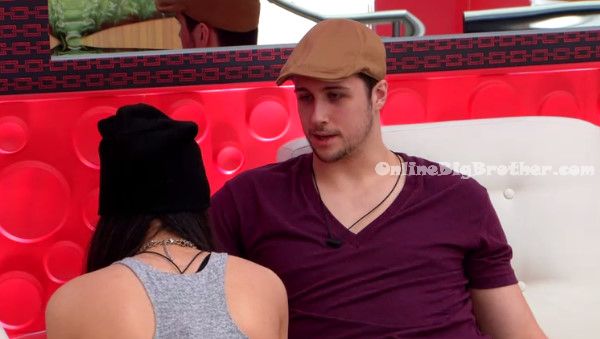 11:15am Kenny and Sarah are whispering. Sarah talks about how she can't stand Andrew. Sarah says what if Canada hates the first five. Like what if they hate something about each one of us. Kenny says then we roll with the punches. Sarah says because if they really don't like the first five and one of us wins the veto, then Canada will just replace us with another. Kenny says then we just roll with the punches. If we go home them at least you get to see you kids and I get to see my dog. Kenny says I think out of every body it would be Andrew and Sabrina.
11:25am In the storage room – Arlie and Adel are talking. Arlie tells Adel thank god you have that (fake) power for this week too. Adel says yeah! I still need to go ask and clarify how it will work though. Meanwhile in the bedroom – Sabrina asks Kenny what if I'm a have not by default because I can't compete? Kenny tells her that she just shocked her system from not eating and then eating so much.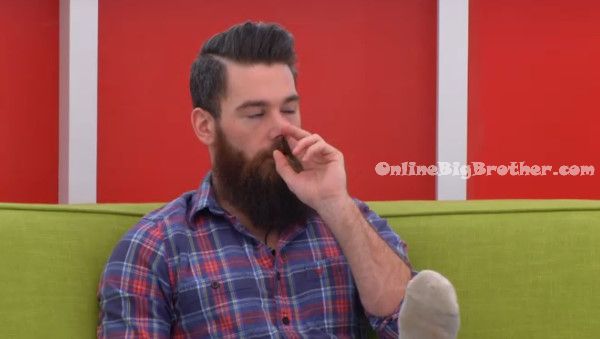 LIVE FEED Leak of the upcoming HAVENOT Competition being set up in the backyard: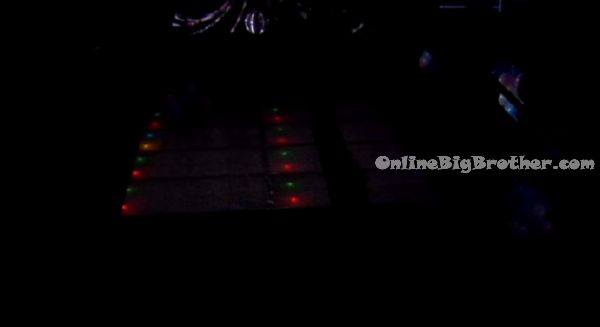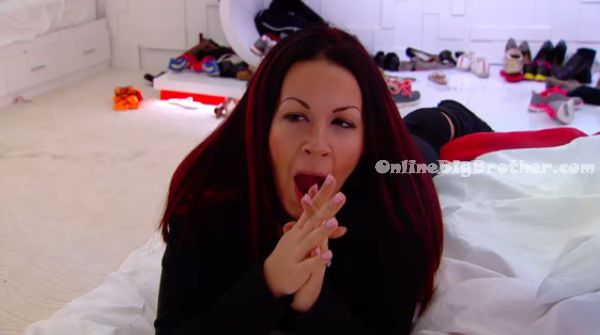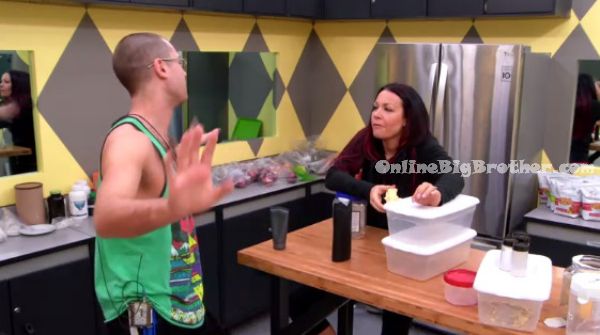 12:30pm – 1pm In the storage room – Arlie talks to Sarah about how much of a liar Sabrina is. He talks about the fight with Ika that she had and how her story of what happened so much. In the bedroom – Adel talks to Heather and says that he hopes Canada puts up Sabrina. Heather says that Sabrina is a really nice person but I really don't like her game play. Adel talks about how much Sabrina lies and how Big Brother even called her out saying she lied about what she said happened during the Ika fight. Adel says that when he won the fan challenge one of the tweets I saw was from a random lady saying Great job Adel! You're the only person seeing right through Sabrina. Adel says and that was week 1 I figured her out. Heather says great job.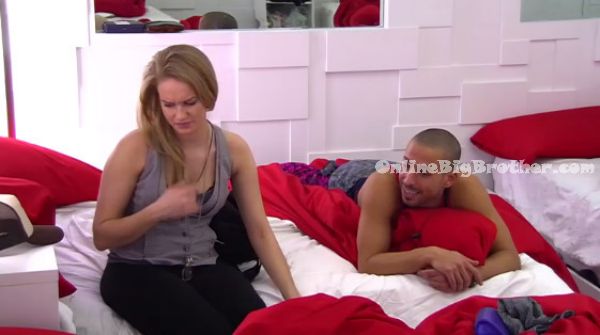 1:10pm – 1:30pm In the living room the house guests are sitting around the circle couch. In the audio of the following video we hear Heather in the diary room say ""Lets pick players for the have / havenot competition…" Adel says that he hears them rearranging the Canada room. Im guessing sorry. Kenny and Jon say its coming from the diary room. They then hear balloons popping. Jon says she's going to get a Diamond Power of Veto because she got that blank card. Jon says I guarantee a DPOV in one of those balloons. Neda says we're just guess we have no idea. Adel says that the blank one was a misprint. Jon says I don't think anything in here is a f**king misprint. The house guests talk about Ika winning the ball counting challenge. Jon says that Ika could have guessed 4 and she still would have won that thing.
1:30pm Big Brother cuts the live feeds.. the have / havenot competition is likely starting right now!
3:30pm – 4pm The feeds are still blocked..
1:30pm – 4:10pm
Big Brother blocks the live feeds for the have / havenot competition. When the live feeds return, they are only on for a short 30 seconds or so with all of the house guests out in the hot tub room. All the girls are dresses in dresses and the guys are dressed up with dress pants, shirts and vests. They yell out congratulations! Rachelle is holding a bunch of helium balloons on strings. They say that was awesome, that was cool. Andrew jokes now we get charged a $200 layover fine. Kenny says yeah we all sign our name on it.. They start to head out of the hot tub room and big brother cuts the feeds again..
[polldaddy poll=7919957]
Stay connected and interact with other Big Brother Fans on our Facebook page.
And Follow: @BigBspoilers and @Dawgsbigbrother on Twitter for the most up to date spoilers.