POV Holder:
?
Next POV
29
POV Used
?
POV Ceremony
March 31
HOH Winner:
Canada
Next HOH:
Apr 3
Original Nominations:
?
Current Nominations:
?
Have Nots
?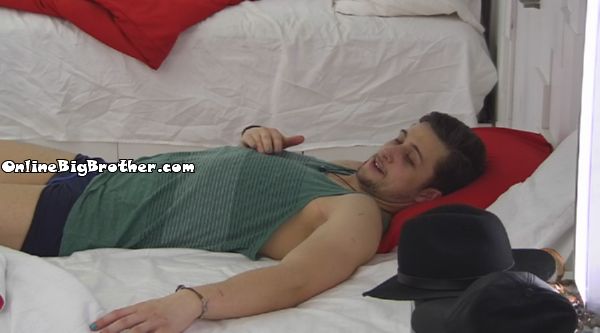 11:39pm Jon and Adel
Adel says Canada likes Arlie and Jon more than im that's a given.. Adel did his damage at the start but he doesn't think the three of them will be in danger.
Adel wonders if the people that go up will be sad. Jon – "F***k it"
Adel and Jon agree the "Big Man" and Sabrina will be going up. (Big Man = Andrew)
Jon brings up when he said "queer bag" he had no idea people would taek offense to it. He feels bad about it he repeats over and over he had no idea(they talked in the kitchen about this for awhile nobody in the house was upset) . Adel tells him not to worry everyone knows Jon didn't mean it in a negative way "it's all about intent"
Jon says Sabrina is "so annoying she thinks she knows sh1t and runs everything.. little does she know BOY"
11:46pm dining table
Talking about the crazy things that happened this season.
Sabrina – "I want to go home now and watch this f*** season"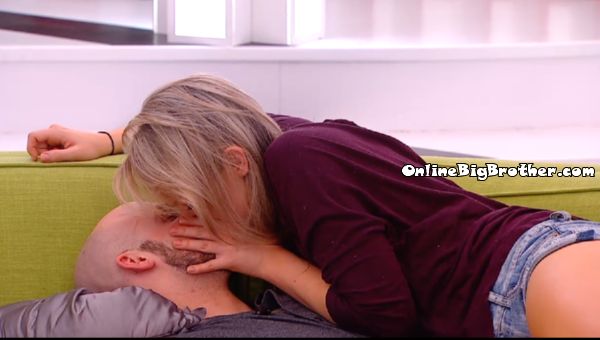 12:00AM Still showmancing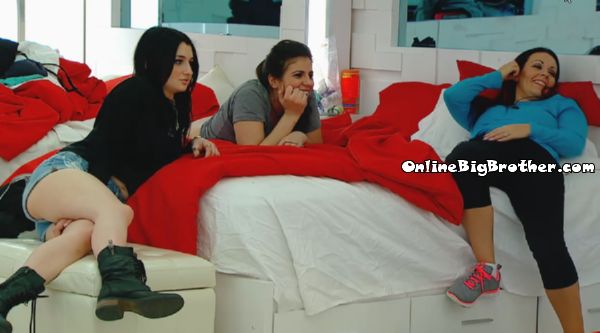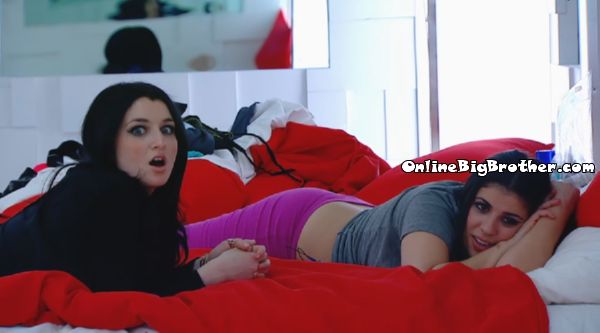 12:05AM Bedroom Jon shows the girls "Big Jon"
Rachelle – "Oh my god I saw your whole wiener.. on the side"
Arlie (?) "Jon Big Dong Pardy"
Arlie – "Jon is going to be Evicted from Canada because of how much he touches his junk"
They mention that the have nots competition will be tomorrow.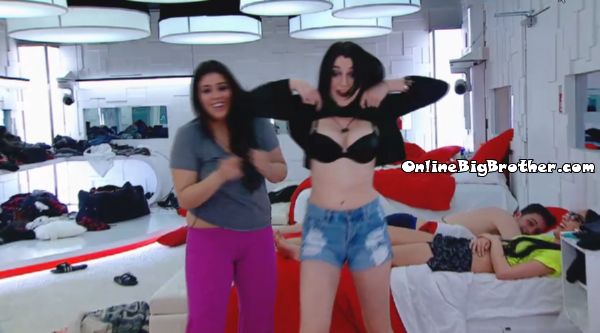 12:20AM Rachelle starts "Flashing" people saying "Wake up CANADA"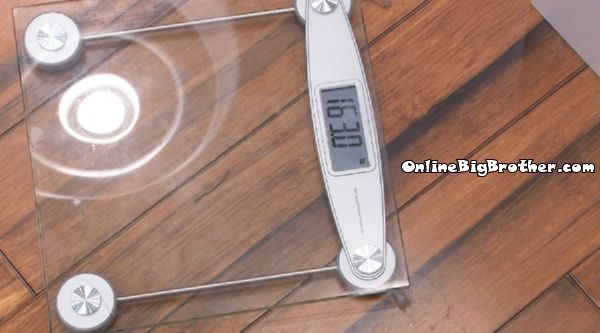 12:35AM
Nothing much going one.. cam 3-4 are the showmance cam 1-2 has Rachelle and Sabrina. Sabrina jumps on the scale the cameras zoom in.
Sabrina goes downstairs to the kitchen where Andrew, NEda and Arlie are mulling around eating. They talk about Sabrina and Andrew doing their booger cooking show tomorrow, "It's pasta night tomorrow"
Arlie – "I literally cannot stop eating"
Sabrina says she lost 10 lbs
Rachelle says she gained 8lbs
Allison says she gained weight
Arlie lost 10lbs
Andrew gained 8 lbs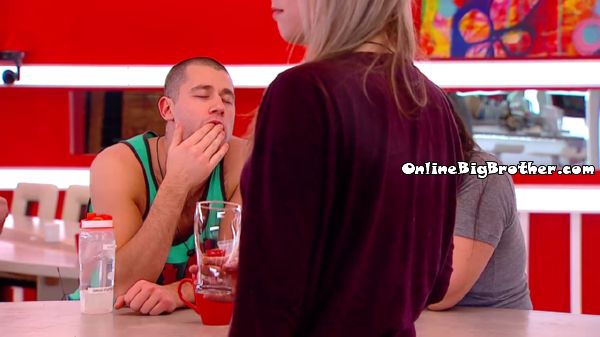 12:55AM Arlie and Sabria eating popcorn
Arlie continues to eat everything he can.. Having already gained 6lbs since coming off being a Have nots.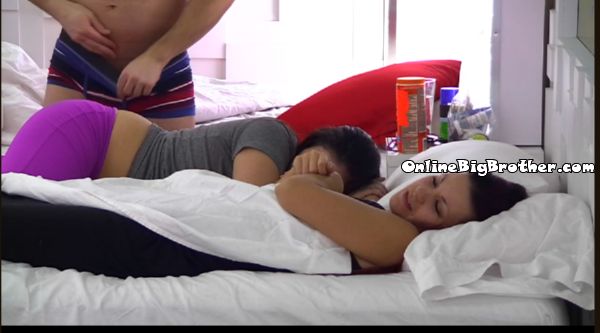 1:10AM Bedroom Andrew and Sabrina
Talking in French.. I can hear Andrew say "Canada", "Neda" and "Heather". Sabrina says "Whoever you put on the block". Andrew also says "I hope there's a physical contest.. " Feeds are cut.
1:25AM Allison and Andrew whispering in bed.. Sabrina is listening in.. feeds cut
(At this hour cam 1-2 are usually muted 🙁 )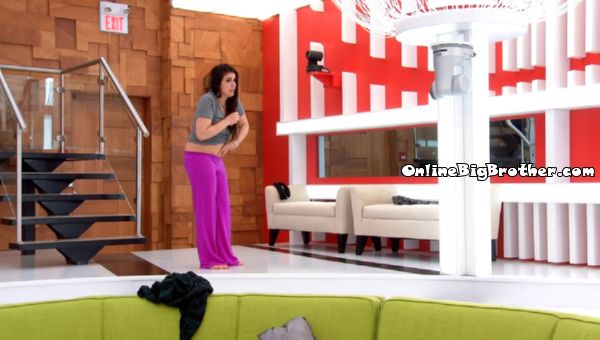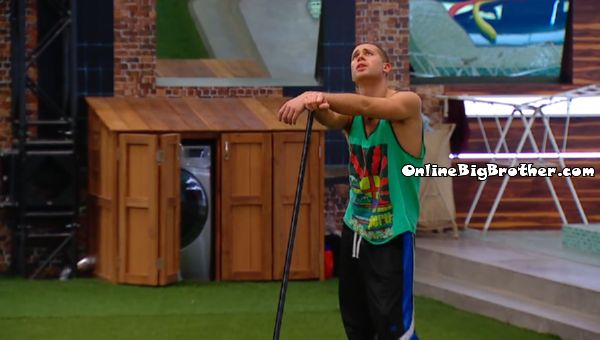 1:38AM
Arlie playing some hickey outside asks Big Brother if he pulls an all niter would they let him sleep in tomorrow. Sabrina comes down tells him she ate too much and threw up. Sabrina starts moaning in pain, goes to the couch to rest. Arlie says he'll chill with her for a bit.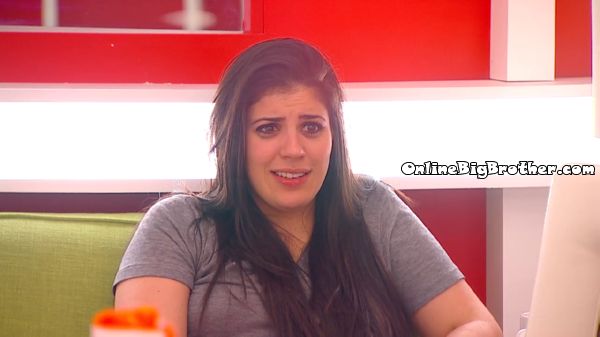 2:03AM kitchen Arlie and Sabrina
Arlie says he cannot handle the heat in the bedroom, "I literally requested a fan as one of my luxury items"
Arlie – "I pulled an all-niter night number 6 because it was too hot to sleep"
They engaged in chit chat//
Arlie said he went to Brock University..
Arlie broke up with a girl who he likes talks about getting back with her.
Arlie – "We have such amazing chemistry.. she's the funniest person I have ever met in my life"
Sabrina talks about her ex-boyfriend who wanted her to give him 1 weeks notice before they went out for dinner. Sabrina wants a guy to treat her like a goddess and she'll treat him like a god.
Sabrina – "Now I realize.. I see Jon And Janelle.. sure he's got that cute cuddly relationship with"
Sabrina (Whispering) – "I know Neda loves him i'm not so stupid.. It's obvious.. sometimes I think he likes her .. BUT I think she loves him"

Sabrina wants to know who Arlie thinks is going up as Canada's nominees, "If you think it's me that OK.. you think it me" Arlie says no, he's just wondering how production is doing it.
Sabrina says the nominee's will be Andrew, Neda, or Kenny. Sabrina's reasons. Andrew because people want to break up the showmance. Neda because she's useless and Kenny because he's grumpy.
Arlie's picks are Andrew, Allison, Rachelle
Arlie and Sabrian agree Allison is playing a horrible game.
Arlie tells Sabrina she's playing an outstanding game and he really doubts she'll be nominated. Sabrina points out that Neda, Heather and Rachelle have no game.
Sabrina – "I hope they put Allison up so she can go home"
Sabrina is certain POV will be played this week she's predict the 3rd nominee will be either Rachelle or Kenny.
Sabrina – "I feel the people they want out should be the floaters"
3:21AM Sabrina says IKA told her she's jealous of Sabrina because Sabrina took Rachelle away from her.

(Video Coming it's long)
[polldaddy poll=7919957]