POV Holder:
Peter
Next POV
April 13th
POV Used
Yes
POV Ceremony
April 8th
HOH Winner:
JILLIAN
Next HOH:
April 11th
Original Nominations:
ALEC & PETER
Current Nominations:
Alec & Topaz
Last Evicted Houseguest
GARY
Have Nots
No havenots this week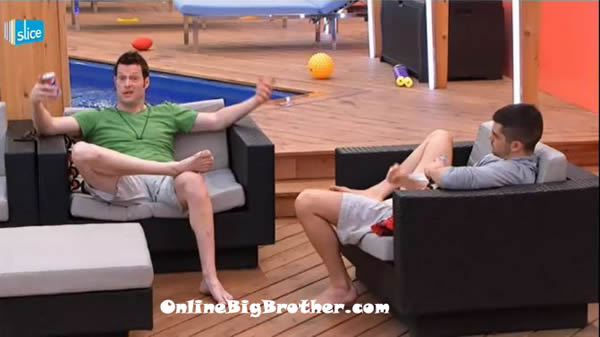 5:50pm Alec tells Andrew that Jillian is a liar and I don't believe for a second that she will vote to keep me if the vote ends up being two to two like she says she would. Alec says that if he stays he will go so hard for the HOH and that he will put up Emmett and Jillian on the block. Andrew asks him so if you are telling me this, what are you telling them? Alec says that he is telling them that I would nominate you and Talla with Talla being the target. Andrew says well that's not believable. Alec says yeah, and I shouldn't have told them that because I know they wouldn't believe it. Andrew says that he is getting sick of talking about it, I am a grown man and I can make my own decision. You have talked to me now three times. Alec says yeah but this time its different. Andrew says no its not. Andrew says I know you voted to keep me and you probably think that was a stupid decision. Alec agrees and says yeah you're right it was. Andrew tells Alec to stop telling people that you don't care about the money money because that is a lie, you have bills you need money just like the rest of us. Alec says I want the title, I have been watching this since I was thirteen. If they had a competition to say how much of the money I would give up .. I would give it all up. Alec says that if I make it to the end I will win. Andrew asks him to repeat himself. Why do you think you would win? Alec says I have carried Peter to this point and Topaz… I have been in an alliance with Emmett since day 3. Alec admits that throwing the POV competition to Peter was the biggest mistake he has made. I wish I hadn't done that! Alec says no matter what we will still be friends. Andrew agrees and says its just a game.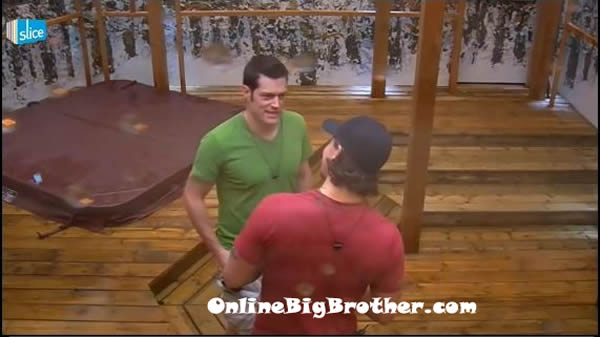 6pm – 6:20pm Andrew and Emmett head out to the hot tub room to talk. Andrew tells Emmett his conversation with Alec. Andrew ends the conversation saying he is this close to saying Alec, Alec stop it I AM VOTING YOU OUT!! Andrew then heads up to the HOH room to tell Jillian his conversation with Alec. Andrew says I want to make a toast tonight.. Alec I AM VOTING YOU OUT! Thanks for making this meal ..that I made! Jillian says the only scenarios they are throwing out are if Topaz or Peter wins. What about if we win! Andrew says at least I know you guys are being honest with me.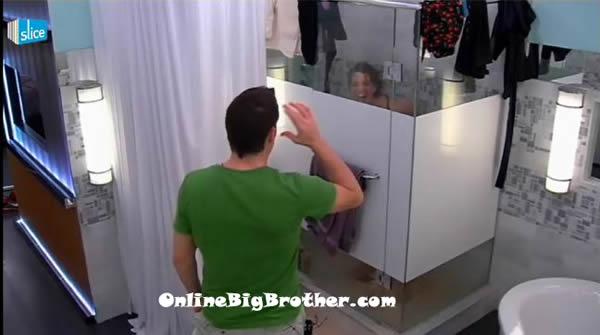 Video of the above conversations is uploading:

6:30pm Emmett and Andrew are watching Topaz and Talla play puck ball. Peter is watching from the kitchen. Jillian is cooking. Alec is out in the backyard kicking the ball around by himself.
6:40pm – 6:50pm Andrew and Talla go out to the hot tub room to talk. Andrew tells Talla about his conversation with Alec and about how he was crying.
7pm Peter and Alec.. Do you think they are done pitching ideas to save Alec?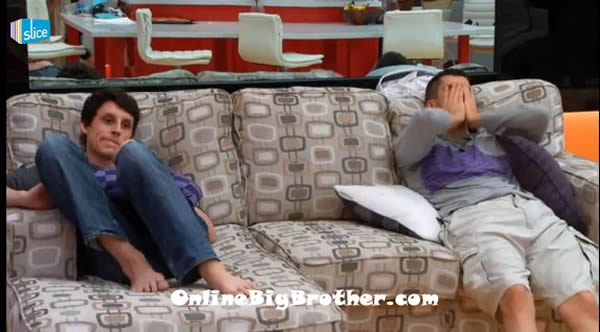 7pm – 8pm Big Brother gives the House Guests BEER & Wine! They call Andrew to the storage room to get it. All of the house guests are excited. Talla asks do you want to play spin the bottle? Andrew says no .. cuz I don't want you to stick your tongue in my mouth again. Jillian starts asking and worrying about if there are naked photos of her on the internet now because she had a couple close calls. The house guests continue to drink and talk about random things. Talla keeps asking if they will get more alcohol.
Part 2 of the Dinner:
8:40pm – 9pm Big Brother calls Andrew to the storage room and he finds the they have given them another bottle of wine. He hides it in his pants and pulls it out when he gets closer too them. The other house guests are excited. Andrew tells Talla that she needs to slow down. Talla tells him to never tell her what to do again. The conversation turns to talking about engagement rings and whether the price of it matters. Talla and Topaz says that the price doesn't matter but Jillian says the price matters especially if the guy makes a lot of money but buys a cheap ring. Peter says that if the price of the ring matters ..then the relationship will fail. They other agree with him. Andrew asks who here has bought a ring or been given one. Only Topaz puts up her hand, she says but I didn't want to accept it and I made him return it after. Peter asks if they would want to go pick out a ring or be surprised. Jillian says that she would rather be given an ugly ring than a ring she knows about. Peter says I think if you love the person and you are given an elastic band with a button on it you should be happy with it. Peter says that he wouldn't wear a wedding band.. I don't like jewellery. Topaz says you will have to wear it! Peter says I wouldn't marry someone that would need me to wear a wedding band. Andrew, Alec and Emmett head out to the hot tub. Jillian, Talla, Topaz and Peter continue to talk about weddings.
Part 3 Dinner and Drinks:
Please consider donating. Simon and I work 24/7 all season long to bring you all the live feed updates and spoilers. ANY amount is greatly appreciated, your donations go directly to paying the server and bandwidth fees needed to run this site. Donation Link
OnlineBigBrother.com
Stay connected and interact with other Big Brother Fans on our Facebook page.
And Follow: @BigBspoilers and @Dawgsbigbrother on Twitter for the most up to date spoilers.