POV Holder:
Peter
Next POV
April 13th
POV Used
Yes
POV Ceremony
April 8th
HOH Winner:
JILLIAN
Next HOH:
April 11th
Original Nominations:
ALEC & PETER
Current Nominations:
Alec & Topaz
Last Evicted Houseguest
GARY
Have Nots
No havenots this week
Please consider donating. Simon and I work 24/7 all season long to bring you all the live feed updates and spoilers. ANY amount is greatly appreciated, your donations go directly to paying the server and bandwidth fees needed to run this site. Donation Link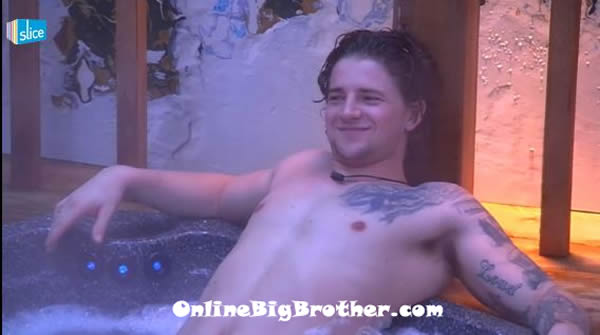 9pm Andrew, Emmett and Alec head out to the hot tub room. Alec talks about when he went to go get his car insured and he found out he had to get it air cared. He said he waited till the last day and when he was going to take it in he got a ticket.. then the car broke down. He says that he couldn't park it on the street without being licensed or air cared so he scrapped it for $200. Andrew asks and how much did you pay for it? Alec says $300. Emmett says his friend got one of those boots on his car so he decided to cut it off .. but since they had his license plate number they made him pay for all the tickets and the cost of the boot. The conversation turns to talking about celebrities and meeting them. Andrew says that there is no celebrity that I would care to meet, they are just normal people like you and me. Emmett gets called to the diary room. He goes to the storage room and finds another bottle of wine. The conversation turns to relationships. Alec says people probably think I am the biggest douche bag. Alec says I don't even know if Topaz and I will be together at the wrap party. He says we lay in bed joking about taking $100,000 from each other.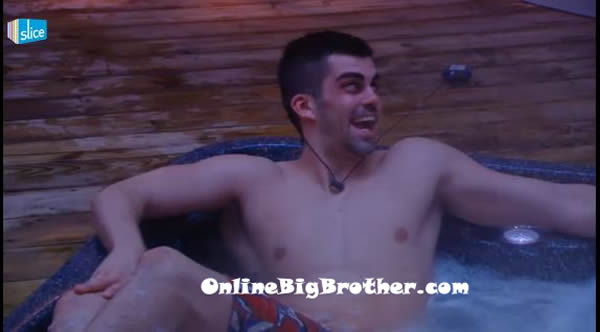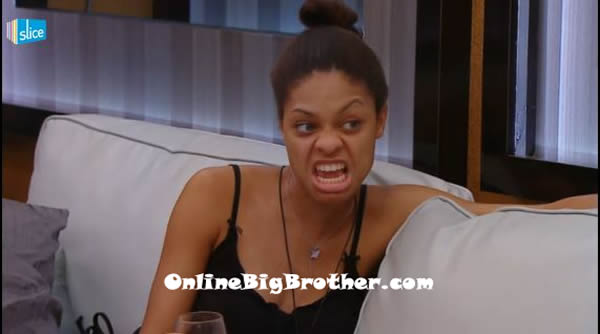 9:15pm – 10:05pm Meanwhile Topaz, Talla and Jillian continue to talk about relationships. Emmett fills up their glasses of wine. Talla tells them that she wants to go up to Jillian's HOH room and have a bubble bath. She says I saw Britney and them do it on Big Brother and I want to do it better! Jillian whispers to Talla and Topaz that she thinks Peter is listening near by because he thinks we are drunk and going to say something. Up in the HOH room Jillian tells Topaz do you know what was going to happen tonight at dinner? Topaz says no. Jillian says Peter told me that Alec was going to put on a play tonight ..an act. He was going to stand up and make a huge scene. She says that Peter was saying it just an act. Topaz says this is weird. Talla then starts to tell Topaz her conversations with Alec. Topaz says that its so obvious that is throwing me under the bus because he is so awkward around me. She says he is gunning for you and Emmett so hard. Talla asks Topaz ..would you be scared to put up Peter? Topaz doesn't answer but says that he doesn't even talk to me. Topaz says this is the worst showmance ever.. even when Tom and Liza were on the block they united. I think he is disgusted that I might stay and make it further than he would because he said all I do is nap. She says what the fu*k do you think they are going to send me home because I nap .. they're sending you home because you're a douche bag. Jillian says that her goodbye message to Topaz is that if you are voted out and hearing this right now ..then there has been a terrible twist! They talk about how Alec's plan coming into the game was to be in a showmance and a bromance. Jillian says that she could tell that she wasn't as into him as he was to her. He was obsessed with you! Topaz says our showmance is so dysfunctional and out of control. I felt forced into it. Jillian tells Topaz I hope some day we can rebuild trust.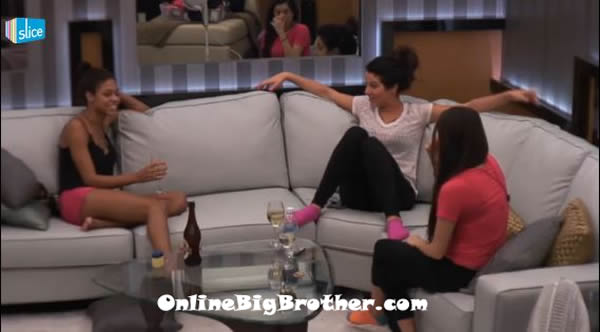 Video of Jillian & Talla telling Topaz about Alec/Peter's speech will be uploaded here:


10:15pm – 10:35pm Alec, Emmett and Andrew head to the pool to play pig in the middle. Then they have noodle fights. They then head inside where Alec and Andrew take a shower. Meanwhile up in the HOH the girls continue talking and then decide to go ask for more liquor. The girls come out of the diary room with more wine.
10:35pm – 11:10pm In the kitchen the girls are eating and drinking wine. Jillian says that if Emmett votes against me to keep Alec then there will be another broken up showmance. Meanwhile in the bedroom: Alec tells Peter that he doesn't think Andrew will stick his neck out there. Peter asks Alec if he should even win HOH because it will put him in a precarious position. Alec says that he thinks if both Andrew and Talla win they will put up Emmett and Jillian. Alec talks about the jury votes and who will vote for each person that could be in the final two. Alec tells Peter Andrew doesn't like people that throw competitions. Alec tells Peter if he gets HOH he should put up Emmett and Jillian .. then you can make an alliance with Andrew and Talla .. you already have a bit of a bond with Topaz. Peter says it is going to be a tough road to the end. Alec says I don't think Topaz would put you up if she wins. Peter says I hope not. Alec says he is pretty sure the consensus is Emmett & Jillian. Alec says you need to think about who you could win against in the end. Peter says I will need to be in the final two with Jillian, Topaz or Talla to win. Alec tells that Emmett told him that if you (Peter) were up against Talla.. then Talla would be gone because she is a bigger threat. Peter says I need to appear weak. Alec says don't go to the end with Andrew or Emmett .. make an alliance with the girls. They continue to talk about different scenarios. Alec says at least you have me in jury to let the other know what you are doing and your strategy. Emmett and Andrew come in and break up the conversation. Emmett and Andrew leave. Alec tells Peter was it is so frustrating is that you spend all day trying to manipulate people and then you come in here and Topaz is napping .. and she is going to beat me. Peter and Alec continue to talk about their road to this point in the game. Peter says that all the other people that are out so far .. I wanted out except for Liza because I wanted to sleep with her and I genuinely liked her as a person.
11:15pm – 11:40pm Up in the HOH room Andrew and Emmett are talking about how they walked into bedroom and Peter/Alec stopped talking and got up and left. Andrew says what I don't get is why they (Alec/Peter) didn't come talk to us together… that would have been a way better plan then trying to turn us against each other. Andrew says well this is nice .. you guys get to sleep up here and I have to sleep with a bunch of monsters.. fu*king dough heads! The conversation turns to talking about what to do if there is a twist tomorrow. Andrew says that having Talla up on the block as a pawn is better than having me up. Jillian agrees. Andrew wonders if they have to make a quick decision.. who should we call in to talk to.. Andrew says maybe if its me I will call in Talla and ask her what I should do. They all laugh! The conversation turns to talking about Liza and how she was playing Peter. Emmett calls Liza a tw@t. Big Brother tells them remember house guests, Canada is watching. They continue to talk about needing to win tomorrow. Andrew then heads downstairs.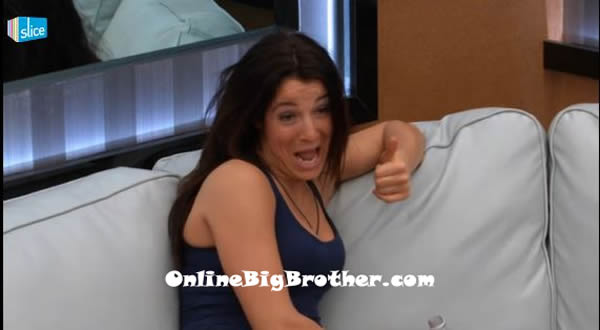 11:50pm – 12am Topaz and Talla are out in the hot tub talking. Talla keeps saying over and over again how she is done with Alec. Talla says that Alec fu*ked up his relationships in the house and that is why he is going home. Talla says "Be a man, own up, self-evict!" Topaz talks about how she knows Alec is mad that he is going home when he thinks all I do is nap .. but I have done more than he knows. They talk about moving forward this week. Talla says I have 3 DQ's, 9 freak outs ..but I am making Canada laugh! Topaz asks Talla so you would rather go to the finals with me or Jillian rather than Andrew. Talla says yeah probably because us girls have gotten so close .. and I need to think about how my stats match ups to his and if he has more then I cant go to the end with him. Topaz asks so you have his jury vote. Talla says yes but I can't do him wrong .. I need to be frank with him just like I would want.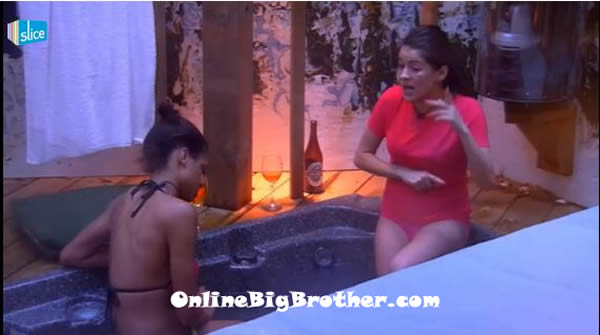 12:10am Meanwhile Andrew, Peter and Alec are going to sleep in the bedroom. Peter is laying with his eyes open staring off into the distance. Andrew is already snoring.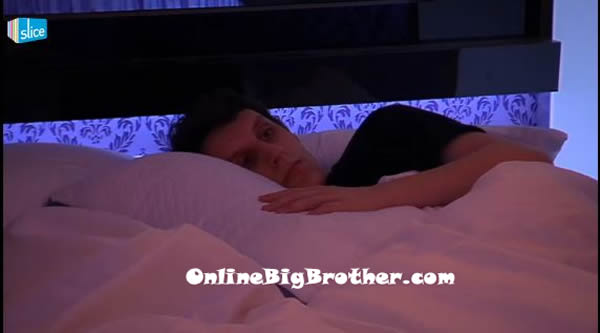 OnlineBigBrother.com
Stay connected and interact with other Big Brother Fans on our Facebook page.
And Follow: @BigBspoilers and @Dawgsbigbrother on Twitter for the most up to date spoilers.