POV Holder:
Peter
Next POV
April 13th
POV Used
?
POV Ceremony
April 8th
HOH Winner:
JILLIAN
Next HOH:
April 11th
Original Nominations:
ALEC & PETER
Current Nominations:
?
Last Evicted Houseguest
GARY
Have Nots
No havenots this week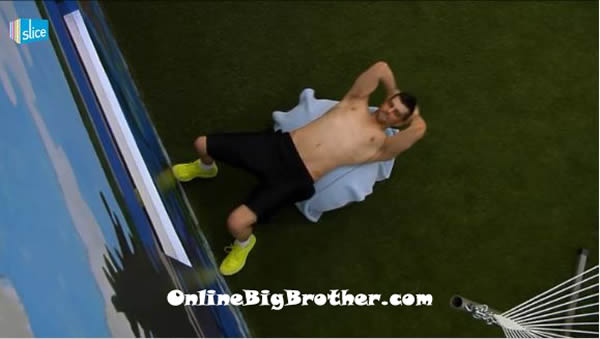 5:20pm – 5:50pm Alec continues to workout in the backyard while Topaz lays out on a pool lounger. Alec finishes up his workout and heads into the kitchen to make something to eat. Talla is sleeping on the kitchen couch. Meanwhile Jillian is up in the HOH room listening to her music and doing her make-up. Big Brother switches the live feeds to the hush, hush screen.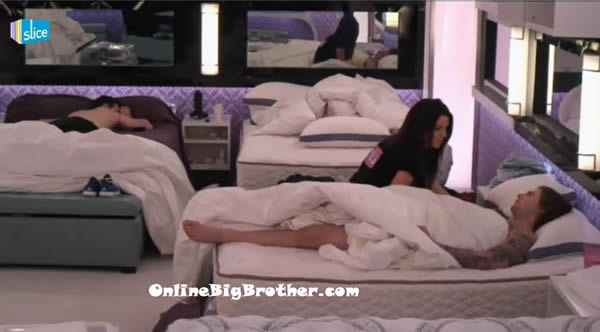 6pm – 6:20pm Jillian goes to talk to Emmett in the bedroom. She asks if he thinks Alec threw the competition because he has a Diamond Power Of Veto? Emmett says no. Jillian tells Emmett that after she talked to Peter in the HOH room she knows he went down and told Topaz everything because 10 minutes after he left I came down and it was obvious Topaz was crying and she hasn't talked to me since then. Emmett says see I told you all three of them are still working together. Jillian says if he just got information to go down and tell them he has got to be the stupidest person in the world right now. Jillian starts talking and joking around with Emmett and Andrew she says if one of you doesn't win this week I am done.. I am going to go work with Talla and Topaz. Jillian tells Andrew that she thinks Peter told Topaz she has no shot, that she is going up. Andrew says say la vie.
6:20pm Big Brother switches the live feeds to the hush hush screen..
7:06pm HUSH HUSH Sponsored by Ramada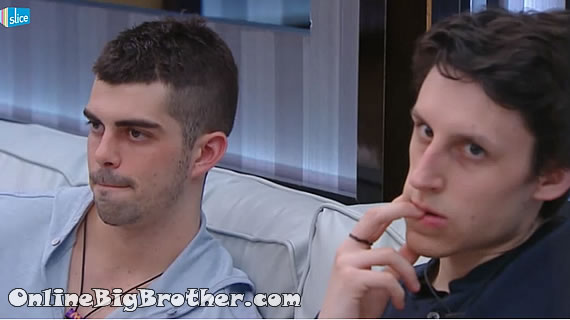 (Simon here)
7:17pm HOh Alec, Peter and Jillian
Alec tells her that he was distancing himself from Topaz when on the block but now they are back together like before.
Alec: "Honestly Jillian.. I had this deal with Emmett and I made him feel like I would have cut Topaz in a heartbeat" Alec goes on to explain that it would have been a really hard thing for him to do cutting Topaz because he really likes her.
Jillian apologizes for the awkward position she's put him in by nominating him she says the conversation they had earlier yesterday was really strange. .
Alec understands says that he thinks he came on too confident because he was so sure about the Emmett, Jillian, Peter Alec final 4. Alec now realizes that they never really talked to Jillian about Game so that is harming things with them.
Alec says he doesn't want Topaz to go up but Jillian can do whatever she wants.
Alec adds that he's pretty sure he's on the outs so he's not going to hide his affection with Topaz
Alec: "I would like to have a conversation with Emmett.. I have not talked to him until that night we talked"
Jillian: "What about the four of talking tonight.. or maybe after the POV Ceremony tomorrow"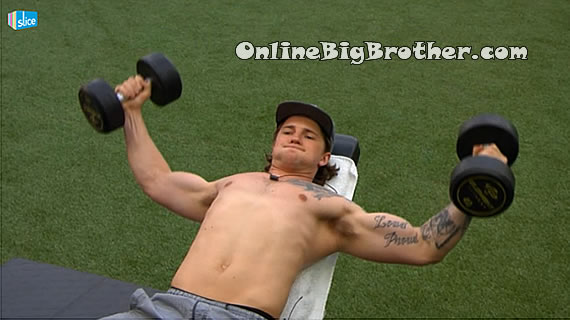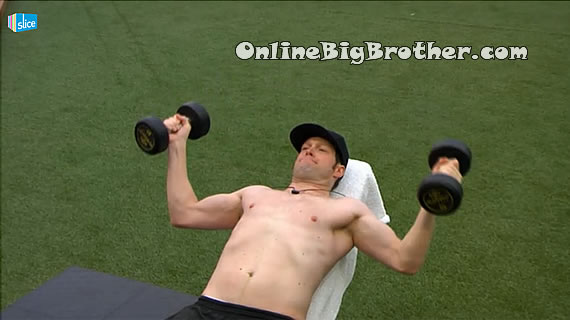 7:30pm Andrew and Emmett working out
Emmett telling Andrew "We're going to the end"
Talla joins them..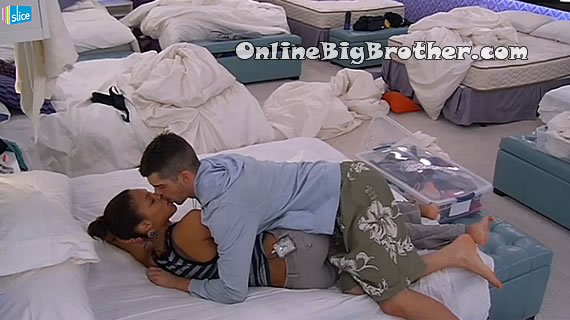 7:38pm Bedroom Alec and Topaz
Topaz calls Jillian a "lying B1tch" says there might be a twist and because she's on the block Topaz could go home.
Topaz: "people say I complain to Big Brother.. I said FU Big Brother like 4 times… BUT Jillian complains and yells at Big BRother every single day about everything. "
Alec says it's the same thing that happened with Liza people just start looking for reasons to nominate someone or evict them.
Alec: "Oh well if I die I die.. "
Topaz: "I'm so glad to be here and I want to make it to the end.. BUT.. I just wish it would speed up.. There's really not a lot of people left here that I like.
Alec: "It's always going to be awkward at this stage.. there is no Gary's to talk to" Alec adds that there is no easy evictions now like when he was HOH he nominated Suzette and she knew she was going home.
Topaz says she feels stressed and board, "All there is to do is the pool and hottub.. I get along with Talla but I can only handle so much of that.. I'm annoyed by JIllian and Emmett"
Topaz mentions how Gary trusted Emmett to the fullest, she thinks Emmett is really good at lying. ALec: "I'm not very good at lying to people that are being sent out of the house"
Topaz: "I'm not good at faking being in a friendship.. LIke I'm annoyed with Jillian right now"
Alec: "I understand why JIllian is upset with me and I get why she is mad .."
Alec: "Worst case scenario we can hang out with Gary and AJ"
Topaz: "Two people I love"
Alec: "I wonder if AJ is mad at me.."
Topaz: "Maybe a little"
Topaz: "You know how I was
Alec says his early diary room sessions were not the nicest to Topaz "I knew you were playing me and I was playing you.. " Topaz: "I at least thought I was your number two.. Gary was my number one"
Alec: "To be honest If it came down to Me, Peter, Emmett and you I would take Peter and you over Emmett"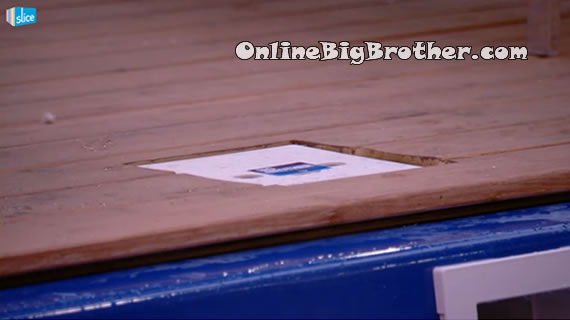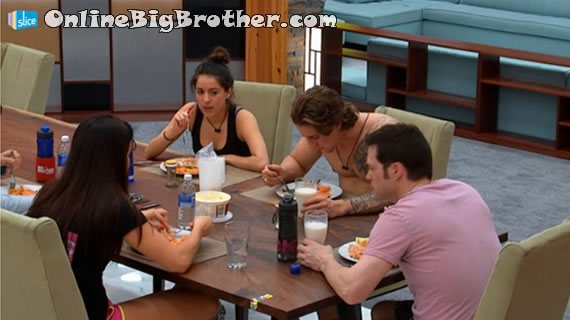 8:00PM Dinner..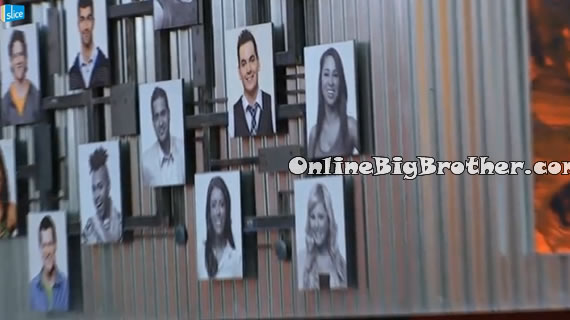 Camera zooms into Tom picture and it's not grayed out anymore.. This was the Memory wall last night Did something happen earlier today on the feeds?
FYI Feeds have been blocked for awhile..
OnlineBigBrother.com
Stay connected and interact with other Big Brother Fans on our Facebook page.
And Follow: @BigBspoilers and @Dawgsbigbrother on Twitter.