POV Holder:
Jon
Next POV
?
POV Used
?
POV Ceremony
March 31
HOH Winner:
Canada
Next HOH:
Apr 3
Original Nominations:
Andrew and Sabrina
Current Nominations:
?
Have Nots
Jon and Adel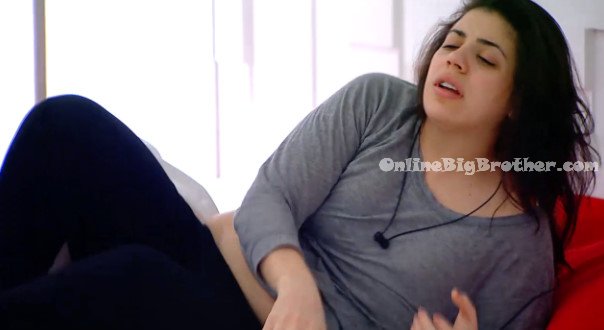 8:15am Big Brother wakes up the house guests. First thing Sabrina does is picker her nose till it bleeds (gross). She then asks if anyone has any Kleenex because her nose is bleeding. She then gets up and heads to the bathroom. The house guests comment how they have the power of veto ceremony and diary room sessions early this morning. Andrew comes into the bathroom to get ready and starts picking his nose in front of the mirror. (It beyond me how both of these people have been shown and told that Canada doesn't want to watch them pick their nose and they still do it.)
In the kitchen: Andrew, Arlie and Kenny are waking up in the kitchen and eating their breakfast / drinking coffee. Andrew says to Kenny – I need to think of a straight forward speech to say during the POV. Kenny asks like what do you mean? Andrew says like I don't expect you to use it on me as it's been your goal since week 1 to get me out. Kenny asks how do you know that? Andrew says I just do. Kenny tells him its not a good idea to say that. Andrew asks if it will f**K him over if he does. Kenny says yeah it will. Andrew says he accepts his fate. Jon joins them and they talk about how long they've been away from home.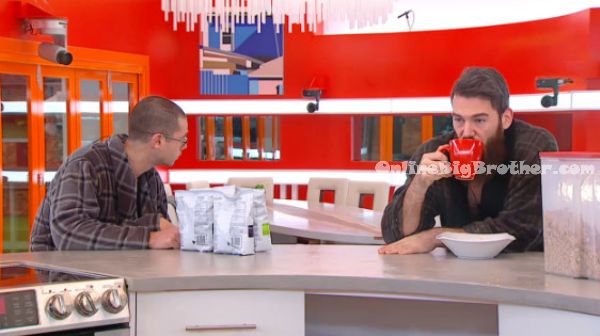 9:10am – 9:20am Andrew says so saying anything won't make a difference will it? Kenny says no, just say the standard speech. They talk about how it will just hurt the rest of the first five members. Kenny says but I won't think any differently of you no matter what you say. Kenny gets called to the diary room. Jon joins them. Jon says he is going to go look for butts to smoke. Andrew says son of a bitch! Andrew tells Arlie to push for Jon out next week. Don't let any of the girls sway you, it should be pretty clear any ways. Arlie agrees. Andrew says I wish I would have made it past this week, it would have been smooth sailing. Kenny joins them and Andrew pushes for Jon out next week. Kenny says yeah maybe Adel first. Andrew says it would be better to get out Jon. Kenny says we'll see, there may be another twist. Kenny says it may be Canada's HOH again. It like a popularity contest. Andrew is annoyed and leaves the hot tub room. Adel joins Kenny and Arlie. Kenny asks are you sticking to it? Jon says he's not going to use it. Arlie and Kenny tell him he can do whatever he wants. Jon says he just thinks its better for his game to not use it and just so that no one else goes up. Kenny agrees. Adel says that he was given incentive to not use his power. If I don't use it I am supposed to get a prize. I am just glad I wasn't pressured to use it. They asks Adel about what his conversation was with Sabrina last night. Adel reiterates his conversation with her.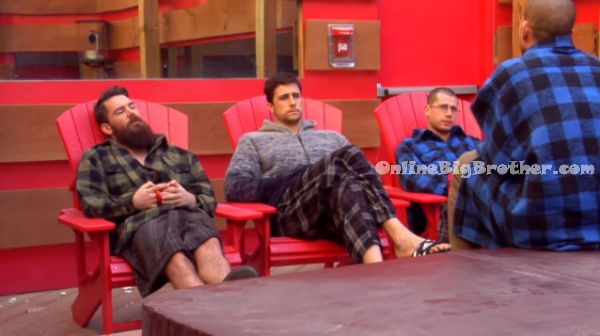 9:30am
Sabrina, Heather and Neda are in the bedroom getting ready. Jon joins them and tells Heather that she is what they call in Newfoundland the bomb. Meanwhile out in the hot tub room – Sarah talks to Kenny about how she can't stand Sabrina. She knows she's lying about things. Kenny says that Jon already said he isn't going to use it. Sarah wonders why Sabrina would think that he would use it on her. Sarah says I honestly wish Andrew was a better game player because I am ready to cut her off. Andrew joins them and says he just had his diary room session where they asked him how it feels like to be nominated by Canada. Andrew says it feels like sh*t, its not good! Kenny, Sarah, Rachelle and Andrew talk about how composed Jon's speech was yesterday. Sarah says he is not dumb. He is the only one who got that riddle before all of you. Kenny says its training he's had being on the ice and having to do interviews and stuff. Meanwhile in the storage room – Arlie tells Adel that he can't talk to them for awhile. Arlie says that he's getting a lot of heat and being questioned. Arlie says I will come into your room at 3am and talk to you for hours. Arlie tells Adel not to worry. Adel says yesterday he was just not in a good mood being on slop and is trying not to worry.
ANDREW shows CANADA what he thinks of them "FUCK YOU!" @bigbspoilers #bbcan2 https://t.co/usD2QoV3T5 pic.twitter.com/UTZABPxlaa

— Dawg (@DawgsBigBrother) March 31, 2014
10am Big Brother blocks the live feeds..
10:10am The live feeds come back on .. Sarah is talking to Kenny. She asks him if she really believes that Jon won't use the veto? Kenny says Jon won't use it. Kenny says that he wants Adel out next and then Jon. Sarah says we have 5 minutes till we have to go into the bedroom. Kenny asks do you think all the Twistos around the house are because of a twist coming. Sarah says she wants to get up first thing every morning just in case they need to memorize where all the twistos bags are places. Kenny tells Sarah about how Adel stated outside that his power is for 3 weeks now and that he gets a prize if he doesn't use it. Sarah says he is so full of it. Kenny says he is the next to go!
10:10am Big Brother blocks the live feeds again.. The Power of Veto ceremony is likely happening now..
12:10pm The live feeds are still being blocked..
Stay connected and interact with other Big Brother Fans on our Facebook page.
And Follow: @BigBspoilers and @Dawgsbigbrother on Twitter for the most up to date spoilers.