POV Holder:
Jon
Next POV
?
POV Used
?
POV Ceremony
March 31
HOH Winner:
Canada
Next HOH:
Apr 3
Original Nominations:
Andrew and Sabrina
Current Nominations:
?
Have Nots
Jon and Adel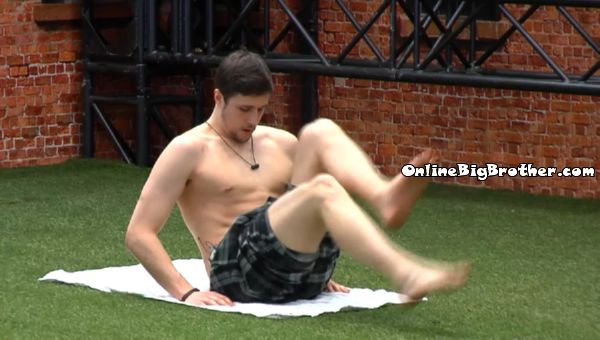 11:41pm Jon and Heather
one of us needs to win HOH Deli, NEda Arlie.. then we can talk about what to do with it. Jon leaves to join
Jon – "Ahh f** me.. My Core is F** Mangled right now"
11:30pm – 12:05am Andrew, Kenny, and Arlie continue to talk by the pool. Andrew says that he feels like he had a good run. Kenny says that it definitely sucks. Arlie says it feels like I am losing my big brother. Andrew says thanks. Andrew says I feel like I am losing a friend. Kenny says you're not losing a friend, you're just being separated a bit. They talk about the montage of Andrew picking his nose. Kenny says that he didn't really notice he does it a lot. I noticed you go at it once or twice though. Andrew says I do it when I drive, it's the number one thing to do is pick your nose when you're driving your car. The cams switch to Adel and Sabrina out in the hot tub room. Sabrina is talking to him about how he says that she is dumb and annoying. Adel stops her and tells her that he has never for a fact said that she is dumb. You're not dumb and I would never say that so I know right there that's a lie. I have said that you're annoying. Adel tells her that me telling you about my power is all I had to do to get it spread it around the house. Sabrina says that she doesn't believe his power is for two weeks. She says it's either for 3 weeks or just 1 week. Adel says I swore on the Quran that I would never put you on the block until after jury but when I hear you bashing me and bashing me. Sabrina says you're not my target. Adel says that his power isn't expired.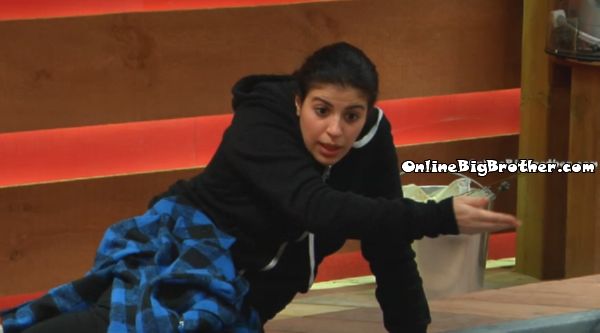 Sabrina says you made a promise and I made a promise not to put you up before jury .. .and I will not do that. If you break that, then okay but I won't. Adel says I am not coming after you. Sabrina says I wish you would think some times that everything you're told isn't true. Sabrina talks about the options that Rachelle had to nominate when she was HOH. Adel talks about how in deep he was with Ika.. when you go home you'll see how deep I was with Ika. If she had put me up or Ika up I would have taken her or me off and put you up. The conversation turns to talking about the Ika / Sabrina fight. Sabrina says say what you want to about me, I don't care. I want you to go home. I will stay true to my word and not put you up until jury. Sabrina walks away and starts talking to Andrew about Adel. Adel says that he has never talked to someone so full of it in his life before. Sabrina comes back and asks what he said. They both start raising their voices. Adel says you just wanted to put on a show just because Andrew is here. Sabrina says no I did not. Sabrina says I am literally not going to talk about you anymore. Sabrina says I want to squash this resentment between us. I am not going to pretend I am innocent because I did talk bad about you. You pissed me off and you hurt my feelings. You may have called me a cow, you may not have.. I don't care. Sabrina gets pissed off when she feels she can't talk to him because he's not listening to her. Big Brother cuts the feeds.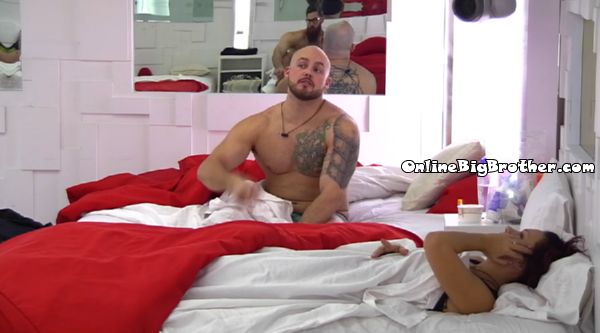 12:22am Sarah, Kenny, Arlie and Andrew
Briefly talking about who to put up if it's a double eviction on Thursday. Kenny suggests Neda and Adel. Andrew – "Biggest player the one that is causing the most damage to ya"
Heather walks in say goodnight to them all and leaves, "Goodnight Big Brother Family"
Andrew – "God I wont' miss that though"
Sarah – "You wanted to bone her first 2 weeks"
Andrew – "Yes I would still do it now.. would you Kenny "
Kenny – "Maybe"
Sarah – "Oh my god you are seriously deprived"
Andrew – "Arlie "
Arlie – "Like well.. I'll jsut say she is a pretty looking girl and I like pretty looking girl"
Andrew – "Yes or no I'm leaving this house"
Sarah impersonate heather calls her a doll. (See image)
Andrew Sarah says if it's a double eviction Adel has to go up to Flush his power.

Allison comes in and lays beside Andrew, "Oh my god my finger fits all the way up your nose"
Andrew – "Ya I dig a lot in there.. it's pretty much bored right out"
Allison says Heather seem pissed , She points out that Neda and Jon are talking off in the corner, "Intense"
Andrew impersonates Jon "Hey Neda I think we should secretly undercut everyone else"
Impersonates NEDA – "Cool Jon I'll just keep not doing anything"
12:40am have nots JOn and Adel
Adel tells him about his conversation with Sabrina when he told her she didn't believe a word she said.
Jon – She tried to trick people into saying stuff.. I can't believe she's not the target
They both agree something is up with Arlie,
DAdel – I have Heather 1 billion percent you ahve Neda 1 billion percent.
JOn says Sarah and Arlie are back and forth back and forth
Adel points out that Arlie says it's too much heat toi hang out with them but he can sit and talk to Kenny for hours.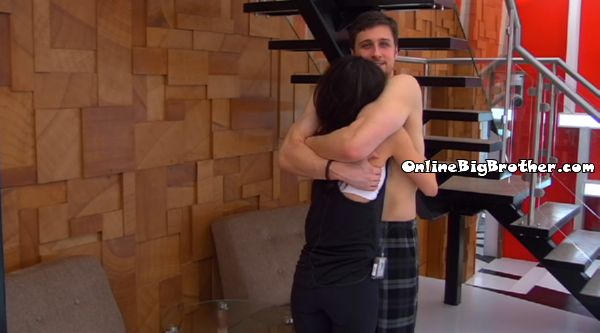 12:53am NEda and Jon
Neda says she didn't trust him 100% until a week ago. They agree to share information wherever they can.
12:59am have Nots Adel and Jon
They are both having second thoughts about Arlie. Adel is certain Sarah, Sabrina, Kenny and Arlie have something going. Adel and Jon are going to talk to Arlie together and find out where his loyalties are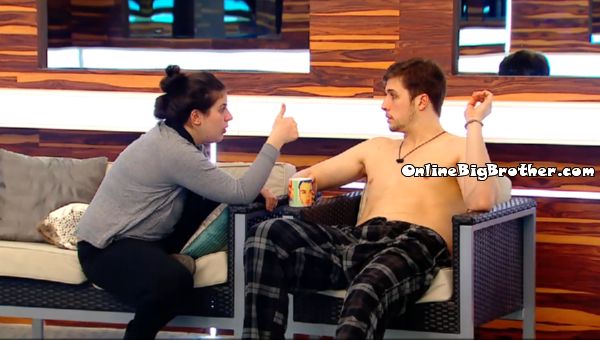 1:06AM Kitchen
Sabrina says she doesn't like it when the fans get to influence the game, "The essence is for US to play it"
Jon tells them that Canada see everything
Sabrina – "Exactly that is why I cannot understand I'm nominated"
Sabrina says she's not playing a crazy hard game like everyoine thinks and she's nothign bnut nice ion the Diary room.
Jon – "Crazy"
1:10Am Poolside Sabrina and Jon
Sabrina – "I don't repeat thing.. do you hate me like crazy do you despise me"
Jon tells her the only reason she is staying on the block is because he knows she is staying if he hated her he would use the POV to save Andrew.
Sabrina claims she doesn't scheme with people and the entire thing that happened with IKA f***ed her. Sabrina doesn't know how it's being edited. (She thinks the edit of the IKA fight is why she is nominated"
Sabrina says she
Sabrina – "Do you guys think i'm on the block because I'm a conniving backstabbing b!tch"
Jon doesn't think so he thinks they want "Gordo" gone.
Sabrina says she gets the feeling the "Guys" want her in this house because she is not competition.
Sabrina says she's heard from two people it's being said she backstabbed someone.
Sabrian – 'Who the f** did I backstab"
After some talking Sabrina says "I backstabbed IKA but she talked bad about me.. "
(This entire conversation is hilarious.. Jon just wants her to leave everything she says he replies yup yup.. 100% yup yup I believe you 100%
Sabrina is upset that nobody believes her in the house. She was really sad today. Sabrina starts to cry says she have no one in the house. JOn tells her she has rachelle and Kenny both of them would not put Sabrian up. Jon says he's probably going to put Adel up if he wins HOH this coming week.
Jon says He trusts Deli as much as he can throw the pool.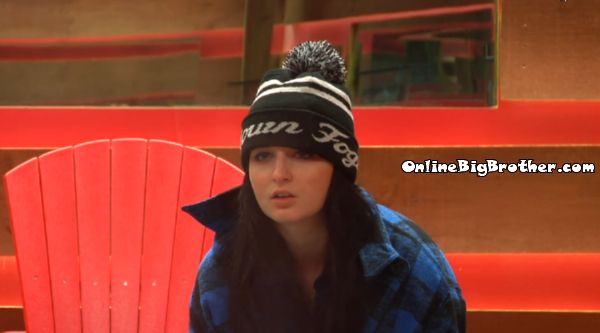 1:40AM Sabrina and Rachelle
Sabrina going off about Adel..
Sabrina claims she isn't lying to anyone and blames Adel for spreading lies.
Rachelle and Sabrina agree Neda is not to be trusted. Rachelle says he sees Neda and Jon whispering in the corner all the time. Rachelle laughs mentions how Jon was trying to tell her that he didn't talk game to Neda, "How stupid do you think I am"
Sabrina doesn't want Jon, Adel, Neda, And Heather to win the Head of Household. Sabrina tell her the plan if they win HOH is to put Adel and Heather up. Adel will use his power to put up Sabrina and Heather will go home.
Sabrina sighs says he's going to be on the block for another week.
Sabrina tells her KEnny and Sarah are the last people that will put them up. Rachelle says it sucks Andrew is going home. Sabrina calls Andrew her best guy friend in the house. Rachelle wonders if there is any way they could get Jon to use the Veto. Sabrina says there's absolutely no way.

(Video coming it's long )