POV Holder:
Jon
Next POV
?
POV Used
NO
POV Ceremony
March 31
HOH Winner:
Canada
Next HOH:
Apr 3
Original Nominations:
Andrew and Sabrina
Current Nominations:
Andrew and Sabrina
Have Nots
Jon and Adel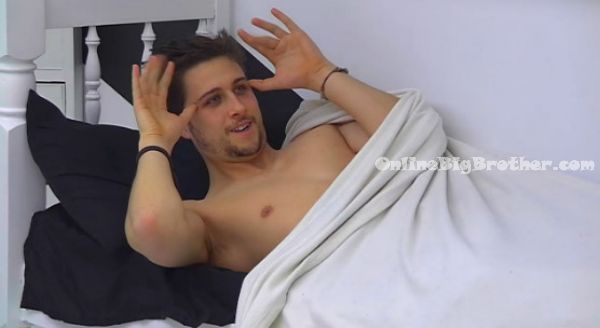 9:20am – 9:55am Big Brother wakes up the house guests. Arlie heads into the havenot room and has a quick talk with Arlie. Arlie tells Jon to tell Adel that we should really try to convince Sarah that we're not after Kenny at all.. we're after the three girls (Allison, Rachelle, Sabrina). Arlie says that we're confident with them (Kenny, Sarah) now, so we're after them (Allison, Rachelle, Sabrina). Arlie heads back to the kitchen and tells Kenny that he feels so much better now with him after they had their talk the other day. Arlie say however that long term he is worried about Sabrina, Rachelle and Allison. Kenny agrees. Andrew asks Kenny in your honest opinion who would you rather stay? Me or Sabrina? Kenny says you hands down. Andrew says that Arlie told him that he would give him his vote. Kenny says that he is still working on it. Adle runs around and talks to Neda and Heather about sticking together against the others.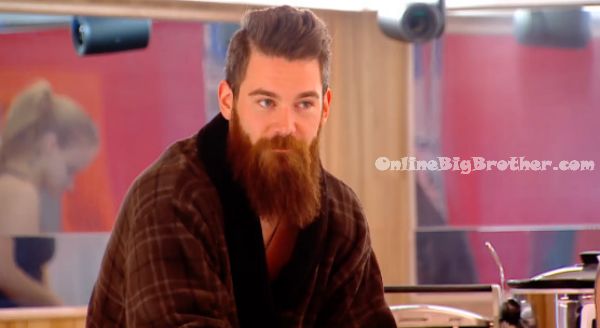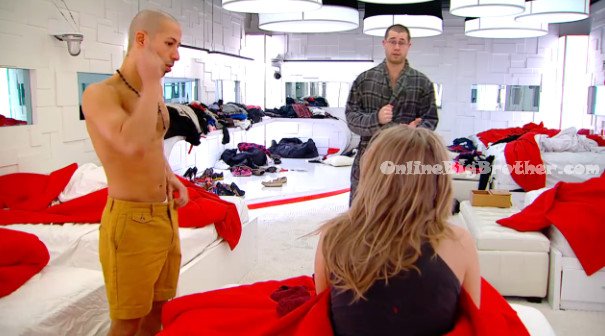 10am Rachelle, Sabrina, Allison and Neda start doing laps back and forth and working out in the backyard. IN the bedroom – Arlie talks to Adel about who to put up if they win HOH. Arlie thinks one of the gremlins (Rachelle/Sabrina) or Allison with a plan to back door Kenny. Adel disagrees and says Kenny needs to go up. Arlie says we don't want to give him the option to play in the veto. Adel still disagrees. Arlie starts to agree with him and then Adel leaves the room. Arlie says Deli your logic is stupid if you want Kenny out. Adel comes back in the bedroom and Arlie and Adel talk about how loyal they are to each other. They agree that its best for Adel to stay close to Heather, Jon to stay close to Neda and for Arlie to work on Sarah.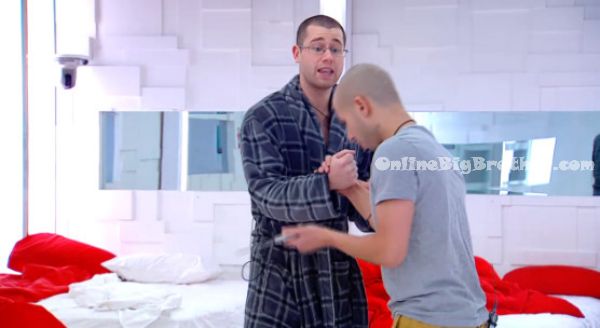 Out in the hot tub room – Andrew talks with Kenny about getting the votes to stay. Arlie joins them and they continue talking about getting the votes. JON and Sarah join them and the conversation turns to talking about travelling. When Jon leaves, Andrew talks to Sarah about how he hasn't rolled over and died. He says that he's asked both Arlie and Kenny who they want to stay. Andrew says that he doesn't want to campaign against Sabrina. He says there is a chance for me to stay. Sarah asks what votes do you have? Andrew says Kenny, Allison, Arlie … You if you want me to stay.. and then we need one more. Kenny says it's between Jon and Neda. I think I could get him to vote for you to stay. Arlie says I could too. Andrew says then we should go with that. Andrew says I am not admitting defeat.. but if you were put up against your bother or sister, would you fight? Sarah says I definitely won't be bring this up to Sabrina.. I think me Arlie and Kenny should talk about it. Arlie says you're my f**king brother for real and I would rather you stay.

In the bathroom – Adel talks to Heather. He tells her that they need to win HOH so bad. Heather agrees. Adel says when we win HOH we'll work out every day. Heather says she wants to. She says that the reason she hasn't been working out is because she didn't want to be seen as a threat.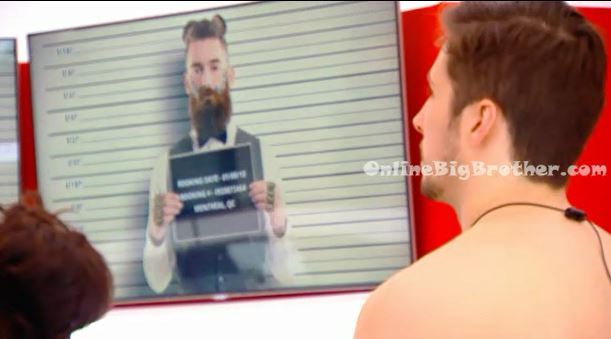 10:50am – 11:10am Allison runs out to the hot tub room to tell Sarah, Andrew, Arlie and Kenny that the tv screens are showing their faces! The house guests are calling it the "Bully Beat Down Mug Shots". All of the house guests photos are cycling through on the screens. Big Brother has photoshopped their faces with bruises, tattoos, and lip stick kisses. Andrew says maybe we need to remember these for a upcoming competition! Each of them had their home towns and a booking date and their booking number on the boards they were holding. The house guests are trying to remember the dates and what each of their photos had. When it ends half of them head out to the backyard to look at the House Guest photos to discuss what they saw.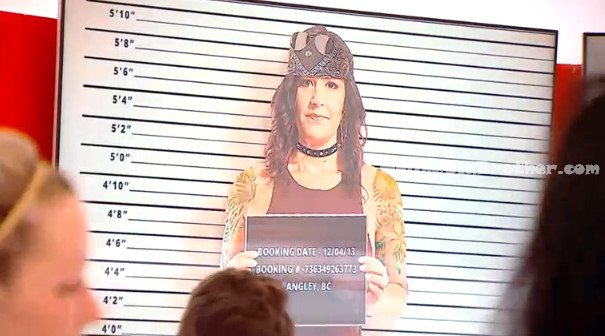 11:15am – 11:35am Sarah and Andrew continue their conversation out in the hot tub room. Sarah tells him that Sarah is pushing hard to stay .. she isn't being as valiant as you are. Andrew asks with who? Sarah says everyone! Sarah says there is something to be said for Sabrina who is fighting so hard to stay. Kenny and Arlie join them and Andrew heads inside so they can talk. Sarah tells them that Sabrina is gunning for me hard. Arlie brings up his conversations with Sabrina and how she thinks she's so smart and always thinking 10 steps ahead of everyone.
Stay connected and interact with other Big Brother Fans on our Facebook page.
And Follow: @BigBspoilers and @Dawgsbigbrother on Twitter for the most up to date spoilers.