POV Holder:
Jon
Next POV
?
POV Used
NO
POV Ceremony
March 31
HOH Winner:
Canada
Next HOH:
Apr 3
Original Nominations:
Andrew and Sabrina
Current Nominations:
Andrew and Sabrina
Have Nots
Jon and Adel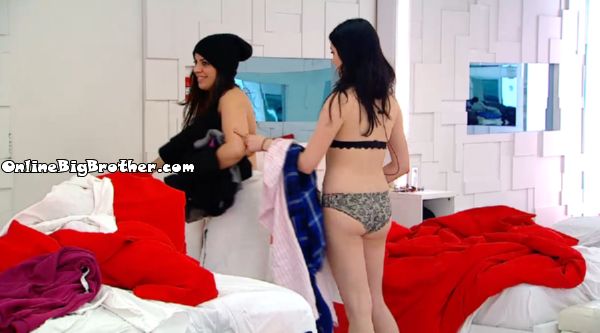 10:30pm Gremlins heading to the hot tub
10:45pm Hot tub.
Andrew is saying Canada hates him because he picks his nose.
They briefly bash Neda because she thought Norwegian was a made up word from Harry potter.
Allison says something has changed with Jon he's walking around like he owns the place.
Sabrina says they have to win HOH she will bleed to win that competition. They start studying the dates..
Rachelle – "On a serious note do you think i'm going to be offered something"
Allison and Sabrina say yes to modelling
They think someone is smoking. Sabrina says she found a butt.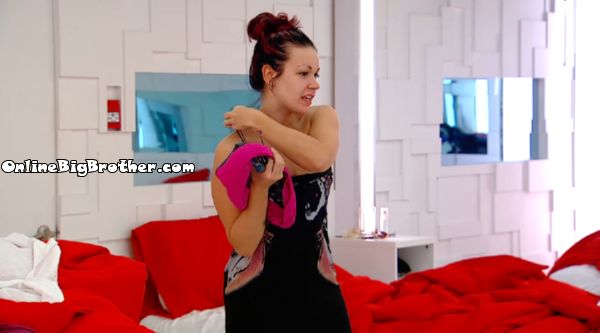 10:45pm Bedroom Sarah and Kenny GEtting ready for bed. Sarah is called into the Diary room. She asks them if it's audio or video because she needs to know if she has to put her eyebrows on or not. They tell her it'll just be quick.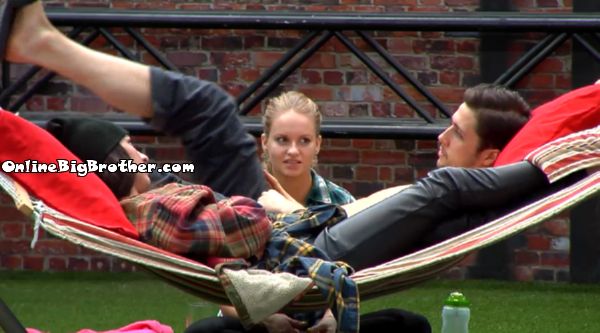 11:00pm Jon, heather and Neda
Jon asks her if both her nipples are pierced. heather says yes. (jon asked this because there was a slip up in the bathroom and jon say her chest)
Jon is shocked, Heather says she showed her boyfriend her piercings and it shocked him to.
Jon – "Nipple pierced Heather.. "
Heather – "Shut up Jon"
Heather says her mom doesn't even know. They laugh
Heather leaves. Jon touches his junk with his finger and tries to touch Neda with it.. they topple over on the hammock and he drags her off..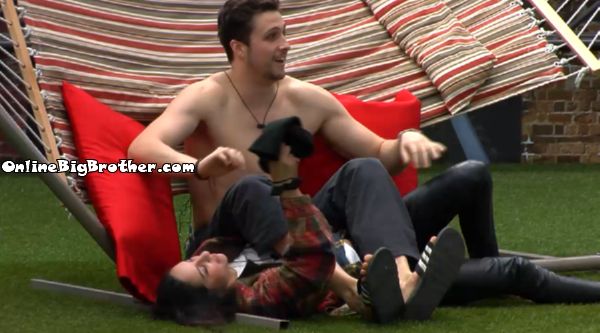 11:00pm bedroom
Sarah and Kenny are amazed at how much weight Heather has gained. Sarah jokes it's like the new heather ate old heather. Kenny says he doesn't want to be mean he's just saying.
Sarah agrees tells him Heather eats only sugar.
Kenny – All she eats Nutella, ice cream and cookies she's like a elf.. seriously.. she takes peanut butter and puts it on fudgies"
Sarah – she's like stoned all the time"
Kenny – "thats what i'm like when i'm whacked out but she like that all day long."
Heather walks in
Sarah – "what do you have there"
Kenny – "Fudgies and peanut butter"
Heather nothing..maybe (her mouth is full of them LOL)
Heather says she's getting ready for bed grabs her PJ'S and leaves.
Kenny laughs says he's thinking about sitting her down as a friends and telling her to eat less sugar.
Sarah – I wish you weren't a furnace so we can snuggle all night..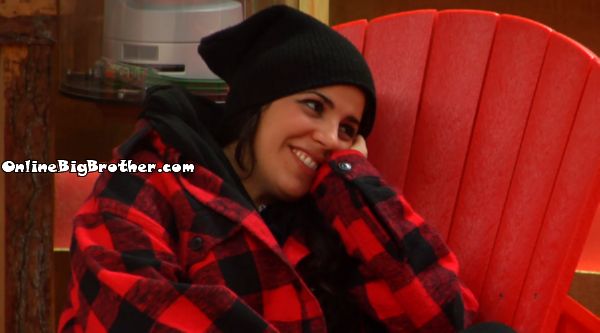 11:30pm Hot tub RAchelle and Sabrina talking about starting their own line of handbags called "Sachelle" Sabrina says she has investors with big money. She also has contacts in China for manufacturing.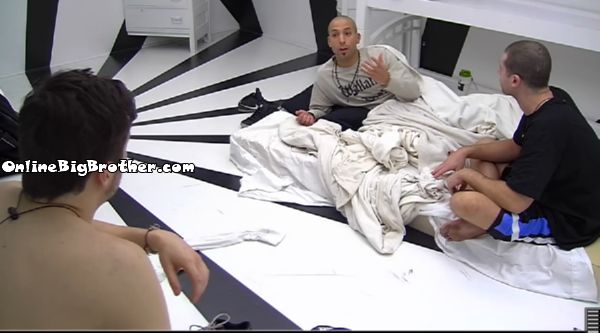 11:30pm Have Nots Adel and Jon
Adel telling Jon how popular he is, "Canada will s*ck you **f right now bro"
Arlie joins them
Arlie saying the other side is starting to crack a little bit.
He points out that Momzi (Sarah) and Kenny are very close much closer than he thought they have to get Kentyn out next week it's now more important than before.
Arlie – "Andrew is not throwing in the towel he's trying to get votes" Arlie says he was going to give him a vote
Adel cuts him off "NO f** way"
Arlie "I told him I would but I won't I don't F*** care"
Arlie says Kenny, Sabrina, Rachelle, and Allison want Adel and Jon gone. Sabrina and Kenny are pushing for Adel first, pushing really hard.
Arlie has noticed that side is talking mad sh1t about Neda now he's sure they must not be close now. Arlie thinks it's important Jon and him talk to neda alone and bring her into the group officially.
Alri – I don't know about momzi much anymore i'm really confused she's not telling me much about kenny.. I dont like it
Arlie warns them if Kenny wins HOH right now he would put up Adel and Jon up, "Everyone wants Adel first and Jon second. "
Jon says if it's instant eviction they should take out Kenny and Rachelle.
Arlie says Kenny allison and rachel are all fit any of those three need to go but Kenny needs to go first.
Adel asks who Arlie would you put up , Arlie – "If I won I would probably put up Rachelle and Allison and backdoor Kenny.. if it's instant eviction Kenny goes up with a pawn"
Arlie says the other side treats Neda like shit.. they do not trust her.
Adel asks who does momzi want out
Arlie – "momzi wants sabrina out the most it makes me think she's got something with Kenny"
Arlei – 'F** sabrina'
They tell Adel if the opportunity comes up he has to use his power to get out Kenny.
Arlie lays out a strategy for next week and the Adel power is a cornerstone. Adel jumps in saying they have to go balls to the walls to win HOH he's got his card but doesn't want to have to use it.
Arlie leaves
Jon – "We have to make f** sure Kenny goes up on the block next week"
Adel agrees says they have to forget about a backdoor strategy and just put kenny up.
Adel – "F*** prick"
12:00AM Hot tub Sabrina and Rachelle Sabrina tells her she had people in the house where she was loyal to from the beginning but her relationship with Rachelle trumps the other people. Sabrina says she doesn't trust Kenny and Sarah as much anymore they sketch her out. Sabrain adds that Andrew leaving gives her more freedom in the game.
They agree Allison winning HOH is best case for them. Sabrina says he has a deal with Jon and Adel until Jury she cannot put them up.
12:45AM Rachelle and Sabrina
Rachelle is saying that Neda is dumb "She says nothing.. she's so stupid"
They agree Jon, Adel, Neda and Heather need to go that buys them 4 weeks. They have a good laugh at teh prospects of Heather winning HOH and putting them both up.
Sabrina – "I will cut my body in half literally "
They agree Heather is "Useless" in physical comps but she knows the dates in the house.
1:06AM
Rachelle "Did you legitimately not know Sarah was going to NOT vote out Heather"
Sabrina says she knew.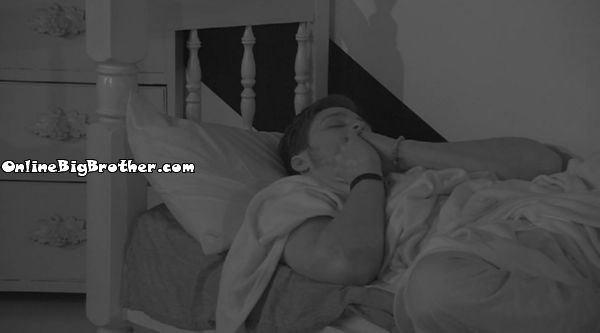 1:44Am Everyone sleeping