Quick Big Brother Spoilers
Head of Household: Turner
Nominees: Brittany and Michael Ameerah and Terrance
POV Players: Nicole, Taylor, Michael, Brittany, Turner, Jasmine, (Joe is host)
POV Winner: Michael/Brittany
Veto Ceremony: Brittany/Michael us the veto and Turner puts up Ameerah/Terrance
Havenots: Alyssa & Indy
Lock your ranks in before midnight
Festie Besties:
Turner & Jasmine (She's also safe)
Joe & Monte
Daniel & Kyle
Brittany & Michael
Alyssa & Indy
Ameerah & Terrance
Nicole & Taylor
How Nominations will work: One pair will be nominated
How the Veto Player Pick will work: Turner/Jasmine, nominated pair, and drawn pair
– If one of the pair wins the veto, the other is also safe.
– If the nominated pair comes off the block, Turner would nominate another pair.
– Eviction: One of the pair on the block will be evicted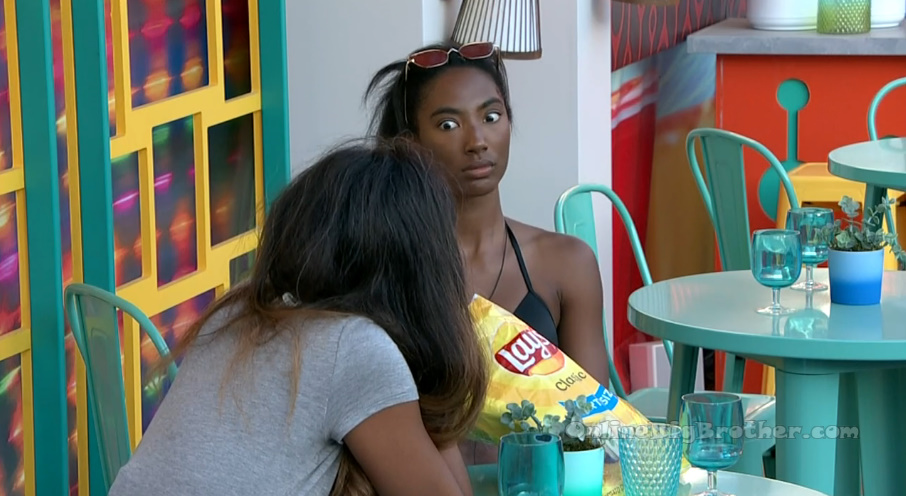 7pm Upper level outside. Taylor and Ameerah.
Ameerah – of all the people you could have backdoored?! Its just f**king crazy to me. Taylor – yeah. Its weird. Ameerah – I am like really uncomfortable because I am like .. I guess people are aligned with Tuner but like who!? Its cool but.. Taylor – I didn't think anyone was. Ameerah – lets put up Ameerah and Terrance? Taylor – it had to be just his own .. I mean if he is not aligned with anybody. Ameerah – he is aligned with someone .. no one would make a move like that. Taylor – because they would come for his a$$ afterwards. Ameerah – right, you know what I mean? Taylor – so how many guys are in the house now.. six? Ameerah – MMmmhmmm.. its even whatever it is. Are there 14 of us? So there's seven. So is that's how its going to be like where a guy gets it so a girl goes home and then a girl gets it so a guy goes home? Taylor – who knows. I don't f**King know. Its just weird for me because all I have in the house is the girls. And then if you go, ..its like you said they just keep plucking us off. Ameerah – well I hope I don't go. Taylor – obviously! Obviously I'm with you. Ameerah – if I do go, there is definitely a guys alliance. And I am cool with the guys but I am not aligned with them. If I do go home on Thursday, you girls have something to worry about. Taylor – that's so embarrassing. Ameerah – like they're going to come after the stronger females first .. Like Alyssa is probably fine because she's sliding through but like I don't know .. I feel some kind of way about being backdoored. Like that is f**King crazy! I didn't even see it coming or nothing… You can't do anything. Taylor – its all social game. Its f**ked. Ameerah – was anyone backdoored last week? Taylor – no. Ameerah – so the only people backdoored is me and you. Taylor – its just crazy .. like you know why I came here and to have both black women backdoored in the first 3 weeks of the season.. like you're f**king kidding me?! Next to a black man. Ameerah – and people wonder why the cookout exist. Taylor – hello?!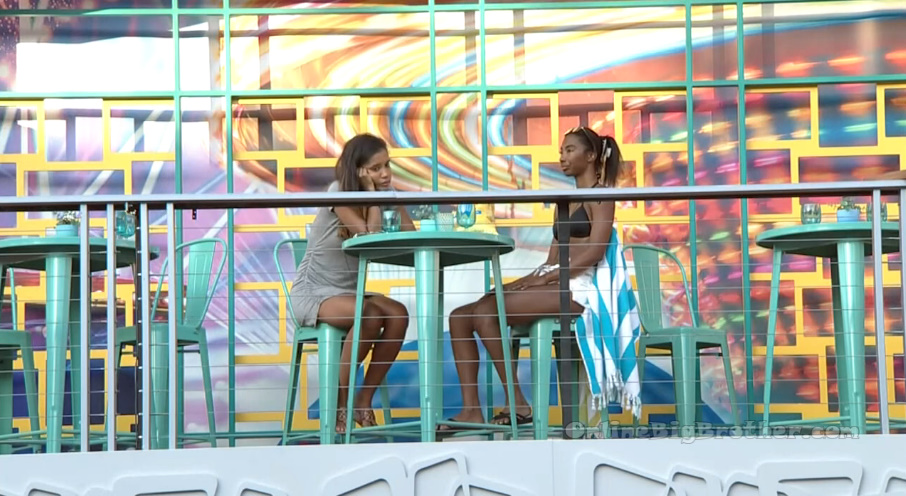 7:10pm Bedroom. Joseph and Indy.
Joe – you need to start talking game and if it lines up with what you want lines up with what they want, then start working with them. So I will tell you what I want. I want Taylor to go home. Indy – me too. Joe – so who am I going for if I win HOH .. Taylor. I hope you and Alyssa know that both of you don't need to worry. Indy – I hope you don't do that to me. Joe – You think I would send you home?! Indy – no. Joe – I want Taylor to go home. She told everyone that she wanted Monte out. She thinks that Monte is too big of a threat. She thinks that Monte ruined her game from the beginning. She has it out for Monte. And my pawns would be Turner because I don't care if he goes home after what he did. My only problem is I don't want Jasmine up there. I would only do it if Jasmine said it was okay and if I get enough people to confirm that they also don't like what Turner did… so that Turner is locked in. Indy – I understand.. just in case. Joe – I really don't like what Tuner did. Turner prioritized his own game.. which I respect but in prioritizing his own game he threatened mine. So if I have to make someone my pawn or penalize them.. its Turner. Those two are on my radar. MY eyes are open. I am done playing nice. They both need to go!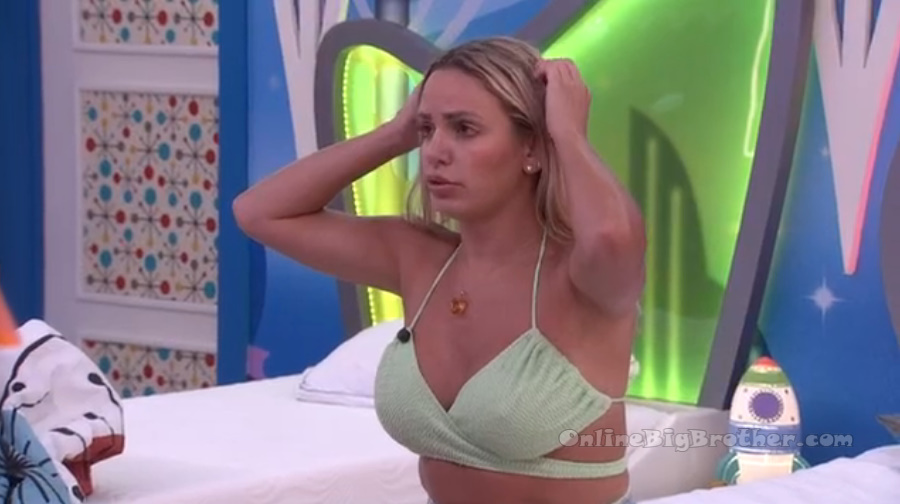 7:25pm Bedroom. Ameerah and Turner.
Turner – bring it in, I'm sorry. Ameerah – I think that I was just really caught off guard. It caught me off guard especially because you were talking about bullying. Turner – I also want it to be clear when people asked "is that them" .. I tried to separate the two. And I think the only bad thing I did in that speech was not separate the two enough. Ameerah – okay so you weren't talking about us? Turner – You two are the exact opposite of the problem I was talking about. You and Terrance are the exact opposite of the problem that I was mentioning first. The reason why I wasn't putting the target on the block… and then the game of why I put you on the block .. I don't think I merged the gap enough. But you and Terrance are the opposite of what I thought the problem was. I think you guys are the most innocent. Even I've had you and Terrance back and I should have explained it better. Ameerah – and that is fine.. Taylor isn't even a threat. I've been going with what the house wants. I don't want people to think I am a bully because that is not what I do. Turner – yeah, not everyone that has come up to me has said that. Ameerah – am I your target? Turner – I don't have a target but I did feel some kind of a way for the storage room incident. Ameerah – I didn't think that was a big deal. In the moment when you came up to me, I wasn't even thinking about the situation. Remember, you didn't say Pooch's name. I didn't know what you were even talking about. I didn't even know that, that was still a thing. Turner – I wish we had talked earlier because that might have changed what I did today. I am not gunning for you, nor am I gunning for Terrance. Even last week, the house was going to do what the house does. Ameerah – I am not going to campaign against Terrance. I will campaign for myself obviously but I f**king love Terrance. And he is a good person and I trust him. I am so bummed. Turner – Anyone that I would have put in this situation I would have felt bad. With Taylor just from my back ground .. I couldn't in my right mind put someone up there for a third week. Who's been laying in bed all day and I almost feel like would have felt like a victim to this house. Because I definitely heard things from people that are terrible about the way they were talking about her. Ameerah – I did too.. like f**king throw soup on her. Turner – yup. Ameerah – I've been hearing terrible things too. I get it. Turner – I was not going to subject her to my own wrath of HOH.. so I was like alright next best thing in my opinion .. no offence. Ameerah laughs and gives him the finger. Turner – you have a lot going on up here which could make a killer campaign whatever you decide to do. Ameerah – I'm not going to blow myself up like Pooch. Turner – and make an alliance with everyone in the house.. Ameerah laughs.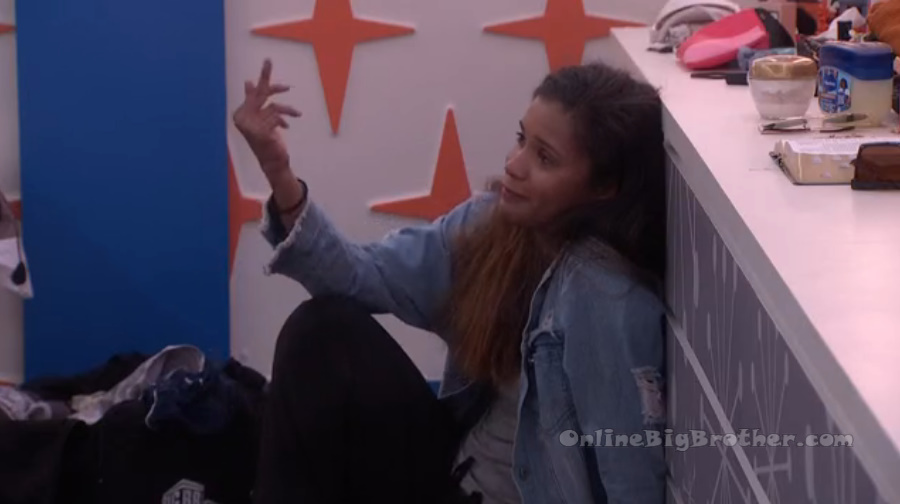 7:57pm – 8:10pm Bedroom. Terrance and Ameerah.
Ameerah – I talked to Tuner and it doesn't sound like either of us are his targets… Unless I am just completely lost in the dark. Terrance – he told me that hey you don't come talk to me and I guess you don't talk to him. Ameerah – no, not really! Terrance – I feel like I always talk to everyone about everything. I thought everyone was on the same page. Ameerah – so did I.. so I guess I f**ked up. He was like .. it sounds like based on what he had told me directly is that ..it sounds like he wanted Indy out but he couldn't .. because he didn't want to put Alyssa and Indy up because he is close to Alyssa. So its the Bestie thing that is messing it up. So it sounds like he basically went down the list and we were the last ones on the list. And he didn't want to put Taylor up because of his past because he was bullied.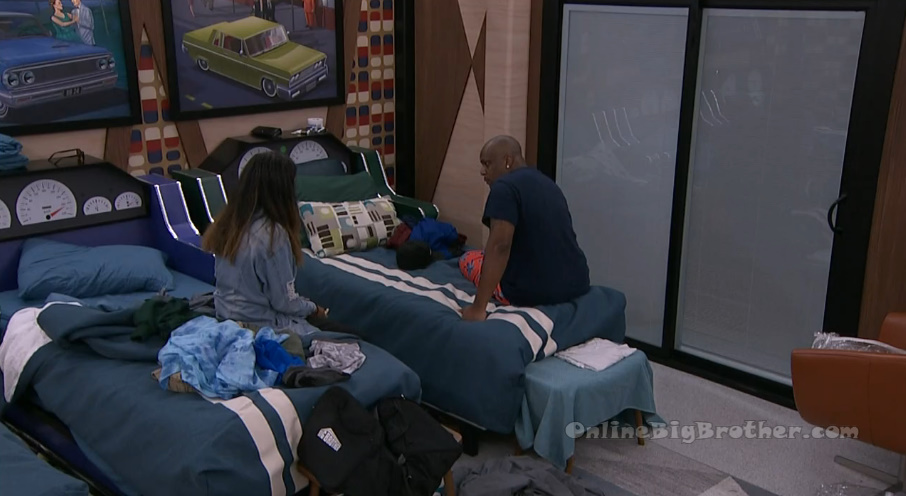 8:12pm – 8:25pm Bedroom. Ameerah and Kyle.
Kyle – what happened? Ameerah – it sounds like he instantly regrets his decision. Kyle – you're joking? Ameerah – I'm not joking. He says he feels really bad and that .. it sounds to me from what our conversation was ..it sounds like he wanted to put up the person .. he didn't name who the person was ..The person that's been fooling her and talking soup stuff… apparently its Indy from what other people have told me. I wasn't in the room for it. She (Indy) apparently said she wanted to throw soup in her (Taylor's) face. But he is not going to put up Indy because he is really close to Alyssa. It was basically elimination and we were the only ones left. And he didn't want to put up Taylor because of is past of being bullied. I'm sad, I didn't want to go up against Terrance. Kyle – how does Terrance feel, does he know? Ameerah – that he's going home? I think so. Kyle – really. Fuck, that's so sad. Ameerah – were you in the room when he said he was just going to give it to me and just go home? Kyle – HUH!? Ameerah – you didn't hear that? Kyle – no. Ameerah – he was like I don't want you to stay, I want to just go. That's when I started crying at first. So he's been telling people that and people are like no you have to try. I respect him a lot. Kyle – that's how everyone feels. Ameerah – I have nothing bad to say about him. Kyle – I know the nicest guy and the sweetest girl. Ameerah – I am fine because of PO's Pack and I only need one more vote and Jasmine and Indy.. so its like whatever. Kyle – yeah it still sucks. When did he make the decision is what I want to know.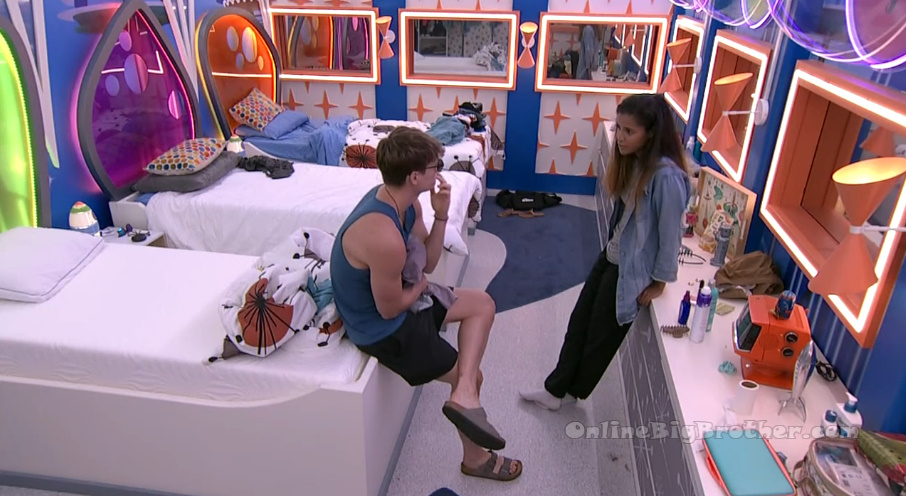 8:46pm Bedroom – Ameerah and Indy.
Ameerah – I think that there is something off about Nicole. Indy – I had this feeling. Ameerah – yeah you told me the other day. Indy – Today I also felt like something was off. Ameerah – me too because if Tuner knew, that means that Daniel knew, that means Nicole knew. You know what I mean?! They could have at least given me a heads up. Indy – every time I am hungry or sad .. he (Daniel) makes a face. I don't know I just feel like something is off. Ameerah – I am not going to speak anything to anyone in that room…I'm not going to give them any information.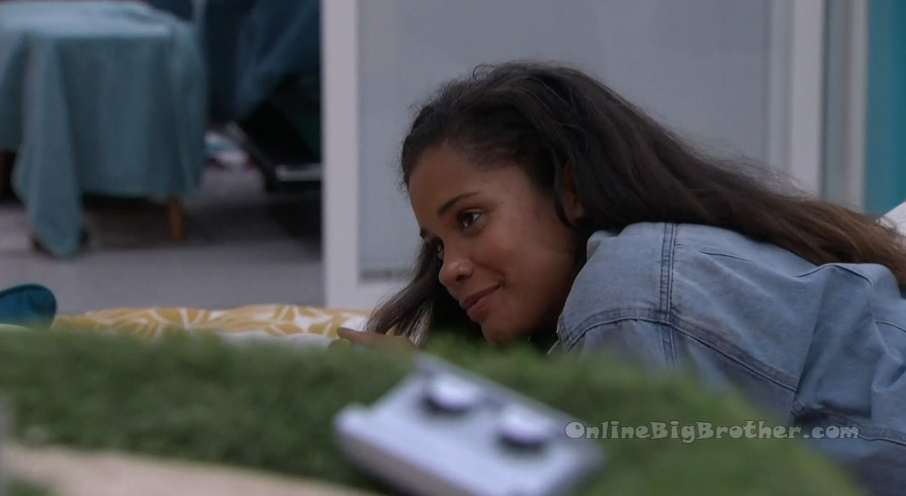 Ameerah activates her invisibility cloak #BB24 @bigbspoilers pic.twitter.com/QGItm5zDo7

— Dawg (@DawgsBigBrother) July 26, 2022
9:04pm Backyard – Michael and Nicole.
Nicole – I am honestly telling you that I am torn and I don't know what to do. I am just super torn. Michael – I am feeling the same way from an alliance standpoint and from being put up the first week with Terrance. He's been so supportive. Even after winning the veto he is like see that fire lit in you.. never let that burn out. Like how do you vote him out?

9:10pm Monte brings Ameerah some salmon, rice, potatoes and carrots. Ameerah – oh its good! Ameerah – I have the votes to stay so I feel fine about that. I am just trying to understand why me and Terrance. It sounds like basically he couldn't take anyone else out. He basically said without saying it that he wanted to target Indy but couldn't because of Alyssa. He said he is not going to campaign against me or Terrance but he is going to let the house decide. I don't think that is true because I've already heard stuff. He told someone that one person is a cool person and the other could win the game.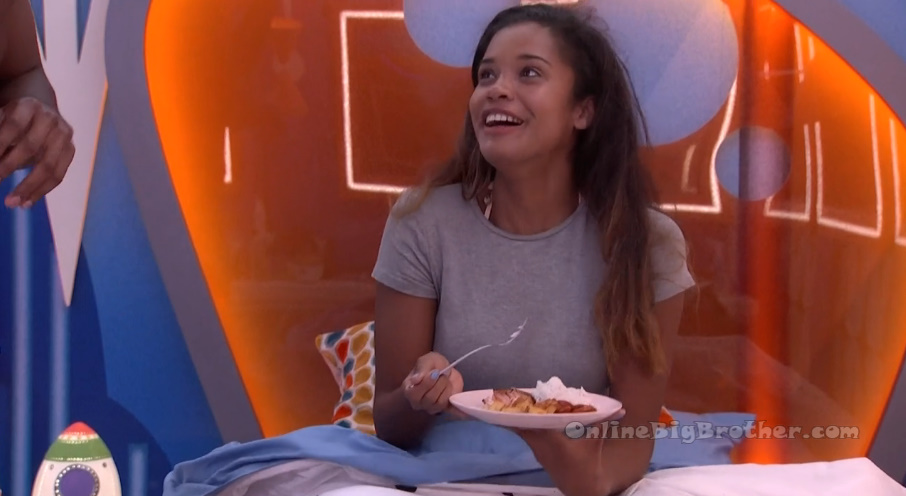 9:10pm Backyard. Terrance and Nicole.
Nicole – do you have the votes to stay? Terrance – I think we do. Right now I would have Taylor, I got Mike, I've got Brittany, if I have you and Daniel that's five and I think I could pull Kyle. Nicole – that's six. Terrance – yup. I don't even know about Jas, Alyssa and definitely Indy won't.. Nicole – f**K! Terrance – Monte maybe, and Joseph maybe. Nicole – F**K I hate that you're both on the block. The fact that I have to choose against my two best friends is really sh*tty. I meant what I said when I said I could never vote against you but in that same breath I can't vote against her too. You're my number two and she's my number three.