POV Holder:
?
Next POV
April 19th
POV Used
?
POV Ceremony
April 21st
HOH Winner:
Neda
Next HOH:
April 24th
Original Nominations:
?
Current Nominations:
?
Have Nots
?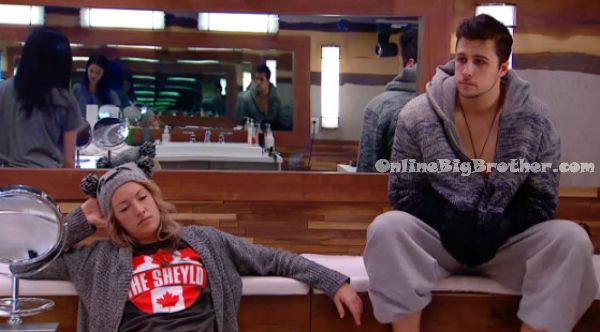 9:15am – 10am
Big Brother wakes up the house guests. Jon says that all night he kept looking to see if Neda was back. Jon wonders what could be happening out in the backyard – He says maybe an HOH, Punishment/Reward or Have/Havenot competition. Adel says or an instant eviction. Jon says it could be something where she (Neda) has to make a decision completely on her own without talking to anyone else. Rachelle asks Allison and Sabrina what they think is happening. They say have/havenot competition. Rachelle comments on how Jon was sleep talking last night. Adel says he didn't hear it. Rachelle says you were talking to him. Adel is confused and doesn't remember talking to him. Jon says the he had a dream that pandora's box was opened and Neda & I went into it and we switched bodies and had to come out and I was on a mission where I had to pretend to be Neda. Rachelle asks why would there be another HOH? Jon says instant eviction. Rachelle asks so if its instant then there's no audience. Jon tells her nope. Rahcelle says that sucks balls! They wonder where Neda is and if she got out of the house. Heather says unless she's in a room. Sabrina says she is either in the HOH watching on the spy screen or in that secret room. Allison says I'm tired of guessing. Jon says either Neda is being pampered to sh*t right now .. or she is getting punished and we're going to get a reward. Allison complains about being so annoyed this morning because she doesn't know whats going on. Allsion says I am half ready to say screw my game .. I'll go to jury. I don't even care. Heather says she is so happy that Kenny isn't here to experience the secret room. Allison says well we haven't experienced it either. Heather explains how Kenny was so sure there was a secret room there and would always get in trouble for trying to open it. Allison says that Adel is pissing her off because he was swearing up and down he was putting you up and now that you guys have power he is kissing your a$$. Allison says I am totally going to use Neda's makeup! She has make up that I have wanted to use. Should I use my brush or my finger? Wash my finger and then use it?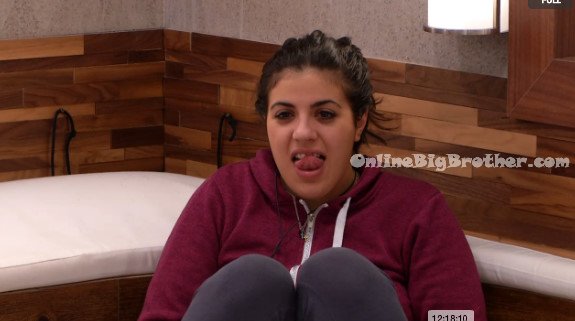 10am – 10:25am Neda returns into the war room from showering and finds her breakfast. She says oh my god! She sits down to eat and watch the spy screens. Neda watches Jon and says that's my deodorant! That's my deodorant you little booger! I can't believe he just used my deodorant! She continues to watch them and then says oh they're so boring! Neda asks is there a 13 year old girl controlling the camera because it's just following Jon around. Neda says calm down he's not that good looking and he has a stain on his shirt. Neda watches Allison getting ready and tells her not to wear leggings. Neda says she even looks sketchy when she does her hair! Is she a real human being?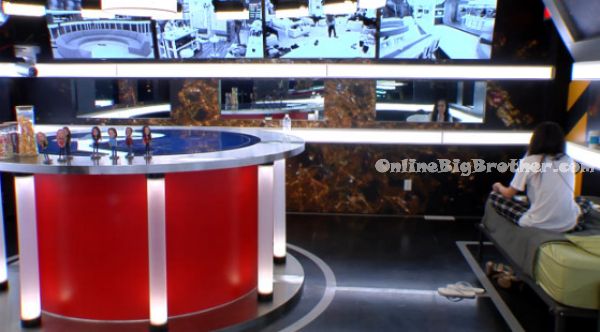 10:40am In the living room Jon says Neda is final 6 in Big Brother Canada isn't that crazy! Sabrina and Rachelle agree. Jon asks what day it is? He then realizes that its Allison's birthday! They all wish her a happy birthday. Allison says she forgot it was her birthday. Neda hears them and says oh yeah its her birthday. Happy Birthday robot!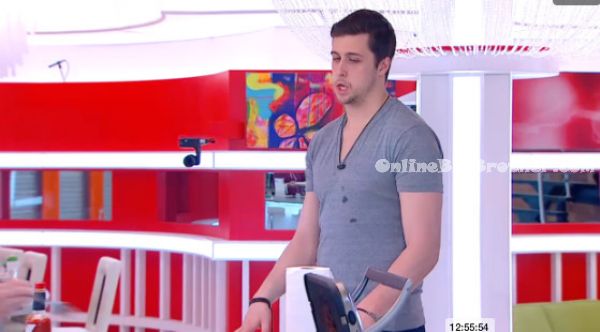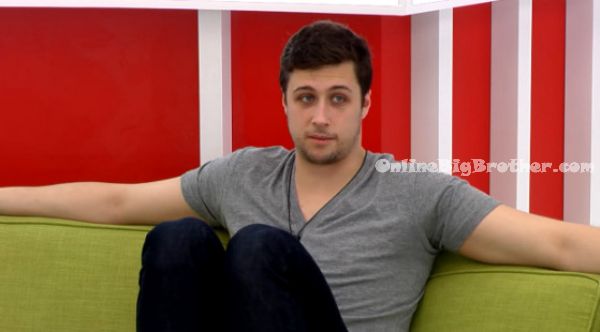 In the living room – The conversation turns to talking about Jon's relationship with Neda. (Neda is listening to the whole conversation at the war room secret door.) They talk about how it was just a brother / sister relationship. Rachelle says I would have a problem with it but I'm a jealous person. Jon says wow, my mind is blown .. I could never be in a relationship with you! Jon says I f**king love Ned's, I will love her for life. I love her in every aspect of this game and she will be a friend for life. Heather agrees with Jon and says that if she was his girlfriend she would completely fine with it. Adel says your's would be called a sismance. Neda says to herself oh my god this is still the topic of conversation! Neda asks why is me and Jon still the topic of conversation especially when its always the Gremlin's who bring it up!
Sabrina comments that her Dad think's she has cold sores because she kisses her dog so much.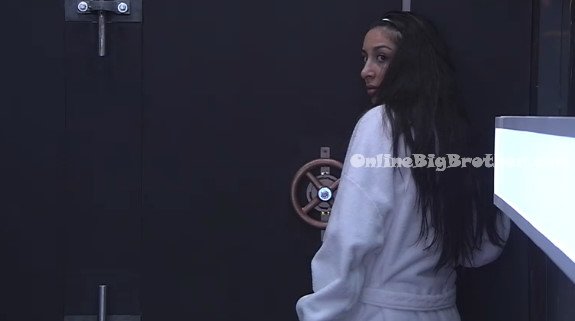 11:10am – 11:35am Big Brother blocks the live feeds… when the feeds come back Jon is talking about in the end if he would take someone he was loyal to or someone he could beat. Rachelle says if Neda was thinking strictly game and it was instant eviction she would get rid of you Jon. Sabrina agrees. Sabrina says she thinks 1000% Jon would win in the end over everyone. Jon says I think if people knew what has really happened in this game they would not think that. (In the war room Neda asks why is she (Sabrina) calling him out about this right in front of everyone.)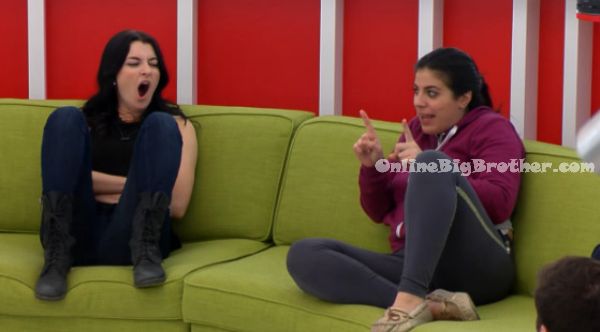 11:35am
Big Brother blocks the feeds again..
Stay connected and interact with other Big Brother Fans on our Facebook page.
And Follow: @BigBspoilers and @Dawgsbigbrother on Twitter for the most up to date spoilers.
Share it YO!!
Tweet