POV Holder:
?
Next POV
April 19th
POV Used
?
POV Ceremony
April 21st
HOH Winner:
Neda
Next HOH:
April 24th
Original Nominations:
?
Current Nominations:
?
Have Nots
?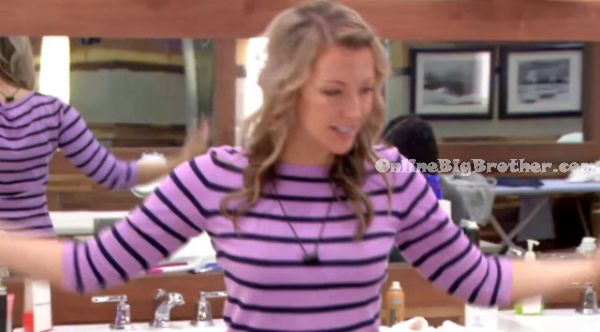 12:15pm – 1pm In the bathroom –
Allison and the Gremlins are in the bathroom talking. Sabrina says I am 90% convinced it is an instant. Allison says then in that case it will be out of our hands. Allison says I will accept the inevitable of what they will decide. Allison says I think she is going to get rid of one of us now. Rachelle says oh god that's going to be me. Allison says that she thinks it will be her because of how well I did in that competition. Sabrina says that would be a good reason to keep you around. They wonder where Neda was and if she was in the HOH or a secret room. Allison says I think if she was watching us it wasn't sound. I, I, I mean I don't know that I am just guessing. The camera switch to the living room – Jon, Heather, Adel are in the living room talking. Jon comments on how Arlie watches every reality tv show. Adel asks how does he have so much time in his life? Jon yells out Neda! Heather yells out Neda! We love you! COME BACK! I wonder where she was! Jon says she was in this back corner. Adel says no, that would be mega boring. Adel says oh because you heard her voice! Allison joins them and says that she is just sick of this.. I miss real life.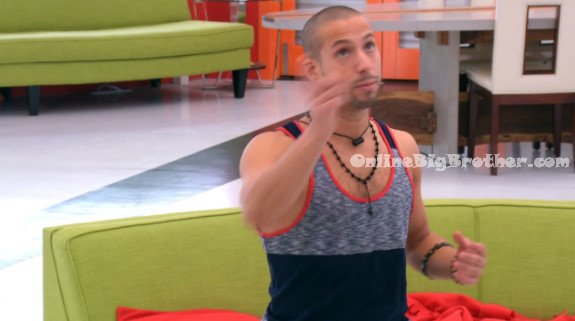 Heather, Adel and Jon plan to play a trick on the others by moving the couch into the eviction position to freak them out. Adel then goes and grabs the Twistos bags and puts them on the kitchen table. Jon tells him its too much and tells him to put them back.
1pm – 1:10pm Heather is heard in the diary room saying "Hi, I was just wondering if I would be able to request some Gravol or Pepto Bismol for my tummy." Big Brother blocks the feeds. Allison says I hate myself for not winning. If I had more TIME! I had 2 seconds to write down a number!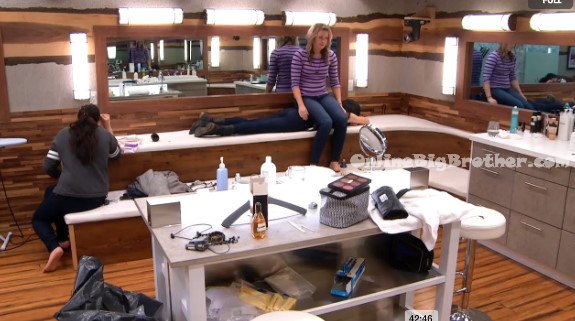 1:15pm In the living room – Sabrina asks Jon why are the couches like this? Jon says they asked me to do it. Sabrina stares and then gets up saying she's freaked out. She goes up stairs to tell the other. Jon joins them. They ask him about the couches again. Jon says I don't know if they said eviction position or nomination. Sabrina says same thing. They comment on how Jon is safe no matter what. Jon says I hope so but I don't know. Sabrina keep saying she is f**king pissed off!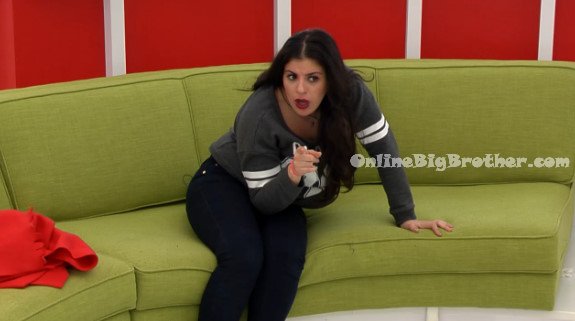 In the storage room – Heather and Jon are in the storage room laughing about how freaked out the others are about the couches. Heather says it was a smart idea really.. get them thinking about other things. Adel joins them and says she asked me if I could talk and I said nope.
1:20pm Camera 3 & 4 get turned back on with Neda in the War Room watching the others on the spy screens. Neda says he is wearing both of my bracelets.. I am gone for less than 24 hours and he's already wearing my sh*t! Butt face!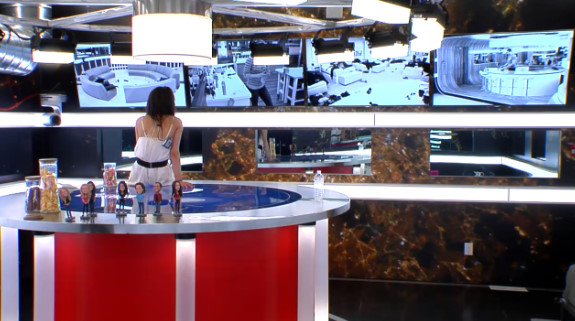 1:25pm Big Brother blocks the live feeds.
1:55pm
The live feeds return again – Neda's in the war room walking around following the floor pattern. Neda says lets put the two gremlins in the hot tub area because no one likes them. Put Adel in the shower because he's always in there. Jon is always pacing around. Meanwhile in the living room – All the other house guests are sitting around. They start whistling the hunger games bird call and big brother tells them to stop singing. They comment on how bored they are…
In the war room – Big Brother asks Neda to put the blindfold on .. Big Brother then blocks the feeds.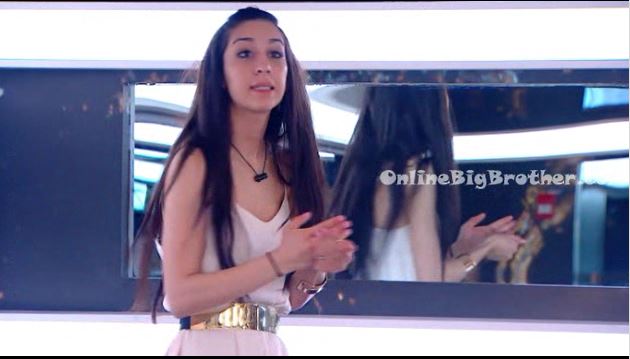 2:10pm When the live feeds return – Jon, Heather, Adel, Rachelle and Sabrina are in the HOH room on a lock down. They're all going to sleep..
2:20pm – 2:30pmThe cameras 3 & 4 come back showing Neda back in the war room. Neda asks how creepy is it that I'm watching them sleep right now.

** WHY THE LIVE FEEDS ARE DOWN: **
The Big Brother Canada Live Feeds are off until after Sunday's show. There's an instant eviction happening in the house… We'll post a Live Feed Leak if we get one. ;)
Meanwhile take a look at the Big Brother Canada 2 JURY HOUSE! Arlie's new home for the next 3 weeks, that is unless Big Brother decides to bring someone back like they did with Gary last year..
If you're enjoying the live feed updates this season, please consider donating. Simon and I work 24/7 all season long to keep you updated on everything that happens inside the BBCAN house. Any amount is greatly appreciated! Your donations go directly to pay the fees required to run this site.
Stay connected and interact with other Big Brother Fans on our Facebook page.
And Follow: @BigBspoilers and @Dawgsbigbrother on Twitter for the most up to date spoilers.
Share it YO!!
Tweet