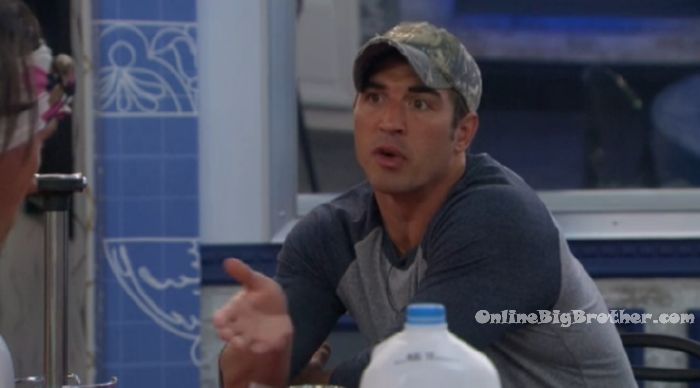 Check out our BB19 Ranking Grid. . rank your houseguests here
9pm Kitchen. Kevin and Cody.
Cody – oh yeah, I'm going to compete in the safety competition. Kevin – yeah I guess everyone is. Cody – they'll have to. Kevin – I know and same as today.. if you don't people think stupid f**king things. What do you think they're doing with her (Jess)? Do you think she's going home or what? Cody – since she is free and clear of the game she should be able to experience it all .. do you know what I mean? Because if we're in jury there is only so much they can tell us. Like the secrets of everyone but for her she will have unfettered access and interviews. Kevin – what's your plan after all this? Cody – oh me and are going to have a pretty good relationship. Kevin – are you going to move to LA or is she going to move to Dallas? Cody – back and forth. I figure after this me and her are synonymous, you know what I mean? We're a pair. If people are asking her to go somewhere they would ask me. She's a great chick. For me I would never go after Alex in this game so for her to go after me would be like a wasted HOH. I've maintained from the start, I want Alex to do well in this game. Everyone has screwed someone in this game. Kevin -they're going to have to have a double eviction soon.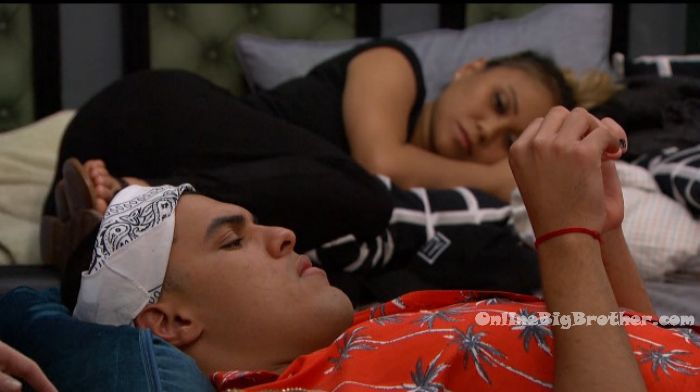 Bedroom – Mark, Matt, Josh, Alex, Christmas, Elena
They're all hanging out chatting about random things. Jason talks about his vibrating c**k sleeve invention.
9:23pm Bathroom – Mark and Elena.
Mark – I'm sad that we don't get the room (Havenot) to ourselves. Elena – that's probably a good thing. Mark – do you think so? Elena – yeah! Mark – oh you didn't have fun last night? Elena – I did.. if that wasn't clear. But I think that I need make good decisions in my life.. like having chicken. Mark – yeah but you always need a little week in your life.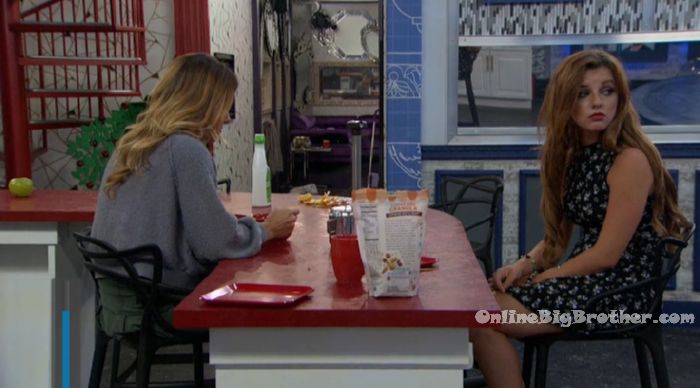 9:30pm Kitchen. Christmas and Raven.
Christmas – well I am glad that's done and we have a good chance to get Cody out this week too. Raven agrees. Christmas – I don't think he'll throw it (the safety temptation competition so that would be nominated and get a chance to play in the veto instead of potentially be backdoored), he'll gun for safety.

See what they can't show you on TV Try the live feeds for FREE!

10:35pm Paul, Kevin, Raven, Matt.
Matt – so there will be 10 people competing tomorrow, unless someone doesn't compete. Paul – I highly doubt someone doesn't compete. Even the people that don't necessarily feel safe, combined with the people that equally want Cody out of this house. I'm pretty confident everyone will compete. Kevin – everyone wants him out right? Paul – yeah, and this Mark has to be the dense's human being. Matt – he (Mark) is pisses off right now because when he went at him with the pots and pans.
He told production that if he comes at him with pots and pans, he is leaving. They told him well until then you have to deal mouth it. They've since told him . And now of r Cody they're doing the exact opposite. Paul – I just think the problem is Cody. The guys do what they can to keep stuff safe but he was the one that was outlandish and unasfe. Raven – we did it once. WE backdoorded him once.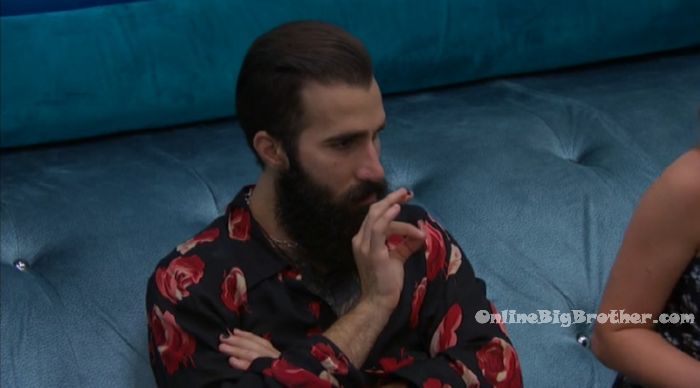 11am Bedroom – Kevin, Paul, Christmas, Josh
Paul – I know that you (Alex) want to put up Matt and Mark but do we want to run the risk of pissing off two couples. IF they both get paranoid and team up to make a 4. And if we can't get him (Cody) then we get one of them (Mark Or Matt, that gets right. Christmas – we have to have another guy do it. Paul – Matt said he would do it. At least Matt has a job, but if you put Matt and Mark up there and they start talking. Alex – we need to work as a team. What do you guys want to do? Paul – if Mark is gone, Elena and Cody would never work together. Matt and Raven feel so comfortable which is what we wanted. Christmas – Raven hate Cody. Paul – exactly. so why piss off those numbers when we can and keep them calm. Christmas – I can tell right now that Elena is going to be pissed. Paul – not my problem. Mark joins them. Paul changes the conversation.

Kitchen – Josh, Matt, Raven, Mark
Josh – everyone will be friends after except for dickhead because I didn't like that fact that he called me a moron and a fat f**k and everything else under the sun. He's a f**king d**Khead. Jessica, I will accept an apology. I would be like Jess you know what you got caught up in the heat. You got caught up because of di*khead. D**khead can go f**k himself. Mark – your last words were, I have a degree, you serve bottles. I don't think thee is an apology coming your way. Josh – because she continued to go with the Forest Gump sh*t. So I was like lets get real petty. What the f**K have you done? You've been serving bottles and dropping celebrities names boo-boo. D**khead I don't give a f**k what you do. Mark – next week you're going to be wishing, why didn't I accept an apology. Josh – before the personal attack I would have accepted his apology … but once he got in my face. .. go f**K yourself!!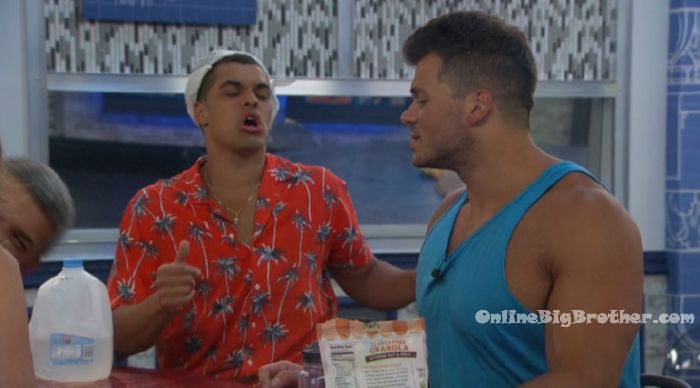 11:35pm Alex comes out of the diary – who wants to see my HOH room?All the house guests head up to the HOH room. Alex sees photos of her ex-boyfriend. She starts jumping around saying that's my ex-boyfriend, ex-boyfriend, ex-boyfriend, ex-boyfriend! Josh – you're on tv he wants to get back with you… F**K HIM! Alex realizes her HOH letter is also from her ex-boyfriend. She reads it to the other house guests.
"Alex I can't wait to see you again. We're all cheering for you and making sure everyone else is too. Keep killing it. Remember I can still see the same stars as you. I was with the family and hanging with William. He calls me Tro. Miss that little guy in your family. (Because we broke up and he was't coming over.) Everything we talked about before you left is exactly the same. (because I told you, we saw each other the week before) Things are still going good. I am writing you a journal, everything to do with day to day so you won't miss anything. Love you more than you love me. By the way I'll look completely different when you see me next. On to the second half of the tour now. It's only a game and you've got this. Stay strong, I love you. I am proud of you and I miss you a ton."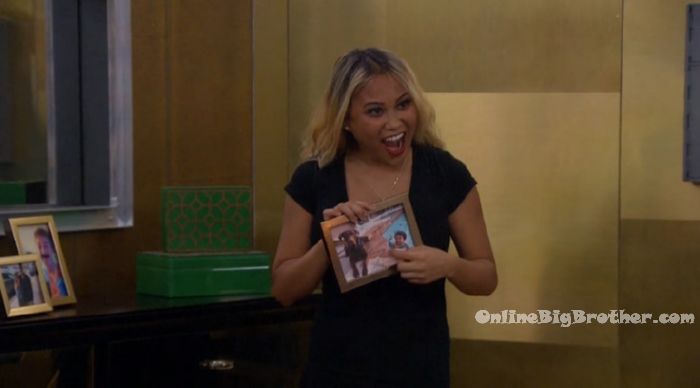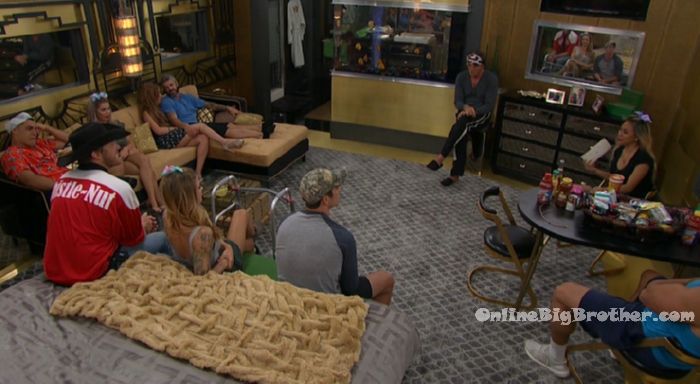 11:48pm – 12:15am Alex says her ex didn't have the paperwork signed before she came on here. Christmas – so is he your ex or what? Alex – yes, we're been broken up for the last couple months. Alex – I mean like I have to see what is going on when I get out but we were broken up. They ask how long she was with him? Alex – 2 years. Elena – congrats on jury. Alex – we're locked away together until the end.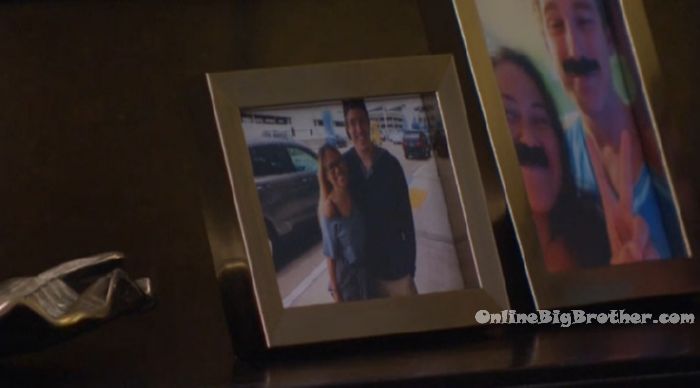 12:18am Storage room – Josh and Mark.
Josh – I'm not clowning on you. Mark – you've never said anything that bothers me. I don't know why you think that. Josh – okay good. Mark – I'm not an emotional person. I got emotional one day. You can say whatever you want. Josh – I am not clowning on Mark. I am just telling you I would never act. Mark – you can act. Josh – no. Mark – okay now I am asking you as a friend …you can act. Josh – I'm not going to act. I'm not stupid. I'm not Elena's type. Paul – how do you know? Mark – but why do you think that I am and you're down here? Josh – I am just f**king with you. Mark – and I love when you f**K with me. If you ever said something that crossed the line that I got upset with.. I would pull you aside. Deal? Josh – deal. They hug it out. Mark – it makes me feel like you care about me when you clown me. Josh – okay good. Mark – because I feel bad when you see the guy get too aggressive.. I don't want that. I want you to feel comfortable with me. I got mad one day because there was a lot going on. They leave the room.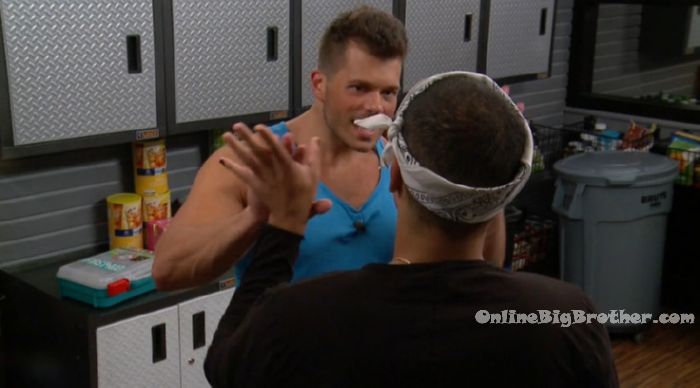 12:20am HOH room. Paul, Christmas, Kevin, Jason, Alex.
Alex – Well Elena or Matt whatever you guys want to do. Paul – so what's the plan before they start coming up here. Christmas – she agreed with the blue print to not put up two couples. There is no point in creating more enemies. Paul – Matt and Raven are comfortable. Depending on what happens during the safety competition .. you could still get what you want. Paul – I'm going to gun for the safety competition. Josh joins them. Alex – we need to pull one of the couples in and keep them tight. Paul – I say Matt and Raven because they already feel tight. Josh gives his points as to why he wants Elena up on the block. Alex – right now we have the votes to control any situation that happens. I would rather you (Christmas) play (in the safety comp.) because right now we have the votes for anything. Matt and Raven join them.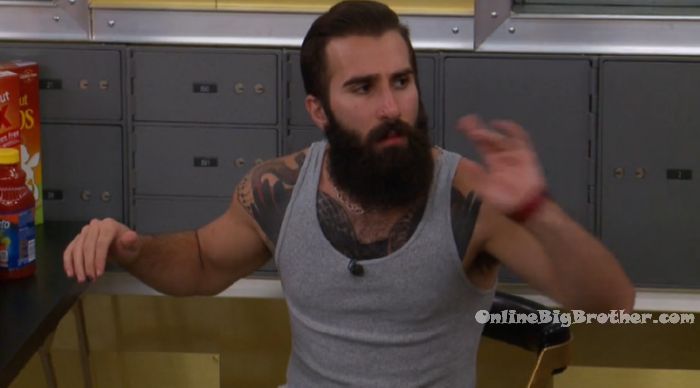 12:35am Paul – what are the options? Matt – I have no problem throwing the safety comp tomorrow. Paul – its between me and you bud. I don't mind. Alex tells Paul that he should try to win the safety comp and Josh should try to throw it. Alex – I don't want anyone to feel like they're targeted. Paul questions who's been feeding Cody information. Mark joins them. They start studying the things for the comp.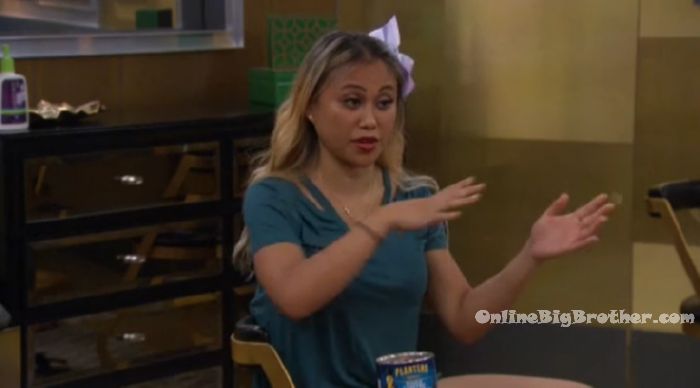 Raven – if Matt throws it, it would look super sketchy. But if Josh throws it and Alex nominates Matt along with Mark. You then have 3 males on the block. And Elena doesn't get pissed off after having just been on the block. Paul – yeah that's smart. Josh – but then we have 2 of our numbers on the block. Paul – that's a good point. Raven – three strong players on the block, better chance to win the veto. Kevin joins them.
2:08am Christmas gives Kevin a kiss goodnight on the cheek.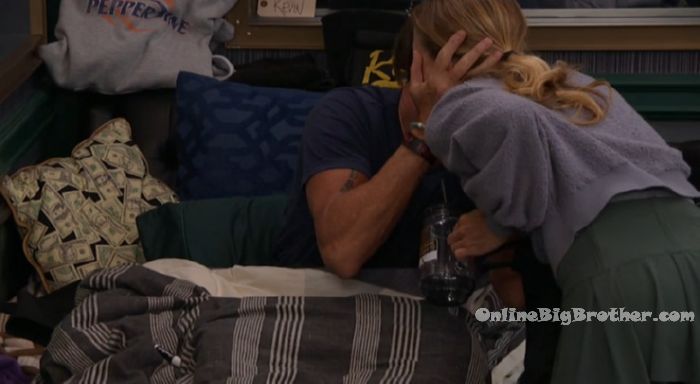 3:10am All the house guests are sleeping..
If you plan on buying anything from Amazon. Use this link Amazon home
Doesn't cost you anything and we get a small cut.
Links to the ranking system
Rank your house guests here
For those of you that like Statistics here are some expanded reports.