If you plan on buying anything from Amazon. Use this link Amazon home
Doesn't cost you anything and we get a small cut.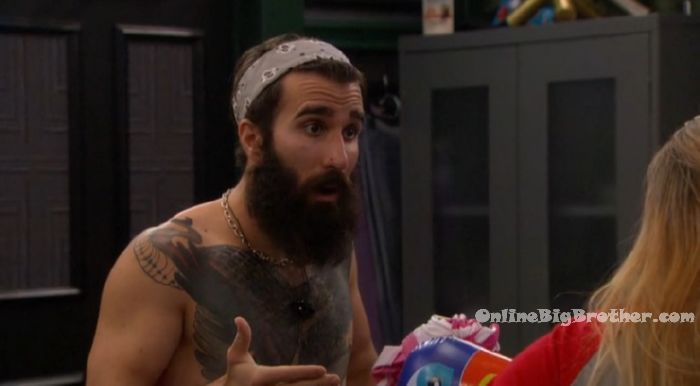 9pm Alex and Paul.
Paul – he (Jason) is just throwing a fit …because I don't know what it is.. he is just upset about something. Alex told me we could do Matt, Kevin, Raven.. so why is she more about getting Kevin out. I said things change and of course if he (Kevin) is throwing Alex's name out there, then of course she is going to get weird about it. I said what do you care more about, getting Alex upset or keeping someone around that told me to get you out at 6?! I was like he (Kevin) doesn't have your (Jason) back. He said I know. Alex – I think Kevin still has him by the balls and still feels bad about sh*t. Paul – what do you think AMF should, what do you think we should do? Alex – if Jason does this… that puts AMF in a weird position. When we make the clear like that we're not apart of that .. Christmas joins them. Alex – but if he screws them (Matt and Raven) then he saves himself. Paul – Kevin should not win any HOH. I still don't understand why Raven took Matt's (veto)? Alex – she was tired of always coming in last in everything. She just wanted to have one. Paul – that's the dumbest idea. Alex – but then she actually found one. Paul – that is the dumbest thing… so you're both on the block .. just eliminate one of your veto chances. Alex – because they feel that safe. If we f**k them and Jason leaves the noms the same. I will support Jason but I would rather get Kevin out because he is annoying. Paul – at least if we get Kevin out the picture he is not walking around doing stupid sh*t. He does not leave Jason alone.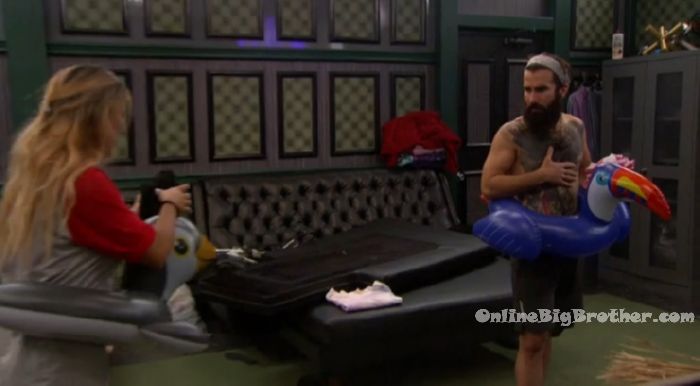 See what they can't show you on TV Try the live feeds for FREE!
9:15pm Bedroom – Christmas, Matt and Raven.
Christmas – it would be one of the .. you know what it would be another Jess HOH. It would be like WHAT THE F**k!? WHAT THE F**K! Like there would be no rhyme or reason to it. THAT WAS YOUR F**KING PLAY!! THAT WAS YOUR F**KING PLAY!! And luckily Alex will see that. I honestly think that Kevin is freaking out be because he does not feel safe. IF he felt safe he wouldn't come open the door and then shut the door. In my opinion, I don't think Jason is going to pull a stupid move and pull a Jess. I think that is why Kevin is freaking out. He is f**king paranoid as sh*t. And Jason had the veto.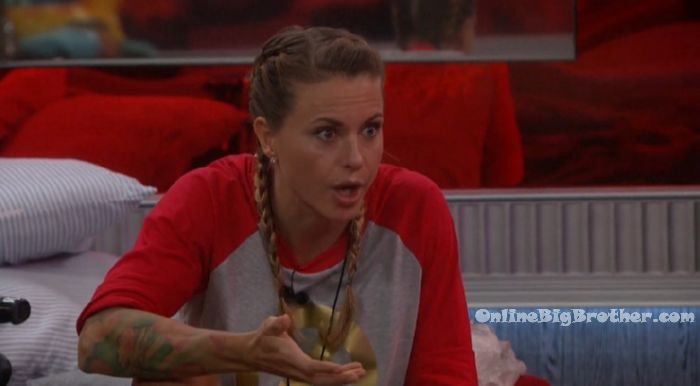 Matt – for his (Jason) game it would be better to keep noms the same because next week if we win HOH we would be tossing them pi
In the kitchen. Alex – HEY JESS IF YOU'RE WATCHING THIS .. YA PLAYED YA-SELF! We're still here and you're not.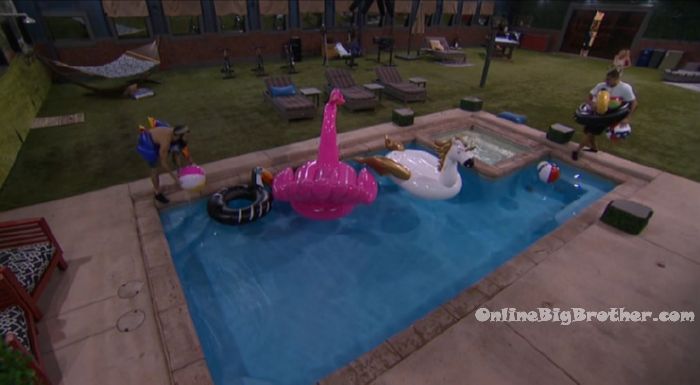 10:50pm HOH room – Josh and Matt.
Kevin – this game does make I hope there are not havenots. If we do have then and you have to pick, then pick me. I don't mind doing it. You know what I'm say, Matt will go in there. It is not even that bad. Jason – I like my havenot head. Kevin – I would never come back here. Enough is enough. I can't go home being tricked by Jess and Cody.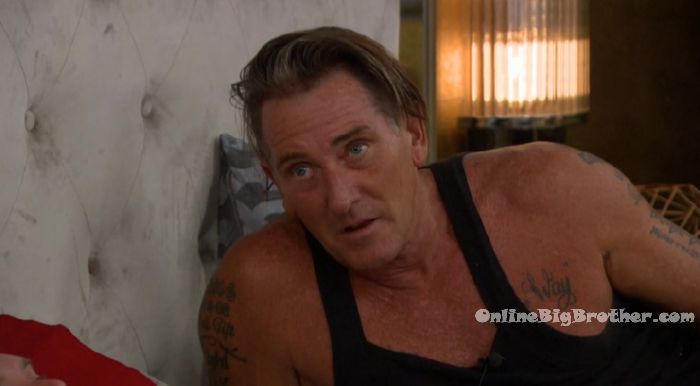 11:10pm Josh fighting against each other in the pool.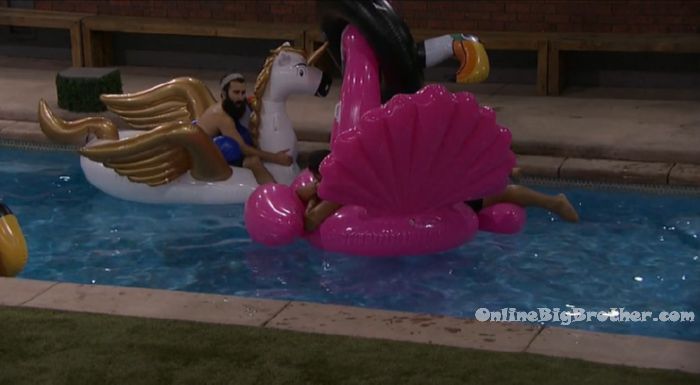 11:30pm – 11:55pm HOH room.
Jason, Alex and Christmas.
Jason – this is what I don't get.. he (Kevin) said Matt and Raven haven't done sh*t! They don't deserve to be here. I just about damn near said – what the f**K have you done Kevin!? Christmas – I have to give Raven credit, that b***h is trying every time. She is just not good. She is trying to plat the game. Jason to Christmas – why does Kevin aggravate you? Christmas – I know for a fact that he is saying the same thing to multiple people and two I know that he told Jillian that he had her vote. He also told me that I had his vote. When she left he turned around and said to me see girl, you're my girl, I have your back. Jason – I feel like for a while now he has been trying to me to say sh*t about Jason. Christmas – so Jason let me ask you this.. you guys are boys and have been boys since the beginning. Sitting there by the hot tub I wanted to blow my brains out listening to him suck up to you. Jason – he was telling a story but it wasn't a normal story .. he was trying to deep throat, ball at the same time.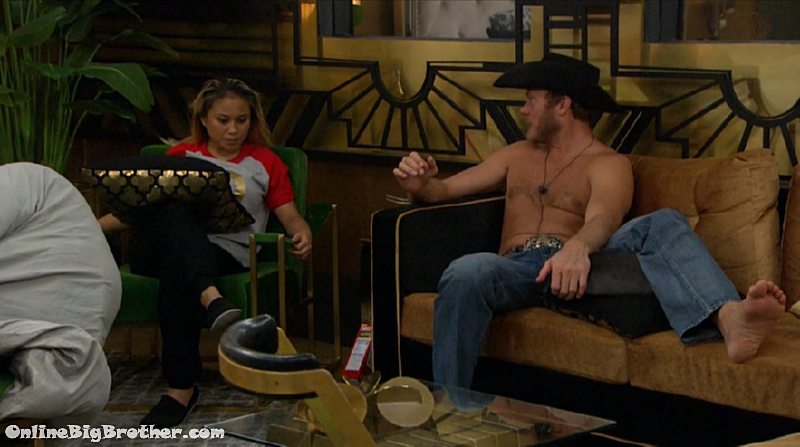 1:16am kHOH Alex and Matt (SImon here for the late night)
Doesn't sound like Jason wants to use the Veto.
Jason – i'm not going to take a shot of one of my dungeon mates with you two around
1:24am Paul tells them don't let Kevin get into their head.
Jason – everything he says is a bait
Alex – his stories all full of sh1t
Paul – I can't humour fake sh1t anymore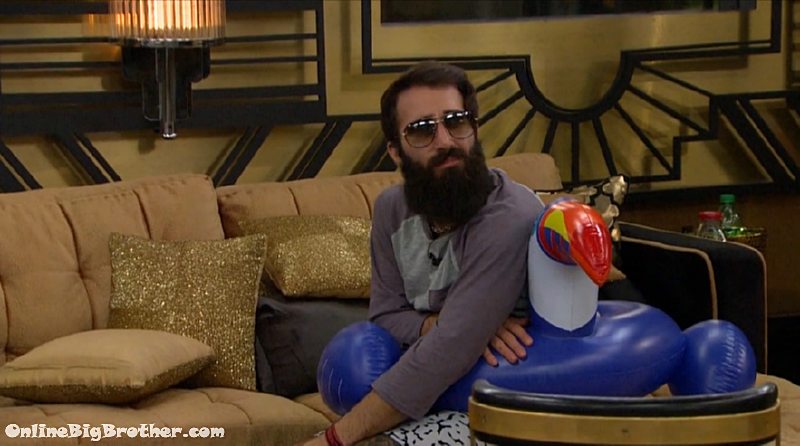 1:40am HOH Jason, Alex and Paul
Alex – we have a lot of gumpy people in our cast..
Paul joins them.. Alex says it's funny that her, Paul, Josh and xmas were early targets of Cody and they're still in the house.
paul – that d1ck bag I was soo tired of his sh1t
Paul – literally my objective for like half the game was just to get that kid outta here
Jason – he put out such a terrible vibe
Paul says in the beginning he wasn't linked to anyone "I was just feeling everybody out"
Paul explains why what Cody was saying week was bullshit, "I did not talk game for at least the first 2 weeks"
Paul – when I started talking game is when I won HOH..
Alex says first first 3-4 weeks people need to chill out in the game.
Paul makes fun of the "d1ckbags" that make big alliances early on "ohh we're going to make it to the end of the game.. we're going to jury" (zomg)
Paul – all of them are gone
Alex says two crucial weeks was when they got Dom out and when Jessica botched her HOH when she tried to get JOsh out and Ramses went.
Paul – that was all us
Alex – it was..
Jason – when Jessica put up Ramses and JOsh…
Paul – I thought she was the stupidest person
Alex – I thought one of us is going to get backdoored
Paul – I thought so too
They laugh that Jessica got Ramses out during her HOH. During the veto Ceremony Alex brings up holding in laughter. Pal says he was thinking Oh my god she's the stupidest player ever (That was one of if not the most stupid move of the season)
Jason – Alex was like if that dumb b1tch doesn't use her thing… (veto) it'll be smooth sailing..
Jason – i'm like she'll surely use is Alex she's not retar….. err .. ohh.. umm inferior intelligence
Jason – was last years cast a bunch of smarties compared to this year
Paul – yes, liars that were really good.. you would have never thought
Alex says Nicole wasn't anything special in season 16. Alex says she really liked Cody because he was hot not because of his game play.
Paul – I didn't watch my season.. I've really only seen bits and pieces of a few seasons.. I don't give a f*
Paul says he's figured out a formulas and it works..
Paul says Jessica was a go getter female this season but she had no idea how to play the game. Christmas with 2 legs would have been a powerful force but Paul thinks she would have "Power tripped" Alex agrees.
Paul adds that he told xmas that breaking her leg is the reason why she is this far in the game, "I don't mean to be a A$$hole"
Alex – she would have been a HUGE target
Jason – it humbled her to the ground.
Paul – you helped her game by breaking her leg in a backwards way..
Alex goes on comparing the worst season ever 16 with the second worst season ever 19. She talks about Derrick be uninteresting.
Alex about Derrick – "He coasted through the whole time like Kevin" (this may be the biggest ZOMG of the season)
Paul – Derrick played it very safe and quiet
Alex talks about the strategies that were employed on season 16 in regards to the hold them competition
Alex – it's kinda like what we've been doing.. we bully against one person and get them out
Jason – yeah, worked like a charm..
Paul – the only wild card sh1t I see happening is Raven or Matt winning, they would take a f*ing shot this way unless they're stupid
Jason says Kevin won't win the HOH, he wants more than the money to not win and be in the final 2.
Alex – I'm telling you, he knows Derrick and Derrick didn't go on the block once, he wants to take it to an extreme
Paul – he hasn't been on the block because he's not a threat and nobody gives a f*
Alex goes on that Kevin's game is not no win a single thing in the game make it to the end then win tha game.
Paul – so you floated through the whole game and did nothing
Alex – he thinks he's had in hands in everything.. (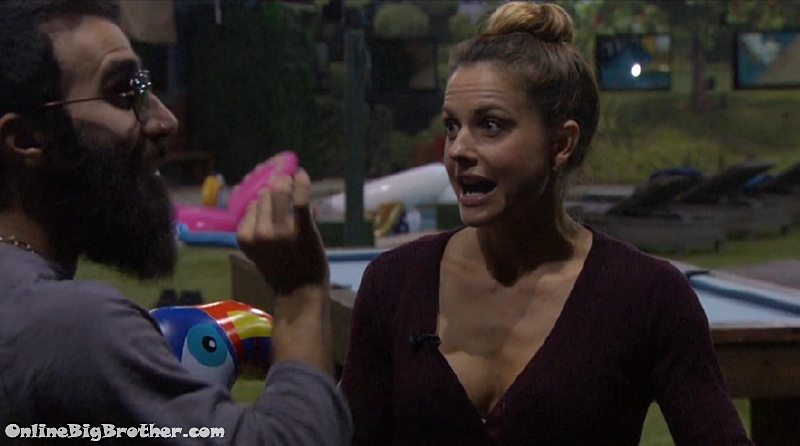 2:18am Paul telling Xmas that Jason and Alex are not onto her and JOsh at all.
Paul – if we do this I will literally die..
Paul – just keep doing what you are doing.. Josh is doing an excellent job
(Paul wants to make sure JOsh and Xmas don't go up so he can use them to take Jason out next week)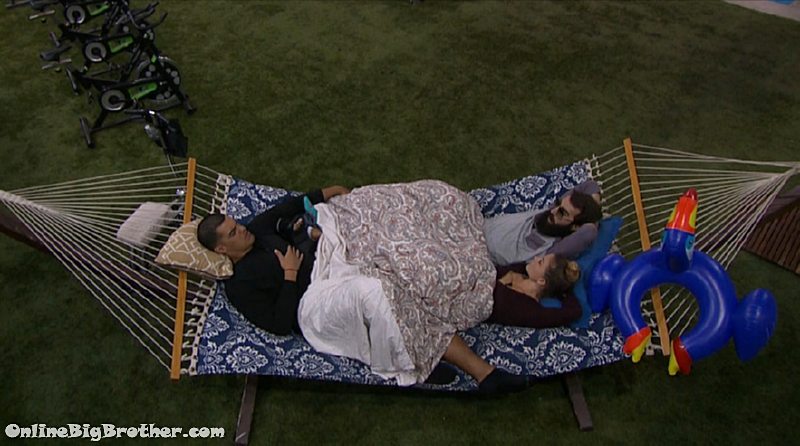 Late night chit chat..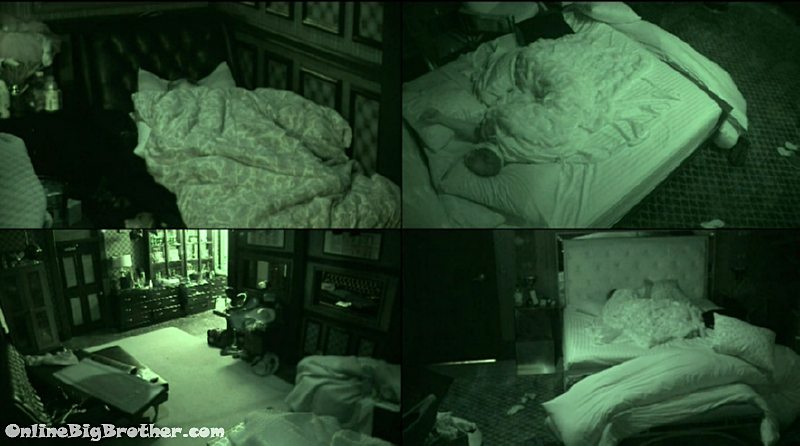 9:17am ZZZZZZZ
Donations help keep the lights on. If you would like to support the site please consider donating.
Links to the ranking system
Rank your house guests here
For those of you that like Statistics here are some expanded reports.