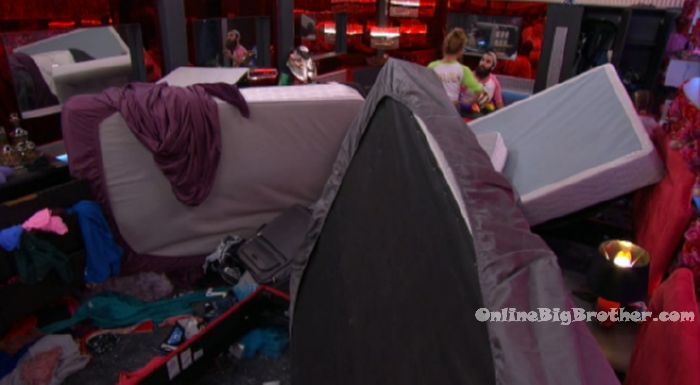 If you plan on buying anything from Amazon. Use this link Amazon home
Doesn't cost you anything and we get a small cut.
Power Of Veto WINNER: Jason


5pm When the feeds come back the house is destroyed! It was the hide the veto competition where each of the house guests hid a veto in the house and the last persons veto to be found is the winner.
They're heading into the back bedroom. Christmas – we don't even have a bed! Paul you did this didn't you?! Paul – no … well yes some of it. Josh – I flipped a bed. Christmas – who did all this? Paul – All of us us we had to. Paul – where was yours Raven? Raven – in this couch cushions. Like in the cushions. Paul – f**king smart man. Matt found mine. It was in a shirt and then inside my jacket. Paul tells Raven good job. Paul – I don't understand the Matt thing. Raven – because they wanted to leave it. Paul – he said I don't know why you guys had to tear apart the s#x room. That was very unnecessary. You can't even hide it under the cushions. Paul talks about how Matts was out there and he thought they were throwing it to him to save you. I was confused. (Matt's was laying in the middle of the room because Kevin found it but didn't want it so he dropped it.) Paul – I just don't understand why he did that. Raven talks about how she found one and could get it out within 15 f**king seconds but Big Brother told her not to.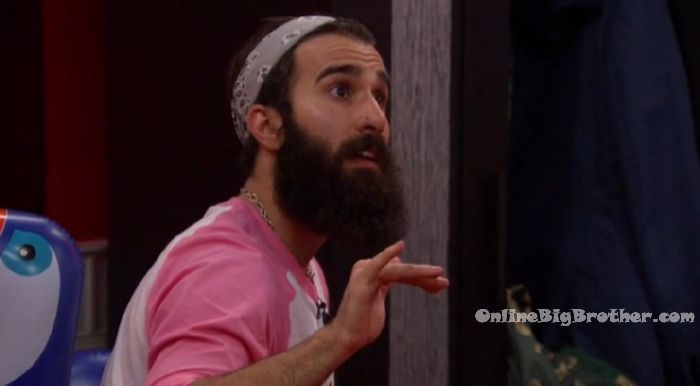 Matt and Raven are alone in the bedroom cleaning up. Raven – I was like if Kevin wins this I would commit suicide! If one of us goes home there is nothing we can do about it. Which I am fine with. Matt – Yeah me too. Raven – I was close to winning that one .. second place… yet again! F**k me!

See what they can't show you on TV Try the live feeds for FREE!
Jason is walking around with the veto around his neck. Paul to Josh – you put yours in the f**king freezer Josh!? Paul – I immediately checked the freezer, that was the first place I checked.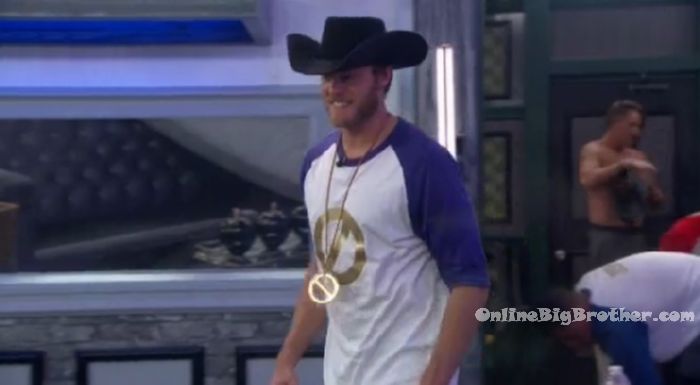 Kevin tells Christmas how it was a disgrace how the lounge room and bedroom were torn apart. They didn't need to do that.
5:40pm Alex – they f**king broke my glasses again! I can't believe it. I feel like she did it on purpose. Alex – I hope we get the yard back soon. Christmas – unless they're setting up for the next thing. Alex – I hope so, send me the f**k out of here.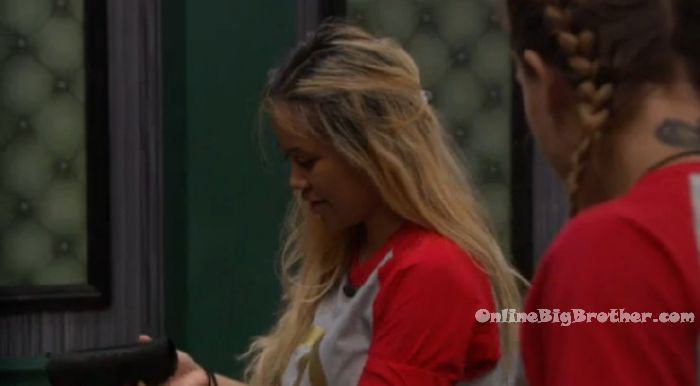 Watch the NEXT WEEK of the Live Feeds for FREE!
Click here for your: 1 Week FREE Trial
6pm The house guests are making dinner and talking about the veto competition. Jason – I damn near hid mine in the freezer… Josh – the fact that you almost hid yours in the freezer where I hid mine.. Its going to be a long week.

6:20pm Kevin, Jason and Alex.
Alex to Kevin – was our room messed up when you came in? Kevin – yes. Alex – I know it was Raven that messed it up. Kevin – I came in and saw my stuff messed up .. I was like this is bullsh*t! What the F**k! Alex – it was her dude, we heard her slamming stuff around. Kevin – the second time I came in it was decimated. I was yelling at the cameras this is bullsh*T! Jason – was it messed up the first time you came in. Kevin – it wasn't as bad. It was the second time. The second time couches were thrown. Alex – we're trying to figure out who messed up our room. Kevin – people messed up stuff for no reason. Alex – someone messed up Raven's hair. They talk about how Raven found Matt's veto. Jason – why would she take his? Alex – because they talked about wanting her to win it. Jason tells Kevin that Raven said the plan is Kevin. Kevin – that b***h said my name, that b***h ain't said my name all summer! Kevin – what are you going to do when you take the veto and say..
Jason – I'm going to keep the nominations the same. And she (Raven) is going to sh*t down both her legs. Kevin – good! F**K HER! And I'm going to be looking.. Jason – stare right at her. Kevin – no I'll wait till the f**ker leaves. You know why she wants to be up as a pawn .. so she can talk to the camera. Alex comes back. Jason tells Alex – I think I am going to keep the noms the same .. he (Kevin) doesn't want to go up and… Kevin – she said my name. Doesn't she know we're friends? Jason – they think that I am going to pull Raven off and I would put you up. And that everyone would vote you out. Only they think that. I didn't tell you because I didn't want you to blow up. Kevin – I wouldn't do that. I looked in the backroom and you know what I found a handful of condoms. I can find condoms but no f**King veto.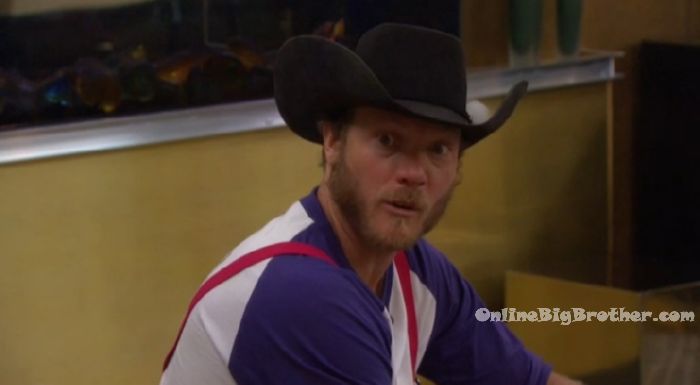 Paul to Christmas & Josh – So Jason and Alex are f**king good. Now we have a choice since we're the votes. Josh – he's going to put Kevin up? Paul – that's what he says. Josh – me comparing notes… don't put it past them if they try and take a shot at one of us.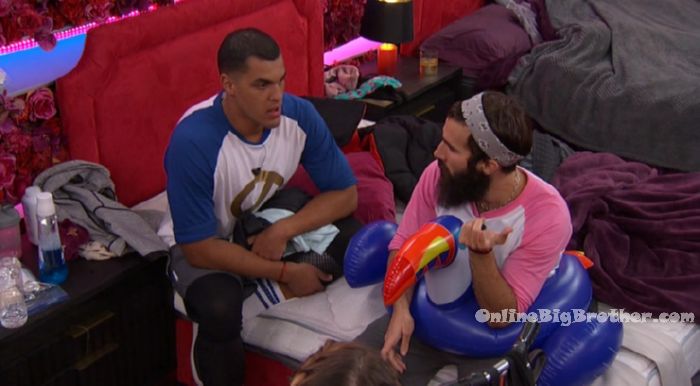 6:55pm Paul, Jason, Alex and Kevin.
They talk about who they should vote out. Paul – we could flip a coin. Alex – I feel if we send her first, I will be next. Paul – I really think that this is tomorrow so we don't have much time. Jason – I was just going to do it but I sleep beside ya so I couldn't do that. Paul – if you (Kevin) go on the block it would keep them calm. If they're calm then one of them goes. Jason – lets just send dumb dumb home (Matt). I'm not going to use the veto.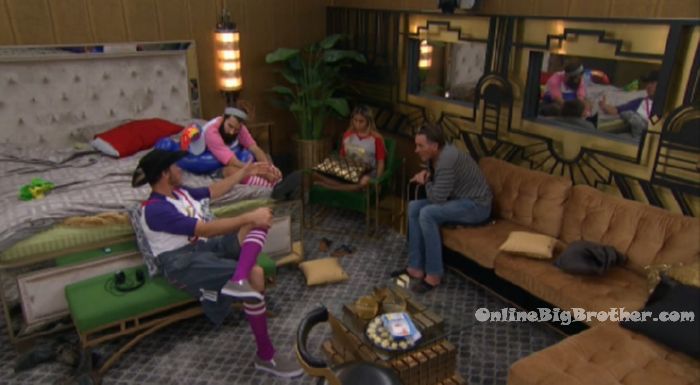 7:20pm – 7:55pm Lounge room. Christmas, Alex and Paul.
Paul – should we just send Kevin home? Should we just clip Kevin? Alex tells them about how Jason said in front of Kevin that he (Kevin) didn't want to go up. Christmas – he said that in front of him? UGGHHh! Paul – why don't we f**king clip Kevin now if he is going to freak out like that. Paul – if we send Kevin home then Matt and Raven are comfortable. Jason joins them. Alex tells Jason we have to put Kevin up. I saw what you did, you chickened out. Jason – why can't we just put him up next week. Christmas – right now you have Matt and Raven's trust. Alex – you need to think about yourself. Christmas – if you don't follow through with this, you will lose two votes (Matt & Raven). Paul joins them again. Paul talks how Kevin is freaking the f**k out. He is PISSED! Alex – if he leaves it the same I am going to tell Matt and Raven right then and there that that was not part of the plan. If he wants to blow up his game that's fine but I am not going to loose two jury votes because of it. He is f**king both of our games at that point. Paul – tells Alex to convince him to use it.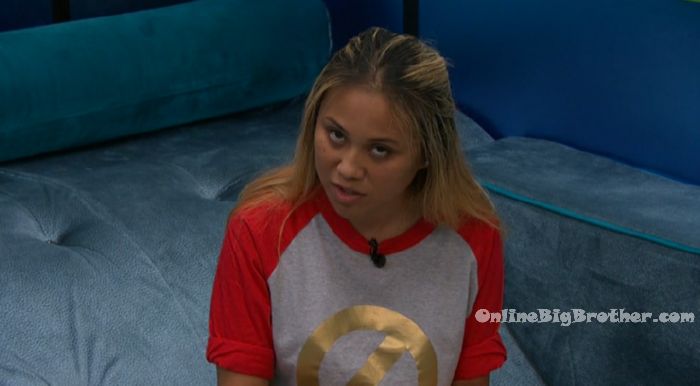 8:10pm – 8:35pm Paul and Jason.
Paul – lets say Kevin wins and puts up Christmas and Josh .. we need them. Its too early in the game to start making clippings like that. You've got to clip people who are going to make dangerous moves. And if he is f**king pumping me with that .. You know he is pumping Christmas and Josh. When it comes down to it who is the one person people aren't going to put up? Jason – kevin. Paul – because you're winning all this sh*t right.. You're winning all this sh*t right, you don't think people are going to put you up. But if he is behind you, me and Alex… three strong a$$ players.. he never has to worry. Jason – yeah thats why I was asking if he would go up. Paul – and if he trusts you.. Jason – that's what I said. Paul – he said he would do it next week. What does that mean if this week and next week is universal. You should have just tossed it to someone.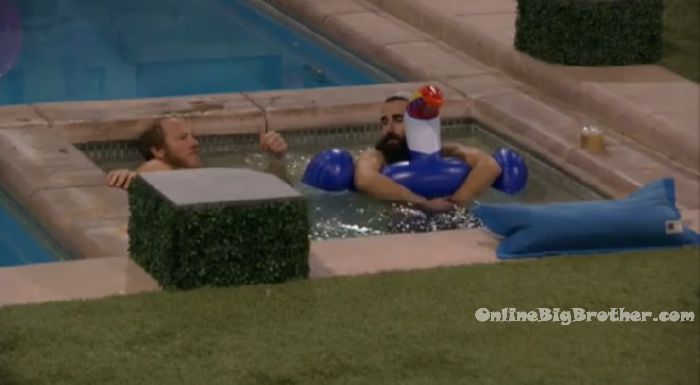 Jason – "Do you know how you solve marital problems?" #BB19 @bigbspoilers pic.twitter.com/dCpUdWwfr2

— Dawg (@DawgsBigBrother) August 27, 2017

8:45pm Lounge room. Christmas, Alex and Josh are talking about relationships. Christmas says that she doesn't like really attractive guys. She likes guys with a little edge and they have to be able to take give and take sh*t. They can't have judgement either because I have a colorful past. I am attracted to people with a colorful past.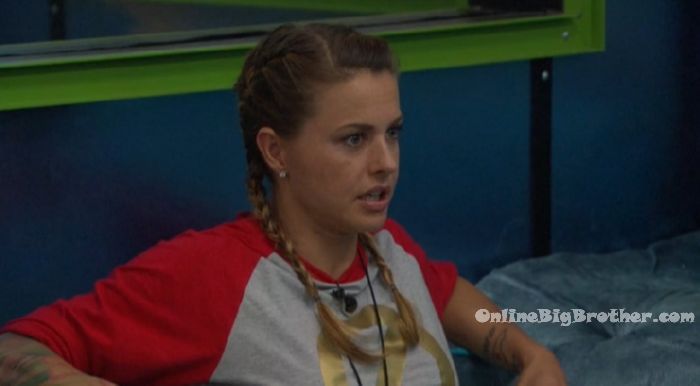 Donations help keep the lights on. If you would like to support the site please consider donating.
Links to the ranking system
Rank your house guests here
For those of you that like Statistics here are some expanded reports.