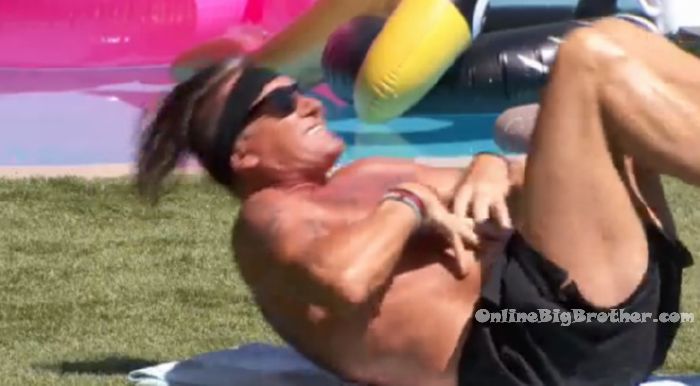 If you plan on buying anything from Amazon. Use this link Amazon home
Doesn't cost you anything and we get a small cut.
10:15am – 11:20am Big Brother wakes up the house guests. Kevin is up and in the backyard walking around and doing sit ups. Meanwhile in the kitchen – Raven and Christmas talk about the periods. Christmas – mine have always been irregular. Raven – my disease affects that too.
Christmas jumps on "jo-jo" to wake him up. Josh asks what she's been doing. Christmas says she's been talking with Raven this morning. Raven's been quite pleasant today. She hasn't been loud. You get her alone and she's quite pleasant.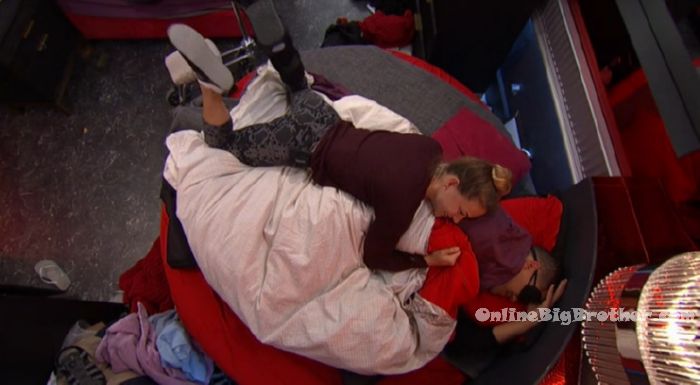 See what they can't show you on TV Try the live feeds for FREE!
11:22am Kevin and Jason walking the backyard chatting. They stop and fold laundry.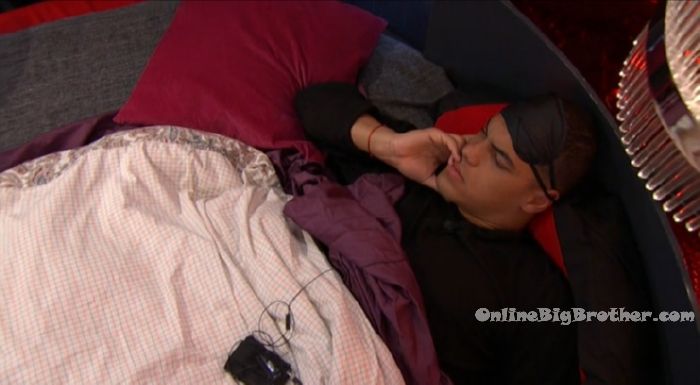 11:35am Paul talks to Josh in the bedroom.
Paul – we've got to keep convincing. Okay so Jason and Alex want to have a five with us right? So we got to make sure Raven doesn't find out about that. B – convince Alex… keep convincing her to throw it to you. And I'll throw it to you. Then we take the shot. I win, they don't know what the f**k is going on. Boom take the other one out. Christmas is down with it. Do you think I should slowly telling Alex and Jason if we power through and keep Josh.. You know how they want to get to five right? If I say me, you and Jason …if we just win the next two weeks we can get to five easily. So if I keep selling them that idea they'll get horny. She'll want to win everything but that following week when I win. I say that I'm going to take Josh and Kevin out …some sh&t like that. Josh – what the f**k is wrong with Raven. But you don't think that way it can get ugly? If we play them that way it will get ugly with all of us? Paul – with us? Josh – yeah, like they'll go ape sh*t?! Paul – yeah but one of them will be gone. If we put up Jason and Alex and even if they go ape sh*t.. Josh – I think that's good. We also have to keep Kevin good. He will also go haywire when Jason goes. I have a good relationship with Alex. Paul – we have to keep convincing her to throw it to you. Alright!? Paul leaves.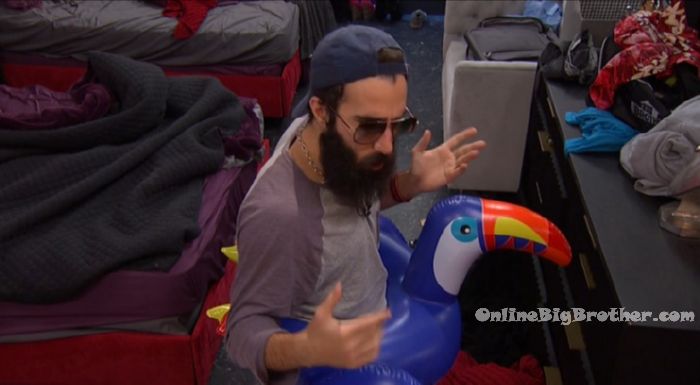 11:55am Kevin and Jason walking the backyard.
Jason – if people think I'm dumb… I know I'm smarter than that. Sometimes I think am I the dumb one in the hen here or what!? So I am always wondering if what I am saying makes any sense or not. Kevin – to me it does, to you it does so. You wonder if what they say makes any sense. Jason – they think they can decide what predetermine what I do because they think I'm stupid. Or they think I'm dumber than I thought by putting up you. Kevin – yeah. Jason – I look at it as a negative both ways so no problem. Kevin – I'm an option to go up which I never thought. Its still irrelevant its going to be 3 days he's gone. She's going to be gone.. hopefully its a double eviction. Jason but the pawn thing is nothing more than showing your appreciation for the trust. That's all a pawn does. That's how I dealt with it. If I go home, I guess we'll deal with it outside of the house. Or not. Because if I trusted you that much and you sent me home I guess we won't worry about it. I f**ked up.



Kevin – Josh and Christmas haven't been talking to me like they used to.. you could go up there and be like what happened to Kevin?! People decided that maybe he's going to start playing good. He's a smart guy maybe he's going to have a good couple of things. I don't want to risk it, lets get rid of him. I'll be like what the f**k Jay! What the f**k am I going to do charge behind the door?! You remember this you still have to be out there and be a man. You're not 23 like Josh and be like I was in the middle, I had to do this and that. No one is going to have sympathy towards him. He was used, he was the pawn in the beginning of the season. Jason – he got through the hard time and now its leveling out.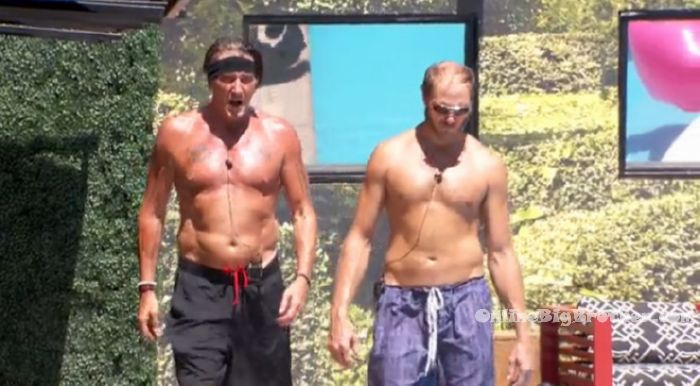 12:30pm Raven and Matt floating in the pool..

12:50pm – 1:05pm Big Brother calls for an HOH lockdown to set up for the havenots. The Have-Nots were the first two house guests to fall off in the HOH competition: Kevin & Matt! The havenot temptation is back in play.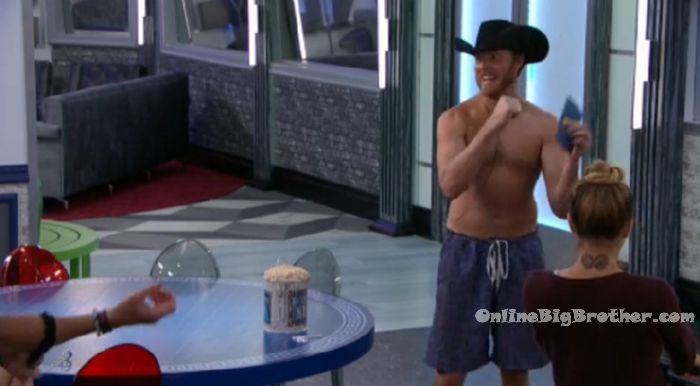 1:25pm Paul and Kevin.
Kevin – how is everything going? Is he mad about the slippers? Paul – I don't know something stupid. Kevin – and what's new? Anything new? Paul – not that I know. Either they're f**king swindling me or.. Kevin – I walked with Jason this morning and he's going to stick by what's there so there ain't nothing to worry about at all. Let everyone talk and say what they want. You've been sleeping here for 70 days, I ain't ever going to do that to you. No matter what anyone says. Paul – perfect but who was saying it? Just Raven? (saying that Kevin was the backdoor plan) Kevin – I don't know, not to me. To you? Paul – no she wasn't saying it to us, I think that's what she was under the impression of. Kevin – she never used my name to you ever? Paul – no, never. I would have told you. Kevin – lets go outside and have a good day. I can't wait to get back to the soap operas.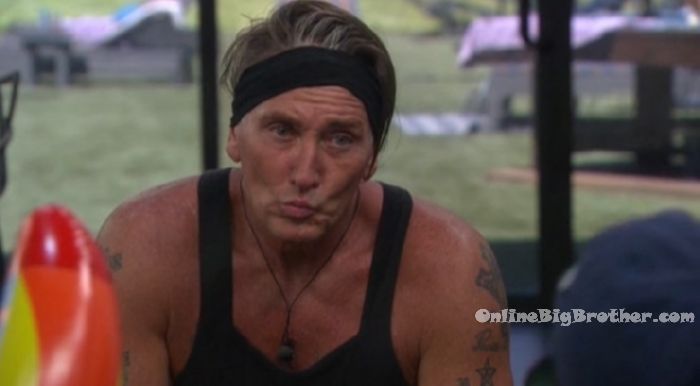 1:30pm Kitchen – Jason, Josh, Alex and Paul.
Josh – I love Kevin but he is driving me nuts! What's that you're making can I have some!?!? NOOOOOO! They talk about how Kevin always asks what he can eat as a havenot. Paul – I guarantee he is in the diary room saying I just ask them stupid f**king questions just to see how they'll react. Jason – I told him I was tired of people asking me stupid f**king questions … and he clammed up. Paul – he just tells us all what we want to hear. Alex – Kevin is going to have an aneurysm because we're just going to keep f**king with him. Paul – when you don't use the veto on Raven and she gets all pissed and sh*t blame f**king Kevin. Take some of the heat off your back and put it on Kevin. We know Kevin is going out in every scenario. He is going to be at least one nominee. Paul – at this point f**k it. Tell them that Kevin told me that Matt was coming for me. Josh – Kevin always talks sh*t but will never say it to your face.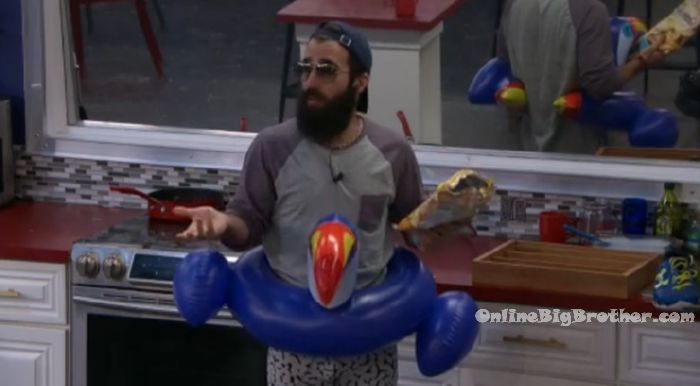 2:10pm – 2:35pm Pool time ..

2:40pm Backyard. Paul, Christmas and Alex.
Paul – we should just keep telling him (Kevin) you're going to win the game. Alex – oh my gosh. I'm going to take you out. Paul – He would blow a load. Christmas – how do you get everyone to love you so much. Paul – and you've never won anything, everybody loves you. You're so good! Christmas – like what do you do socially .. I just don't understand. Paul – can you teach me your social game? Kevin you need to keep protecting me. I am f**ked. And then in his head he'll be like if the guy protecting me needs me to protect him … I'm f**ked. We're all f**ked! They're coming for us. Paul – I really hope today is a live show day. Because if it is not then I am really f**king confused.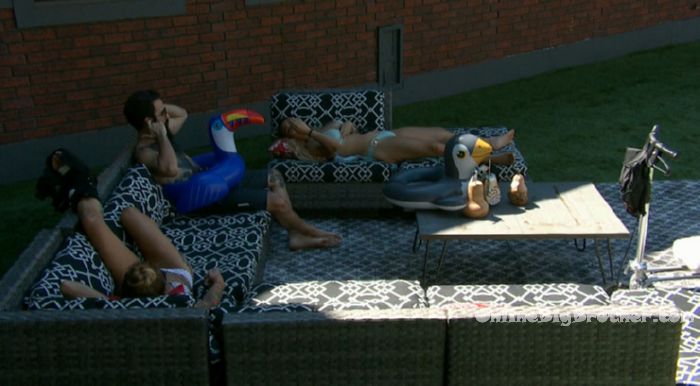 3pm – 4pm
More suntanning, making food and chatting about random things in the backyard.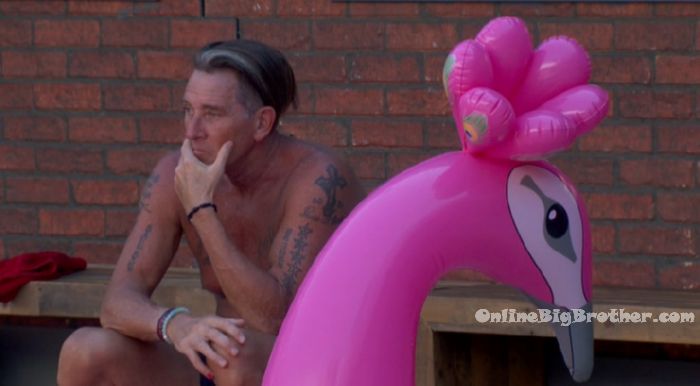 4:15pm – 5pm Matt and Raven build their havenot bed. They also make up Kevin's bed. Christmas talks to Matt about the prices of condos in her city. She then tells him about the properties she invests in and flips with a friend.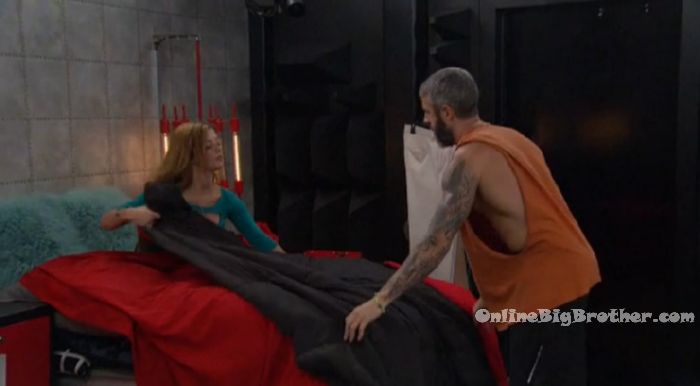 5:15pm – 5:45pm Paul and Kevin playing pool. Meanwhile in the kitchen – Alex, Raven, Matt and Christmas talk about past events of the season. Matt – the only person that got a raw deal was Jillian.
Donations help keep the lights on. If you would like to support the site please consider donating.
Links to the ranking system
Rank your house guests here
For those of you that like Statistics here are some expanded reports.