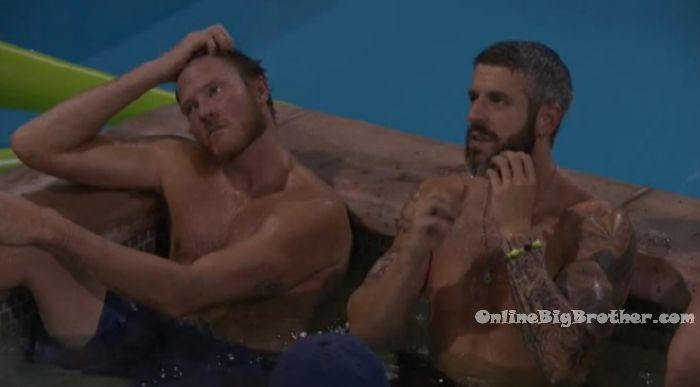 If you plan on buying anything from Amazon. Use this link Amazon home
Doesn't cost you anything and we get a small cut.
9:05pm Backyard –
Paul – all I know is that the last season of Big Brother was the longest season and it went on for 99 days and I know they're not doing the same thing this year. Jason – all I know is that the survivor premiere would be on September 25th but that's a Monday and that doesn't make sense. Mark – It wouldn't be on a Monday. Kevin – September 28th? Paul – that's what you read that the Survivor premiere was on September 28th? Then it must end the week before. Mark – I think they're going to tempt you with something later on in the season and if someone takes it, then someone from the jury will come back. Jason – they said there was no one else coming back. Paul – that doesn't make sense. There's no time. Mark – America could vote someone in. Paul – that (the double eviction) would put us on track right now. Mark – wow, okay never mind. Christmas – there definitely had to be a plan B if Jessica used the Hex and if she didn't use it. She used it but it pushed everything back a week. Paul – but Megan also quit. Technically we're even. Last year the finale was on the 22nd and my big brother experience tells me that there will be another double eviction and that would get us on track for the finale to be on the 21st. Started a little bit later this year and ends a little bit earlier. Matt – when was the last buy back last year? Victor came back after? Paul – 8 to 7 I believe… no 7 – 6. Jason – They asked me what I would do if I won. I said I would make a down payment on a helicopter. I paid bills my whole life, the last thing I am going to do is pay bills. The other house guests ask him really?! Jason – no, I just said that I would pay my bills. They asked me if I would physically harm someone? I was like don't you get ejected for that sh*t. Mark – they asked me the same thing what would you do if someone was yelling at you banging pots and pans. Paul – shut the f**k up. Mark – they were talking about Dick. I was like I'm big enough to walk away and they were like are you sure you wouldn't react? I'm sure. Josh – homie (the interviewer) was trying to get me to fight during the interview. Big Brother – Josh!

See what they can't show you on TV Try the live feeds for FREE!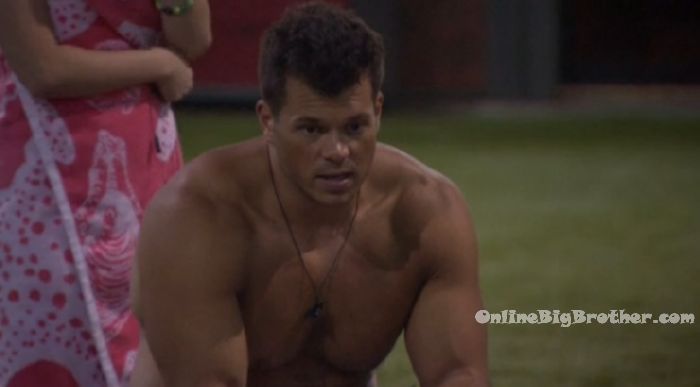 9:30pm HOH room. Raven and Matt.
Raven – if ever we needed to win HOH it would be this week. Matt agrees. Raven – Mark was campaigning in the hot tub. When I got it Mark said to Josh, thanks for listening to me or something like that. Matt – it really doesn't matter. Raven – yeah we all know where Josh is voting. Matt – I can't see Alex voting to keep Mark. Raven – crazier things have happened in this game. Matt – absolutely. If they want to go ahead and draw the line then have at it. Raven – my anxiety is high. Matt – I can tell. Do you think there will be another double? Matt – yeah. Raven – f**k. Matt – we're at the point where we need to win, there is no point in worrying about it. There is going to be strategy but one of the five of us just got to win. One of the five of us win, we will make it to the final five. Its as simple as that. IF we don't then all five of us won't make it. And the pecking order is probably Paul, me, you and Josh, Christmas. (LOL) Why not take Christmas? Jason and Alex aren't stupid. They ahve make some reckless moves in this game. Like when Alex won the veto instead of Jason. Like do you not talk? Raven – true. Matt – Kevin has showed no competitiveness at all. If somehow we don't win this week and we are somehow able to Kevin up there and get him out .. then we're in the best position of all time because then whichever one won HOH can't compete next week and then its 5 vs 1. Raven – yeah. Matt – but I would rather not risk it. Raven – me neither. Christmas joins them. Mark threw everyone of them under the bus. Matt – if you get a chance do me a favor and let Alex know what he said. Christmas – oh I did. I let her know that she was her number one. The longer I hold on to that information the more that it could hurt me.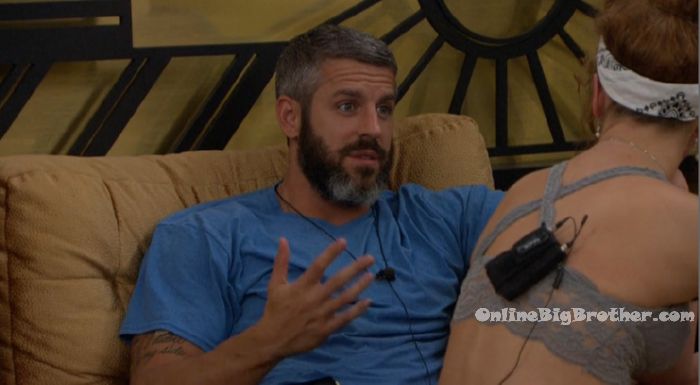 9:55pm HOH room. Paul, Matt and Raven.
Paul joins them. Matt – we're in win or go home mode right now. If we don't win there is a good chance one of us goes. Paul – at least they are going to take a shot at you (Matt) or me. Matt – if I was anyone in this game my mindset is this competition goes through you. Paul – what do you mean? Matt – you're the vet, you have the most experience.. like someone is going to have to beat you to win this game. IF I was anyone in this house that is how I would think. Paul – what do you mean? I think if someone pulls me to the end, they're beating me. Personally, I would say so. Matt – do you think so? Paul – f**k yeah, look at our jury. All someone has to say is – he's played before, I haven't. Matt – I hope you're right because I don't want anyone to take a shot at you. Paul – that's not just me saying that. I came to terms with me losing again. Matt – no one in the jury will every see everything that you've done. Like you guys have basically orchestrated everything. Paul – but they won't see that. Matt – I know. Matt and Raven leave the HOH room. Paul says to the camera – MANNNNN… SHUT THE F**k UP!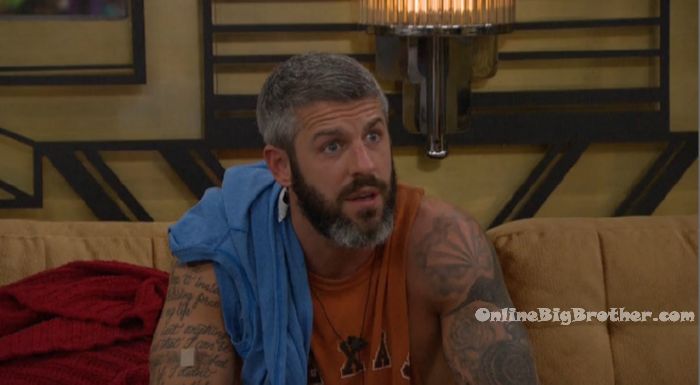 10:10am Matt update = Matt – I'm ready for bed .. and then I'll get up at 2 for some cereal.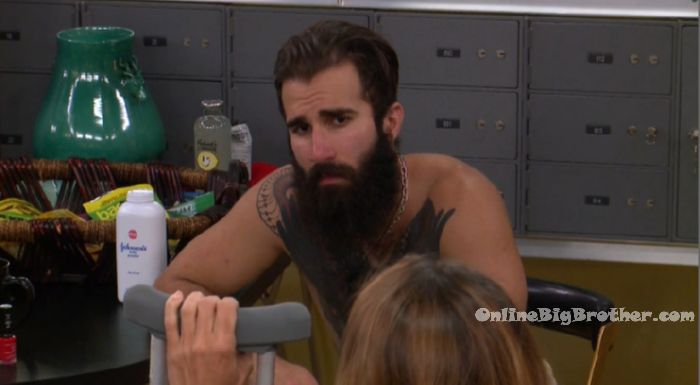 10:15pm HOH room. Paul and Christmas.
Paul – Matt and Raven kind of said something weird to me. Matt was like if they win they will probably put Kevin and me (Paul) up. And if I was thinking like one of them to win this game they would have to beat you. And I was like the F**K HOMIE what did you just say!? Christmas – please don't take this wrong but they're easy to beat. So if Alex is thinking strategically we have to protect you. Paul – like do you think she has been hinting at something like that? Christmas – who Raven? Paul – Alex. Christmas – I don't think she would hint that to me. I'm pretty sure Mark has been campaigning in there. If Alex was his number one target to campaign to me, then his biggest target with her would be you. He is probably trying to get the votes like with Josh. Paul – I am just asking do you trust Matt and Raven. Like are we jumping on the wrong side? Christmas – I think Matt's purpose is to get Raven as far as possible. Alex and Jason together are a more powerful couple. I know that Alex and Jason are going to play as many angles as they can. Paul – should I just gun it for this next HOH? Christmas – if you go up.. f**K… I had a moment in the room where I was like maybe we should have just put Alex up. Paul – no. Christmas – I don't want to second guess myself. Paul – I don't think we F**ked up. Christmas – I am scared that Matt might have planted that seed to get you to gun for it so that he doesn't have to f**king gun for it. Paul – but he is also saying he wants it. He said if it is down to you and me, I want it. Christmas – he still does not have fire for it. How do you feel with Alex recently? Paul – I feel alright. Christmas – I was chatting with her a few days ago and she was saying we need to get them (Matt & Raven) out but I don't know if they're thinking that's the best move strategically. Paul – we have to get Mark out this week. Christmas – yeah that is done, we're looking at next week. Christmas – Alex and Jason have played a shaddy f**king game.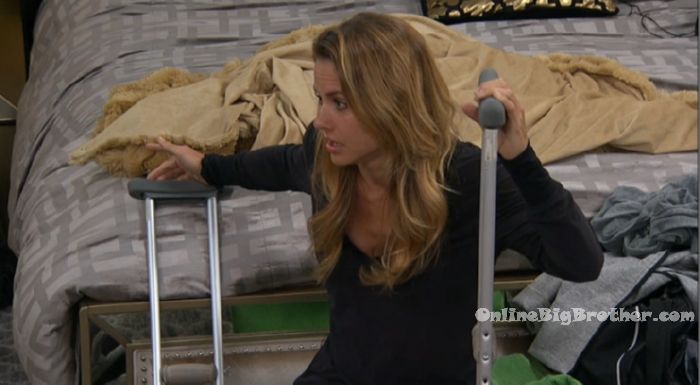 11pm Bedroom – Alex, Jason, Mark, Kevin and Josh chatting about random things. Meanwhile – Matt and Raven are in bed together. Paul comes in to talk to them. Paul – you 100% don't care about taking the shot and drawing that line? Matt – not at all. Paul – because I don't either. Matt – if were going to send Jason home, I want Raven to be able to maintain her relationship with Alex. So that is why I don't want her to have to do it. If she has to then fine but I am just saying if we have a choice. Paul – we can sell the whole Jason was getting paranoid … the whole rat thing. We can make up bullsh*t. Matt – absolutely. Paul – I am comfortable with you, me, Raven or Josh getting it. I don't know what Kevin would do. He keeps saying weird sh*t about you and Alex. I feel like he wants to get rid of you to keep Mark. We'll talk tomorrow. Paul leaves the room. Raven – what did you do to Kevin? Matt – I think just because I don't suck up to him. Raven – neither does Alex.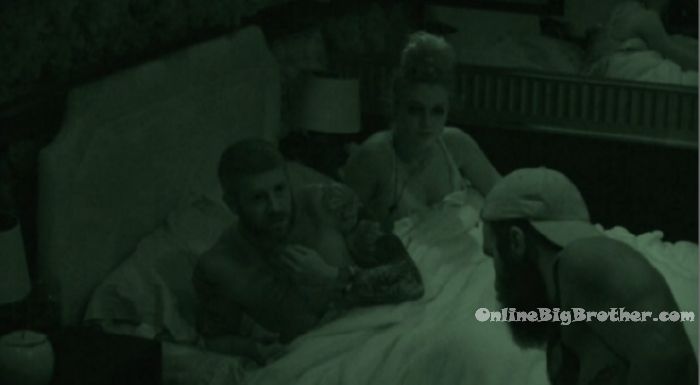 11:08pm Bedroom – Kevin talks about his gambling. I was gambling since I was 14. He talks about how he lost $63,000 on one weekend betting on football ..college and pros. Mark – did you stop gambling after that? Kevin – f**k no. I stopped for 3 years. I paid him 35K cash and owed 25k… I paid him 2K a month for 2 years. Jpsh – holy sh*t! Kevin – I gave him 35K cash in a bag and my friend .. we lost 109K … my friend paid his up front. We gave him 89K cash in a bag. Mark – how long ago was that? Kevin – 1999 but I caught a couple cases then too.. I was in and out of court. Alex – for what? Kevin – close to the same thing. Mark – f**king ridiculous!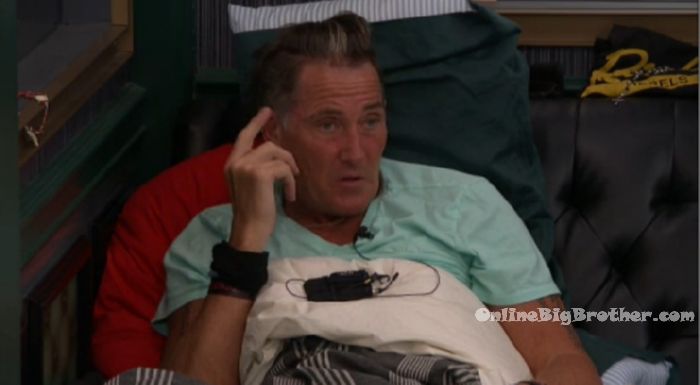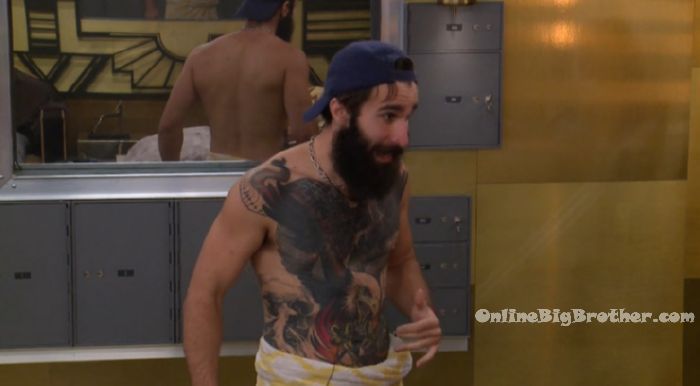 11:20pm HOH room.
Paul and Christmas.
Christmas – Kevin just popped in here .. how things going, how things going? Paul – f**k Kevin. I just talked to Matt and Raven and they were 100% banging. 100% BANGING! (They weren't) I just went in there and turned the light on. Matt's shirt was upside down, her makeup was smeared and she was putting her shirt on under the covers. Christmas – oh my god! Paul – and then he went to the bathroom. Christmas – Zingbot was f**king.. This house gets more a$$. Paul – so I said Matt why do you not want Raven to win HOH? He was like I don't want her to take a shot if she doesn't have to because I want her to maintain friends with Alex. He thinks Alex and Raven have a good friendship which clearly we know is horse sh*t. he said if I win HOH and take that shot at least I will be that target. He was like I honestly think you can take Raven further than I can. Christmas – that has been his constant mantra this entire game. Paul – what I think we should do tomorrow.. when you talk to Matt and Raven about the plan who should win me, Matt, Raven whatever.. you hit that angle with them. I will have the same conversation with Alex and say that they need to take a shot at Raven. And tell her that Kevin is wanting to take a shot at her. When I had a conversation with Alex she said the order should be Matt, Kevin, Raven. Paul – but if it really comes down to it I think it should be Matt, Jason, Kevin.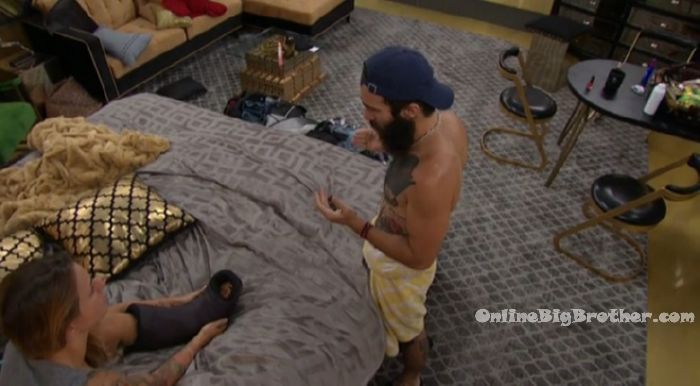 11:30pm Christmas listening to her HOH music..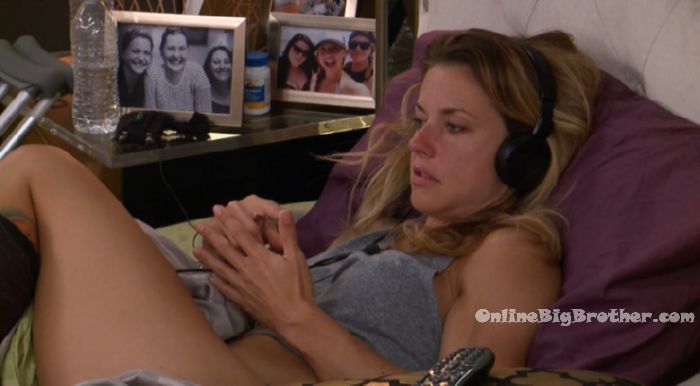 11:50pm Bedroom. Alex and Jason.
Alex – the motherf**ker he basically wants to get us out. Get me out first. Jason – he's a f**king idiot, why would he say that? Alex – because he told Paul if he doesn't act now he won't be able to get me out later. Jason – how could he do that anyway? Alex – he wants Paul to take me out and then you out. Jason – what a f**king idiot. Alex – he asked Christmas to get Matt out today and keep Mark. That motherf**ker is insane. He sleeps all the time. I hear him snoring. Right now he is going to go outside and talk to Paul and convince him to get rid of me. Jason – Paul will tell us all about it. Alex – I mean yeah I would love to take Matt out but Mark is too dangerous right now. Sine we're on his radar, I think he would come for me and you and backdoor one of us. Alex – we have to make it very clear that we don't want to work with Matt and Raven. Mark, Matt, Kevin, Raven. (Order of eviction that Alex wants) We have to be careful of Matt and Raven because they will vote as a team. I think Matt will vote fairly. I think everyone will vote for Paul. He has that jury stacked. I am okay with going to the final 3 with you and Paul. I think of all of us, us three deserve it.
Everyone else hasn't done jack! We're not going to sh*t the bed because our word and our characters will be sh*t. We will stick by him (paul) because we promised. Jason – we also promised Kevin. Alex – no we did not. Once a deal is broken and he broke it first we're done. He already broke it multiple times. Paul hasn't f**ked us once. That I know of. Jason – I don't think he will. Alex – I don't think he will either. He has to uphold his whole fan base. Everyone in this game doesn't have a backbone. Everyone in here is just a vote. We're willing to pull the trigger. We have to pull the trigger first because they will try and take us out. Forget Kevin, he is actively trying to get you out. We're going to out him about the Jillian and Christmas vote. Jason – he is going to lie. Alex – he will have to lie to one of us. He is close to his tipping point, we just have to push him over. We're not going to let this old man cash in on 500K! We just need to push him to his limit and make him crack. Wait I thought you said you voted for Christmas but you said you voted for me?! What is it!? Me or you have to win on Thursday.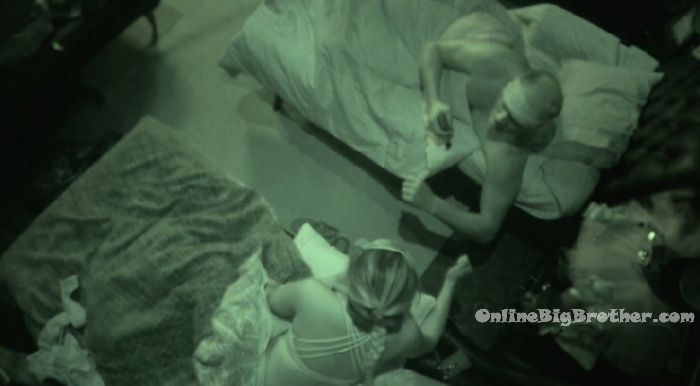 12:15am Backyard. Alex and Paul.
Paul – no one on this planet is aware of AMF. No one, when I talk to Christmas, when I talk to Josh. Same with Matt and Raven. Matt thinks you and Raven are like best friends. Alex – I'm not even sure why. Paul – I've been pumping Kevin to them so that they don't do some stupid sh*t so that in the off chance that they do win. Kevin is going up. I don't think that they (Matt & Raven) would ever f**k with you and I. I think, they think their security blanket to get to the end is you and I. Should you and I gun for this next HOH. Alex – it might not be a question, we might have to. Paul – you don't think Christmas would do anything stupid do you. Alex – no. Paul – who is your optimal four? Obviously, me, you and Dent (Jason). Who's your fourth? Alex – Josh. Paul – pecking order. No body knows what we have going on. Alex – not even them (Production) Paul – we have been cleaning house. Like the drug lords. If Christmas or Josh win I can make sure they don't do any crazy sh*T. And you can make sure Jason doesn't. Paul – so pecking order Matt, Kevin, Raven, Christmas is that what it is? Alex – yeah. Paul – at first I thought it would be funny to have Kevin blow up but now I think we shouldn't in case we need him. We just need to keep making sure everyone else notices his bullsh*t so no one believes him. Alex – I think we need to get Christmas out. Paul – yeah. Do you think you can beat Jason in the final 2. Alex – perhaps. Paul – I think you can. Alex – I think I might be able to but those girls are salty.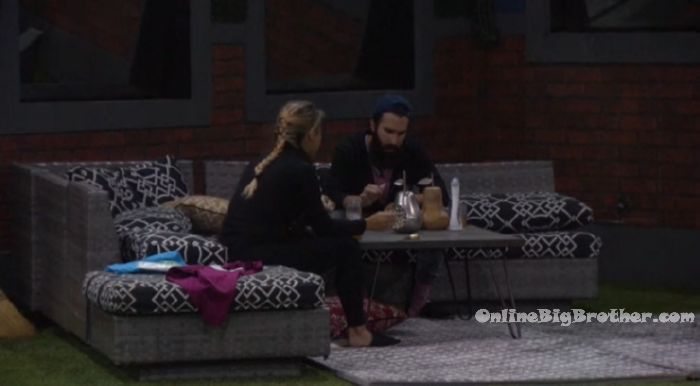 12:55am HOH room. Paul tells Christmas about his conversation with Alex and how she wants Matt, Kevin Raven out next.
1:15am All the house guests are sleeping..
1:55am Matt game update..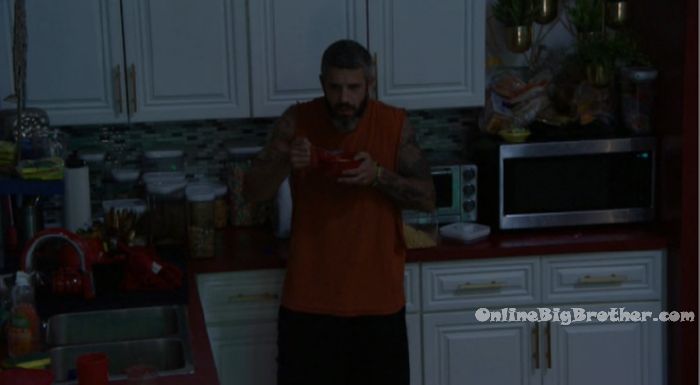 Show your support by making a donation.
Links to the ranking system
Rank your house guests here
For those of you that like Statistics here are some expanded reports.