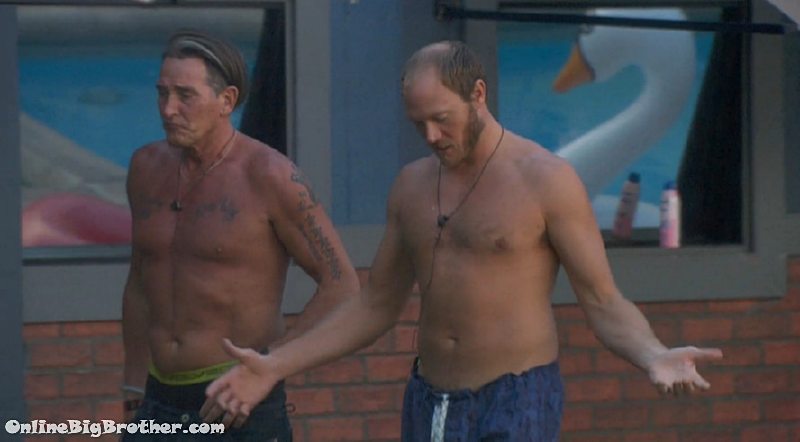 4:22pm Kevin and Jason backyard. Alex is also outside eating chips.
Kevin saying this is his favorite thing to to walking in the back yard talking sh1t ..
Kevin going on about the 4 of them making it to final 4..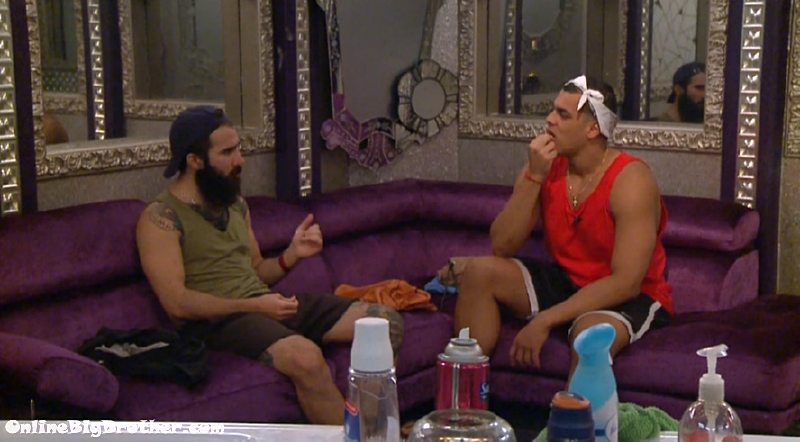 4:31pm Paul and Josh
Josh doesn't trust Matt and Raven as much as he trusts Paul and Chirstmas. He does trust that they won't screw them next week if they win the HOH.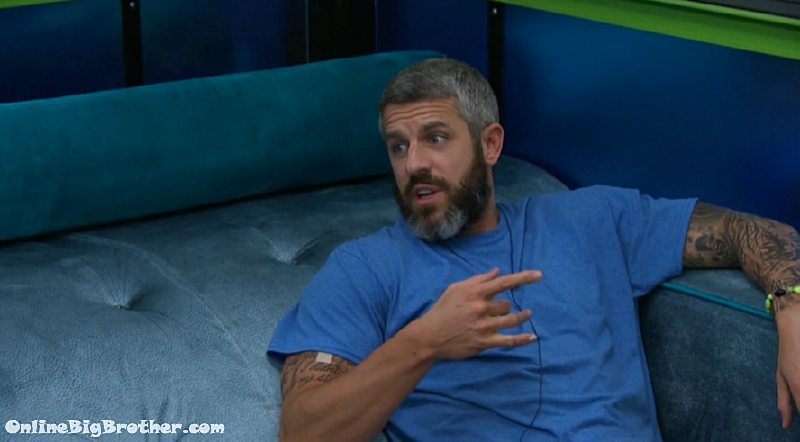 4:33pm Matt and Paul
Matt – Let me get the blood on my hands.. that way they take a shot at me..
They head to the APSR..
Matt says Paul is Alex'/Jason's biggest obstacle getting to final 2 so they will take a shot at paul.
Matt wants to win the HOH and take a shot at Alex and Jason.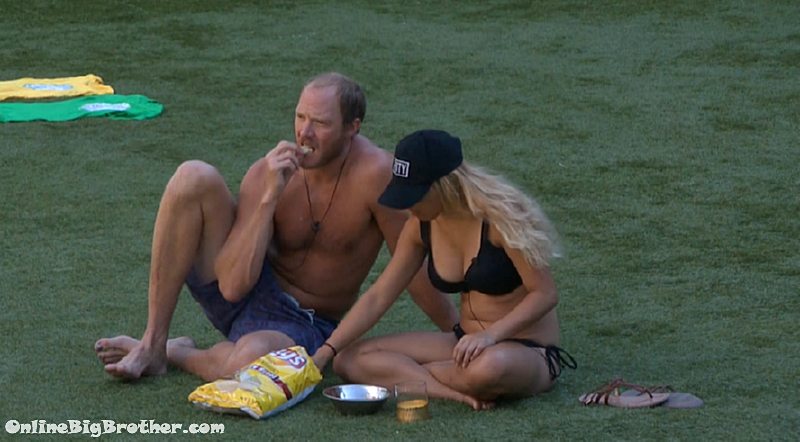 4:35pm It's kinda romantic…
Jason – those boneless skinless sardines they put in my bag were damn good (HOH backet)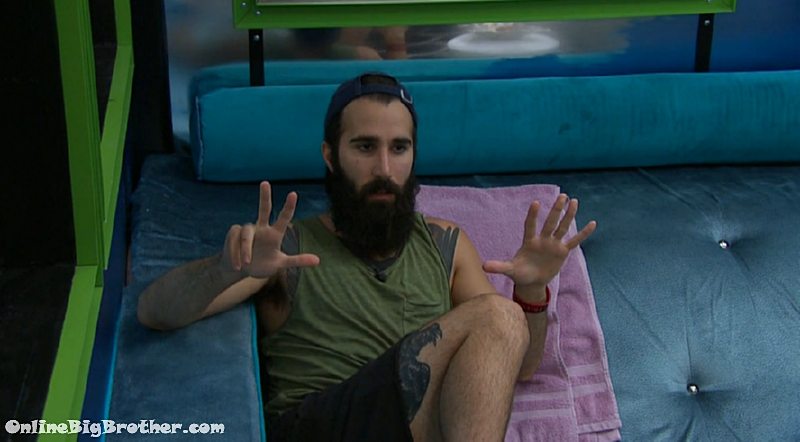 4:40pm Paul
Paul is hoping that Josh, Raven or Matt win and put up Jason/Alex.
Paul – my ideal final three scenarios will be Josh, Christmas and me or Matt, Raven and me.. I need to be careful in the next two weeks.
Paul – if I can get to 5 I can get to 3.. all it takes is one veto and 1 HOH
Paul says there's no way xmas and Josh will beat him in comps.
Paul wants the final 6 to be Kevin, Josh, Xmas, Matt and raven
Paul – If I can get to final 5 (Kevin, Josh, Xmas, Raven) with those people I can win the game, Legit..
Paul says Xmas and Josh won't f* him.
Paul – maybe even raven..
Paul – 7 or 6 is where I might get clipped.. I won't get clipped at 8 because the 2 pairs will fire at each other..
paul – it's imperative Matt, Josh or Raven win this HOH.. or I can win it and keep myself safe
Paul – I guess I can win 7 skipp 6 play 5..
Paul – I don't want to win 8 (final 8 HOH)
Paul – if Alex is still around she'll keep me safe.. we gotta get rid of Matt and jason..
Paul – i'm trying to stay off the block this whole season if I can do that holy sh1t that's tight..
Paul – I need to keep Alex in this game, she's a HUGE target.
Paul – Matt and Jason need to go and I'll be in a good position if it's any other way i'm f*ed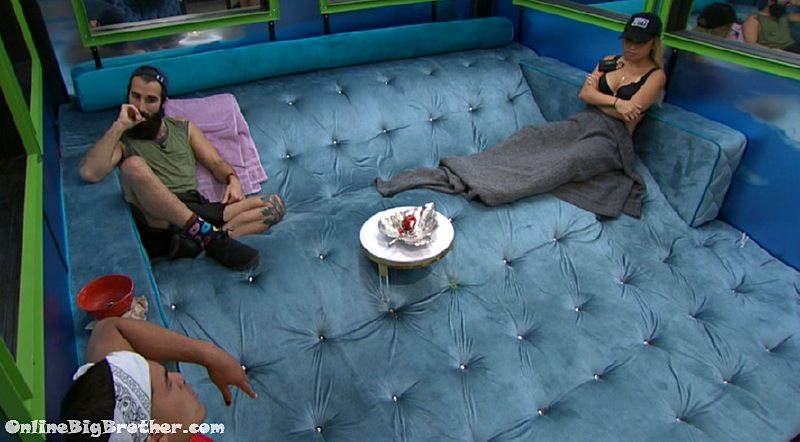 5:08pm Raven, Paul, Alex and Josh
Josh going on about Kevin being more physically capable than he leads on.
Alex says he's younger than her parents.
They all agree Kevin has to be backdoored so they don't have to put up with "his craziness"
They agree Mark is going to campaign to stay.
Josh says Mark will cry
Alex says mark had his chance and now he's being a little b1tch
Raven – his game play sucks
Alex saying how Kevin must have talked sh1t about all of them.
Josh also says that Kevin is bad mouthing them all.
Paul – he has..
Alex – he hated Mark up until 2 weeks ago..
Paul – 2am poll games that don't finish get the f* outta here..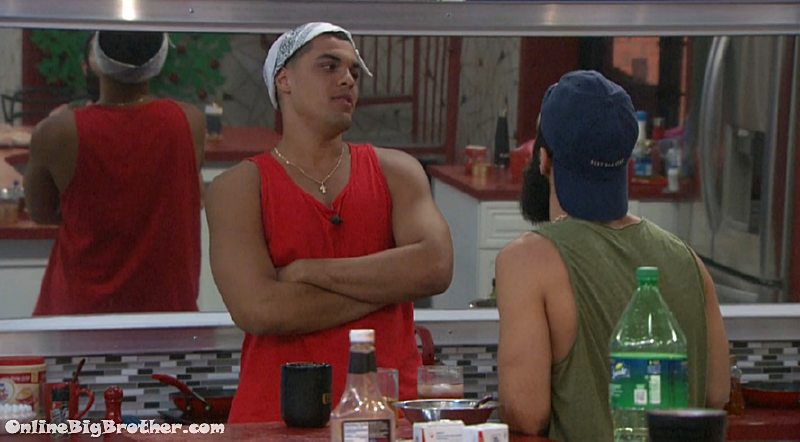 5:15pm JOsh and Paul
Josh says that Jason played the same move as Kevin with Cody.
Josh to Paul – you can't go on the block… you can't… if you, me or Christmas ever touch that block they won't say it but they'll take a shot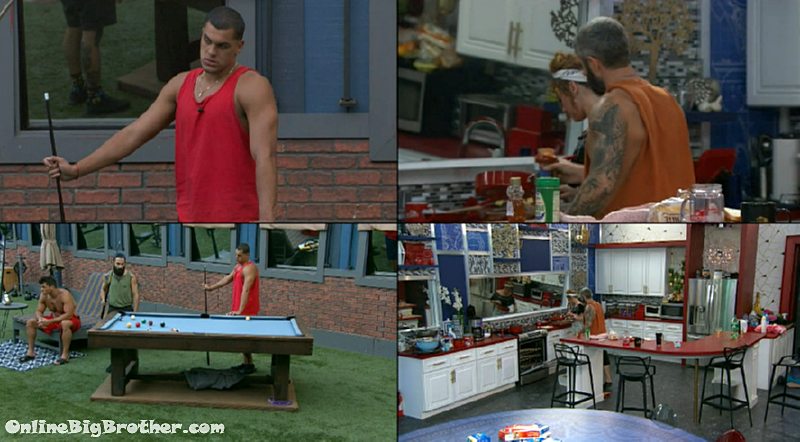 6:50pm Lotsa pool going on tonight..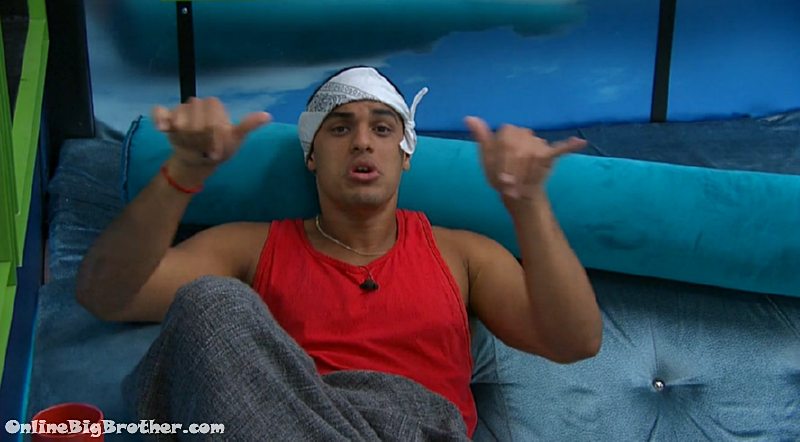 7:33pm Another Meatball chat ..
Josh – Paul and Me are locked in the three of us are sitting in the middle controlling both side.
JOsh says he's doing whatever it takes to make sure the three of them make it
Josh – I feel like I just won the world series..
Josh – put your money on the kid.
Josh – these people think I'm a dummy but they played themselves.
JOsh says he's doing exactly what he's planned to do since day one. He's had Christmas and Paul's back this entire time.
Josh – Jason, he played himself..
JOsh – I love him I love him and Kevin I hope we can be friends in life but in here I gotta play my game.
Josh – I'll have to take a shot at them real soon
JOsh – I hope the people in Jury are not biter, I've had to call a lot of people out on their games
JOsh says calling people out was part of his strategy
Josh – it's worked, my targets have gone home and they'll continue going home hopefully. (Your targets = Paul's targets)
Josh is begging his mom to not say in his HOH letter that this is his biggest dream. He doesn't want the people in the house to know he's a fan.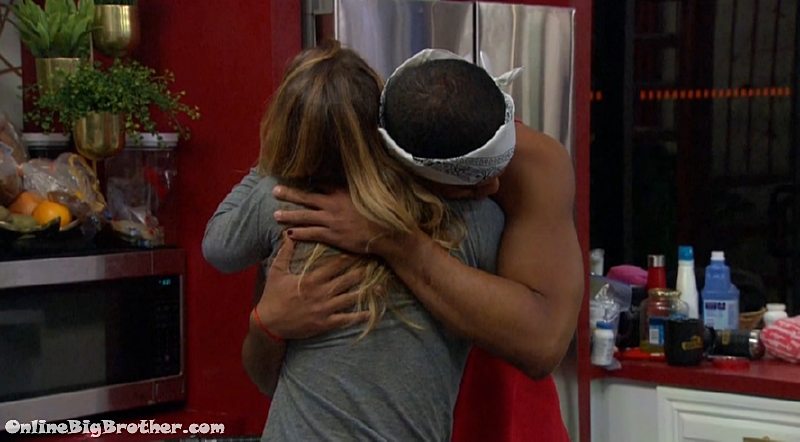 8:07pm JOsh and Xmas
JOsh – I got you and Choo CHoo
Xma s- JOSH never say that again
josh – we're the only ones in here
Xmas – Kevin is up stairs.. Paul's in the bathroom..
Paul goes for the nuts #BB19 @DawgsBigBrother pic.twitter.com/5Fvvd7hUMy

— OnlineBigBrother.com (@bigbspoilers) August 22, 2017
Lots of stop that's tonight.. #BB19 @DawgsBigBrother pic.twitter.com/QDlgMpWN2b

— OnlineBigBrother.com (@bigbspoilers) August 22, 2017
8:40pm everyone outside enjoying the weather Chit chat..
If you plan on buying anything from Amazon. Use this link Amazon home
Doesn't cost you anything and we get a small cut.
Links to the ranking system
Rank your house guests here
For those of you that like Statistics here are some expanded reports.