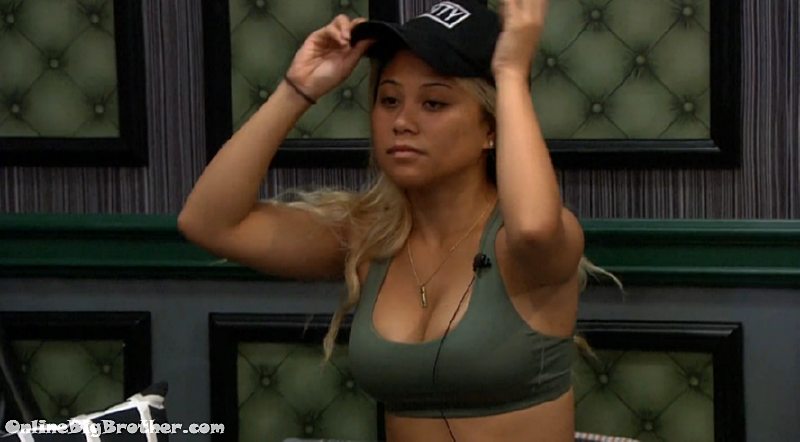 11:16am Alex and Jason
Alex – they (M/r) think we'll be final 5 with you me and Paul
Alex says M/R are getting more and more comfortable they think they are safe.
Jason – they're gunning for HOH
Alex – they haven't done sh1t I don't think they're ready for it
Jason disagrees says M/R are ready to win that HOH
Alex – if they are they'll take Kevin out.. (Friendship)
Jason – well that would be awesome
Alex says last night when Matt and RAven came outside she was wanting to say "Go away"
Alex says she's going to confront Mark and asks him why he hates her so much.
Jason recommends she doesn't, "Don't say hate that turns people off"
Alex – that works for him
jason – Hate
Alex about Mark – He cried in front of Josh..
Jason – that's weird
Alex – he almost cried in front of me
Jason – he's not a dumb dude.. that mother f*er is smart
Alex says Paul told her Matt and raven are having sex, told her they are liars.
Jason – Zingbot said the only thing he's doing is Raven
jason – they're f*ing in there
Alex asks why would they do that on national Television.
Jason – that keeps the live feeders voting for them, People want to watch that sh1t, I don't know why.
Jason – nobody has to go to the bathroom that many f*ing times a night.. he's washing himself off or something..
Alex laughs..
They agree it's stupid that Matt and Raven are lieing to everyone.
Alex – everyone knows you're a skank anyways ..
Jason – and you put CLown paint on every day
Alex laughs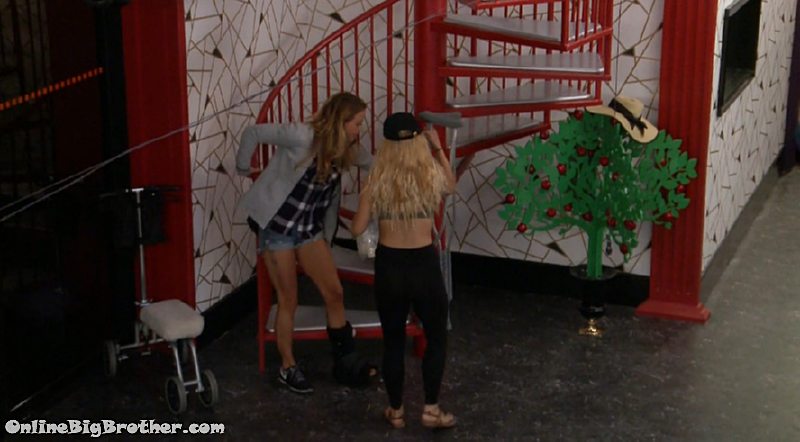 11:52am Xmas is back with her boot. Cast is gone..
Xmas – I watched the pins get pulled out..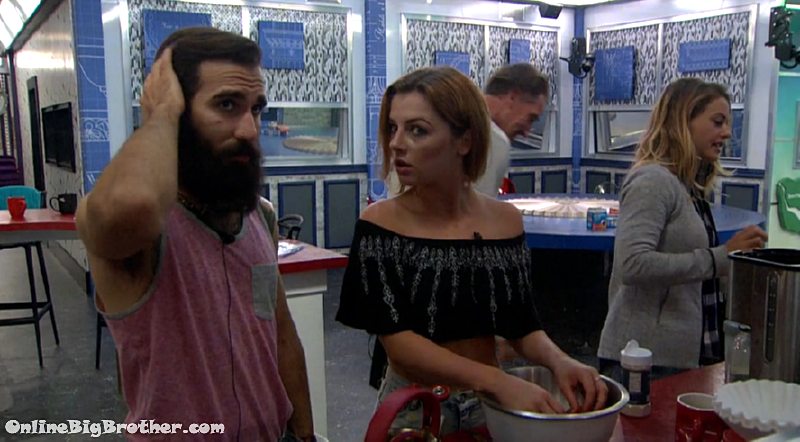 12:58pm Raven's making burgers.
Nothing much happening.. OTher than this and Snapchat glasses.. Everyone acts like a idiot when the snapchat glasses are on them, except for maybe Kevin.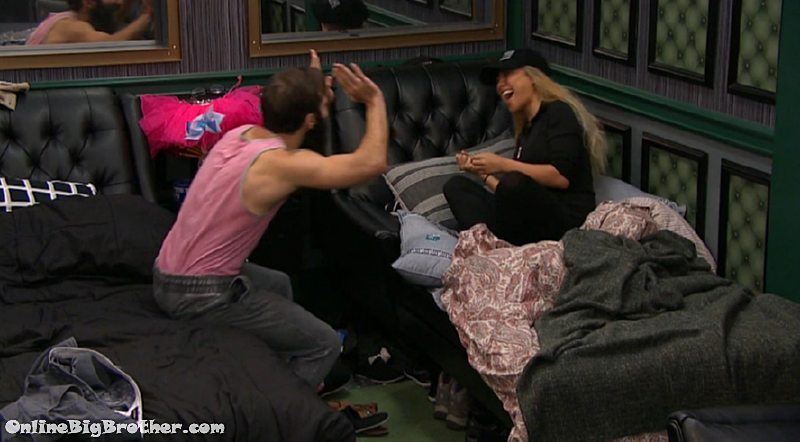 1:05pm Paul and Alex
Talking about Kevin acting sketchy..
Paul says when Jason came out with the snapchat glasses Kevin grabbed him and started talking about "Gangster sh1t"
Alex is going to try and find out if Kevin is a cop, she going to ask him about ranks in the precincts.
Paul brings up it talking Kevin 3 hours to shower.
Alex thinks it's because Kevin is stressed out when he was relaxed he would shower on time.
Alex – he's driving me insane
Paul brings up Kevin asking him if they are all good. Paul told him they are until final 4 and Kevin replied, "My man"
Alex and Paul laugh.
Alex looks at the camera to production "asks me about this.. ask me about this"
They start to wrestle..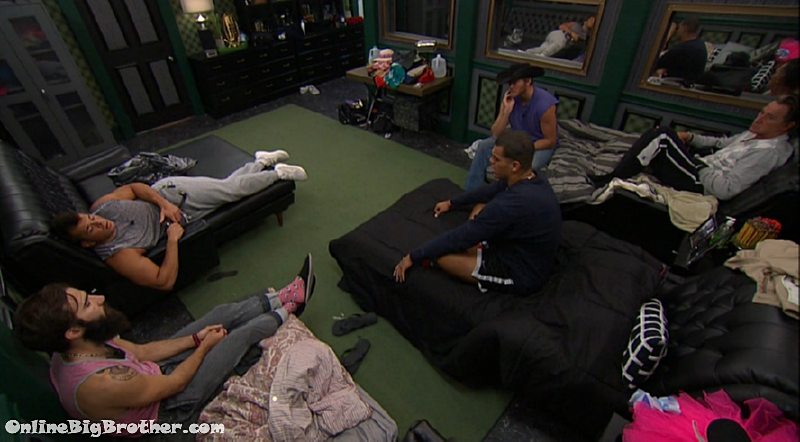 1:41pm
Paul is telling them about last years Have nots beds and how much tougher the bumper cars where over the spikes this year. Paul tries to explain to Mark, Josh, and Jason how they would have all died last season. The bumper cars were so small nobody could sleep in them. Paul brings up Corey being a have not for 2 weeks and having a seriously rough time. He never slept and ended up passing out at times around the house.
Paul – I'm surprised they're letting us do that pillow sh1t (on the spikes)
Kevin talks about people stealing meat to survive.
Paul's never heard about anyone ever stealing meat.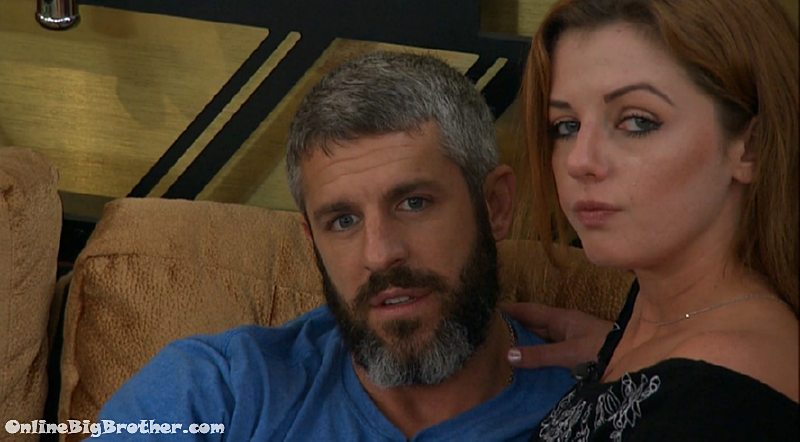 2:23pm cam 1-2 HOH Raven and B2men
(the yeahs are real)
Raven says she doesn't think anyone will take a shot at her next week
Matt – I think Paul is being a little bit Naive if he thinks that people won't perceive him as a huge threat
Raven – yeah
Matt – I mean, If you are Jason and Alex who would you rather have in the final three… fricken, Josh and Christmas or Paul
Raven – yeah
Matt – I don't want him to get blindsided if someone tries to take a shot at him.. (This season is out of this world.. )
Raven – yeah
Matt – he's been there before he'll be fine, but ..
Raven – yeah
Matt – so I think our worst case scenario Thursday is a 4-2 vote
Raven – me and Josh are voting out Mark
matt – Alex is too
raven – and Paul..
Matt – 4 -2 worst case
2:30pm HOH Paul, Xmas, Matt and Raven
Matt – we can get Alex to look at Jason and say the whole house is looking at you weird about how you act with Kevin.
Paul agrees..
Matt – I want him to have the slightest bit of paranoia that the whole house thinks they are together..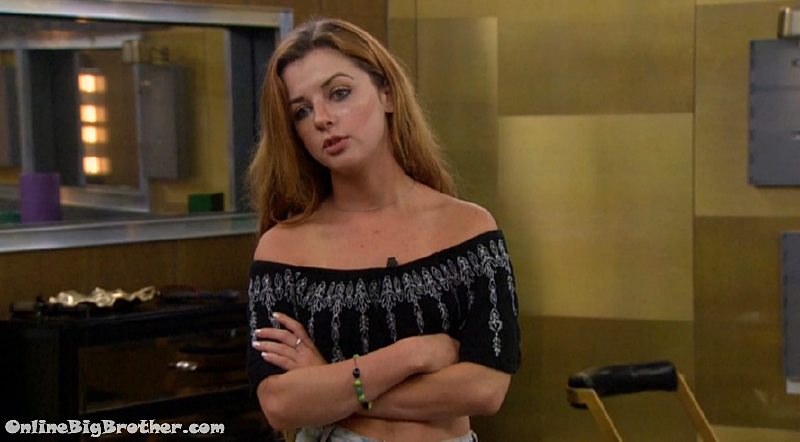 2:45pm Raven is claiming someone took her bracelet and hid it near the coffee machine. Paul and Christmas don't believe it but humour her. Raven gets a bit riled up about this.
Raven suspects it was Alex. Goes on listing the evidence.
Paul – when did she (Alex) move the coffee pot
Raven is certain someone took her bracelet and when they found out how upset she was that it was missing her bracelet appeared under the coffee pot. After Alex checked the coffee pot.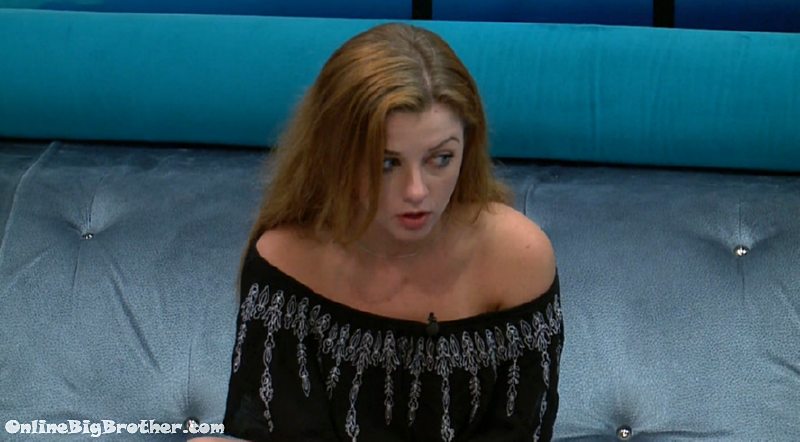 3:04pm APSR Raven, Paul and Matt
Raven thinks it was Kevin that stole the bracelet.
Paul says him and Josh are starting to get under Kevin's skin. It's working. Today Kevin said "F* you Paul that was a real story" after Paul pooed pooed his meat thief story.
Paul goes on about Kevin not wanting him
Paul – do you think it's because people are onto his sh1t so he's trying to divert the
If you plan on buying anything from Amazon. Use this link Amazon home
Doesn't cost you anything and we get a small cut.
Links to the ranking system
Rank your house guests here
For those of you that like Statistics here are some expanded reports.