POV Holder:
Peter
Next POV
April 13th
POV Used
Yes
POV Ceremony
April 8th
HOH Winner:
JILLIAN
Next HOH:
April 11th
Original Nominations:
ALEC & PETER
Current Nominations:
Alec & Topaz
Last Evicted Houseguest
GARY
Have Nots
No havenots this week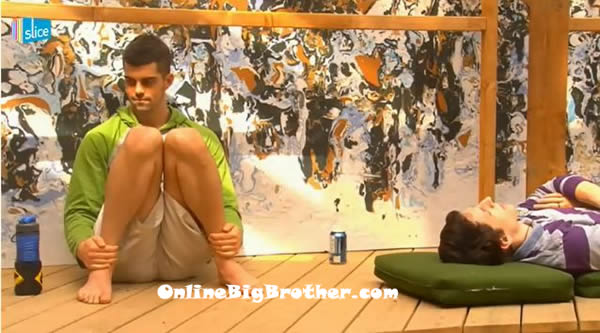 2:45pm – 3:05pm Alec and Peter are out in the hot tub room talking. Alec says that he wouldn't mind being up against any of these people except for Talla. Alec tells Peter about how Talla was asking about what kind of tuna is this .. salmon. He then says that Talla saw the light mayo and asked if there was dark mayo. Peter and Alec laugh. Alec says I need to distance myself as much as I can for Topaz and let her and Talla drag themselves down. Peter says I cannot throw another comp, its like from here on out ..give it all you got. Alec says that he won't try and sway Jillian but that he will let her talk to Emmett and see if she sees all the angles. Alec says I want to be around one more week just to stick it to Emmett and Jillian … and then I want to win the veto too just to put a nail in the coffin. And then everyone in the game will be coming after me. Alec says either way if I am in the jury house ..the game doesn't end for me. Peter says yeah people under estimate the power of the jury. Alec tells Peter that him winning the Veto was good for him .. but that he still needs to win another. Peter says that all I need is to get in front of the jury to explain myself. Alec comments on how they don't see our conversations. Peter says yeah we play this game on a different level. Alec says my game might be coming to an end. He says that he has to rely on logical thinking with them and honesty with Andrew. Alec asks what would you do if I left. Peter says he would put them two up (Emmett and Jillian). Alec says but what if you didnt win HOH. Peter says he would try and work with Andrew. Alec talks about Talla and says that she is irrational and can't be trusted. Or we could just rely on the twist and GARY wins.. the first jury house champion ever. Alec says he wants to head inside. Peter says yeah unless you want to hang out with the Gary moose. They head inside: Peter has lunch and Alec goes to lay down with Topaz.

2:45pm – 3:25pm Meanwhile up in the HOH room Jillian and Emmett talk game. Video is uploading: Jillian comments that she can't even look at Alec now that she knows what he is doing..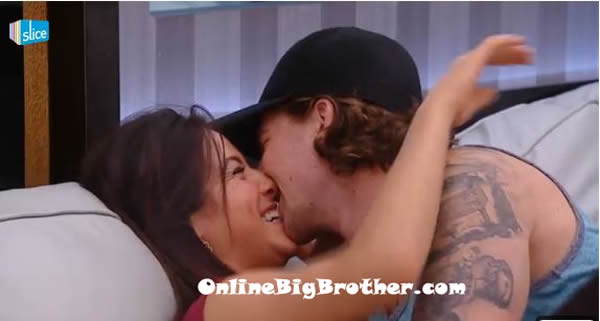 3:30pm – 3:40pm Emmett and Andrew start working out. Emmett comments on how having me and you on the block at the same time is the worst case scenario. The best case scenario is only one of us is up on the block. Andrew says best case is we win HOH and then we just stay up there. Andrew says its is so awkward around Alec now. Emmett says that Alec is saying his target is Talla but I don't trust him to go after her. Andrew says Alec told me he was going to tell you he is going after Talla but that he really wants to get you and Jillian out. Andrew says I just wanted to tell him Emmett and I are in an alliance. Andrew brings up how Alec said he isn't here to win the money. Andrew says then walk the fu*k out! I am here to win, I am not here to throw anything! Talla comes over to ask them to come join her in the hot tub. They say in like 10 minutes. Andrew tells Emmett that Talla is crazier that a sh!t house rat! Emmett says that no one will ever give Talla or Topaz the win for the game. Andrew says we can't have two floaters in the end.


4pm – 4:25pm Peter, Andrew and Emmett are working out. They go out to the hot tub room to see Talla for a few minutes. Talla asks when is April fools. Andrew says every day for you. The guys continue to workout. Talla is now in the pool. Meanwhile Jillian and Topaz are sleeping in the bedroom.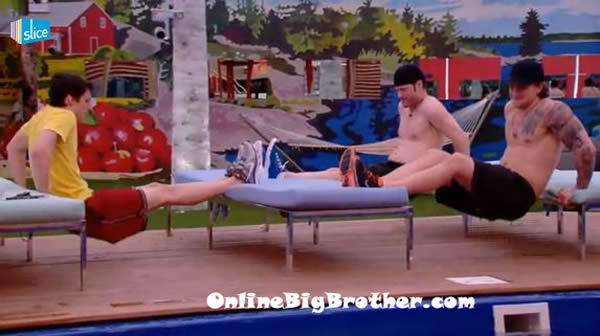 4:30pm – 4:40pm Andrew and Emmett take a break from working out and talk game for a minute. Andrew says its funny how Peter is starting to work you.
4:50pm – 5:50pm Jillian goes to talk to Topaz in the bedroom. She tells Topaz that Alec has come to talk to her for the third time. She says that he is telling everyone different things and the exact opposite of what he tells another person. Topaz talks about how Alec didn't want her to be with him so that he could game talk. She says and now he doesn't want to talk to me. Alec comes in and leaves and they change the conversation. Jillian says that he is telling us that he wants to put up Andrew up and he is telling Andrew he wants to put up Emmett and I. Topaz says it is better to just be honest with people. Jillian comments how Alec did pitch you and Talla for the block this week. She says that she went into the storage room when Peter & Alec were in there and they were dead silent like they were talking about me. Jillian says that she isn't even listening to Alec any more because he is shooting so much bullsh!t. Jillian says that the boys are scared that if we keep you there will be a girls alliance. Jillian says that I will not vote to keep him if its a tie.. but it won't even come to that it is going to be 3 votes to get rid of Alec and one to keep him. Jillian says the only reason they are worried about a girl thing is because they are thinking of a guy thing. Jillian says if it all goes as planned then it will be 3 girls and 3 guys and I like that. Jillian asks Topaz did you ever notice with the people on the block the person that campaigns the most goes home. Jillian tells Topaz just know everyone knows what's going on … you're safe. Jillian heads out to the kitchen.
Video is uploading:

Random conversations on the other camera while Jillian and Topaz were talking:
OnlineBigBrother.com
Stay connected and interact with other Big Brother Fans on our Facebook page.
And Follow: @BigBspoilers and @Dawgsbigbrother on Twitter for the most up to date spoilers.