POV Holder:
Peter
Next POV
April 13th
POV Used
Yes
POV Ceremony
April 8th
HOH Winner:
JILLIAN
Next HOH:
April 11th
Original Nominations:
ALEC & PETER
Current Nominations:
Alec & Topaz
Last Evicted Houseguest
GARY
Have Nots
No havenots this week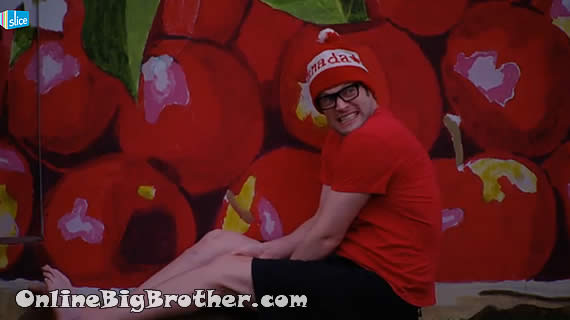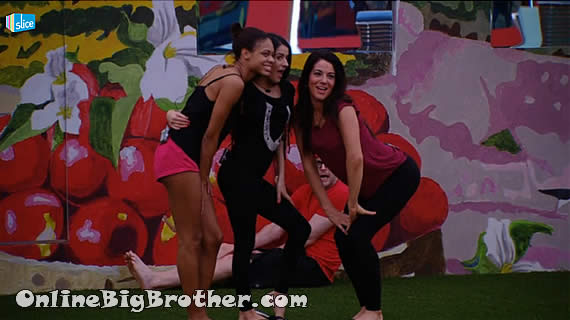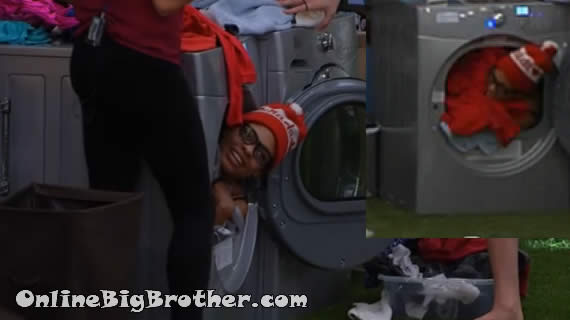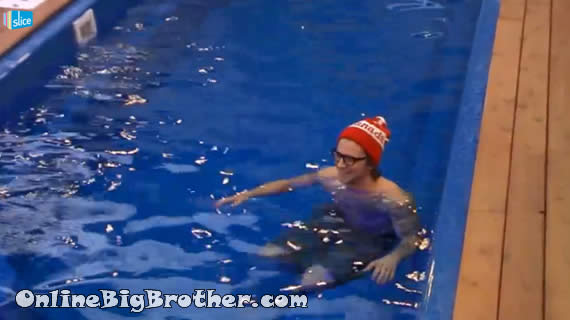 11:34AM HOH Camera
They are taking pictures. each houseguest gets to dress up as Waldo.
At one point Talla asks them if she has a camel toe..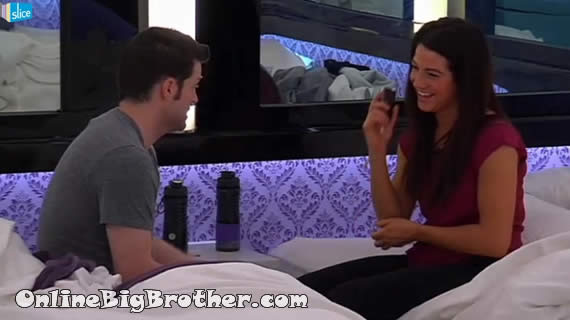 11:45am Andrew and Jillian
Andrew says that only him and JIllian are "two Timers" Meaning they're the only players that have won a HOH each.
Andrew: "I don't know what to do i'm starting to get freaked out.. I want to get rid of Alec.. I want to get rid of Topaz and I want to get rid of Talla"
Andrew adds if they make it to final 3 he's flying alone so it'll be tough to make it to final 2. Jillian says he'll need to bring Talla with him. Andrew: "Not to final 3!" Jillian: "Ya I know just this far"
Jillian tells him if they get rid of Alec than Andrew can team up with Peter. Andrew: "But then i'm nervous about Peter going to the final 4 with us and winning"
Andrew says he having a hard time deciding who to take with him to the end Jillian or Emmett. Jillian laughs tells him to take her. Jillian: "You take who you think you'll win"
Andrew explains that he's nervous that Emmett and Jillian will take themselves. Andrew also points out that He's won more HOH competitions than Emmett so he's feeling like nobody will take him to final 2.
Andrew: "Talla is so self absorbed it drives me nuts.. Right now I can see her saying why isn't this more about me.. Cause it's not"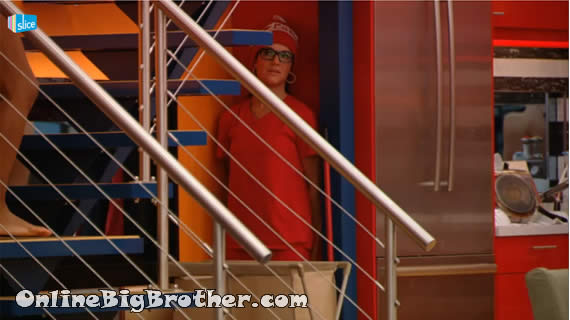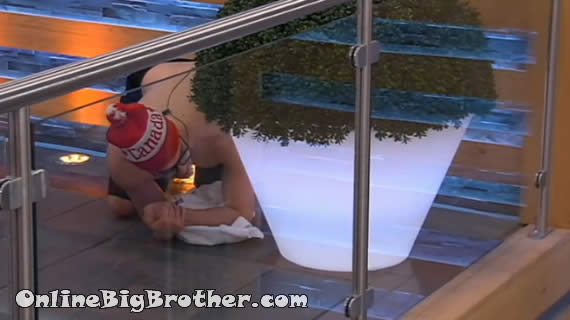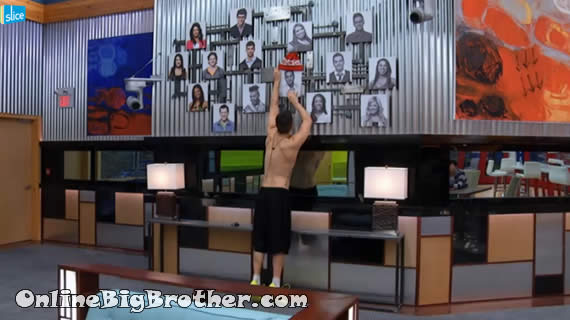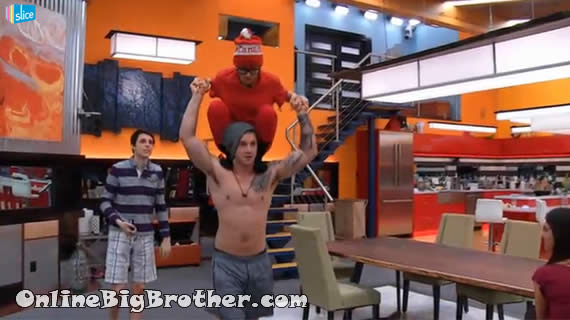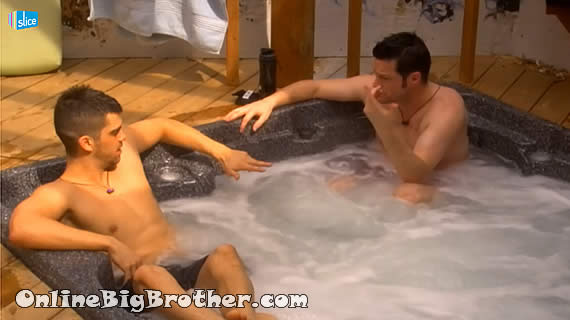 12:05pm Peter: "Another successful task complete"
12:25pm Hot tub Andrew, Alec and Peter
Alec offers Andrew a final 3 deal and says he'll sit down on the last HOH competition. Andrew: "Why would you say that… It's ridiculous" Alec explains that right now he's going home so he has to do something to stay in the game. Alec points out that Topaz will offer him final 3 but he can't believe her.
Alec says he's told Emmett that he'll throw the next HOH competition but he thinks he'll tell Emmett his target next week is Talla, "But that will not be the case.. You (andrew) will never be the the target"
Alec says he's sick to think he'll be leaving before Topaz and Talla.
Alec will give Emmett the pitch that he's going to throw the HOH but behind closed doors he's going to tell Emmett he'll be going after Talla and Andrew. (The reality is Alec is going to put up Emmett and Jillian.. )
Alec: "I've given up on Talla.. originally I wanted to bring you and Talla in and say lets take out Emmett and jillian.. but I don't have that relationship with Talla.. and I wouldn't ask you to do it"
Alec reiterates he'll throw the entire final HOH if Andrew votes for him to stay. Alec: "Topaz will not offer you this deal.. if you have and doubts i'll be 100% truthful to you.. this is a big move cause I know i'm out the door"
Andrew: "I don't want people to throw things.. I hate that.. we're playing a game lets play.. I understands what you are trying to do.. but still.. I have to think about it (Alec's offer)"
Alec: "I've said it a million times in DR .. I don't know what you are going to do but I know it's going to be entertaining to watch I want to see what you are going to do"
Alec understands the halifax connection and if they vote him out next week he's fine but he really doesn't want to go out this week when there is other players not as good as him in the house.
Tom would say the same thing… I know what you mean"
Alec: "I'll do whatever you want"
Andrew: "What do you mean.. rub my feet."
Alec explains he'll starget anyone he wants. Andrew: "Peter"
Alec: "Huh"
Andrew jokes says there isn't many people left in this house
Alec: "I would rather stay than go"
Andrew: "Of course you would rather stay if you go you don't have a chance for the money"
Alec:"It's not about the money"
Andrew: " Dude you're crazy to say it's not about the money.. your nuts"
Andrew points out that Alec has had some serious alliances in this game and Andrew has had none. Alec: "This is my proposal of a serious alliance"
Andrew starts bringing up all of Alec's final 4 deals he had a couple weeks ago. Andrew thinks Alec is saying the same thing to everyone just to stay in the house.
Alec says that Talla told him that she's targeting people that can beat her in competition plus Topaz told him Talla is after him. Andrew points out that everyone can beat Talla in a competition.
Alec says if he wins HOH he'll put up Emmett and Jillian up, "This is not a vengence play at all this is me trusting you and me doing what is best for our game"
Andrew: "You've had an alliance with everyone else in this game and now I have a little power you offer me final 3"
Alec points out that Emmett and him have been working together since day 3 he would have never thought Emmett would turn on him but he did.
Alec: "If you don't see the logic in keeping me than please tell me why"
Andrew: "of course.. "
Alec says he'll tell Emmett that – If Topaz wins she'll put emmett and JIllian on the block and Andrew is the replacement nominees He's going to tell Emmett he'll throw the next HOH
Talla and Emmett join them.. game talk ends for now..
(Alec's digging himself deeper.. but at least he's trying hard can't knock him for that hats off to him. )
(Video Uploading.. It's long)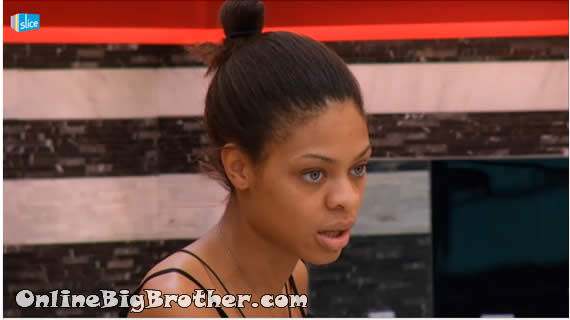 1:06PM Topaz and Jillian
Topaz pushes the girls alliance says that Andrew, Alec and Peter are all in the Hot Tub plannign something. Topaz campaigns against Alec says he a big threat physically and mentally. Jillian tells her that the original alliance was Emmett, Peter and Alec. Once she won HOH Alec tried to bring her into the alliance. Jillian: "Why would they pick me over Topaz in the final 4.. I don't even know you we're not even friends"
Alec: "He's not very good alt lying.. he says unreasonable things and people can catch on.. Umm OK you are going to throw HOH's" They both Laugh. (How about throw the Final HOH.. LOL)
Topaz: "Emmett will be a idiot if he decides to keep Alec.. Alec hates Ememtt for not convincing Jillian to keep him off the block" Topaz tells her Alec will put be targeting Jillian and Emmett if he wins HOH and to start saying he's going to throw the HOH comps is silly. "I'm not going to strand here and tell you i'm throwing HOH.. cause I won't.. right now he's desperate.. he'll say anything and everything"
Topaz: "Still I am worried about the boys"
Jillian tells Topaz that Andrew wants Alec out more than anyone she highly doubtrs he's vote Topaz out. Jillian says Topaz has nothing to worry about if it's a tie Jillian will pick Topaz to stay. Topaz is certain Peter will vote for Alec and Topaz will vote for her. Jillian adds that Andrew and Emmett will be voting for Topaz to stay.
Jillian mentions that Alec has been campaigning hard making deals with people but he's not talking bad about her.
Topaz: "If he stays he'll be doing something with Peter and Andrew.. He trusts Andrew"
Jillian: "I don't know why Andrew does not trust Alec.. "

(Videos uploading)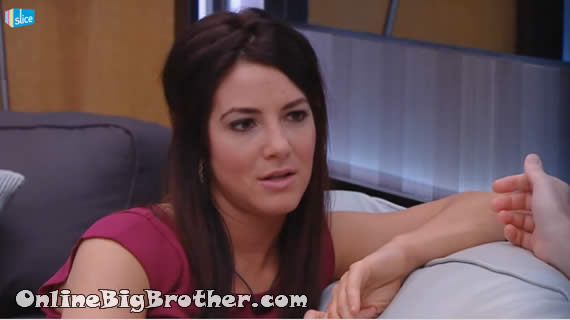 2:00pm HOH Jillian and Andrew
Jillian says that Alec is talking to everyone and is guaranteeing he'll throw HOH comps and he'll keep Jillian/Emmett safe.. "Blah blah blah final 4 blah blah blah"
They start to compare notes about what Alec is offering. (all outlined above)
Jillian: "I told Topaz that he plans to throw all the Head of Households and she laughed.. She said he's lying to us all"
Jillian mentions that Alec has been telling them he had their back since day one. She calls this a load of Crap. "He's telling Topaz that he hates me and Emmett and targeting us"
Andrew relays his talk with Alec (Pretty much sums the conversation that I transcribed above) Jillian laughs at Alec offering Andrew final 3 adds he's saying the same thing to Jillian.
Andrew: "Lets end this right now.. he goes home we'll take our chances with Topaz" Jillian agrees. They both think they can pull Peter into their group.
Andrew says he trusts JIllian more than Emmett only because he's finding out about all these alliances Emmett had with Alec.
Andrew: "All I want to tell him is f*** off.." Andrew tells her that Alec is planning to put up Emmett and Jillian but say to them he'll put up Talla and a pawn. Andrew: "This guy is a bone head get this.. he said he'll throw the final HOH"
Jillian: "We might need to rearrange Talla with another player.. I don't want Talla to win the game"
Andrew: "If we're final four I'm choosing you and Emmett over Talla"
Jillian: 'I'm 100% on board with that.. (wow surprised there LOL)
They see Alec coming up on the spy screen..
Andrew: "Why the f*** is he coming up here.. "
Jillian: "cause I hate him"
Now Talla joins them.

(Video uploading)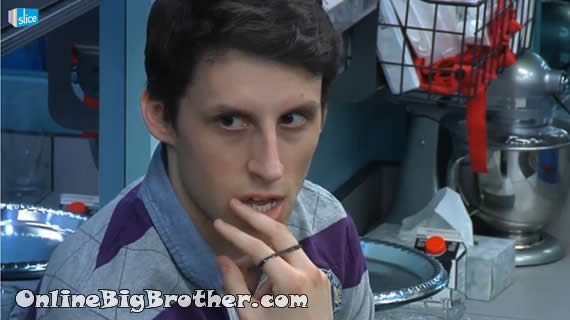 2:20AM Storage room Peter and Alec Alec tells him his "Play" .. Peter: "OK.. that's a complicated plan.. "
To sum it up Alec is going after Jillian and Emmett.. he'll lie to everyone
Peter: "Makes Sense"
Alec: "It makes sense to me.. makes sense to Andrew to which surprised me because it's a complicated plan"
Alec: "Emmett told me his ex girlfriend broke up with him because she said he was heartless"
Alec: "We're not playing a game with people that do things that make sense.. otherwise I wouldn't be going up"
Alec does say it's a long shot but he's not going out without a fight.
Alec points out that it might work because it's a big move and Andrew always wanted to make a big move. (Andrew got out Gary and Liza two major players he's already made some big moves)
(I won't bother transcribing the rest the video will be posted. Still too early to call it but I'm pretty sure only a twist can save Alec. I want to see how Peter recovers from this)
(Video uploading)
2:45PM HOH Emmett, Alec, Peter
(Video uploading)