POV Holder:
Allison
Next POV
?
POV Used
?
POV Ceremony
March 24
HOH Winner:
Racehlle
Next HOH:
March 27
Original Nominations:
Allison & Heather
Current Nominations:
?
Last Evicted Houseguest
Paul, Kyle, Anick
Have Nots
Adel, Sabrina, Heather, Arlie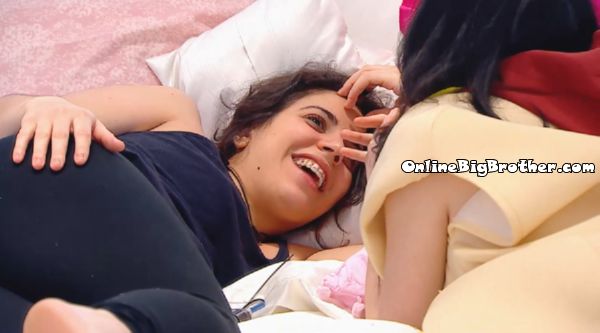 10:32pm HOH Sabrina and Rachelle
Sabrina is getting jealous because all the guys think that Sarah is hot. Sabrain doesn't see it, Adds that all the guys say they like her butt.
Sabrain – "I use to be a lot more popular before Allison joined the show"
Rachelle says Allison is weird she should go soon.
Rachelle says it's weird they don't have gay guy
Sabrina wants Adel gone before Jury otherwise the public will vote him back in because he's so popular.
They're boot list is IKA, Allison, Adel and Jon
Rachelle says Kenny told her if he wins HOH he'll put up Jon, Sabrina will talk Kenny into putting up Adel.
They start talking about how Kenny, Jon, Sarah and Neda say they smoke weed a lot. Rachelle isn't into that, "I don't get that"
Rachelle and Sabrina are both sounding jealous about Kenny liking Sarah more than them.
Sabrina says her two main targets are Adel and Allison. If it;'s double eviction this week she wants Allison and IKA.
10:55pm HOH IKA, Rachelle and Sabrina
IKA saying that HEather told her Rachelle said whoever Rachelle puts up as a replacement is Rachelle's target. IKA – "She's trying to make is seem like you don't want her to go home'
Sabrina and Rachelle Brush it off say they never said that.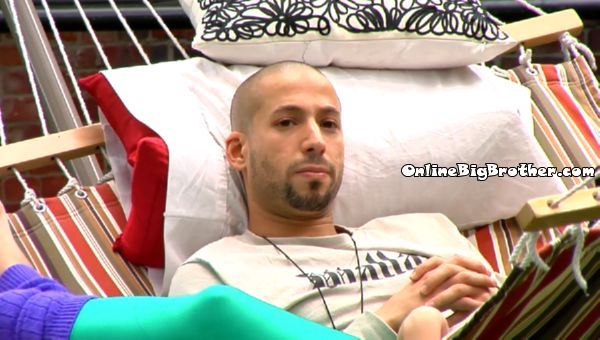 11:00pm Hammock Heather and Adel
They are agreeing that whatever you tell Rachelle goes straight to Sabrina and back to Andrew. Adel says Jon and Alrie are using him for one HOH, they'll put him up "They don't give a f***" Adel says even if they win HOH they still don't have the numbers, ""We're in a tough spot.. our main goal is jury house"
Adel thinks the only people they can trust is IKA and Neda. Adel points out how obvious it is that Sabrina is running Rachelle's HOH.
They both agree how much the house is starting to get annoyed at Rachelle and Sabrina. Adel points out how all the boys are treating RAchelle like she's golden only because she's HOH he cannot understand why people are not seeing through this. "We are getting picked apart.. smartent the f** up"
Adel – "I told IKA i'm not going to lie I think you're f****"
Adel thinks that pretty soon people are going to start targeting Andrew and Allison. Heather thinks the girls wanted Allison out this week before she won the POwer of veto.
They both don't know who Rachelle is going to put up. Heather points out that the girls singled IKA out right away Heather kinda thinks IKA is going up. Adel does too, "If she puts IKA up IKA goes home.. she can't even campaign"
Adel thinks they can get NEDA to help them make some big moves. Heather is worried about NEDA says that at the start of the season they were really close and all of a sudden Neda started believing the lies the girls were saying about Heather.
Heather – "Ever since Rachelle and NEda got close.. and Rachelle is under Sabrina"
Adel – "You got kicked out"
Heather – "Neda use to play her own game and now she's doing whatever the HOH wants"
11:03pm HOH Sabrina and Rachelle
After ditching IKa they start to talk about when to tell IKA she's going up.
Sabrina says Rachelle should do it tomorrow when the "Power of Veto Ceremony" comes up on the screen downstairs. Rachelle is stressed and scared wants to make sure Sabrina is with her.
They agree getting rid of IKA is the best thing. Sabrina thinks IKA already kinda suspects she's going up.
Sabrina instructs her to tell Adel first get him to swear not to use his power than tell IKA.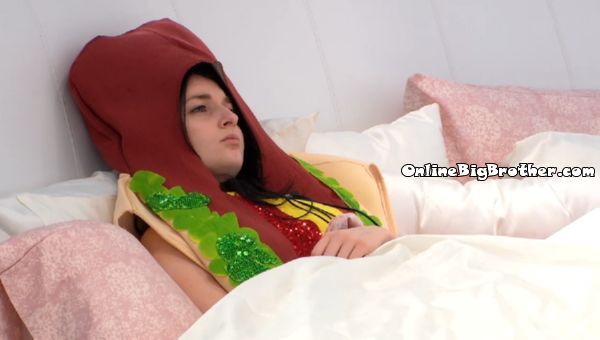 11:30pm HOH Racehlle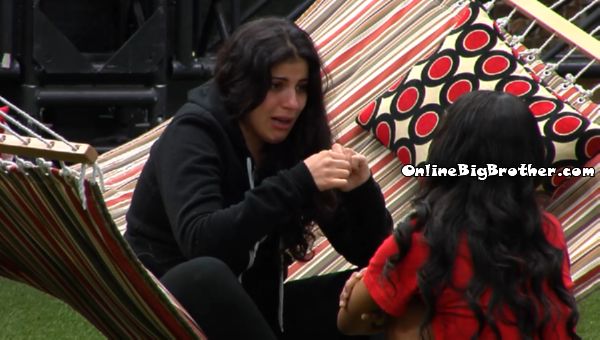 11:32pm- 12:10am Hammock IKA and Sabrina
Ika says that before Allison came into the game the girls were always tighter, "We all felt more secure.. you know what I mean"
IKA swears if she wins the veto she'll save the girls and will never put them if they win HOH>
Sabrina says no matter what happens she does like IKA and she hates Heather.
IKA says if she wins HOH next week she'll put up Allison. Sabrina says she's starting to get the feeling IKA is going up, "I don't know about the deals being made.. I don't know.. I don't think she'll (Rachelle) do that to me .. it's all weird"
Sabrina says Andrew doesn't have her back anymore blames it on Allison says there's deals being made.
Sabrina says certain people got into Rachelle's ear.
Sabrina claims she doesn't like Andrew like a boyfriend says he was her friend but now Allison comes into the game and takes that away from her. Adds that Andrew told her she is a natural beauty.
Sabrina says she knows Rachelle is upset with IKA but Sabrina has no idea what she is going to do. "I'm not going to lie the first two nominees were influenced by me.. but from there I am very confused.. She's (Racehlle) is back and forth"
IKA says she said lies about Heather to get people to vote her out last week, she's worried that will happen to her this week.
Rachelle joins them and Sarbina's bullsh!t continues and Ika continues to lie.. They confront IKA about a bunch of things they've heard her saw. of course IKA denies it all and goes back to telling them she will never put Rachelle/Sabrina up and she'll use POV to save them.
IKA starts to cry saying that she wants one more week she doesn't want to go home from her friend. IKA goes on and on about how the guys are going to be coming after them one by one.
IKA cries… "It hurts, I would never do that to you, It Hurts, nobody would ever talk me into putting you up"
IKa asks how long does Rachelle think she will be safe if she goes ahead and puts her up.
Rachelle says 3 weeks.
IKA – "Jon told me he's going after Andrew"
IKA then says Jon w0on't win HOH and put up Andrew but she will win the HOH and do it.
*** Update ***
They are telling IKA Rachelle two options are to put IKA up and she'll go home or put Arlie up and Heather goes home. They tell her she is going up. They try to explain to her why this is the only thing Rachelle can do to keep her safe.
Rachelle – "This is what I need to do.. "
IKA – "OK"
Rachelle – "Me and Sabrina love you on a personal level"
IKA – "I understand.. I'm happy you guys told me"
(Basically Sabrina is saying that someone is manipulating Racehlle into doing something drastic like putting IKA up. Sabrina plays stupid and innocent kinda blame a bunch of stuff on Allison.)
(Video coming.. it's HUGE may take some time to upload)
11:50pm Kitchen Allison and Andrew
Andrew says nobody is taking him out in this game. (He's joking… a bit)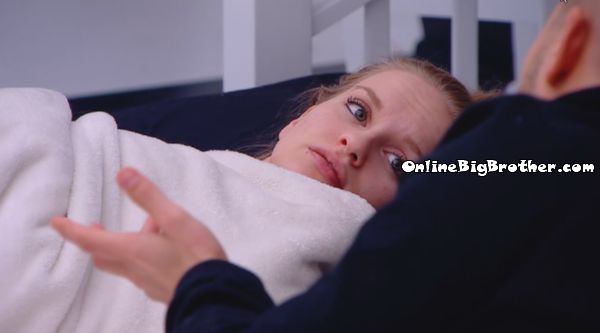 12:10AM Have Nots Heather and Adel
Adel says Andrew has 2 3 man alliances, "That's six people out of 12"
Heather saying if Kenny goes up he'll go home because he's too strong. Adel says Sabrina is lying about everyone in the house he cannot stand her.
12:40Am Adel and IKA
They figure out that Sabrina must be the one behind all this. Adel believes the house knew about Paul leaving last week and they knew the plan was to backdoor IOKA all along.
IKA says Rachelle told her she's joining the boys.
12:51AM cuddling
1:00AM Big Jon is done with the having to swim laps.
1:06AM Adel telling them a story about Talla.
Talla was a grade lower than Adel and Tannis (Talls's sister) so Tannis would hang out with Adel and his friends. ADel adds that he knows Talls's sister, "I know her pretty f*** good"
Says one of the things he tries to do to to help his t2t invention is to find local celebrities around the Edmonton area and have them take a picture with him and his invention. He puts theses pictures on social media and helps him build buzz. The day Talla landed from the airport she met up with a group of girls and he was with that group of girls. He wanted a quick picture he'll buy them a meal and then he'll "Bounce.. f*** is 1 2 3" Adel explains he told Talla about his T2T invention and she was congratulating him on it's early success. He asked her if she wouldn't mind having a picture taken with him and the invention. He explains that she looked at him funny and said "I gotta call my agent"
Rachelle -"She said agent?"
Feeds cut…
2:00am Adel and Ika
Ika should have known something was up because as soon as Rachelle won HOH she stopped talking game to her. IKA points out the girls put up Allison and Heather because they didn't want to have her fight for the POV.
Adel says 100 billion percent he's going to swim with the sharks and take out either Andrew or Kenny. Adel is planning on putting up Kenny and Andrew. He suspect the POV will be played so he would toss Jon up to guarantee a big dog goes home.
Adel says he keeps catching Arlie and Jon in little alliances. He thinks they're close but not too close.
Adel breaks the house down, Says the 3 newfies are for sure a crew no matter what. On the outside of that is Andrew and Arlie. The newfies have Sarah, Rachelle, and Neda. Adel – "Thats the final six I predict"
[polldaddy poll=7898587]