POV Holder:
Allison
Next POV
?
POV Used
?
POV Ceremony
March 24
HOH Winner:
Racehlle
Next HOH:
March 27
Original Nominations:
Allison & Heather
Current Nominations:
?
Last Evicted Houseguest
Paul, Kyle, Anick
Have Nots
Adel, Sabrina, Heather, Arlie
8:42pm Feeds back after an hour of Hush Hush
Kenny's knee has been hurt.
Sounds like they got a reward and Talla and Gary came to visit them.
Sabrina organizes a Hot Tub PArty. Everyone but SArah makes their way to the hot tub room. After some random chit chat Jon, Arlie and Heather head inside.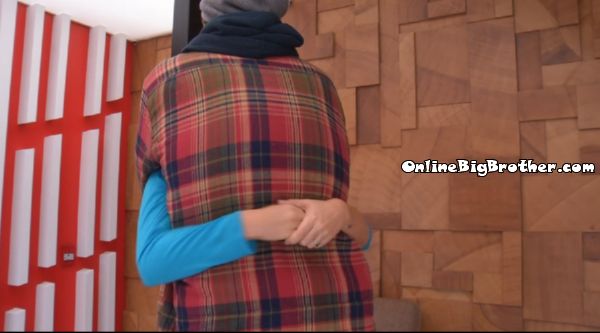 8:59pm Sarah and Jon (There was a DR leak with Arllie)
They high five for their new alliance with Arllie.
Sarah says she's not with KEnny and Andrew she's on the outs they don't tell her sh!t. She asks him who he wants the replacement nominee be, "it's not going to be on of the big dogs"
Jon doesn't know.
Jon says that Adel has his mind set on taking out of the the "Guys" with his power. Jon asks her if she's OK with that. Sarah – 'As long as everyone is on board with it"
Sarah wonders if it's possible that some of the players in the house do not have fans. Jon thinks it's pretty obvious. They both think all the drama in the first couple of weeks around Adel, Kyle and Paul and how Adel stuck with his friends help Adel gain friends. They agree Adel being happy and uplifting helps.
9:20pm Sarah, Andrew and Sabrina
They are wondering why Adel has so many fans. Sabrina thinks production never showed Adel's nastiness they only showed him as a sweet funny person. They are all being portrayed as the evil people.
Sabrina – I want to take him out just for that
Sarah – "If they showed the things he was saying and doing people wouldn't feel quite…. Crazy.. "
9:24 hot tub Adel and IKA
Ika doesn't think it's worth "Checking" Neda, Rachelle or Sabrina because they are just girls.
Ika – "Someone like Sarah i'll go toe to toe with her.. Let do it b1tch"
Ika thinks that Sabrina is trying to be her, "She's trying to bump my style so much.." Ika calls Sabrina a "Simple B1tch" because how she is acting around Andrew.
Adel says putting Sabrina up is a waste "She's weak she won't win nothing"
IKA says she'll put up Sabrina and Andrew.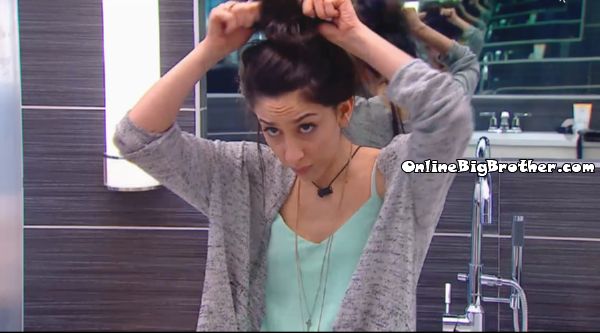 9:24HOH Neda and Sabrina
They chat about Arlie's moose competitions early today, say some of the things he was saying he really meant.
Sabrian – "For little Arlie to tell her she asks like the devil is inside her"
Sabrian – "What he told me he really felt.. he started crying .. he said Andrew and kenny make him feel they are more superior.. he feels Sabrina is such an emotional person that he's not sure how she will react.
Sabrina says from day one Adel was talking bad about Talla. She finds it odd that all of sudden he's being nice to her. Sabrina is pissed that everyone outside the house likes Adel she wants to get him out of the house next week.
Rachelle wonders why there wasn't more girls talking about Kenny. Sabrina says Kenny is grumpy.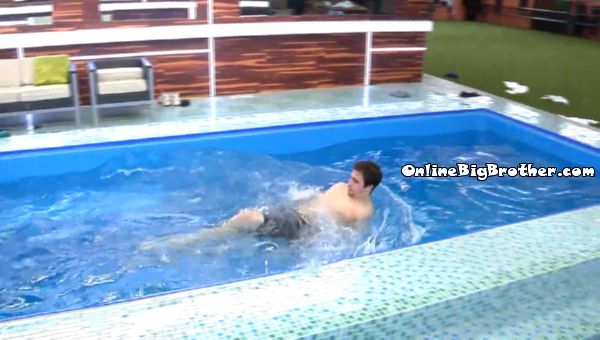 9:45pm Jon jumps in the pool.. Fog Horn punishment is almost over.
9:55pm Bedroom Kenny, Sarah and Jon
Sarah saying that Kenny had a weird look on his face when he met Talla she's never seen him like that before, "You were looking smoldering… "
Jon – "Like star struck"
Sarah – "I can now imagine what you do when you try and pick up at the bar"
Kenny – "I did stare at her non stop I don't think I blinked"
Sarah "I've been four weeks in here and i'm horny"
Kenny says Talla is hot. Jon likes her small body. Kenny thinks she could gain a few pounds.
Sarah – "I thought you had a b*ner like crazy"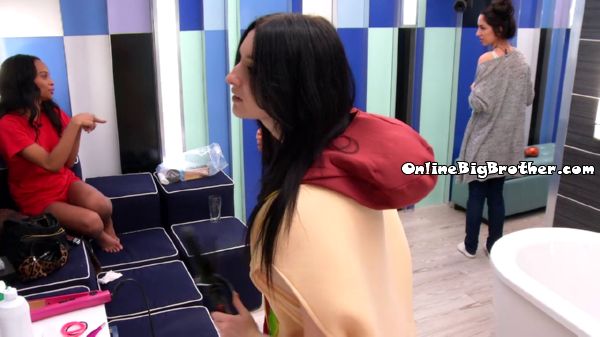 10:05pm HOH Ika, Neda, Sabrina and Rachelle
IKa says Heather came in and asked her if she felt safe. IKA – "I was like umm of course I feel safe my best friend is HOH"
Neda says she's going to sleep in the main bedroom. Rachelle says "You're going to sleep with Jon"
Neda says they are sleeping in different beds.
IKA rubs her two fingers together says "Whooooo"
Neda – "what does that mean.. i don't know what that means"
IKA explains it means love
NEda says people need to stop saying that because it's getting kinda awkward with him having a girlfriend. .
IKA acts all surprised "Really… OK"
Neda leaves and IKA says they can't say that outloud anymore.
IKa adds that Jon told her Neda is the closest to his girlfriend's personality.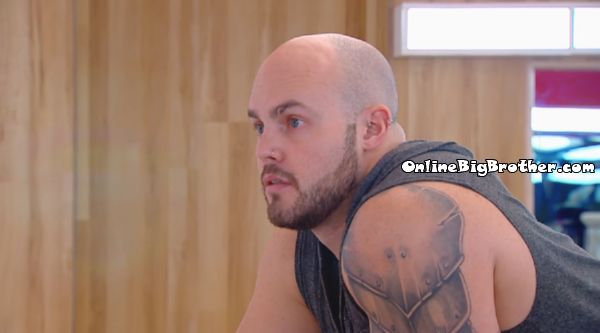 10:19pm Kitchen Allisona Andrew
Andrew says his looks will fade but his personality will only get better, He adds he's got 20 more years looking the best ever. Andrew – "I'm a Spartan warrior"
HE tells her after these next two evictions they will have nothing to worry about. "We'll have to see who turns on who.. that is the question"
Allison – 'Don't you turn on me"
Andrew – "Unless you turn on me first"
Allis – "I got you"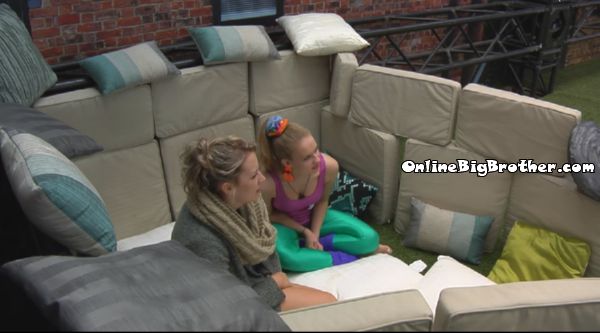 10:22pm New Fort
[polldaddy poll=7898587]