POV Holder:
Allison
Next POV
?
POV Used
Yes
POV Ceremony
March 24
HOH Winner:
Racehlle
Next HOH:
March 27
Original Nominations:
Allison & Heather
Current Nominations:
IKA & Heather
Last Evicted Houseguest
Paul, Kyle, Anick
Have Nots
Adel, Sabrina, Heather, Arlie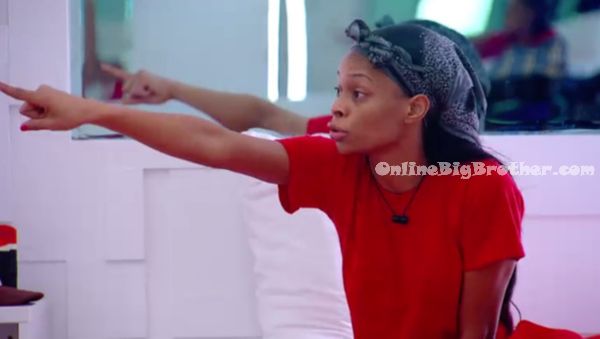 9:20am Big Brother wakes up the house guests. In the main bedroom – Neda, Ika and Adel talk about who's the bigger threat. Neda says that Andrew is the bigger threat than Kenny. Andrew has more connections. Adel and Ika think that Kenny is the bigger threat. Ika says that Kenny has more connections. Neda says Andrew controls Sabrina, New Girl, and Rachelle. Neda asks how much control does Sabrina have over Rachelle. I swear to god Andrew is a bigger threat. Kenny is smarter but I think once you take out Andrew from that pack Kenny is going to be like AHHH… Ika says once Kenny is gone ..Arlie does not like Andrew. Neda says If he's gone he is going to put up me and Jon. Adel says if I win HOH – I put up Kenny and Sarah. Adel says I tell Andrew that if anyone wins POV and does anything … I will put up one of his two girl friends.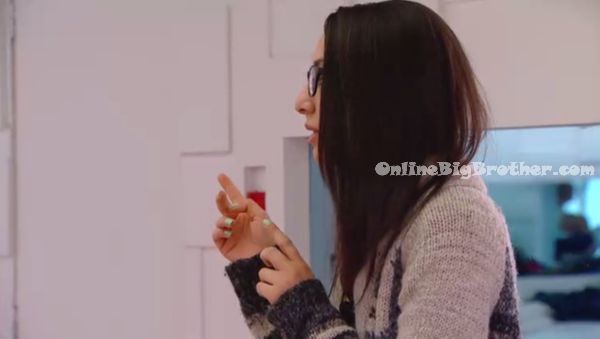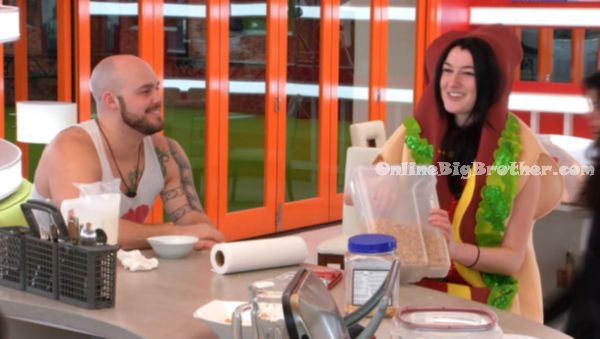 In the kitchen – Rachelle tells the others that she has to wear the HOT DOG suit during the live eviction tonight. Rachelle is pissed off. Kenny asks her if she can wear clothes on top of it. He tells her to add some scarf's and a vest on it. Rachelle tries to dress up her hot dog and big brother tells her she can't put a vest on it. He laughs. Meanwhile – Jon walks into the bathroom and says he loves seeing girls transform into their face from their non-face! Get your face on Canada!!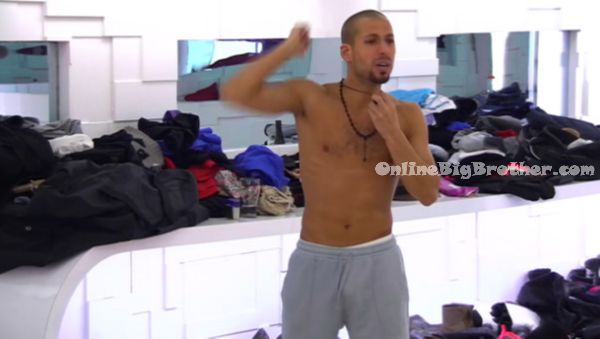 9:45am IN the bedroom – Adel, Neda and Ika continue to talk about what the best strategy is for tonight if Neda or Adel win HOH. Adel tells Neda that the boys from Newfoundland will not f**k each other over.. they are like this. Adel says that Jon won't win anything.. he has a bunk shoulder and a bunk knee. Neda says I don't want it to be a double eviction and then I am fucked because I didn't know what to do. Neda asks Adel if he would use his power. Adel says I have to or I lose it. Neda asks so who would you put up? Adel says I put up Kenny or Andrew. Neda asks so we have the votes? Adel says 1 million percent.
In the kitchen – Kenny and Andrew talk about who to put up on the block if they win. Kenny says Adel and Allison. Kenny says that Allison is still a big question mark. Andrew says that's fine, I don't care. Kenny says if Adel has a power then he uses it and we flush it out and we get rid of Allison. If he doesn't have a power then we get rid of Adel.

10am – 10:25am Adel heads down to the kitchen and makes his breakfast: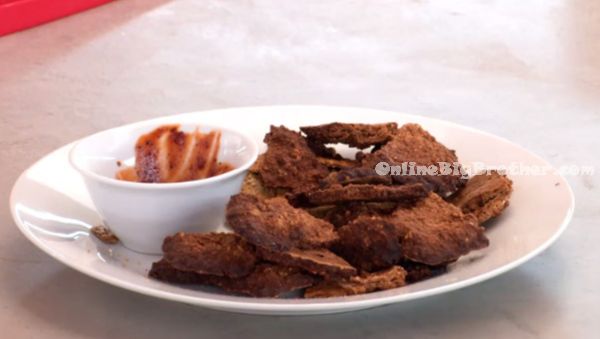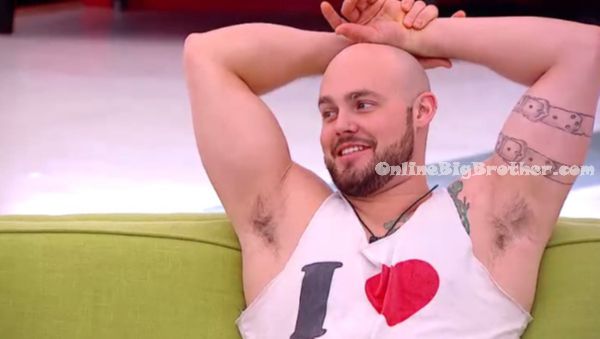 In the living room – Andrew talks to Sarah and Jon about the girls he misses from back home. He says that last night he couldn't really sleep because he was up thinking about feeling bad about what he's been doing with Allison and how they can see it. He asks Sarah if she thinks it will be okay since it's just kissing and cuddling. Sarah asks if they were open relationships. Andrew says yeah. Sarah says then its probably fine except for the fact that they have to watch it. It's different if you don't see it.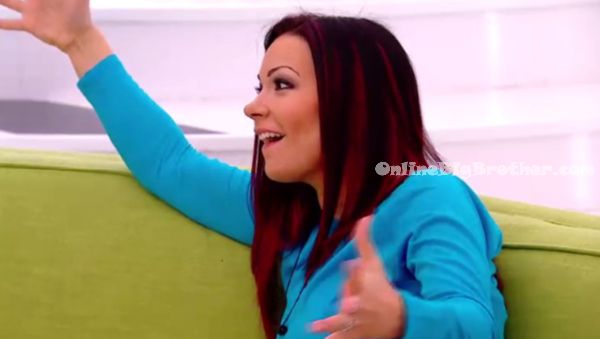 10:45am Meanwhile – Big Brother tells Heather that if she does her 10,000 steps today before the live eviction then she can change out of it and wear regular clothes. All of the house guests are getting ready for tonight…
10:55am – 11:10am In the bedroom – Adel tells Jon and Neda that they are going to laugh when they see what he is going to do to be a havenot this week. (Adel plans to throw the havenot competition if he's on a team with Andrew, Sabrina, Kenny, etc.) Neda asks if he would do it with her on his team. Adel says oh hell no. Jon leaves. Adel says I talked to Heather and she is 100% on board. Neda says okay good, I like Heather. The one thing is I would want to go to the end with Heather because I could beat her. Neda tells Adel that if he makes it to the final two – he is going to win.

Up in the HOH room – Allison, Andrew, Kenny, Sarah and Sabrina talk about how they don't think this week will be a double eviction. Andrew, Kenny and Arlie head into the kitchen. They comment on how they can hear Big Brother building things in the backyard for tonight's competitions. They think they can hear a large air pump blowing something up. Arlie talks about sponsoring a child for 0.99 a day.
11:50am – 12:30pm Big Brother cuts the feeds. When the feeds come back – Sarah is talking about how Kenny gives her looks but that they're nothing like the look she saw him give Talla. Andrew talks about how the oldest woman he slept with was 43 years old when he was 24 years old. He says that her son was a year younger than him. He said he was going to go hang out with him and she told him he wouldn't let her son hang out with him. Andrew yells what kind of logic is that, I just slept with you! The conversation turns to talking about random things and tattoos they'll want to get. Meanwhile in the bedroom – Neda and Adel talk about how they trust each other. Neda says it's so hard to trust in this house. Adel says not for him ..it's easy to see who's being fake and who's not. Neda says that she hates she has to be fake with some people..

Stay connected and interact with other Big Brother Fans on our Facebook page.
And Follow: @BigBspoilers and @Dawgsbigbrother on Twitter for the most up to date spoilers.