POV Holder:
Jon
Next POV
April 12th
POV Used
Yes
POV Ceremony
April 14th
HOH Winner:
Jon
Next HOH:
April 17th
Original Nominations:
Sabrina & Rachelle
Current Nominations:
ADEL & Arlie
Have Nots
Neda, Arlie, Rachelle and Heather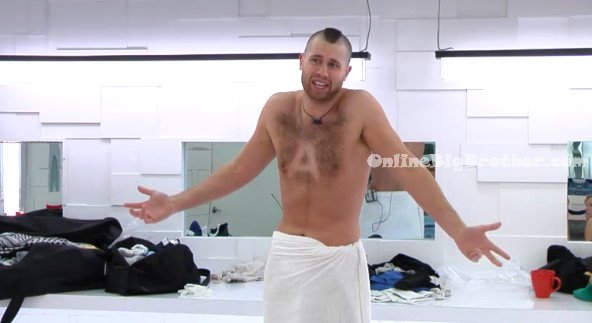 4:25pm In the bedroom – Arlie joins Sabrina, Allison and Neda in the bedroom. Sabina asks him questions about being a poker player. Sabrina tells Arlie I told you I would have voted for you even if it f**ked me in the a$$. Neda calls Arlie an a$$hole for throwing the HOH during the double eviction. She says I shouldn't have trusted you and just hit the wrong answer myself. Arlie says I got casted as a superfan. Sabrina says me too but I'm not as much as you. Arlie says that he didn't want to be known as a superfan .. he wanted to act goofy but not annoying. That was my logic for the first part and then I wanted to do something to make a big move for the fans to be remembered. I didn't get to do the end of it but at least I got to do the lead up to it. Sabrina says I was going to vote for you 1000%. Arlie says I knew that and that's why I knew I wasn't going to make it to the end.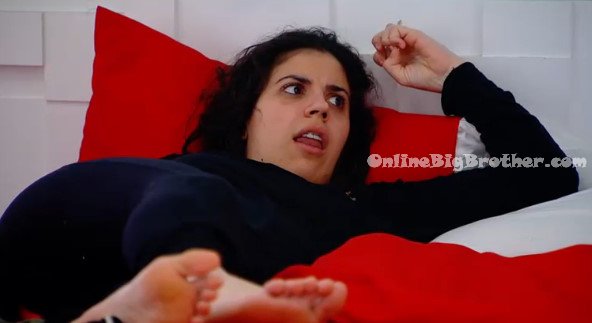 4:35pm UP in the HOH –
Adel says I will swear on my Quran right now if you will swear on.. JOn says Delli.. I will swear on anything you want me to right now. Adel tells Jon that Arlie told them that he threw out his smokes and justified that he could lie about not knowing where they were because he didn't know if production took them out of the garbage or if they're in the dumb or what. Jon says what an a$$hole! Sneaky little f**k eh?! Jon says so he said he wasn't going to come after me until 4th or 5th. Adel says yeah. Adel says I don't want you to swear on anything. I believe you about the veto thing. Jon says you and me just have to win every veto from here on out. Adel says if I win I would put up Allison. Jon says yeah me too! JOn says its crazy how Arlie's been acting for the last 6 weeks. JOn says I am down with you, I swear on my family. Adel says I swear on my family. They shake hands. Jon says next week we have 2 in 5 chance of winning veto, then 2 in four chance the next one. Jon says we just need to cover our bases with Allison just in case she wins HOH. Jon says if one of us wins the veto then one of us is safe… Adel says not one of us if one of us wins it we use it on the other. Jon says Allison needs to go home.. she is the only threat in this game! When she's gone we might as well throw our feet up in the air. Adel says I won't turn on Heather, Neda or You. They are going to try and get us to turn on each other .. are we going to f**k each other bro?! Arlie would have f**ked the sh*t out of us bro!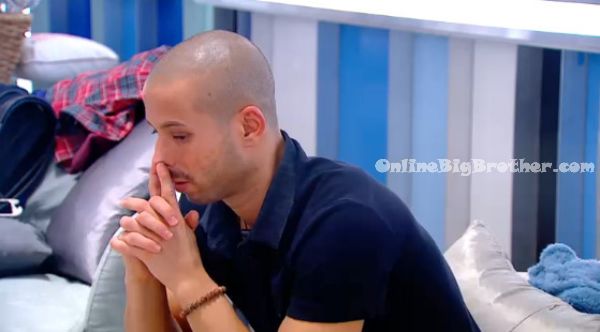 4:45pm Sabrina gets told to go to the pantry for her Advil. When she goes down to the kitchen she looks at the living room tv screens and yells hey guys get down here the screens!!!! All the house guests pile down into the living room. WOW 11 MILLION.. NEDA says another friggin' VETO I GUESS! Big Brother then blocks the live feeds…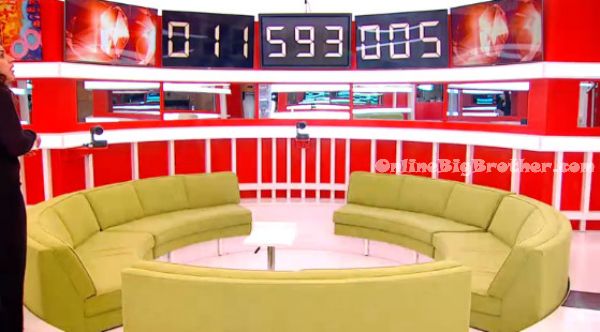 4:55pm – 5:40pm When the live feeds come back – The house guests are sitting around the living room couch. The others get Arlie to tell Jon about how he threw the "fresh from the farm" challenge. After Arlie explains how he threw it and gave it to Andrew on a silver plater .. Jon says holy F**K you're smart! Arlie tells them he has a couple poems. Neda asks how comfortable he was in the casting process? Arlie says super comfortable. Neda asks if he tried out for BBCAN1 and Arlie says no. Rachelle asks and do you actually like showing your butt at home? Arlie says yeah I'm n@ked all the time! Arlie tells them about his game with Andrew where it was called pumping Andrew's tires. Arlie then recites the poem he made up about going into the big brother house.. After he's done the house guests go nuts about how amazing it was. Adel says that was the sickest poem I've heard in a long time! Arlie talks about how he has prediction about the other house guests but doesn't want to say them because he doesn't want to blow up their game. Rachelle says I want to go to jury.. just so Arlie can tell me what his predictions are about people! They talk about how Arlie brought cigarettes into the house to bargain with .. to do something cool with..
5:45pm UP in the HOH room – Adel tells Jon, Neda and Heather that if he wins HOH he is going to throw Allison back up on the block. I would put Rachelle up with her and if one of them comes off then I would put up Sabrina. Neda says yeah I'm cool with that. Allison joins them. Big Brother comes on and says Hi Adel.. Then the live feeds are blocked. When they return Adel is heading down to the storage room. Arlie says so they told you this morning meatballs?! Who and how did they tell you? Adel says come upstairs and we'll talk about it. Adel heads back to the HOH room and tells them that Arlie just questioned him. Adel says I didn't want to say anything because I didn't want to say it was Jon's idea, or Neda's idea or Heather's idea. I told him to come up and we would all talk about it. Jon says so what should we say that it was a group consensus. Adel says if I win HOH I'm putting up the Gremlins! Allison says of course what else would we do? Adel says there's nothing else I could do. JOn has his hand in his pants. Neda says get your hands out of your pants! Jon says it iches. Neda asks did you try baby power?! JOn says yeah. Neda asks did delli put it on for you?
6:10pm In the kitchen – Sabrina tells Arlie you deserve to win this game and I can tell between a good game and a piece of sh*t ..and you're both of those things.. Arlie laughs. Sabrina says well not that.. you know what I mean. Sabrina asks you think I had good game or not? Arlie tells her he thinks she had good game in the beginning. Sabrina heads up to the bathroom – Adel tells Sabrina how you know in the beginning when someone would tell you that I was talking sh*t about you? Adel says this is the Arlie show.
[polldaddy poll=7968822]
[polldaddy poll=7964297]
Stay connected and interact with other Big Brother Fans on our Facebook page.
And Follow: @BigBspoilers and @Dawgsbigbrother on Twitter for the most up to date spoilers.
Share it YO!!
Tweet