POV Holder:
Allison
Next POV
?
POV Used
Yes
POV Ceremony
March 24
HOH Winner:
Racehlle
Next HOH:
March 27
Original Nominations:
Allison & Heather
Current Nominations:
IKA & Heather
Last Evicted Houseguest
Paul, Kyle, Anick
Have Nots
Adel, Sabrina, Heather, Arlie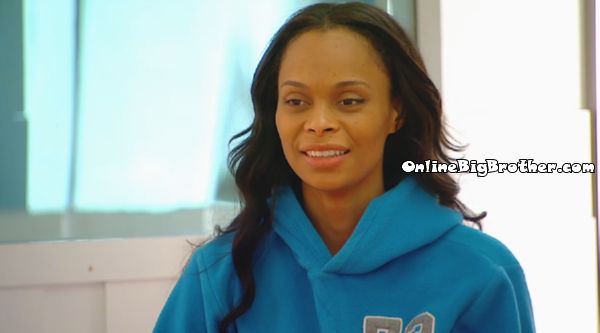 7:20pm Neda and IKA Bedroom
Neda asks if there is any way she could stay this week.
IKA says "They" (Production) wants her to fight to stay
Neda asks why.
IKA hints that things are boring. She points that backdoor move are so cemented it's tough to get the votes and survive because everyones mind is made up. .
IKA – "I've watched everything since season one.. I just don't talk about it"
Neda – "what kinda crazy a$$ sh1t can we try"
IKA mentions how Sabrina is influenced by Andrew and it's screwed Neda and her the most. Rachelle thinks she' safe but she's not .
Neda really wants to try something she's been trying to think of a scheme but nothing comes to her.
IKA tells her even if Adel and Neda started campaigning hard it wouldn't do a thing they would make the targets bigger on their backs and IKA would still go home. IKA – "You guys don't have any pull"
IKA- "Rachelle is f****g us both"
NEda – "You're putting your friend on the block because of a boy"
Neda tries to be optimistic says there might be a twist to save IKA, brings up "That 2 million thing" (The counter for marsha moose) and the possibility of a double eviction. Neda adds that
Neda jokes says IKA should have just hooked up with Andrew. (Andrew liked IKA at first) . Ika says "GROSS"
Neda (Andrew)- "He was totally j**king off last night.. he was grunting and you could hear it"
Neda adds that Sarah woke up and said "Is it morning already" and he ran out of the room. After Andrew ran out of the room Kenny woke up and Asked her what happened. IKA said they caught Andrew "J****g off"
Andrew confronted her about it and said he wasn't "Do you think I would do that" Neda laughs "well you pick your nose and eat it"
IKA is grossed out, they start talking about Andrew picking his nose. Neda say him pick a booger out and eat it.
Neda says Kenny has everyone wrapped around his little finger, "He's got f*** mind control"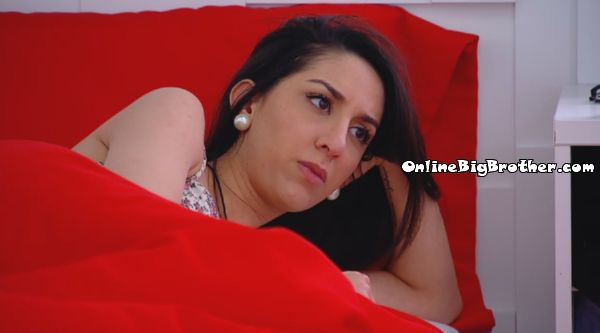 7:45pm Ika and NEda
Neda says Sabrina and Rachelle are so catty "I'm in fashion and i'm not even that catty"
They both are questioning if all the things said about Heather were true or not. Neda says all the bad things she heard about heather were from Heather. Neda is pissed that Racehlle is calling her "NEDS" she says it's Rachelle's way of being a passive b!tch.
Neda says the only advice she has to people in this game is 'Don't be afraid"
IKA thinks their alliance sucks. Neda mentions how this is a prime example of why girls alliances don't work.
SAbrina wonder sif people are actually going to go after Sabrina or is it just NEda and Adel.
IKA thinks most the house is annoyed by Sabrina. IKA gives Neda some information she got from Sarah. Neda is apparently going up next and Racehlle making the deal with the boys also brought Sabrina in.
Neda – "Sabrian is the biggest liar in this game.. I don't think Heather said all those things"
IKA – "SHE THE BIGGEST LIAR"
Neda is certain if Sabrian won HOH she would put her and heather up
IKA – "100% she would put you up and cry later"
Neda thinks if Andrew leaves it opens up some room for her to make a deal with Kenny, Sarah and Jon.
IKA says if Andrew goes Sabrina will do whatever Kenny says.
Neda thought Racehlle was going to go after Heather, she's really shocked IKA would be targeted.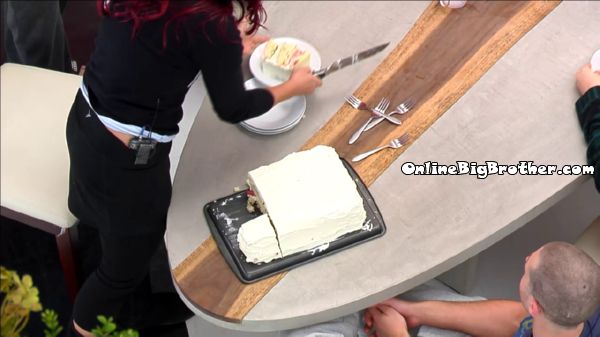 While Ika and Neda talk in the bedroom the rest are enjoying some cake.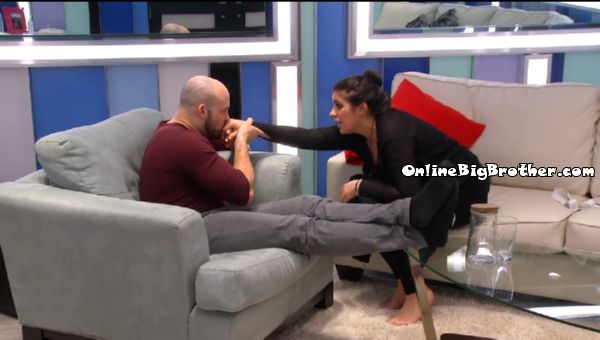 8:04pm HOH Sabrina and Andrew
Sabrina brings up a conversation she had with Allison in the storage room. Sabrina Swears "on her head" and her life that this conversation happened.
Allison told Sabrina that Andrew told her Sabrina is targeting Andrew/Allison and Sabrina is mad at Andrew because he's spending more time with Allison.
Andrew swear he never said that. Sabrina thinks Allison is trying to get them fighting to split them apart. Andrew mentions how it's good that she thinks Sabrina is targeting them because it shows she has no clue what is going on.
Sabrina adds that Allison is trying to be Sabrina's friends so she can target them.
Sabrina swears in all her entire being and her whole life that Allison said this, "She's trying to pin us on each other".
Andrew doesn't think Allison is Canada's player she's just a late arrival into the house. Andrew thinks it's pretty clear Allison has no idea what is going on in the she's making mistakes all the time.
Sabrina tells him to start the detachment process with Allison. Andrew does not want to look cold hearted on TV he wants Canada to think he's got these kind hearted feelings.
Andrew -"I do like her she's an awesome girl.. but I can't get attached because I know I'm getting stabbed in the back"
Andrew says she loves Sabrina and he loves her more and more every day. kisses her hand. Says he swears he loves her he promises"
Sabrina squeals with joy (See the video)
Andrew wants to backdoor Jon if he wins HOH, 'That son of a b!tch wants to rally the troops"
They go over the boot list, Andrew wants IKA, Jon, then Allison gone. Sabrina is happy tells him she loves him.
Sabrina says she knows Adel's power "I saw the card" claims that Adel gets to pick the replacement nominee after he vetoed someone. She thinks if Andrew tries to BAck Door Jon Adel will use it that is why he has to put Jon and Adel up.
Sabrina warns that Adel will get voted back in the game like Gary if he goes to the jury.
Andrew offers they take out IKA, JOn, Adel, Allison.
[polldaddy poll=7898587]