POV Holder:
Jon
Next POV
April 12th
POV Used
Yes
POV Ceremony
April 14th
HOH Winner:
Jon
Next HOH:
April 17th
Original Nominations:
Sabrina & Rachelle
Current Nominations:
ADEL & Arlie
Have Nots
Neda, Arlie, Rachelle and Heather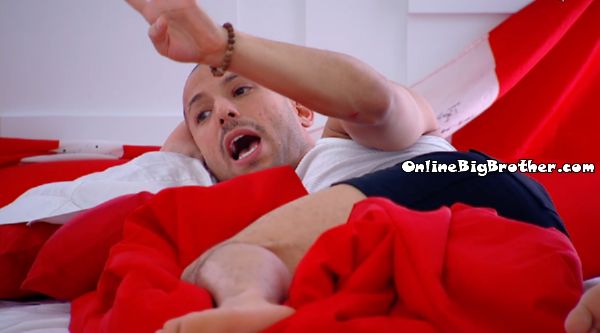 11:56pm bedroom Adel, Rachelle, Allison and Sabrina (Argument starts 6 minutes in)
Adel calling Sabrina out for talking sh!t behind people's back. Sabrina says everyone talks sh!t in the house why is she being singled out. Sabrina points out that Adel was mean and vocal about it. Adel impersonates Sabrina says she told him "You are the only one not mean to me"
Sabrina says they all talked about her behind her back and was so nice to her face. Adel says Sabrina has more to worry about talking bad about people than he does.
Sabrina- "Yes i'm the only person that talked behind people's back"
Adel says if there was anyone that would be talking behind someone's back it would be Sabrina.
Sabrain – "Ok.. I can't wait to see how surprised you are going to be"
Adel tells them Sabrina was going to vote out Rachelle.
Neda and Heather join them.
Sabrina says all the people in the HOH have been mean to her and treated her like crap. "You make me feel like I'm the devil.. you know the word bullied that what I feel like"
Neda – "Sabs didn't I talk to you today"
Sabrina – "In the last two weeks I've been treated very badly"
Neda – "I have not been rude to you"
Sabrina – You guys have not been nice to me you guys shunned me"
Neda – "We ask you to come chill in the HOH room"
Neda Neda Heather leave 'I'm out"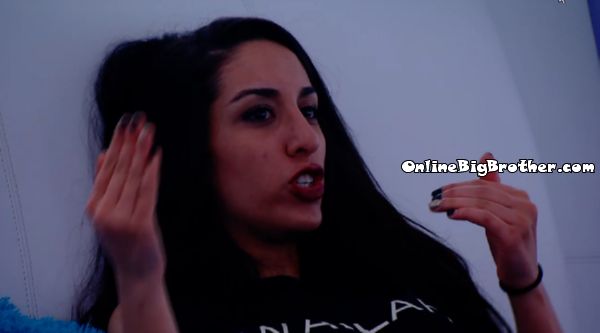 12:05AM HOH Neda, heather and Jon
Complaining about Sabrina saying they've were so mean to her all week. Heather thinks it's Allison causing all this trouble with Sabrina. Heather mentions how ironic it is that Sabrain is saying all these things when she did it to them for weeks on end when they had nobody else.
Heather – "At least she has her Gremlin"
Neda – "I don't Get what Allison is doing.. she's sitting there on that bed with a smirk on her face.. What the f** is she doing"
Heather – "I don't know"
They talk about all the nasty things Sabrina said about people earlier in the game.
Neda about Sabrina – "She's such a horrible person … she's such a horrible human being"
Heather – "And she's turning it all on us"
Neda says they are always nice to Sabrina they asks her to eat with them invite her to the HOH.
Heather says supposedly Allison is allied with them but she hangs out with gremlins more.
Neda asks them if there is a chance of them keeping Arlie
Jon – "YES HUNDO"
Neda – "No do you actually think.. "
Jon – "YES"
Heather – "I am really scared for Thursday"
Heather and Neda are convinced that it's much smarter for Allison to take out Arlie.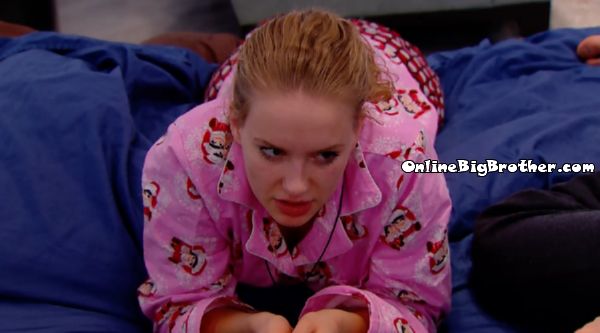 12:25AM HOH Neda, Heather and Jon
Heather says he talked to Allison in the bathroom, she doesn't trust her says she speaks a lot of bullsh1t.
Jon isn't worried about Allison keeping Arlie this week. Heather agrees.
Heather tells them they need to get rid of Allison right after Arlie and after that worry about the gremlins.
Neda says put a gremlin up against Allison to make sure we have the votes to get her out.
Neda points out once Allison is gone the game is theirs.
Heather says Jon taking out Arlie will be the biggest move of the season.
Heather – "This is the best thing that could happen for our game."
Jon – "100 percent"
Neda – "I agree"
Heather says besides Sabrain and Rachelle they are the only players that have stayed loyal to their word. Jon mentions he gave his word to Arlie.
Neda says she will talk to Sabrina tomorrow morning and smooth things over.
Heather says she hates Sabrina's face.
Jon – "She's so f***d"
Heather is worried that Canada will get the next HOH and give it to Rachelle. She thinks Canada will feel sorry for her because she hasn't done anything in the game and everyone makes fun of her for being Sabrina's pet.
They mention how Sabrina found out that Canada hated her alliance so instead of leaving it she stuck with them. Jon says she's one of the dumbest players.
Heather – "She will go down in History for being the dumbest player"
Neda – "She thinks she's so smart.. she probably thinks this whole week is her doing"
They think they have good odds to win the HOH thursday. Jon says Adel will be gunning for it up against Sabrina and Rachelle he'll win a physical contest.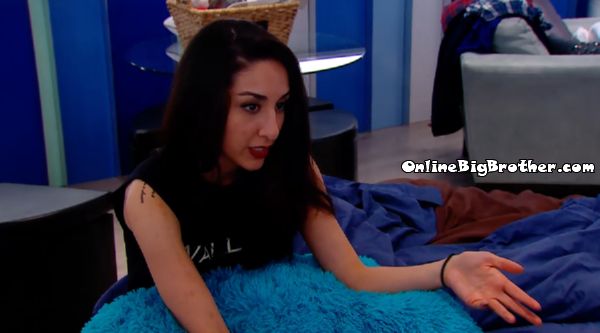 1:58AM HOH Neda and Jon
Neda tells Jon she is a huge super fan of Big Brother she reads update blogs. Jon says he's only seen a few episodes.
Neda says Arlie copied Dr Will's game, "He pretty much copied exactly what he did.. he didn't really play much of his own game". Neda adds it's the same with the shield from last year.
Jon asks her who their targets are now.
Neda's list Allison and Rachelle, Neda mentions that Rachelle is doing sh1t in the competitions.
They start talking about Rachelle not being very good at competitions, JOn -"We're giving rho way too much credit for endurance"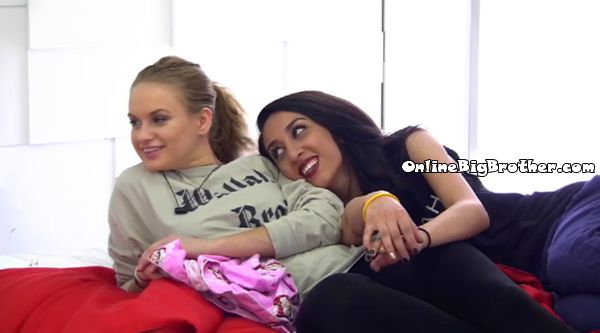 (random picture )
1:53AM everyone sleeping
[polldaddy poll=7964297]
[polldaddy poll=7968822]