POV Holder:
Kenny
Next POV
?
POV Used
?
POV Ceremony
April 7
HOH Winner:
Heather
Next HOH:
Apr 10
Original Nominations:
Kenny & Allison
Current Nominations:
Sarah & Allison
Have Nots
Sarah, Kenny, Rachelle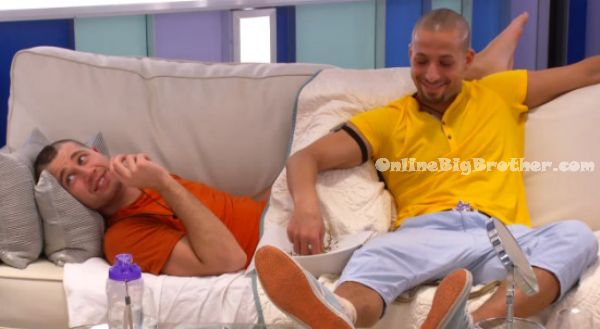 4:10pm Neda tells Adel hey I remember my 3/4 shorts .. I was in grade 6! Neda tries to say something funny but messes it up. Jon says it right and saying Deli is that Arlie's hand or pen!$ touching your arm? Jon asks which is it? Arlie says both. Neda says I love how there's so much room between you Adel and the end of the couch and your sitting so close to Arlie. Adel then lays out beside Arlie in the opposite direction.
Adel starts talking about Sabrina comparing her necklace to his Quran again. Allison says I don't know for sure but I don't think she meant it that way. Adel why do you always try to defend her. Allison never mind. The conversation turns to talking about being gay. Neda asks so when did you realize you were straight. Adel says I just know 1 billion percent there isn't 1 fact you can find where people were born gay. If you believe in evolution than right there you contradict yourself. Allison says there are lots of animals that partake in homosexual activity. Neda says just because it just doesn't reproduce doesn't mean its not right. Adel says I don't know how you can compare animals and humans. Who's better a fly or humans? Heather says this conversation is getting way too over done. Jon says this conversation just got stupid we went from homosexuality to what's better a fly or humans.. Neda asks Adel if he believes every single thing the Quran says? Adel says everything! Who am I to judge anyone .. I am Adel the dumba$$! Allison says I wish everyone that believed in a religion was as open-minded as you are Adel. Allison says because they don't know the difference between a gay gene and a straight gene it would be so hard to tell why. Neda says it's not a choice. Adel says I just know that everything I do in life I have a choice.
Adel says if everyone believes in science and medicine and people are behind it then I will believe in it. You have your own will to decide everything. Arlie says you are assuming that the right way is to be straight .. but there is no scientific fact that says people are born straight either. Adel says I love this stuff to debate. No one is ever perfect in this world and I am far from being perfect when it comes to religion.. Arlie says I am going to officially withdraw my position that addition is choice. Jon comes back up. Arlie says I want to straight up apologize to you for the statement I made about addiction because I was ignorant about it and these girls changed my mind. Jon says its okay.

4pm – 5pm Down in the living room – Kenny, Sarah, Rachelle and Sabrina are talking about random things. Kenny comments that his friend who knows the show really well said that he would be perfect on the show because she thought he had the perfect mixture of Dr.Will and Dan. Sarah says yeah I could see that to a certain extent. Sarah, Rachelle, and Kenny are in the kitchen making slop. Jon joins them and tells them that the talk in the HOH room was getting way out of hand. I just had to leave. The backyard opens up and Kenny and Sabrina head outside to take a look to see if anything is different. Nothing is different.

5:10pm – 6:20pm The conversation turns to talking about who would be the target if one of the other side gets HOH. They think Jon is target number 1 and Adel/Arlie both believe they are target number 2. Meanwhile out in the hot tub room – Kenny, Sabrina, Sarah and Rachelle are talking. Sabrina asks Kenny his opinion about girls. Kenny says that he is still attracted to girls and tells her that he even had a s*x dream about a girl while in the house. Sabrina motions asking if it was about Rachelle. Kenny says no it wasn't about anyone in the house. Rachelle jokes Sarah can do whatever I wants now. Sarah says no I am still married. Sabrina asks if she can watch. The talk turns to winning HOH tomorrow. Sabrina Wake up Canada the Gremlins are in charge!! Sabrina says jokingly says that she is going to steal the Quran and break it in three. Kenny says I find it incredulous that I will probably go before him (Adel). Rachelle says I can't believe I will probably go before Heather. The conversation turns to talking about random things…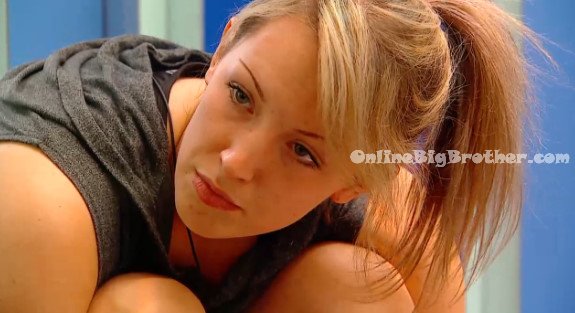 6:15pm In the HOH bathroom – Allison talks about how in the weeks coming up they will need to start taking out their own. Who do you think we will go after? Heather says for me it wouldn't be you. Allison says that feels very good to hear that from you. Allison says that she is even afraid to bring up the subject to anyone else because she doesn't know how people feel about her. Heather tells her that it could be in a week, two weeks or three weeks .. we will just need to wait until we get to that point and then see where we're at and what bonds have formed between people. The camera switch to the HOH bedroom – Jon, Adel, Arlie and Neda are talking about how there were only 3 single girls in the house when they came in… Adel says if I was gay I would hook up with the hit man (Arlie). Jon asks Neda if she would hook up with Arlie. Neda says personality wise ya! She then stops herself and says oh my god I didn't mean it that way. Neda says style wise he isn't my type. Jon asks Neda would I be your type? Neda says style wise yes.. Jon says personality wise no then?! Jon says I am done with her! Jon asks if they think Kenny was attracted to Andrew. Neda says she doesn't think so. The conversation turns to talking about Andrew. Jon comments that from hanging out with Andrew/Kenny there were things said that if they had actually been about his sister he would have taken a crow bar to their legs. Adel says I will never be able to justify that Andrew was a nice guy. Jon brings up how Andrew called Heather a dumb b***h. Neda tells Adel, Jon and Arlie we need to stop talking about Andrew (around Allison). Arlie says I am just glad I don't have to be a little b***h any more..
6:50pm – 7:20pm
Arlie takes a n@ked bubble bath in Heather's HOH tub. Adel comes in and asks are you d**ked right out!? Arlie says yeah. Adel says no way eh!? Adel tells the others that he is going to hangout with Arlie for a bit because he is n@ked in the tub. In the bedroom – Neda tells Jon that the other side has pretty much decided to split us up. Jon asks who said that? Neda says Sarah told her that. Neda says our side pretty much feels the same way too. Jon says he just doesn't care. If I go home, I go home ..there is nothing I can do about it. Neda asks what's wrong with him. Neda tells him that she really doesn't think Arlie is taking you to the final two do you. Neda says do you really think Arlie will want to go after the Gremlins when Kenny is gone. Jon says well we've got a final two right here so why would I care. Neda says I just don't think we should wait until final 6 to do something.. Jon asks who do you want out? Neda says all of them! Jon says well we can't evict all of them. Neda says she wants Arlie out. Jon says Arlie wants Allison out before Sabrina. Neda says if Kenny or the Gremlins win HOH next week ..then it will be me or you out. Neda says you see the good in people .. but in the big brother house it doesn't work like that… Both sides of the house want us separated after Sarah is gone. Jon says that Arlie and Adel think that you are extremely disposable to me because that's what I've been feeding them.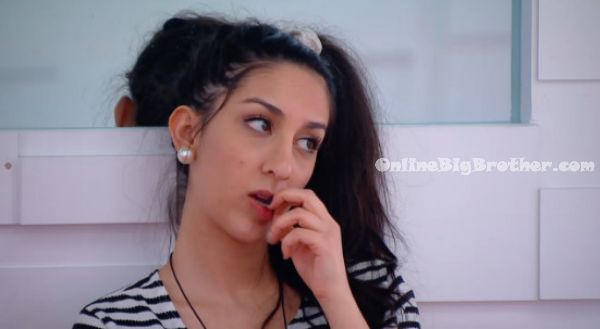 Stay connected and interact with other Big Brother Fans on our Facebook page.
And Follow: @BigBspoilers and @Dawgsbigbrother on Twitter for the most up to date spoilers.