POV Holder:
Kenny
Next POV
?
POV Used
?
POV Ceremony
April 7
HOH Winner:
Heather
Next HOH:
Apr 10
Original Nominations:
Kenny & Allison
Current Nominations:
Sarah & Allison
Have Nots
Sarah, Kenny, Rachelle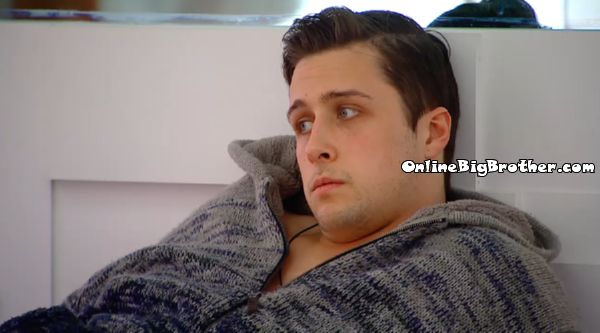 7:18AM Neda and Jon
Jon telling her everyone is onboard with going with the 6. (Heather, NEDA, Adel, Arlie, Jon, Allison) Neda brings up how Arlie wants Allison gone before that.
Arlie saying the gremlins and Kenny are holding onto a glimmer of hope they can pull Allison back to their side.
Jon – "Yup except Arlie"
Neda is concerned that if one person is already thinking that there might be more. She also brings up how whoever brings a gremlin with them to the final 2 will win the game she's sure other people in the house are thinking the same thing.
Arlie joins them.
They agree unless Kenny and the gremlins can win a bunch of competitions in a row they won't be able to.
Alrie is saying he will be so devastated going home this week right after he flipped, "I don't want me flipping to be what did me in"
NEda – Tomorrow is going to be f*** in the head.. it's going to be a double.
Neda wonders if there will be any twist for this eviction (sarah vs Allison). Arlie doesn't think so.
Neda brings up how her and Allison have been studying last night. Arlie isn't going to bother doing that because he doesn't retain information like that.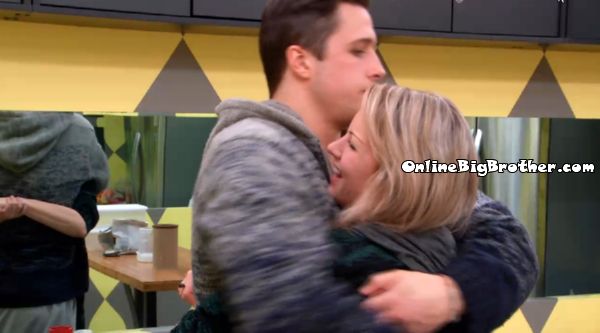 7:27pm Storage room Allison and Jon
Allison says she's feeling good but doesn't want to get too confident because this is big rbother
Alison wants to know where she fits with her new alliance. Allison especially wants to know where she sites with Jon and Neda.
JOn – a"s bad as it's going to sound I don't need her" Jon adds that he'll put her up if he needs to
Allison – "Ruthless"
Jon tells her they need to get down to the six first before they make any plans.
Allison – I'm coming with you guys anyways.. but lets say kenny wins HOH and puts me and Arlie up i'm still the low man on this side
Jon – "in my eyes you won't be.. if there is anyone in this alliance that can go back and forth back and forth in HOH wins it's me and you"
Allison – "Really.. I feel like i'm playing like sh!t
they hug it out..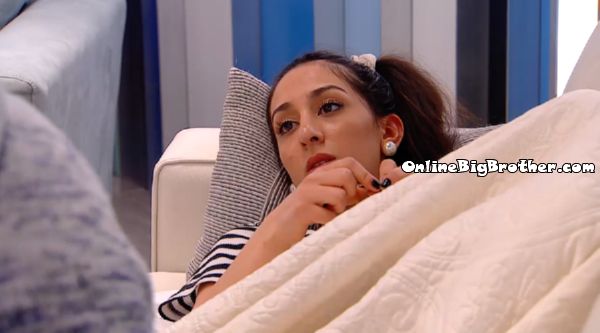 7:34pm HOH Jon and Neda
Jon tells her about his conversation with Allison and how he's telling people he's not ruling out taking Neda out after they get to the 6. (These two have a final 2)
Neda isn't worried about it says she's been saying the same thing to Heather.
JOn thinks Allison will want to work with him. Neda – "I think she's just trying to make sure she's secure in this alliance"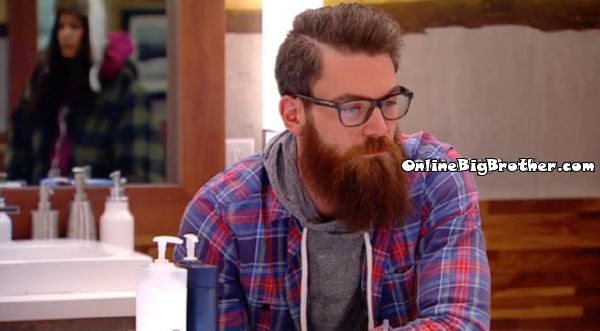 7:44pm Kenny and Sarah bathroom
Talking about Sabrina, Kenny says Sabrina treats Rachelle like crap. Sarah agrees adds that Sabrina doesn't know she's treating people like crap just like she doesn't think she was campaigning against Andrew.
Sarah brings up that it must be daunting for Kenny because it's win or die for him.
Kenny says he's going to go f*** crazy, mentions how Sabrina asked him if he wins HOH they can sleep in his HOH room every night. Kenny: "I'm like not every night"
Sarah brings up the good news is if he does win HOH and gets the room the boys will be hanging out with him and it will allow him to make up a new game plan.
Sounds like they know it's a double tomorrow. Kenny says he would need to throw the HOH to the gremlins and then win the next HOH in order to get the HOH room.
Sounds like the plan is to flip on the gremlins first chance they can. (It more sounds like they want to get rid of Sabrina and rachelle might be caught in the crossfire)
Kenny- "poor Rho"
Sarah – "Poor Rho"
Kenny – "Rho (Rachelle ) is awesome"
they both agree Rachelle is a great girl. (They feel bad for Rachelle because Sabrina is so toxic in the house that she's going to end up going home because of Sabrina)
Kenny says Sabrina is ridiculous discriminatory stupid f**** b1tch . He mentions how once Sabrina found out he was gay she said "oh that is why you do hot yoga"
Kenny is pissed by this comment says that is the reason 1/2 the guys around stay away from yoga because they are afraid to being labeled.
Sarah – "she doesn't realize what she says is offensive"
Kenny says everything Sabrina is offensive He brings up how Sabrina is saying northern italians are all thieves.
They both agree everything Sabrina says is ME ME ME ME
Gremlins arrive..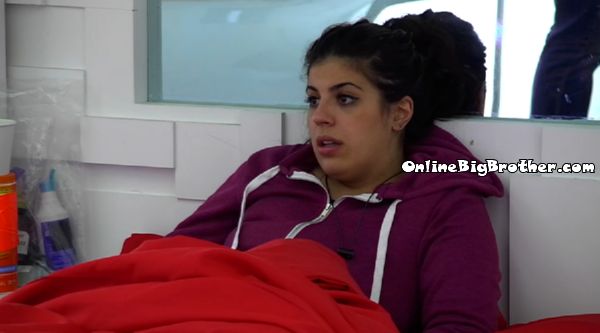 8:16pm Bedroom Sabrina and Kenny
Sabrina says the house is being worse than TOM.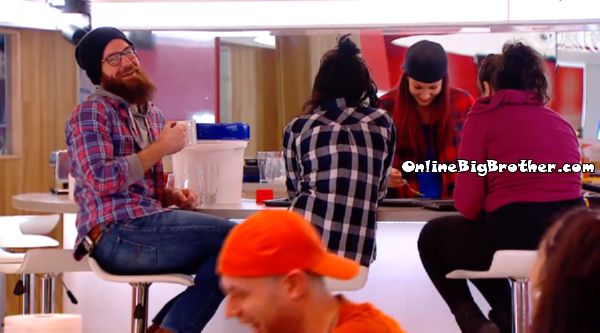 8:24pm Kitchen
Adel is playing a game where he says a name and everyone is supposed to reply with one word. Adel asks Kenny and the gremlins to go first he says "Arlie" they reply "Backstabber"
everyone laughs..
Share it YO!!
Tweet