POV Holder:
Jon
Next POV
April 19th
POV Used
Yes
POV Ceremony
April 21st
HOH Winner:
Jon
Next HOH:
April 17th
Original Nominations:
Sabrina & Rachelle
Current Nominations:
ADEL & Arlie
Have Nots
Neda, Arlie, Rachelle and Heather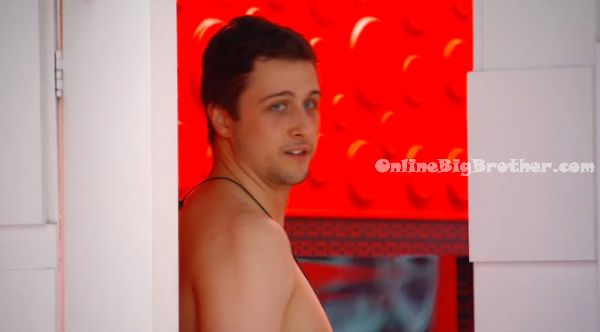 2:25pm Jon talks to Arlie in the bedroom. Arlie talks about how it hard to be exiled .. I know I'm doing it to myself too. Jon says I know if you had the votes you would be throwing it in our faces saying F**K you guys I'm coming after you! Arlie agrees and says yeah if I had them I would and the fans would love it.. but I know I don't have the votes. Jon says you should just put everyone on slop. Arlie says I wouldn't just in case there was a hope I would stay and some times its that person that gets punished.. like a vote against me. That happened once. Jon tells Arlie that he really is a great guy, you really are. Jon leaves. Arlie says to himself.. you're working hard for that vote. Jon heads into the bathroom where the girls are still doing their nails. Neda comments on how she thinks Arlie is brewing something.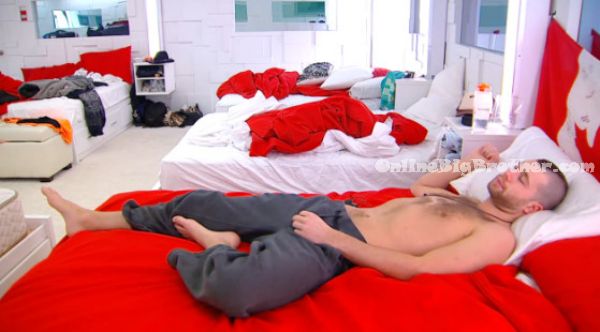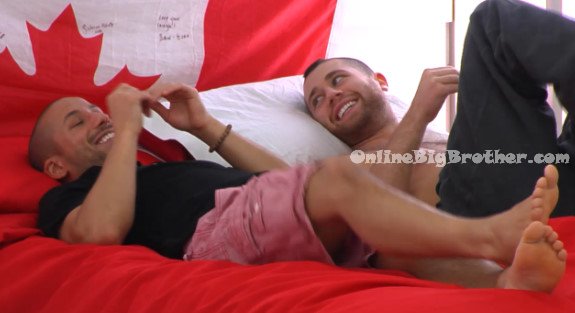 2:50pm In the kitchen – Sabrina tells Adel I can't wait for you to see just how much Sarah talked sh*t about you. Sabrina says Sarah used to tell me all the time that I was insecure and paranoid, meanwhile I was right the whole time! Jon joins them and he tells them when he talked with Arlie he said the Gremlins are going to win. Sabrina asks did he really say the Gremlins are going to win? Jon says yeah.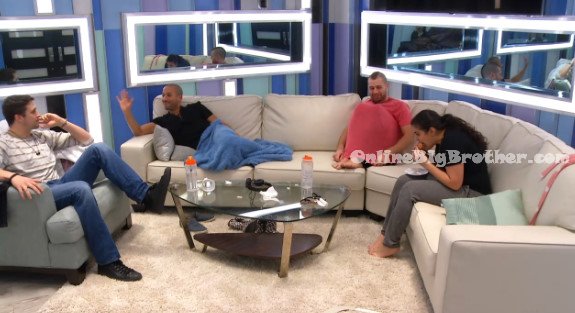 3pm – 3:15pm The cameras switch to Arlie and Adel laughing in the bedroom. Big Brother tells them Hello everyone .. everyone please make your way to the HOH room! Now! Adel asks what's happening?! Arlie yells the save Arlie party begins. They all head into the HOH room. Everyone wonders what's happening. Adel asks Arlie should we tell them? We both have Vetos! You guys are all F**KED! Big Brother blocks the live feeds..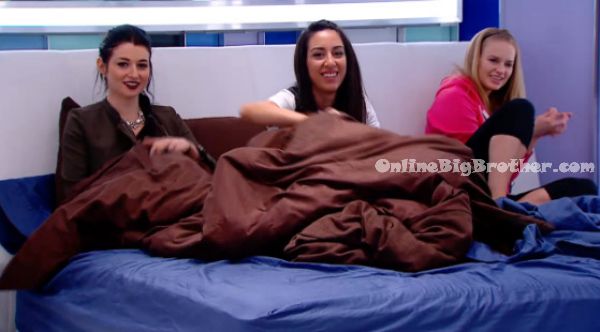 3:15pm – 4:20pm The live feeds are still blocked..
4:45pm – 4:55pm The live feeds return and the house guests rush out into the backyard to realize that nothing is different. In the main bedroom Rachelle asks what was that for? Is it for HOH? What the f**K?! Neda says I think its for a luxury competition. Rachelle asks Is it for ghosts of our pasts? Big Brother tells all the house guests to head to the main bedroom. Jon comments on how I hope you all memorized that because they're probably taking it away now..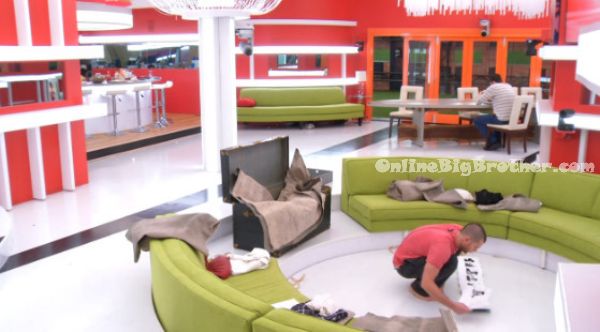 5:10pm – 5:20pm The house guests are sleeping / laying silently in the bedroom while being locked down. Arlie gets up and leaves the room. Jon asks did they say we were allowed out? Heather says yup. Jon asks when? Heather says they didn't say we were allowed out. Jon asks what? Heather says he just went out, they didn't say anything. Jon leaves to go look for him. Arlie heads out to the hot tub room. He lifts up the hot tub cover on one side and looks in and then does the same to the other side. He then heads back inside. Jon finds him in the backyard and big brother blocks the feeds again…
When the live feeds come back – the house guests are outside the diary room. They comment on how fun that was. Heather says People like us in the real world. Sabrina says its moments like that, that make me love every person in the real world! Sabrina says we have FANS.. F-A-N-S! Sabrina says I would love to be in Playboy! Heather asks why don't you? Sabrina says because I need to lose weight! The house guests got asked questions. Like why they say wake up Canada!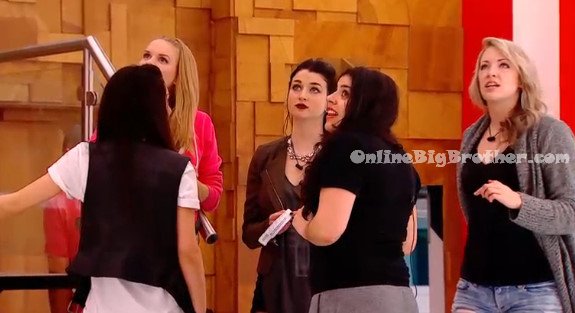 5:40pm – 6pm Jon gets called to the diary room and comes back and says happy easter everyone! He says they said to get hopping with the photos! Big Brother gave them bunny ears and a camera to take photos. We're only allowed to take photos with the ears on. The girls run around the house taking photos. Jon asks Arlie if he would have his vote in the end. Arlie says I don't know I will need to sit in jury for a while thinking about it. Adel tells Jon 1 hundo billion percent he has his vote. They all head out into the backyard to take photos. Jon, Adel and Arlie str!p down to their boxers. Jon asks why is it we always take our clothes off when the camera comes out. Jon gets a photo of him stabbing Arlie in the back. Arlie talks to Jon by the pool. Arlie says his biggest mistake feeling to comfortable the other night and going to sleep early. The moment you feel comfortable you go home.
JON with a KNIFE in Arlie's back @bigbspoilers #BBCAN2 pic.twitter.com/wNQ9LTpLhm

— Dawg (@DawgsBigBrother) April 16, 2014
6:20pm The backyard door is opened and the house guests rush inside. Jon finds a new fan mug. He says he potentially knows who it is. Allison asks does that look just like her? Jon says I would put money on it. Arlie is walking around all sad. The others keep asking him if he's okay. He keep saying he just hurting.. I just need a moment. Heather tells him she thinks he's faking it. In the kitchen Allison tells Sabrina and Rachelle that she knows Arlie is faking it. I see people do that all the time.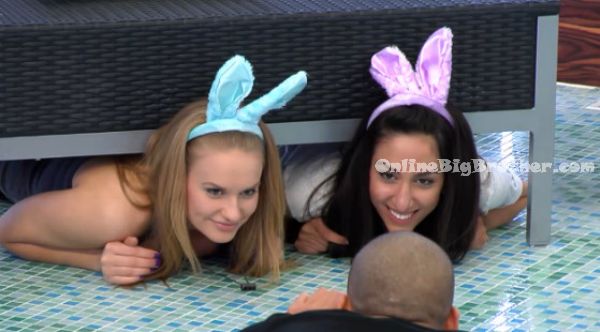 6:30pm Arlie heads out to the hot tub room by himself and sits in silence..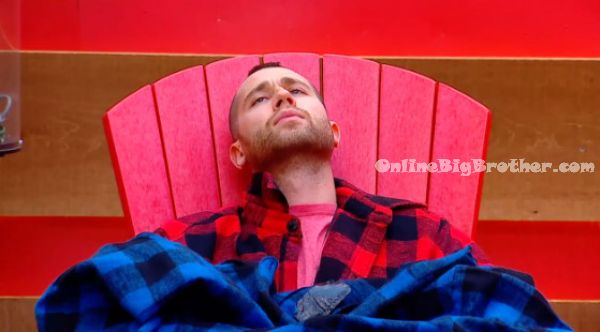 Stay connected and interact with other Big Brother Fans on our Facebook page.
And Follow: @BigBspoilers and @Dawgsbigbrother on Twitter for the most up to date spoilers.