Big Brother 14 has been confirmed and the BB14 Application form and rules have been released. Big Brother 14 Casting Calls should be known in March.
3:30pm Porsche and Rachel Rachel is helping Prosche stretch. Prosche says she has a major cramp in her calf muscle and her hamstrings are tight. Porsche says she was rubbing it out very hard earlier to give it a chance to heal. They both continue stretching and start studying. Rachel is helping POrsche out asking her questions and pointing out important things to remember.
Rachel starts speed drills with Porsche, Rachel: "HOH Veto.. your time starts now" Porsche starts listing them all off.. (she does alright makes some mistakes) Rachel: "HOH's winners your time starts… as fast as you can.. your time starts NOW". Porsche names them all very quickly.
rachel: "HOH's your time starts now.. not the winners but the competitions".. Porsche: "Ahhh uhmm" They hear a sound from the backyard and run to the sliding glass door to listen in..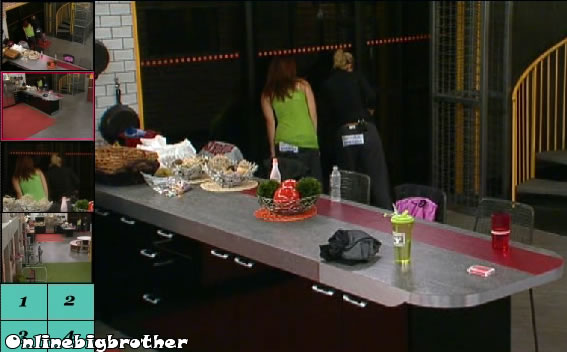 3:40pm Kitchen Adam and Porsche POrsche is preparing her shoes for the comp.. Adam having just showered is pacing back and forth. POrsche: "I hate this game.. thats the first time I have every said that all season" Adam: "I don't hate the game I hate this feeling" Porsche agrees, they both are nervous.
3:52pm Everyone is getting ready for the comp. Porsche says she's french so having a "French Shower" is appropriate right now. Adam tells her where he's from that is called a BLANK's bath.. POrsche's never heard of that before.. Adam: "It's when all you wear is perfume right? "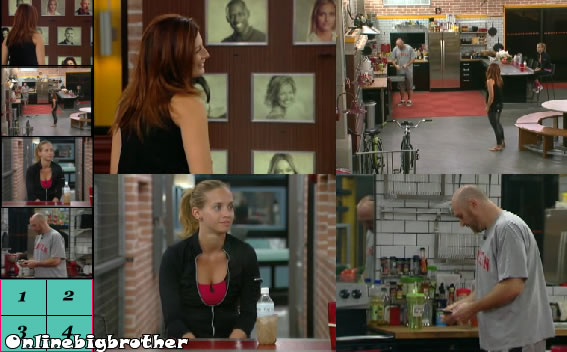 4:00pm Kitchen Final 3 Nervously walking around and Chatting.. Adam jokes around asks them who is the cutest coloured picture on the memory wall. rachel takes her time trying to decide. Adam says It's him by default because he's the only guy left in the house. Porsche says the cutest coloured guy was lawon.
They start playing what if the final 3 was Kalia, POrsche and Jordan. rachel is sure POrsche would of won the the endurance comp so the 2nd HOH would of been Kalia Vs Jordan, Rachel: "So the final HOH would be Kalia Vs Porsche.. Do you think Kalia would take you to the final 2" Porsche is unsure she thinks she would. Rachel: "No offense but there is no way Kalia would have taken her to the end" Adam agress he thinks Kalia would think JOrdan is a safe bet. Porsche disagrees she thinks Jordan would of won in finale 3 against Kalia. ( I 100% agree)
Adam walks away for a couple seconds comes back and Rachel starts joking around like her and Prosche are talking MAD game. Rachel: "Don't tell adam but last night I opened Pandora's Box and we get to play in a luxury competition in the HOH room.. but I can only brings ONe person".. She looks up and sees Adam right in front of her, "Ohh HI Adam… " Adam chuckles.
4:24pm Rachel is saying that Cassi looks perfect but adds her personality wasn't, Porsche agrees she looked perfected. They both however didn't really get along with cassi and felt that she wasn't nice to them. Adam liked Cassi he thinks she was more a guys girl.
They all start joking about next years cast how there will be one player like Porsche and Adam. Adam: "There will be a fat hairy guy that'll say I love Shannon Doherty". POrsche never thought she was going to be remembered but I guess she made it to final 3. Adam thinks they will be remembered he points out that they are on 3 days a week and all the feed watchers are seeing them.
5:20pm Final 3 playing cards
5:40pm HOH COMP underway
7:08pm HOH COmp underway
7:35pm HOH COmp underway
8:00pm HOH COmp underway
WATCH the last few days of Big Brother 13 for FREE!
Click here for your: SUPERPASS – 3 DAY Trial!