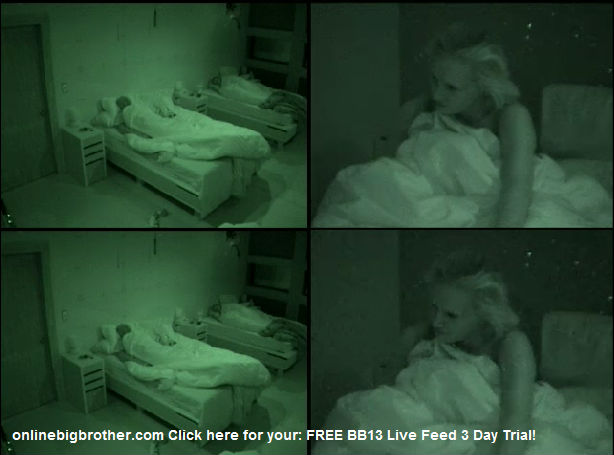 10am – 10:45am There is a banging noise coming from behind the walls. The houseguests wake up and wonder what they could be doing behind the walls. Big Brother cuts the live feeds. When they come back, The lights are still off and the houseguests are awake talking in bed. Rachel asks Adam and Porsche if they are going to get to James's party after the finale. Adam says most likely. Porsche says that she will be going. They talk about Chelsia Hart from BB9 and how she does hosting and works for RealPlayer. Adam says that he is surprised that they didn't hear him during his interviews because he was yelling and screaming. Porsche realizes that Kalia was messed up on the information she was studying. Porsche says that she should have studied by herself. They talk about how there are only 4 days left. They joke about how there should be a Big Brother alarm clock that says a different wake up message every time you hit snooze. Rachel says that America probably would rather be watching the jury house, finding out about Dani, Jeff, and Shelly. Adam says that what really pisses me off is that Shelly was so mad that I was having doubts about her …when the whole time she was telling Jeff that she had doubts about me. Adam says that he thinks Shelly is America's player. Rachel says that he is probably right. They wonder if she was America's player if she would tell the jury members or wait till finale night. Adam at first thinks that she wouldn't be able to tell them but Rachel questions why not and Adam says he doesn't know.. They continue to talk about past events and competition's of the house. They all go back to sleep..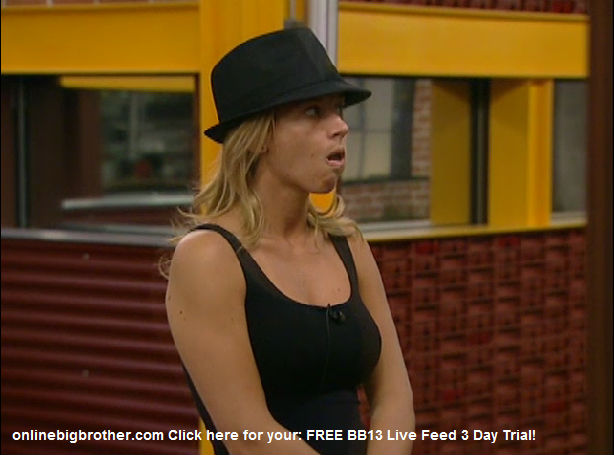 11am – 11:20am Big Brother wakes up the houseguests. When the live feeds return, Adam and Porsche are in the kitchen making breakfast and Rachel is in the bathroom getting ready for the day. Rachel says only 4 more days … and on the fourth day we are going to spend like 3 hours getting ready ..right Porsche? Porsche says right. Adam says I'll take 20 minutes. Porsche says Big Brother you see how much Adam studies the memory wall …are you really going to give that to him?! Adam says that he just hopes they mash up me and Dick! Rachel says that is something they might do .. because you both smile with your eyes. Rachel says you know who is the hottest guy in the world? Adam says Dick! Rachel says no .. BRENDON!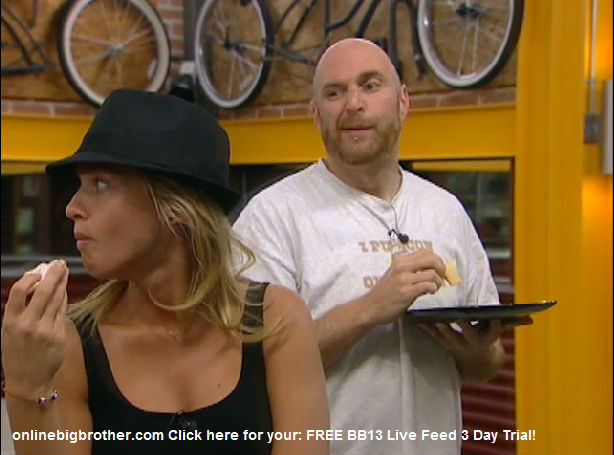 11:25am – 11:50am Porsche gets called to the diary room. Rachel and Adam talk about how beautiful Julie Chen is. Rachel asks Adam if he is nervous. Adam says yes to a point he is, but that he feels he knows it's do or die. I just think of this as a half million dollar game and I can't do that. Rachel tells him that he has to win this one. Adam says that he lays in bed and visualizes the memory wall photos. Adam starts describing the differences between the houseguests photos. Rachel says that she thinks he will do fine. Adam says that he just can't get nervous if he gets one wrong. Rachel says I think you got this one ..stay focused. Adam starts playing solitaire while Rachel cooks breakfast. Rachel asks Adam if he thought about who he would bring if he wins… Adam says yes… are you trying to get me to say something. Rachel says no ..it's your life. Adam says that he doesn't want to think about that because there is still a long way to go.. but most importantly is getting to the point where I get to the point where I get to pick. Adam says it is almost better that I didn't win the first part because then you get cocky and lazy. Rachel asks am I cocky?! Adam says no .. that's just how I would be.. Adam gets called to the diary room. Porsche joins Rachel in the kitchen. Rachel tells Porsche that she asked Adam about if he had thought about who he would take. Porsche tells Rachel that she needs to win the final part because if she doesn't Adam has a good argument to win this… Rachel says that she is just nervous because she doesn't know what the final part will be like. Porsche tells her to think about what the other houseguests would say and do. Porsche starts studying the winners of HOH and POV's this season. She starts messing up right from the beginning.. Porsche says what the BLANK this is the Adam show .. why did I protect and keep him all season. Porsche questions why they kept Adam over Shelly. Rachel says getting rid of Shelly was still a good idea. Porsche says the only way Adam would get $50,000 is if he wins this part 2 and next, votes you out and then you and Brendon vote for me. Rahcel says so how about you just win today ..that would make it so much easier. Porsche says I know.. Porsche and Rachel both say it would suck so much to go out third. Rachel says the last few years America's player has been the fourth one out. Rachel and Porshce think Jordan might get it. Porsche leaves to go read the bible.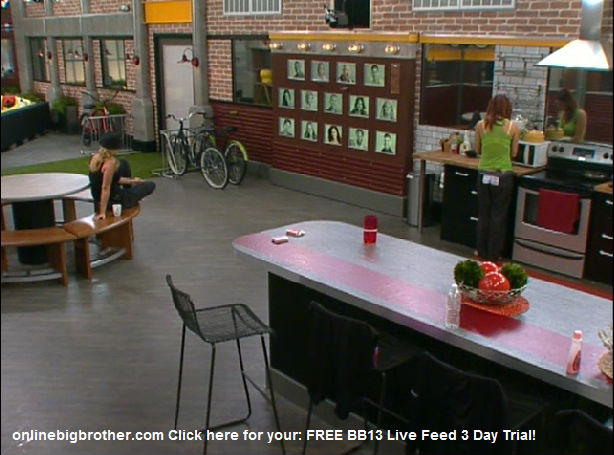 11:50am Rachel gets called to the diary room. Rachel asks Adam what do they want with me… I'm not even playing. Adam says they'll asks so how does it feel to not be playing?! Rachel says well according to Adam I have gotten a little cocky and confident. Adam says I never said that … that's how I would have been if I won the first part. Rachel heads into the diary room. Adam starts playing solitaire.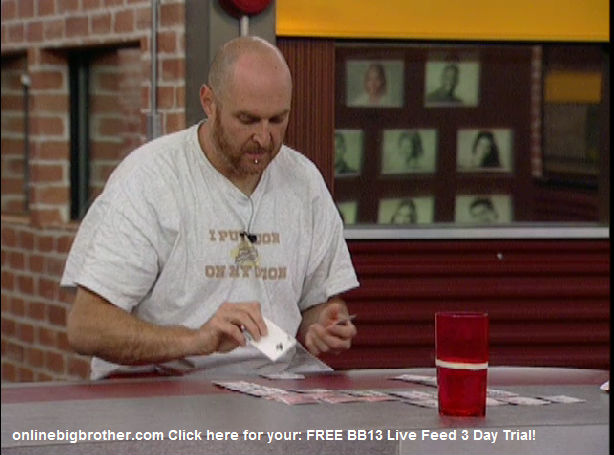 12:10pm – 12:35pm Adam continues playing his solitaire game. Rachel is in the candy room reading the bible. Porsche joins her in the candy room and starts reading her bible. Porsche is studying the dates of the events of the house using her bible. Rachel and Porsche talk about past competitions. Porsche hopes that the competition will be totally different to anything they have seen before. Rachel says the mixed one was totally different. Porsche disagrees and says that it was a lot like the ski competition. Rachel and Porche talk about how they lasted so long on the mixer competition. Rachel says that last year the second HOH was faces …they have done that a number of years and it's a good chance it could be again…. or mash ups. Rachel says that in Dick and Dani's season they had to swim under water and build a puzzle. Adam Joins them. They all talk about past competitions that big brother had for the final HOH competitions. They think it might be something extravagant because they have been building it for hours. They talk about how in part 2 of Boogies season he won a car.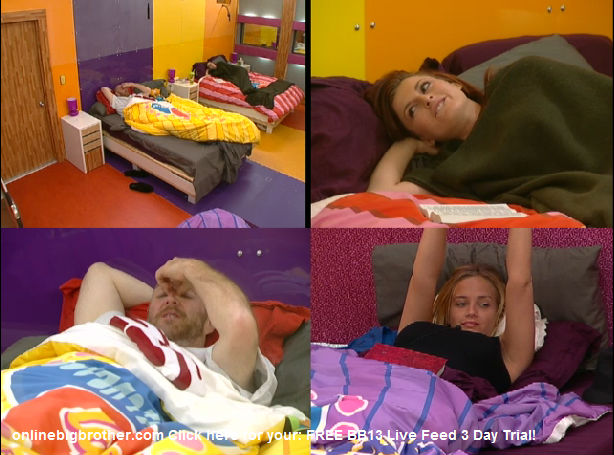 12:40pm – 1:10pm Porsche tells Adam if he lets her win part 2 …she will give him the car. Porsche says I know you need a car. Adam says I don't know what kind of car it is. Porsche says okay if I win I will buy you a camaro. Adam says we have a witness. They start talking about the taxes they will pay on their winnings. Adam says so what is this rumour about the vets getting paid more in their stipend. Adam tells Porsche that he will give Porsche his entire stipend if she lets him win today. Porsche says I will let you now after I win today. Porsche says she will give Adam her stipend and her $5 G's if he lets her win today. Adam says she wouldn't appreciate it as much if he did that. They continue to talk and joke about random stuff and past events that happened in the house.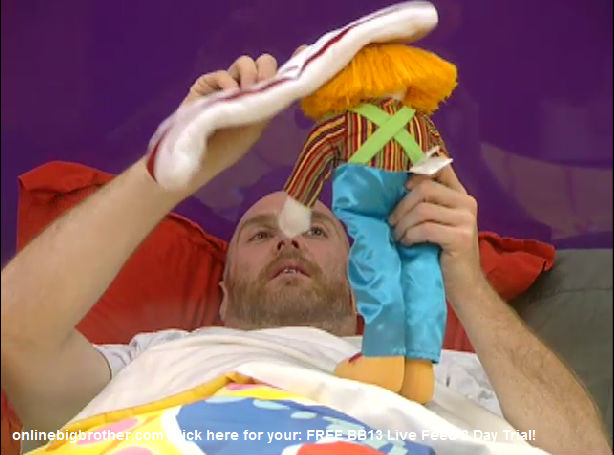 1:20pm – 1:30pm The houseguests continue to talk about random stuff. Porsche is stretching on the floor. Porsche asks Adam if he won $500,000 would he still try and meet Tori Spelling. Adam says that if he hadn't met her and won …yes he would still try and meet her. Rachel starts playing solitaire. They're now talking about massages.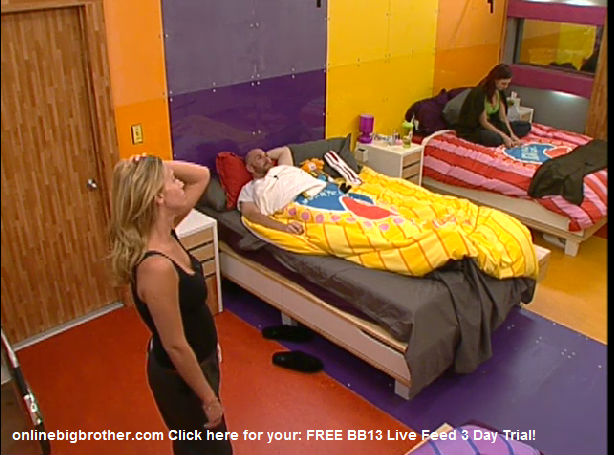 1:35pm – 2pm Adam says that he can't believe that Kalia's last ditch effort for me to save her was to tell me that she hid the things in the house and knew where they things were. Rachel starts talking about how Shelly stole her beanie dog and doesn't understand why. They talk about random stuff and past comps.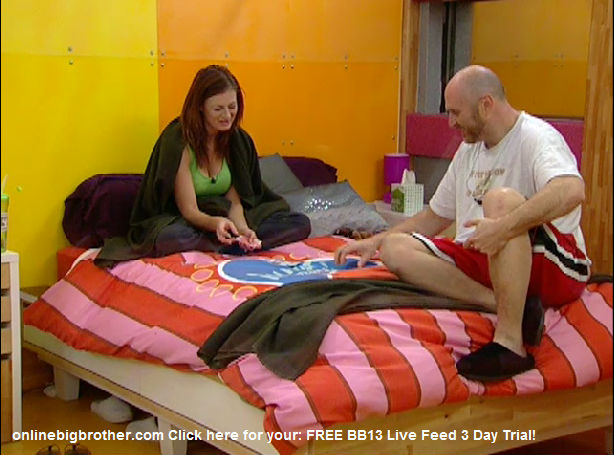 2:05pm – 2:30pm Adam, Rachel and Porsche talk about the fight between Shelly and Jordan. Rachel says that she is waiting for the music to start! Rachel wonders if the backyard will be open tonight. Porsche says yeah .. then four days of doing nothing.. just campaigning. Adam and Rachel play a card game together.
2:35pm – 2:45pm Porsche asks what time it is.. Adam tells her about 2:30pm. Rachel says don't worry before you know it …it will be here. Porsche says she hopes she wakes up and she has already won. Adam says he'll wake her up when he has won it. Rachel and Adam finish up their game of war. Adam says that he is going to go take a shower. Porsche asks him to tell her what time it is before he takes his shower. Adam says that he will scream it. Adam checks and then walks back and tells her that it is 2:38pm. They were told part 2 will happen late afternoon …so they think it will be between 4 and 5pm. Rachel decides to put on fake nails since she won't be competing in any more physical competitions.