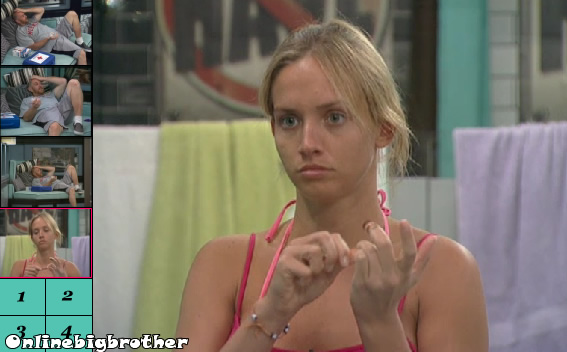 8:24pm Bathroom They are talking about how tuf the comp was. Adam mentions something about having to hold his breathe and he was struggling.
Porsche and Adam start talking about having to swim and five down to get names and bring them up.
Adam asks them "Who wants to take me to Final 2?"
Adam: "Take me to final 2 and I promise to throw the money to you" POrsche and Rachel laugh.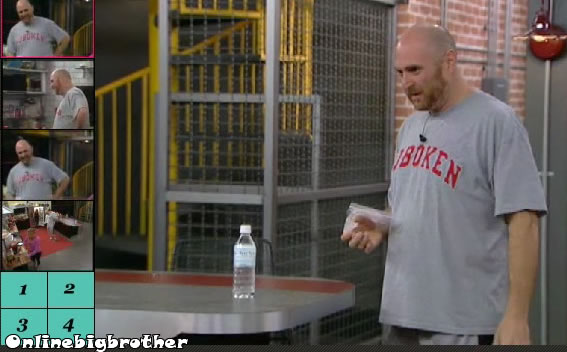 8:35pm final 3 kitchen From the sounds of it the comp was very tough Adam's hand is all messed up. Adam: "Who comes up with these BLANK games" Rachel: "Miko"
Adam and Prosche both mention that once they found out it was a water comp they started to practice controlling their breathing. The comp took a long time.
Adam tells the girls that he can't even use a door knob because of his hurt hand. (he's icing it and it looks to be in a splint)
8:47pm Adam is saying that Jeff would of done really well at the comp because he can hold his breathe for a long time. Rachel brings up Brendon would to awesome because he's a swimmer. (Brendon needs to go on survivor)
8:50pm Porsche tells Adam that she was bleeding earlier and wanted to clean up her blood because she didn't want Adam to see it and freak out. (I Think Porsche went first in the comp)
Adam: "Well that's the last physical competition of the summer"
rachel: "So we think"
Porsche: "No.. that's what Miko said"
Rachle: "oh he did…" Feeds cut.
8:54pm Cheers final 3 Adam: "You girls are beasts and I mean that in a good way" Porsche and Rachel say thanks. (Looks like the houseguests are drinking tonight)
WATCH the last few days of Big Brother 13 for FREE!
Click here for your: SUPERPASS – 3 DAY Trial!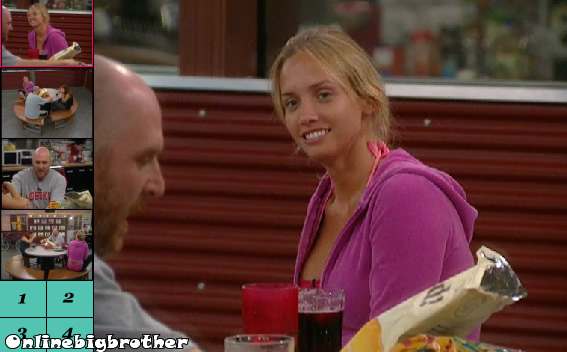 9:00pm Adam thinks out of the newbs Him, Porsche, Kalia and Dom could be asked back for All Stars.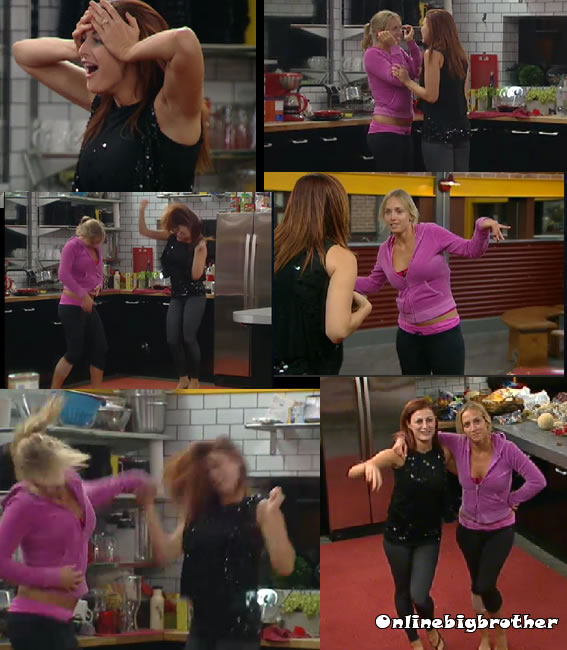 9:30pm Porsche and Rachel celebrate. They agree winner takes their plus one on a Mexican vacation.
Porsche says she doesn't feel sorry for Adam.. He already got a lot this season, she mentions Tori Spelling. Prosche and Rachel both agree Adam is a Great Guy just shouldn't be in the final 2. POrsche says when she saw it was something to do with holding your breathe she knew she had a chance to beat Adam. She went 100%. Porsche says that after she was done she felt like she did her best and knew if Adam beat her he deserves it, "That BLANK was Hard.. " Rachel agrees says it sounded like a very tough competition. Both the girls are excited dancing around. (Adam is in the DR BTW)
(Looks like RP final 2 is a given)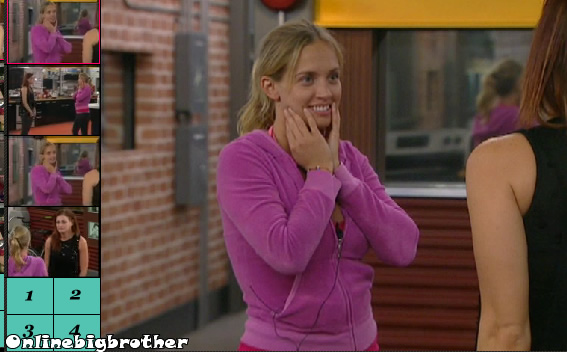 9:51pm They are trying to justify Adam going home. rachel thinks he's already had a good season. she says it was the Adam show, Porsche mentions that Adam will probably win America's player. rachel Agrees, she adds that out of the newbs he'll win America's Player. Porsche thinks it'll be America's favorite Newbie.
9:53pm Adam comes back tells them there is a chance they will get let out tonight.
10:10pm Adam and Rachel Rachel tells Adam he did a good job in the comp. Adam: "I tell ya throwing those BLANK goggles… It took be a good minute to go grab them.. still I wouldn't of beaten her"
Adam: "That comp just cost me 50 or 500K.. Your not going to take me right.. you can tell me"
Rachel: "I mean.. Dead honest i've made a deal with Prosche to make it to the final 2.. I'm scared because if I take Porsche she could beat me" Adam tells her if She wins final HOH and doesn't take him to the final 2 he'll still vote for her. Rachel says she's been a target all year and has had to fight every week. Adam knows she's been a strong player, He mentions that if Porsche wins the final HOH he may vote for her because he feels the final HOH is the most important. Rachel says she has a final 2 with Porsche. Adam understands. Adam is hoping he wins America's choice, he feels he played a honest game and the fans will hopefully see that. Adam says he cool with rachel and POrsche making it to final 2 he's going to get a bit "Soby" but he'll be alright. Adam knew he had to win one of the HOH's and he didn't.
10:40pm Adam and POrsche Adam is sucking up to Porsche, he's giving her a summary of his game this season and how he was Loyal to JJ but not so loyal to Rachel. Adam brings up how Jeff didn't like Porsche because he felt that she didn't deserve to be in the game. Porsche doesn't think that is fair because she had the gold key for the first 4 weeks, She was stil in their alliance but she couldn't play in comps.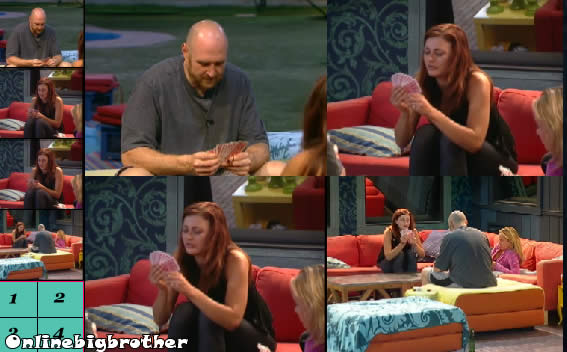 11:32pm Cards final 3
Adam: "Just telling you I'm the deciding vote but if you take me to final 2 I'll throw the win to you"
12:19AM Rachel and Prosche backyard.. Rachel says she told ADam she's taking Porsche to the final 2. Then she felt bad and told him she's still unsure. Adam comes back anf they go back to playing cards.