POV Holder:
Christine
Next POV
March 5th
POV Used
No
POV Ceremony
March 7th
HOH Winner:
Jared
Next HOH:
March 10th
Original Nominations:
Loveita and Sharry
Current Nominations:
Loveita and Sharry
Last Evicted Houseguest
Paige
Have Nots
Loveita, Sharry, Joel, Cassandra
Use the Hide My Ass VPN and watch the live feeds on your mobile phones and tablets. One subscription pays for all. It works on any device. Including internet enabled TVs and games consoles. You can even use it on two devices at the same time. HideMyAss VPN
ALLIANCES IN THE HOUSE
There will likely be a lot of alliances during the season – keep track with our alliance help guide.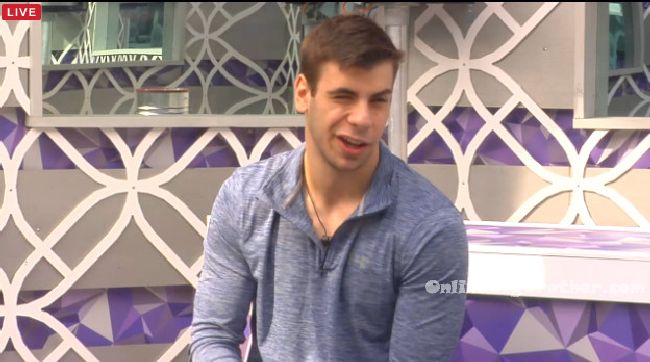 10:30am Mitch and Nick are talking in the hot tub room. Mitch says if the 7 of us can just stick together. That would be so good to stick together till at least jury. Nick says I would be so happy if one of the 7 won too. Nick says I feel like if you cross Tim or someone he's close to that he would ..I feel like Tim is kind of a robin hood in a way. Jared, Phil and Dallas join them.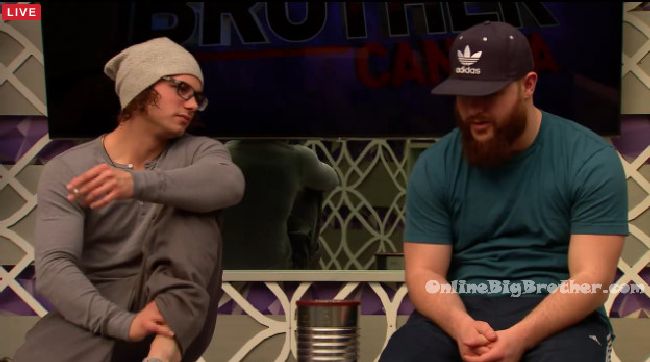 10:45am Tim, Cassandra and Nikki are talking by the pool. Cassandra thinks this next HOH will be an endruance. Nikki says that they had an endurance on the UK season and she lasted 7 minutes while others lasted 14 hours. Cassandra says I wonder if there's a secret room behind the jackpot sign. Tim says yeah! Cassandra says but the only way to get to it is through the HOH bathroom. Loveita joins them and says that she's said what she need to say and doesn't want to shove it down people throats. Cassandra says that up until last night it was Loveita going but they all switched their vote.

11am In the Kitchen –
Maddy says that Kelsey definitely has to go! She's a manipulator and f**king with everyone. She's manipulation everyone. That can't happen. She's rubbing up on everyone's head, tickling their back. Ramsey says she offered me a little d**k massage. Maddy says I bet she did! Dallas asks Maddy? Ramsey nods. Ramsey says she said if I win HOH, she'll give me a d**k massage. Dallas says I'm not calling your bluff on that one.
11:15am – 11:20am HOH room – Kelsey says that she went out to the hot tub room where all the guys were and they think we should vote Sharry out and B they think we need to get Dallas out. Christine says well Dallas isn't an option. Kelsey says no moving forward. Kelsey says that Loveita asked if we could hang out today. We do you have to ask, why can't it just happen. Kelsey complains about how Loveita keeps talking about what happened. We already had this conversation a million times. Jared joins them. Kelsey explains how when Loveita sits down I have this feeling that I want to leave and Mitch said that's exactly why we need to keep her. Everyone has that same feeling. Kelsey and Cassandra head to the bedroom.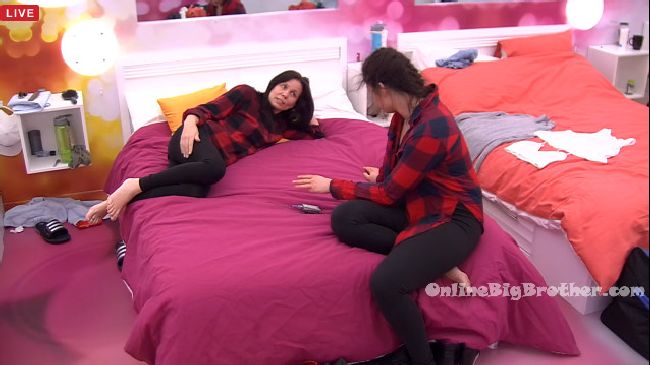 11:30am Bedroom – Cassandra says sh*t they're annoying! (Loveita and Sharry) Christine says I think they understand they're annoying and will change their ways which scares me. Cassandra asks who should I vote out? Christine says I don't know, they're all voting out Sharry. Cassandra says I could convince them to go the other way, they're all so on the fence. They're so easily persuaded Its scary. Christine says I think between you and me we could manipulate this whole house because we're the smartest ones because we can figure out peoples emotions. I think we should wait till the last minute and then convince them of what we what. Cassandra says Sharry is with Dallas and Maddy. Loveita is jsut with Sharry. Christine asks do you think without Sharry will start sucking on Loveita's t!ts? Cassandra says Loveita is sucking on my t!ts. Cassandra says Dallas has to go. They both agree to never be too comfortable. Cassandra says that Nikki said she would put up Dallas if she wins. Tim said if he could he would give HOH to Nikki because he doesn't want blood on his hands.
11:50am 1HOH room – Jared tells Ramsey that you and me not clashing is better for my game. Jared asks who is your biggest threat in the game? Ramsey says at first I thought Raul but now I don't think that. Ramsey says if it had to come down to it I would put Cassandra up because for some reason she feels threatened by me. Jared says yeah thats coming from the first week. Ramsey tells Jared he truly doesn't feel threatened by him. Jared says those people because they're my friends I can tell you they don't feel threatened by you. Ramsey asks honestly? Jared says the group has never brought your name up other than we should hang out more. Ramsey says wow. Jared says that he likes the brothers but I see what they're doing. They're just coasting through until they can say guess what suckers we're two people now. I like them but I know what's going to happen. Jared says I personally think we should go after Loveita. Kelsey joins them. Ramsey says I can definitely tell you that Loveita has it out for you guys.

Hot Tub room – Maddy and Dallas are talk about who to put up. Maddy says we have to put up two strong people. Like the brothers. Dallas says that's only one person. If we put up two strong people one is coming off and coming after me. Jared, Kelsey and Raul join Dallas and Maddy. Dallas says there are two people that I think would absolutely go up Ramsey and Nick/Phil. Nothing against the brothers but they're going to split up and become two. Kelsey and Raul head inside. Jared asks what are we going to do? Dallas says I think we need to get rid of Sharry. Jared says he thinks Loveita is coming after him. Either way I would want them to go back up on the block.
12:15pm HOH room – Kelsey says we need to let them think we want Loveita out and then on the day of we'll switch and vote out Sharry. That way we can tell Loveita we voted to keep her and those 3 (Ramsey, Maddy and Dallas) voted her out. (Dallas and Maddy have said they want Sharry out so her plan isn't going to work.) Kelsey says If Ramsey wants you to do anything, you do the opposite. In our group we decided we want Sharry out. When Dallas and Maddy start talking about wanting the brothers out I agree with them but I don't. I want Dallas out. Kelsey goes to tell Cass her plan. She heads to the bedroom and tells Nick, Tim and Cassandra the plan.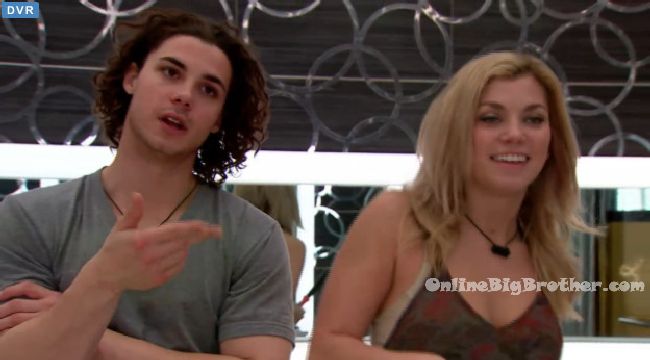 Kelsey then heads to the HOH room and tells Jared her plan. Jared says I think we should just let things happen. Jared says we already shoved two knives in this girl, do you think she is going to be all buddy buddy. Kelsey disagrees and thinks if her friends vote her out, she'll come to us and go after them. Jared says he doesn't agree with the plan but says if you want to do it, then go for it. Kelsey says I just feel like a mastermind genius right now! Kelsey says you need to know that Sharry is coming for us as well. Jared says Loveita will come directly after us and Sharry won't. Kelsey says you can just be the beauty and I'll be the brains. Jared says you're over thinking things.
In the storage room – Dallas tells Jared that if you want me to vote out Loveita, then that's what I'll do. And you have my word on it. Jared says that everyone keeps changing their minds right now so I don't even know.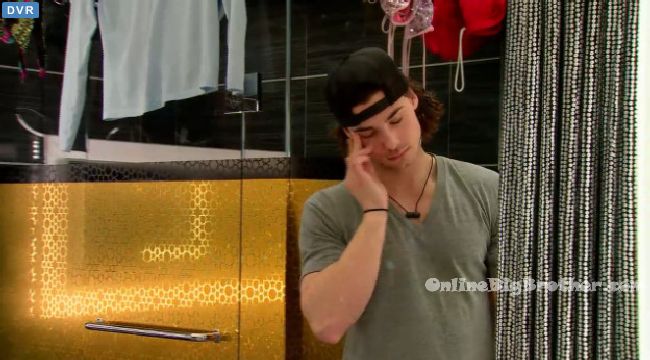 Want to watch the Big Brother Canada 4 live feeds but live outside of Canada?
Bypass the geoblocking with HideMyAss VPN and be Canadian Anywhere: VPN Help Guide
If you're using an Adblocker, you're making a kitten cry! PLEASE consider disabling it for www.onlinebigbrother.com by adding us to your whitelist.
This is very easy to do: simply load www.onlinebigbrother.com in your browser, left click the adblocker and click "disable for this site"
If don't want to but want to stop the kittens from crying, please consider making a donation.