POV Holder:

1

?
Next POV
March 5th
POV Used
christine
POV Ceremony
March 7th
HOH Winner:
Jared
Next HOH:
March 10th
Original Nominations:
?
Current Nominations:
Loveita and Sharry
Last Evicted Houseguest
Paige
Have Nots
Loveita, Sharry, Joel, Cassandra
Want to watch the Big Brother Canada 4 live feeds but live outside of Canada?
Bypass the geoblocking with HideMyAss VPN and be Canadian Anywhere: VPN Help Guide
ALLIANCES IN THE HOUSE
There will likely be a lot of alliances during the season – keep track with our alliance help guide.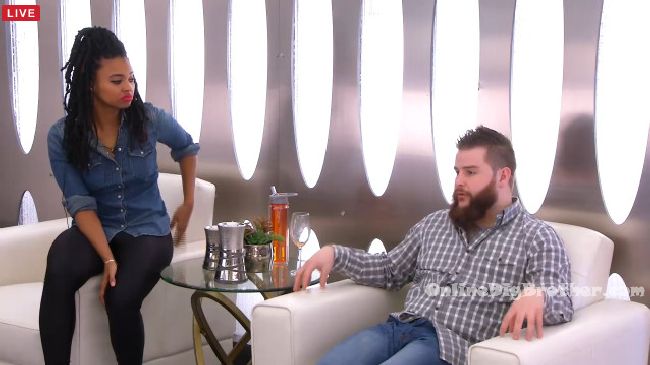 12:40pm By the high roller room door – Sharry and Dallas are talking. Sharry asks him who he thinks is playing the best game. Dallas says Jared because he's always at the top tier in every competition, he's respected by all the house guests. Dallas says in my eye's if I get HOH next week Ramsey is going up. I can tell you if you're here next week, you're alright. Dallas says that he would put up the brother's (Nick & Phil) with Ramsey. That's as it stands right now but that could change in a matter of seconds. I was thrown under the bus so from now I'm playing by myself. What we did right here completely took the eyes of the foreigners. Sharry says I don't want any type of intimidation factor being used to scare people. Dallas says I don't think intimidation is the way to go. Sharry says I want there to be a power shift. If the house could come together and cause a power shift .. I think it could be good for all of us. Dallas tells Sharry if you continue to be with Ramsey, that's completely up to you. I understand but I cant be involved with that. Sharry says there is more of us than there is of them.

Maddy tells Sharry if she wins HOH next week she would put up Raul and Jared. Either way one of them goes. Once we split there's only 2 left. Then Cassandra would shift. Sharry says I don't want to go. It would be different if I did something really bad. Sharry says I feel so bad that I wasn't up there to protect Dallas and Ramsey. I want a power shift to start picking them off.


12:50pm The backyard opens up.

1:30pm Kelsey and Dallas talk things out. Dallas says my targets are going to be clear cut. No more pu$$y footing around is what I'm trying to say.
1:30pm – 2pm In the bedroom – Cassandra and Loveita are talking. Loveita is trying to convince Cassandra to make a final 4 deal with Sharry and Christine so that Christine will use the Veto. Then get Jared to nominate Dallas as the replacement. Cassandra says it could be a really good idea. Dallas is so unpredictable. You know how you have a good relationship with Joel, I have a good relationship with Christine. Loveita says if its me and Sharr on the block, I don't want to be here. If Christine wants to secure her safety in this game she will use it if we convince her we have the number. She's not afraid to use it, she's not afraid of anyone. Loveita says I have nothing to lose at this point. Loveita says I know something about you. You need to pick your solid person you trust and stop asking people too many questions. I'm someone you can trust. Cassandra says I think its a good plan and I'm going to try and do it.

Ramsey teaches Raul how he prays. After Raul tells Ramsey that he found it peaceful, emotional. He thanked him for showing him.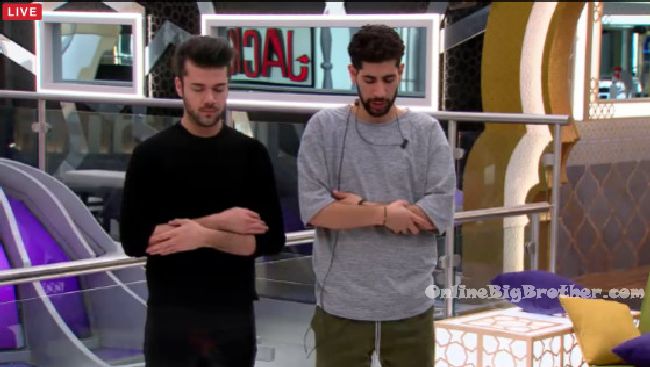 2pm Phil and Nikki start playing pool. Joel and Dallas are in the hot tub. Phil joins them. Phil asks if they care who stays or goes. They all agree that Christine wouldn't use the veto.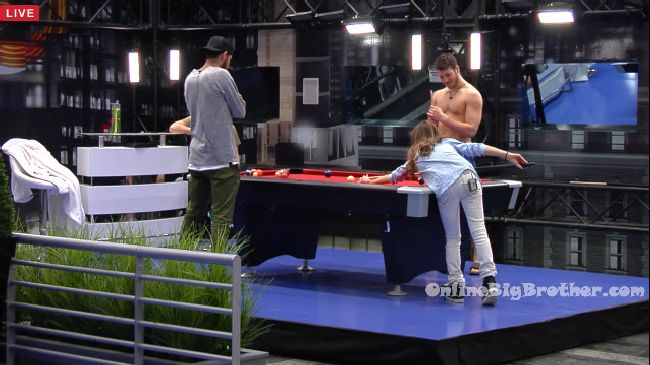 2:30pm HOH room Sharry tells Jared that the guilty by association is killing me. I know that we weren't voting in the same direction. A lot of this was that Loveita wasn't in a good place. Jared says that was the only way to explain putting you up is guilty by association. Sharry says I don't know what's going to happen but I don't want to go. Jared says everyone is back and forth. Pros and Cons to both. People see you stronger together. I really like you as a person. At this point its not me you need to be talking to. Sharry says I'm talking to you because you have a very large influence with everybody. Jared says can I keep this between you and I. I think people see Loveita really weak right now. You're the backbone to her. Sharry says so they vote me out. Jared says and then she's standing there like a lost puppy. I know you're standing up there with your friend but do you want to be known as a good friend or a good big brother player.
Use the Hide My Ass VPN and watch the live feeds on your mobile phones and tablets. One subscription pays for all. It works on any device. Including internet enabled TVs and games consoles. You can even use it on two devices at the same time. HideMyAss VPN
If you're using an Adblocker, you're making a kitten cry! PLEASE consider disabling it for www.onlinebigbrother.com by adding us to your whitelist.
This is very easy to do: simply load www.onlinebigbrother.com in your browser, left click the adblocker and click "disable for this site"
If don't want to but want to stop the kittens from crying, please consider making a donation.