POV Holder:

1

?
Next POV
March 5th
POV Used
christine
POV Ceremony
March 7th
HOH Winner:
Jared
Next HOH:
March 10th
Original Nominations:
?
Current Nominations:
Loveita and Sharry
Last Evicted Houseguest
Paige
Have Nots
Loveita, Sharry, Joel, Cassandra
Use the Hide My Ass VPN and watch the live feeds on your mobile phones and tablets. One subscription pays for all. It works on any device. Including internet enabled TVs and games consoles. You can even use it on two devices at the same time. HideMyAss VPN
ALLIANCES IN THE HOUSE
There will likely be a lot of alliances during the season – keep track with our alliance help guide.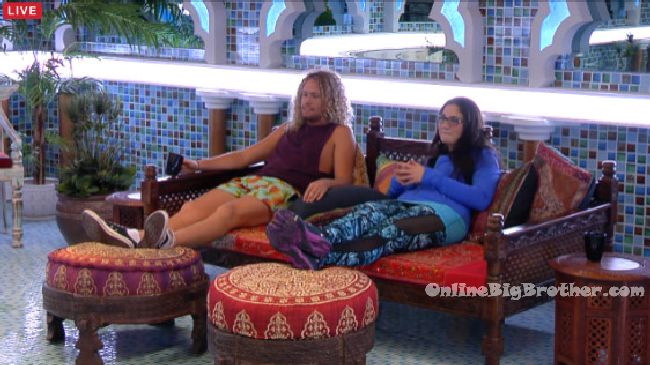 3:15pm By the pool – Tim and Cassandra are talking. Cassandra says I don't want to work with Dallas. And Raul is too emotional. Tim says Raul isn't going to change. Tim says Dallas out first and then Raul. Cassandra tells Tim that she had a conversation with Chirstine and she suggested you, me and her make an alliance. Tim says he likes Christine. She tells it like it is. She has no reason to lie. Phil joins them and and Tim changes the conversation to talking about how even playing on big brother Australia he didn't play to win he played for the thrill of it.
Big Brother blocks the feeds and when they return – The house guests comment on how its nice to know we don't have any bed bugs.

Cassandra talks to Joel and about voting out Sharry so that Loveita will have no one and have to work with us. Cassandra fills Joel in on the plan to try and get Christine to use the veto on Loveita. Joel doesn't know if it would work and warns her about being seen as the kingpin. Joel says he is thinking whether its too early or if its what would flip the game. Cassandra says that Dallas has to go. He's a bully and mean spirited. He has to go. Cassandra says if Jared does backdoor Dallas he would have to have the numbers to get him out. We would have the votes to get him out. Next week Tim has a vote and he would be useful to us. Cassandra asks do you think its in our best interest to get rid of Sharr or Dallas. Sharr would be loyal if we saved her. Dallas is unpredictable. Cassandra tells Joel she brought out the waterworks with Dallas to make him feel like sh*t. Joel brings up how Dallas told him he's going after Nick & Phil. Joel asks if he should go tell the brothers. Cassandra says not now. Hold on to that information. Wait until the brothers win HOH.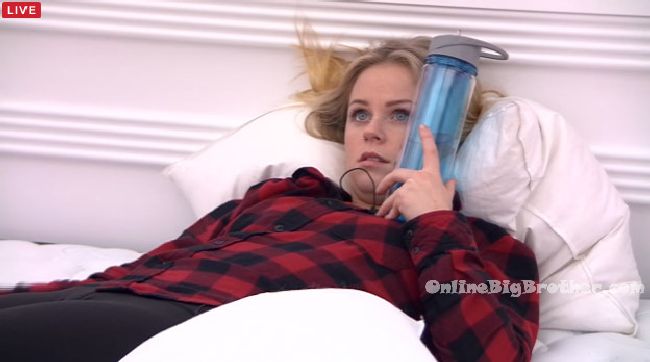 4:30pm Maddy asks Loveita if Chsitine is using the veto? Loveita says no, unless we convince her of a plan to use it. Maddy says if Christine uses the veto I am F**ked and I will 100% blame you and Sharr!

4:35pm – 4:55pm
Big Brother tells the house guests to go to the living room. House guests as you know Nikki and Tim are imume from eviction this week. The big brother announces: As you know they've lived like you and will cast a vote this week. After the announcement the house guests comment on if that was it?! Tim wonders if anyone has tried to buy votes before. I'll vote for you if you buy my vote. Tim tells Nikki if I vote for someone and you vote for the other, our votes cancel themselves out. Tim says then we could stay forever. Nikki says I think that's fantastic, I don't want to go back to the UK. I think that is a brilliant idea. Tim then says it won't work there are challenges that would make it not work. Like if one of us win HOH. Tim says its not that were disrespecting your game. Its a bit of a reality check.
Nikki & Tim will be voting this week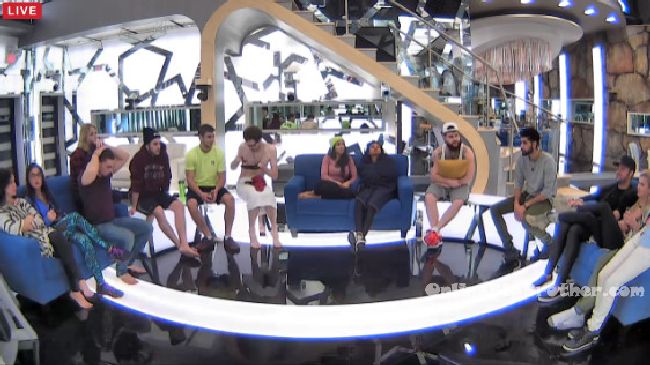 Cassandra tells Tim that she just asked Christine if she would consider using the veto and he said she won't. She hates those girls (Loveita & Sharry).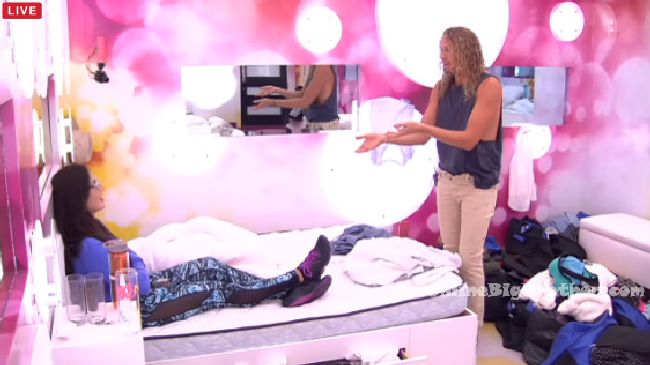 5:30pm HOH room –
Tim says you didn't take into consideration that we would be voting when you made those nominations. Jared says him that he should talk to both girls. Tim asks so you don't care if me and Nikki? Jared says no it doesn't matter to me. Absolutely not. Tim says we just didn't want to mess up any plans. Jared says not at all. Jared then reiterates what happened with exposing the 4th vote (Dallas). Nikki joins them. Tim tells Nikki that Jared doesn't care which one we vote for. Nikki says she doesn't want to be persuaded. Nikki says I know I'm not going to win. There's no chance. Tim says I don't want to go home with 100K of Canadian money, and Canada doesn't want that either. Tim says if someone stokes me enough, like gunning for me with a knife. Things might change. I kept an enemy around right till the end in my series. There has to be a yin and yang. Its boring otherwise.
5:50pm Bedroom – Loveita tries talking to Christine to get her to use the veto. Christine tells her that she can talk but it probably won't make a difference. Its probably a waste of time for you to try with me. Loveita asks do you know who you're voting for? Christine says no clue, its 50/50. Like I told Sharry.
6pm Bedroom – Christine tells Maddy "I think Phil tried to get it on with me last night. I asked him about it this morning and he said I thought I'd test the waters"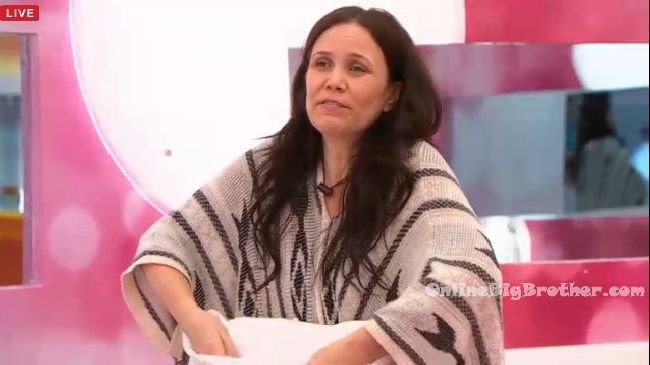 6:15pm Nikki warns Tim, Cassandra and Christine that she could hear Tim talking in the other bedroom. She tells him to be careful about how loud he talks.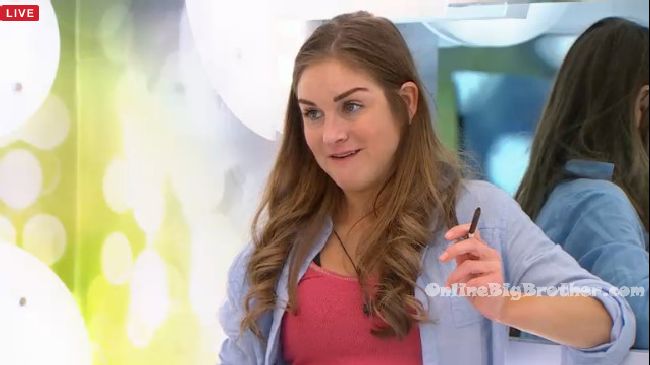 6:20pm – 6:25pm Sharr and Loveita talk game with Dallas in the kitchen.

Use the Hide My Ass VPN and watch the live feeds on your mobile phones and tablets. One subscription pays for all. It works on any device. Including internet enabled TVs and games consoles. You can even use it on two devices at the same time. HideMyAss VPN
If you're using an Adblocker, you're making a kitten cry! PLEASE consider disabling it for www.onlinebigbrother.com by adding us to your whitelist.
This is very easy to do: simply load www.onlinebigbrother.com in your browser, left click the adblocker and click "disable for this site"
If don't want to but want to stop the kittens from crying, please consider making a donation.