POV Holder:
Frankie
Next POV
Aug 16th
POV Used
Yes
POV Ceremony
Aug 18th
HOH Winner 1:
FRANKIE
HOH Winner 2:
Derrick
Battle of the Block Winner
Donny & Christine
Next HOH
Aug 21st
Original Nominations:
Derrick's Noms (Donny & Christine) Frankie's Noms (Caleb & Cody)
Final Nominations:
Zach & Cody
Have Nots
Christine & Victoria
POV Players
Cody, Caleb, Frankie, Victoria, Donny, Christine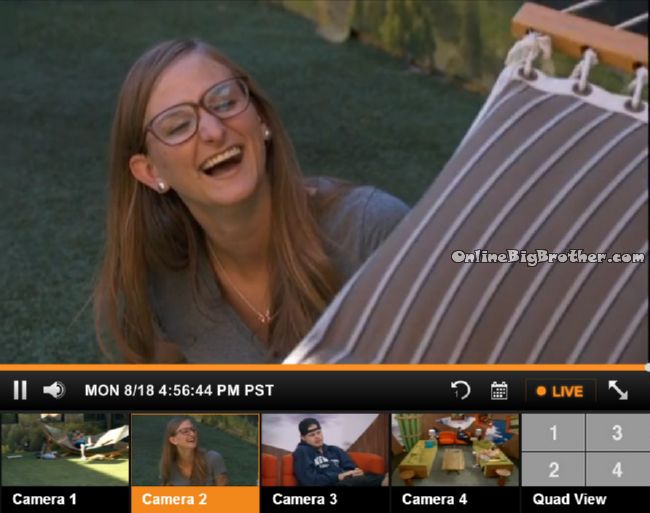 4:58pm Cody and Christine Hammock
Sharing stories Chit chatting.. not cuddling straight up chit chatting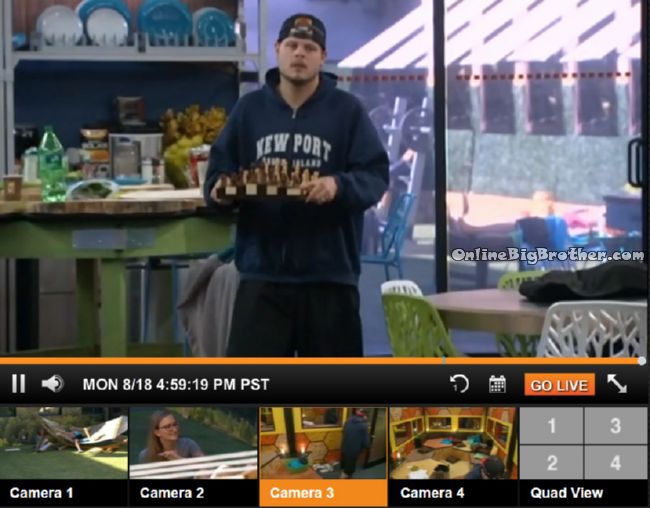 4:56pm
Derrick grabbed the chess set and sets it up in the living room so they can play chess during the watch. After checking with Production he finds out he can't.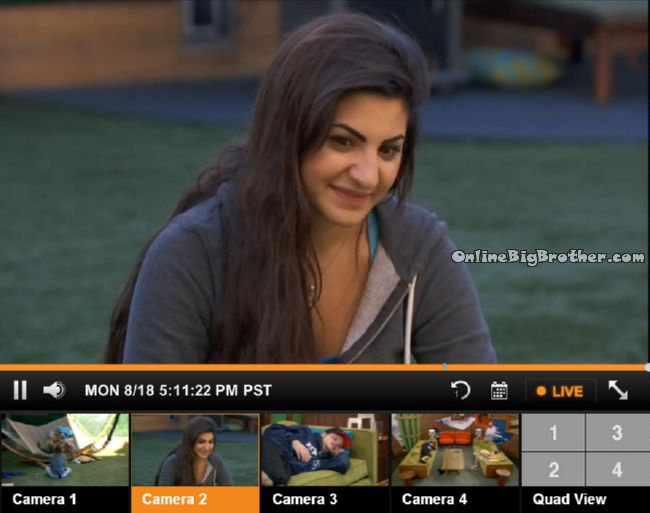 5:08pm Backyard Victoria and Frankie.
Frankie – We're all beasts here
Frankie – Donny is a BEAST 3 POV' a HOH and How many BOB's?
Cody and CHristine over on the hammock help them say he's won 2 BOB's
Frankie – So 6.. I thought it was more
Frankie says he's been trying to tell Zach things change week to week so you can't cling on what a person did weeks ago
frankie says the producers this season had no idea about the game. They never thought the BOB could be used like they used it.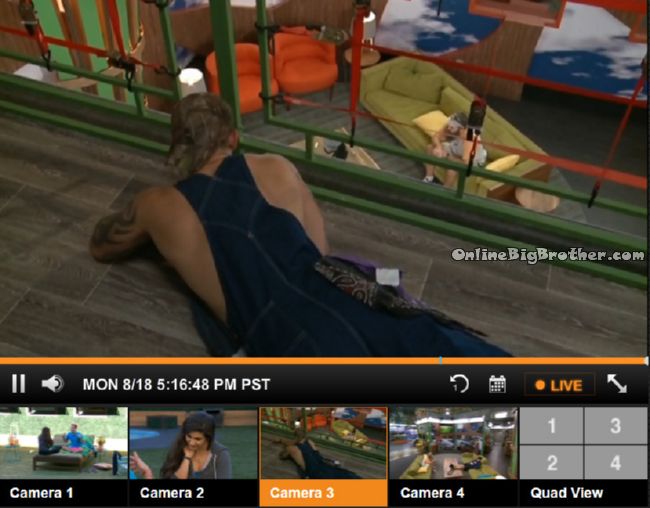 5:10pm Caleb listens in on Donny and Derrick talking in the living room while on the neighborhood watch. He doesn't hear anything of worth.
Caleb crawls downstairs
Derrick – Dude you think you're slick.. you're not slick bro
Caleb – What are you talking about
Derrick – you aint slick dude we're sitting here we could hear you creeping
Caleb – I just got out of the bathroom
Derrick – Ohh I know
Caleb – Are you kidding me..
Derrick – I am not kidding you .. alright bro
Caleb – I don't know what you're talking about.. you said you heard me creeping
Derrick – I didn't hear anything
Donny – I think you are just getting paranoid
Caleb – I literally just came out from pooping..
Donny calls Caleb Creep mode cowboy
The Live Feeds are archived. You can go back and watch everything that happens
Try It Free! Subscribe now to the official BB16 Live Feeds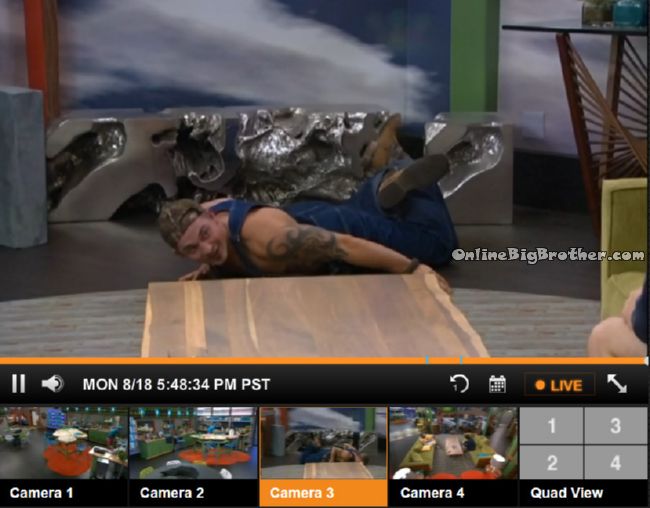 5:40pm
Derrick says he heard Caleb up there" You're a ninja.. hey if you are not going to own it I get it"
Caleb – I have no idea what you are talking about owning what
Donny – Creep Mode cowboy
Derrick we heard you creeping around up there
DOnny – you have your boots on
Caleb I had my boots on the entire time.
Derrick – You might be a good ninja but you're not a good liar.. CREEP MODE COWBOY hashtag that f***r"
Caleb admits to creeping.
Derrick says he wishes he knew Caleb was listening to them he would have said "F** beast mode Cowboy if I win HOH he's going up"
Caleb – I like to do that kind of stuff to see if I still got it
Derrick – you do
Derrick – this is the one I'm going to watch right here.. Creep mode cowboy
Caleb – how about Stealth mode Cowboy
Caleb gets on the floor and shows him how he was creeping, "I could see donny with my right eye.. "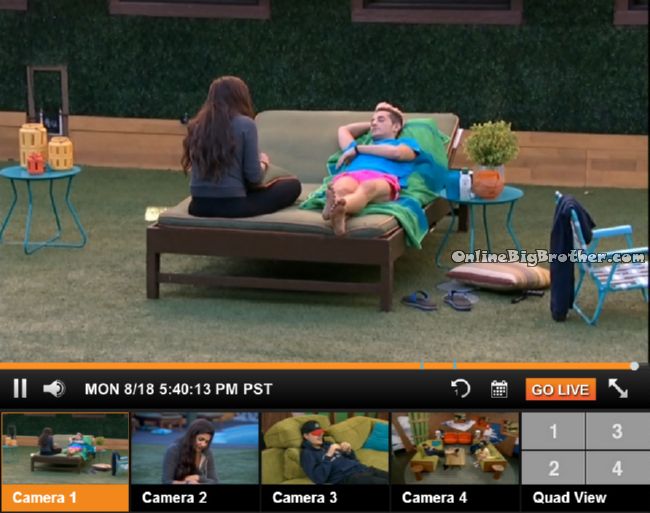 5:40pm Victoria and Frankie backyard
Frankie about zach
"you understand there is no more hope for your game so for you to attack us means you are attacking people you said that you loved. like there's people he said to me I really liked this person .. i'm like great then leave them the f*** alone..
Frankie – "Your game is over.. your game is done anything you say from this point further is now personal because you have no game left."
Frankie – "You are just trying to f** over people PEOPLE.. HUMAN BEINGS and their chance for providing for their families providing for themselves providing for KIDS for whatever it is"
Victoria – Whatever reason
Frankie – "you are just trying to hurt people personally because your game is done.. it is over you have no hope..  that's actually really good I'm going to use that if he tries.. that is exactly how I feel.. anything that comes out of his mouth right now is to personally hurt someone because there is no hope for his game.. NONE whatever.. all he wants to do is take people down with the ship and if that is what he wants to do he an evil spiteful shmuck "
Victoria says she doesn't feel like the best game player. Frankie feels the same.
Frankie says when he lost his grandfather he had to change the way he played the game "Made me aware of the humanity that was happening outside the house and how much I gave up to be here"
Victoria – Zach has attacked me so many times
Frankie – He says Horrible things
Frankie – I f***g hate her she's a waste of space, How'd she get on the show.. sh1t like that
Frankie – "He's laid off the women battery as of late.. I think he's realized it's not the best strategy.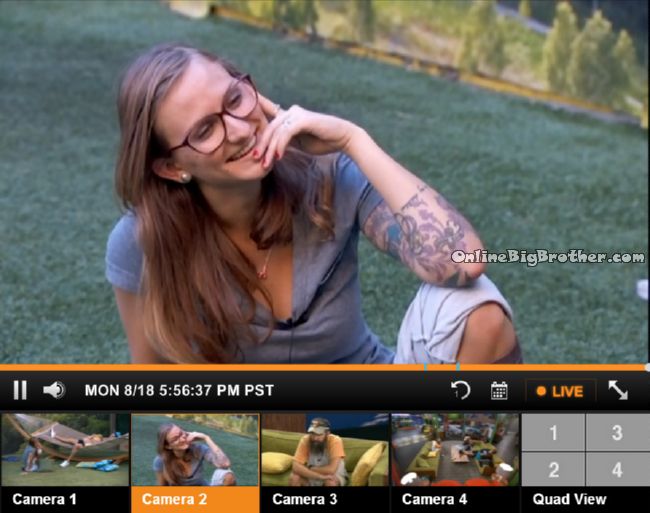 5:53pm Christine and Cody
Agreeing that the watch is stupid they don't want to do it anymore moments before Derrick was in the living room asking Frankie if he wants to go on the watch it's only been hm and DOnny.
Cody – I loved amber
Christine – That last week I liked her there was 4 things I didn't like that she did.
Christine says Amber was very full of herself it was hard to handle.
Christine – Brittany knew she was hot but she never talked about it..
Cody – She didn't
Christine – that is what made her even hotter
Christine says she makes an extra $50 a week from tips. They use it for date night, Bowling and dinner.
Cody wonders what their life will be like 4 weeks from now.
Christine – dear Jesus please don't let there be a buy back amen
Christine talks about her manager that doesn't believe in Jesus whenever he losses his keys she says Dear Jesus the next place he looks he'll find his keys if he finds it he becomes a believer . "He's the coolest manger on the planet.. he's the coolest guy on the planet"
Talk goes back to the patrol, CHristine "F patrol "
6:31pm Derrick and Christine on patrol 
Talking about their wedding. his wedding cost 18500 her wedding cost 2500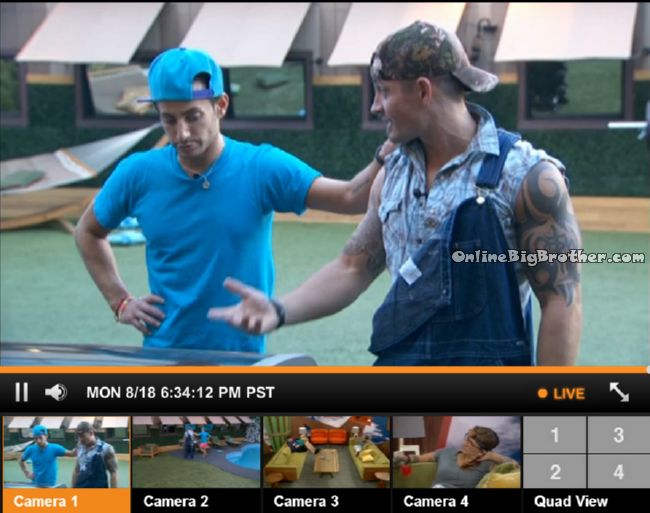 6:33pm BBQ Frankie and Caleb
Frankie – At this point he's hurting People his game is over
Caleb – from here on out i'm telling him Zach you're wasting your time
Frankie – All he's doing is hurting the people that got him this far.. he's hurting the people.. He's hurting my chances of helping the people I'm trying to help.. .. he's Hurting your chance at a better future, he's hurting Cody's chance for a better future, He's hurting Christine and her husband.
Frankie – he's not trying to help his game his is f*cked all he wants to do is hurt people that's not him.. I really don't think that's him.

Does Frankie have many BB fans?
Alliances
"The HITMEN" – Cody & Derrick
Team America = Donny, Derrick, Frankie
More polls here https://www.onlinebigbrother.com/big-brother-compendium/big-brother-16-polls/
[polldaddy poll=8244330]
[polldaddy poll=8248683]