POV Holder:
Kevin
Next POV
May 1st
POV Used
No
POV Ceremony
May 3rd
HOH Winner
Kevin
Next HOH
May 6th
Nominations:
Bobby and Brittnee
Have Nots
Zach, Bobby, Willow (Season slop pass)
POV Players
Kevin, Bobby, Ashleigh, Brittnee, Sarah, Pili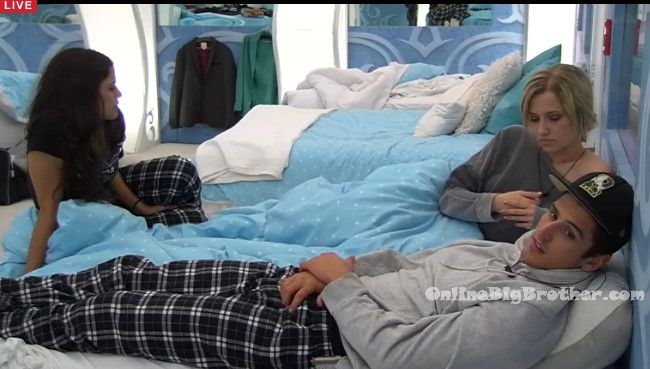 5:10pm Bedroom Diaper meeting- Zach, Pili, Ashleigh and Kevin are talking. Ashleigh says if it was an instant or something I would do B and Godfrey. Pili says yeah that's smart. Kevin asks what do you think about Sarah? Ash says she scares me a little bit. Kevin says she is pretty fixated on Bruno. Pili says that Sarah and B are really fixated on Bruno. Kevin says if we can get through this double then we will need to slug it out. Ash asks if they're so fixated on Bruno right now ..who will they fixate on once Bruno leaves? Probably the couples. Kevin says Bruno or Godfrey leaving on a double is so ideal for us. Ash says you know what we could do .. Pili and I could start acting sketched out. Zach says as much as we need Sarah gone .. if she won an HOH I don't know. Kevin says I think she would go after Godfrey & Bruno. Zach asks who should we nom tomorrow. If Bruno wins veto and pull God off that's a sh*tty situation. If we put God and Bruno up and God goes home. Bruno would be pissed at us and go to Sarah and B. Zach says it would be so great if Willow won this HOH… that would be so money. That would mean all 4 of us compete in the next. I don't trust Sarah and B enough to give them an HOH. Willow would totally do a god move. Ash says did you know Godfrey went up to Willow and said you guys were trying to start a guys alliance. Kevin says Godfrey is all over the map. Zach says he's a loner. Ash says if its an instant eviction I don't see any point in putting both Bruno & Godfrey up there ..pissing both of them off. Zach tells Kevin after this Double we start to implement the split between you and I. Zach says its totally a double tomorrow! Totally! 100% its a double tomorrow! F**king Double!
In the living room – Bruno, Bobby, Godfrey and Brittnee reminisce about JP's blindside eviction. Meanwhile up in the bathroom – Ashleigh, Sarah, Willow, Zach and Pili are talking about past relationships.
6pm In the kitchen – Bruno tells Godfrey if Bobby did stay you, me and him could run this house. Godfrey if we Bruno tells Godfrey its just me and you now. We have to stay tight. I won't turn on you. You're all I've got. Bruno asks do you trust Kevin? Godfrey says no .. not as far as I can throw him. Bruno says he knows he has to turn on Zach. Bruno says that Sarah told me that Kevin trust me and her the most … I'm like I haven't talked to Kevin in 46 days. Bruno says if Sarah wins I am 70% sure she will go after Zach because she wants to pull in Ash.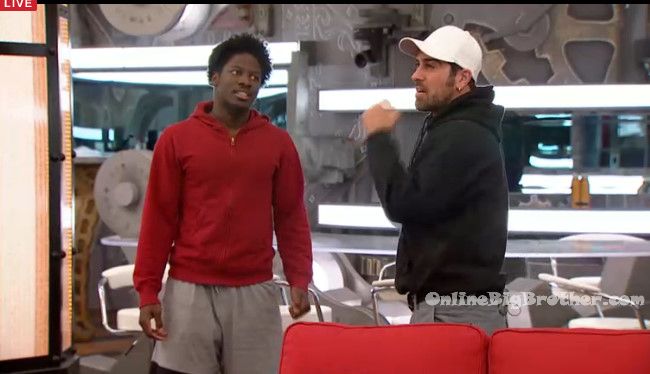 In the bedroom –
Willow gets reacts when Godfrey makes a comments about Pili's pants being able to fit Willow. Willow gets all excited. Everyone blows it out of proportion. Godfrey asks her if she's okay. Willow says that I was more joking around with you and everyone else turned it around to me being insecure.
6:40pm Sarah asks Big Brother for alcohol and says that if they give them some they will all wake up before the rooster for a week.

7pm – 7:15pm All the house guests are lazing around in the bedroom. Not much going on.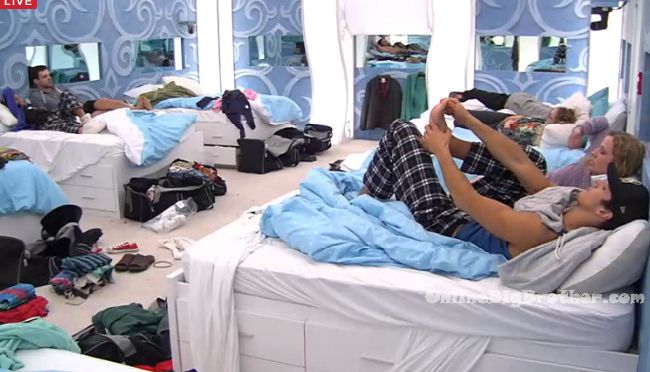 ]
If you're enjoying the live feed updates this season, please consider donating. Simon and I work 24/7 all season long to keep you updated on everything that happens inside the house. Any amount is greatly appreciated! Your donations go directly to paying the fees required to run this site. In addition to that if you're interested in other ways to help support the free content we provide – check out our How to support OnlineBigBrother.com page.
ALLIANCES IN THE HOUSE
There are always a lot of Alliance but we've tried to make sense of it all.. Read our alliance help guide
If you are outside Canada and want to watch the FREE Big Brother Canada Live feeds sign up for a VPN service here https://www.hidemyass.com/vpn/r16399/. It's safe to use, easy to set up, and cheap. Need to know more check out this post explaining how to set it up.
[polldaddy poll=8834825]