POV Holder:
?
Next POV
?
POV Used
?
POV Ceremony
?
HOH Winner
?
Next HOH
May 7th
Nominations:
?
Have Nots
Canada gets to vote
POV Players
?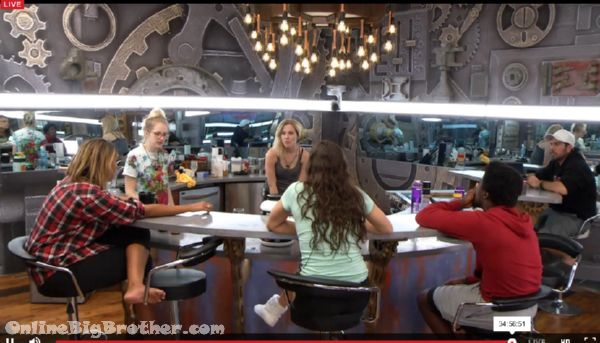 10:55pm Kitchen eating Chicken Chatting about the triple eviction
Zach says Bobby was a lot smarter than they thought. Bruno agrees says he was a genius. Sarah says Bobby was a math genius
Bruno says he knew Bobby didn't have the veto.
Zach – It's going top be so weird without Bobby, Willow and Kev.. so much quieter.
Godfrey says final 4 or final 5 they will have a instant eviction.
Sarah doesn't think they will have a double because it's so much work for production.
Bruno and Zach say they on "on pace" (Have enough players and weeks left)
Zach says Sindy coming back in for the third time would make a mockery of the show, "they would never do that.. as much as they want to make twists that would turn the show into a joke"
(everyone seems beat.. )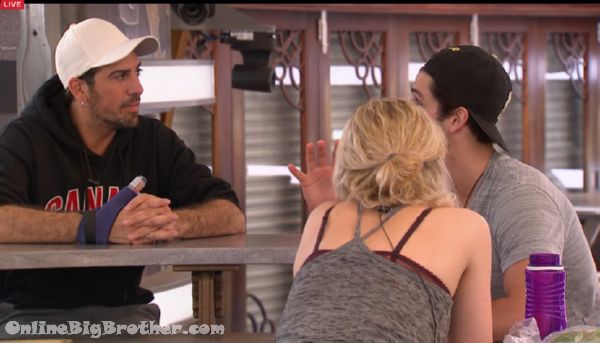 11:16pm Ash and Zach Kitchen
Zach – I can't believe i'm here right now
Ash – I can't believe you're here right now.. my brain is literally pooched
Zach says when he voted for Willow to stay people cheered he thought it was really loud.
Ash is confused why the guys never kept Kev.
Sarah told Zach she never thought anyone would vote for Willow otherwise she would have. She thought the 3 guys were voting for Kev. She thought Ashleigh was keeping Pili. She had a conversation with Godfrey she thought he might flip to keep pili
Zach – Sarah voted Pili thinking if there is any chance of getting Kev out is if God flips for Pili .. so then Godfrey flips to peels, AShleigh votes Peels and Sarah votes Peels
Zach – she thought the only chance of getting Kev out was to vote Peels
Bruno – ohh snap
Zach – she sent Willow home
Zach is going to make sure Pili knows this is why Sarah voted for her.
Ash – why didn't God vote with you guys
The guys thought he was to (Feeds cut)
Zach points out when Brittnee had that power Sarah was monitored all her conversations
Bruno – Sarah has got to go
Zach – 100%
Ashleigh – ya you're right
Ashleigh says she will put up God and Sarah
Zach – we're all playing POV now baby
Bruno – I win again i'm pulling you off.
Bruno says tomorrow's HOH Brittnee's not playing just Sarah.
AShleigh – Bruno have you been on the block.
Bruno – no
Ashleigh – me either.. you and me are the only ones.
ASh – did God tell you the way he voted
Bruno says they thought God was voting Willow but he changed it.
Bruno and Zach agree getting Willow out was the smart move
Zach – I feel bad for her
Bruno – I do not see things going on like this tonight.. you and Kevin on the block sitting ducks.
Feeds cut
Bruno telling Zach he shouldn't even be here that was "their" whole plan
Ashleigh says bruno was supposed to go up but he won the Veto.
Bruno – shits gotten real.. Bro don't forget that
Zach – i never will and with this HOh coming up .. it's not going to be a button one
Ashleigh – Endurance endurance endurance
AShleigh asks them if they will put Pili up if POV is played "I won't tell"
Bruno doesn't know they'll have to see how things played out, "We need this HOH I know that.. "
Zach – She has to go right away
Bruno – you didn't think I would use it
Zach – I thought there was a 5% chance.. when I hugged you just the feel I got..
Ashleigh leaves..
Zach tells him Pili is 100% loyal to Ashleigh Sarah won't be able to wedge that.
Bruno – I fought for Bobby man i'll fight for you
Bruno says he even fought for Graig.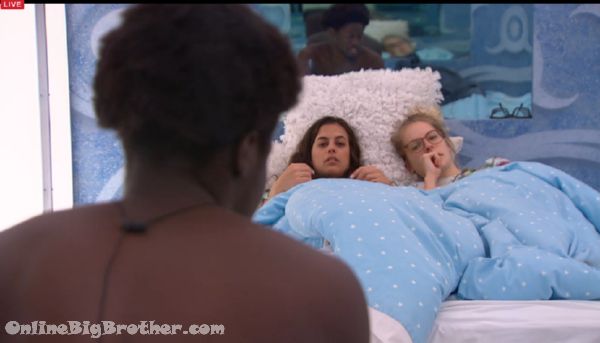 11:18pm Godfrey and Pili, Sarah Joins them
Pili saying Kevin was not only her Showmance but her best friend.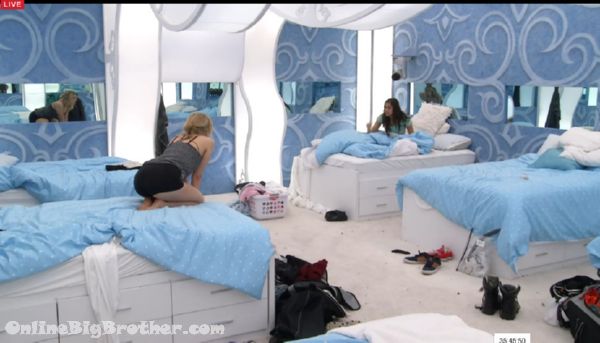 11:47pm AShleigh and Pili bedroom
Talking about the end game They want to take Godfrey to the end with Zach.
Ashleigh says if she wins HOH right now she'll put up Godfrey and Sarah. Pili says she doesn't trust Bruno she's coming after her. ASh recommends Pili puts up Godfrey and Sarah and when POV is played put up Bruno.
Ashleigh tells her they have to start thinking of the end game points out that Brittnee has won two HOH's and has pulled some big moves.
Pili thinks bruno is sneaky.
Ash – he will pick Zach over me any day
Ash explains why Sarah voted to save Pili she thought that the boys would vote to keep Kev so if there was any chance to keep a girl it was to vote Pili with the hopes of a boy flipping.
Ash – she said it to Bruno and Zach.. it makes sense we all thought they were going to keep Kev.. she said to them I just sent my friend out the door.. she thought that Godfrey might flip.
ASh – you wouldn't be in this situation if B didn't put you up there.
ASh – she upset because she sent Willow home and she didn't' have to
Ash – we can't trust neither of them (Sarah and Brittnee)
Pili – who do we want out first
ASh – I would have to put up Sarah..
They start thinking of loopholes aroudn their promise to B to not put her up as a pawn.
pili – She's the reason my best friend went home
ASh – it would be super sweet if they were in Jury and Kev say you send home the person that sent him home.. that will light a fiore under your butt.
(Ash's controls Pili)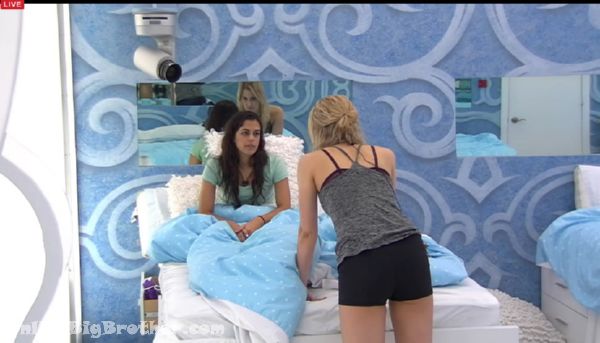 If you are outside Canada and want to watch the FREE Big Brother Canada Live feeds sign up for a VPN service here https://www.hidemyass.com/vpn/r16399/. It's safe to use, easy to set up, and cheap. Need to know more check out this post explaining how to set it up.
[polldaddy poll=8849979]