POV Holder:
?
Next POV
?
POV Used
?
POV Ceremony
?
HOH Winner
?
Next HOH
May 7th
Nominations:
?
Have Nots
Canada gets to vote
POV Players
?
12:08am Sarah and Pili
Pili – Three weeks I can do this
Sarah – we can do this for sure.. make sure we stay sane for each other.. like we said Cuddle and cry ourselves to sleep.. I can try to be as good as kev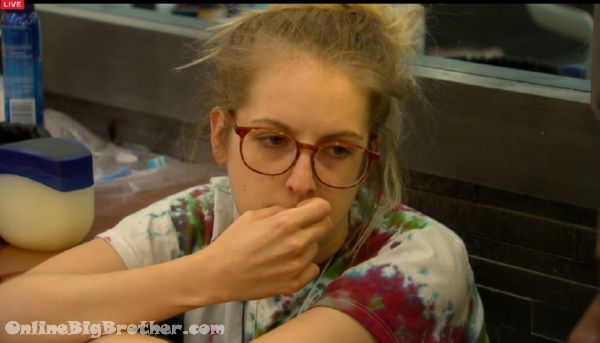 12:37am Brittnee, Godfrey and Sarah Bathroom
Talking about the first 6 alliance they formed jokingly. Talking about Willow breaking down crying. They agree both sides of the house coming together to vote someone out was a sign they were playing the entire house. Godfrey tells Sarah she needs to work on Pili let her know Zach and Ash are a pair.
Godfrey – Whose bed is she sleeping in Zach.. ask her does she need any more illustration
Godfrey doesn't think Bruno will put Sarah up after he sleeps on it.
Sarah – even after he won veto he winked at me gave me a hug.. he didn't need to do that.. I muttered what a liar..
Godfrey – All that paranoia about an all girls alliance got to his head
God told Bruno he thought he made the bad move but he understands Bruno wanted Zach in the game as a meat shield.
Godfrey thinks if Bruo wins it he can talk Bruno out of putting her up, "All he has right now is me and B.. he's not stupid he knows those three will stick together"
Sarah thinks no one in the game will take Bruno, "It's not Zach"
Sarah says Zach is going to win if he makes it to the end, adds the entire game he's been running.
Godfrey – controlled multiple people.. managed to convince his best friend to go up as a pawn
Sarah – played all side played them well.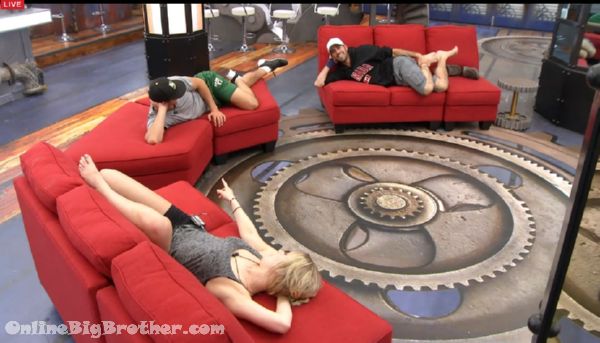 12:39am Zach, Bruno and Ashleigh
They bring up the POV competition Bruno was ahead for most of the time. Second place was Zach third was Kevin. They agree if kevin had one the veto Bruno would have gone up and Zach/Bruno would be in jury right now.
Ashleigh tells them that Pili is leaning towards God and Brittnee. Ashleigh tells them she's working on Pili, "I rather have Sarah out before B"
Bruno – sarah has been gunning for the couples so hard for awhile.. a long time.
bruno tells them if they are true to god he'll stick with them. "He needs us.. Sarah wants to have Girl power" Bruno adds his only loyalties now is Zach and Ashleigh
Zach – same buddy same
Ashleigh brings up explaining to Pili why Sarah voted her to stay, "Her whole go to thing is she wouldn't be in this situation if brittnee hadn't put her there"
Zach – new game for me..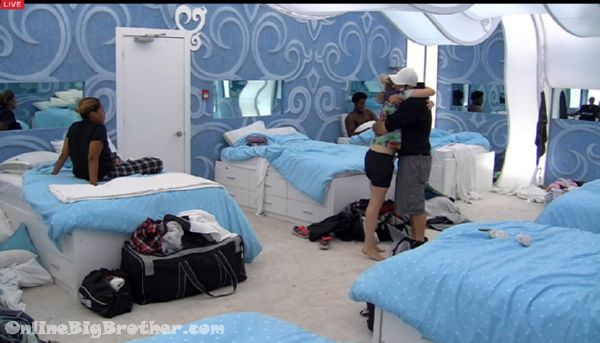 12:51am Godfrey and Zach
Zach – lets ride it baby lets ride it out..
Zach saying he's going to put up Sarah/Britt with Pili being the replacement
Zach leaves..
Bruno comes in "We gotta break up the two girls.. get rid of Ash and peels keep Zach expossed"
Godfrey – Zach just told me he's putting up Britt and Sarah with Pili as the replacement"
Bruno – he told me that too ..
They talk about how it sucks Willow is gone. brittnee join them. Bruno and Brittnee say Willow was too dangerous.
Godfrey – it's so quiet without her.
Sarah comes in Bruno gives her a hug "I do love you baby.. I didn't mean what I said you're such a great person I mean that.. I didn't mean what he said, I was such a d1ck"
Sarah says something like "we were heated"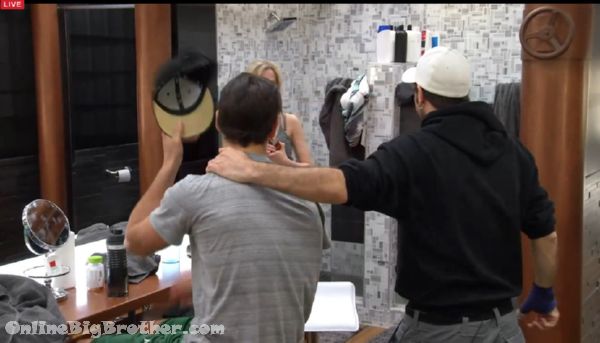 1:22am Bathroom Zach and Ashleigh
Zach – Willow is going to be so mad
Ash – yup not at you though.. she'll be furious at me.. and Sarah
Zach – you and me both stayed with Pili with a triple eviction..
ASh – horseshoes up our butts
Zach – look how big that conversation we had with Bruno..
Zach goes over his conversation with Bruno last night when he opened up with him. "We talked about all the garbage and laughed about it.. "
Bruno comes in gives zach a hug "I love this guys is still in here"
They're surprised that Brittnee won the HOH, Zach thinks she guessed right on some of those questions.
Bruno – B crushed all of them.
Bruno thinks it worked out alright says he can play in the next HOH. (Bruno came in second in the HOH)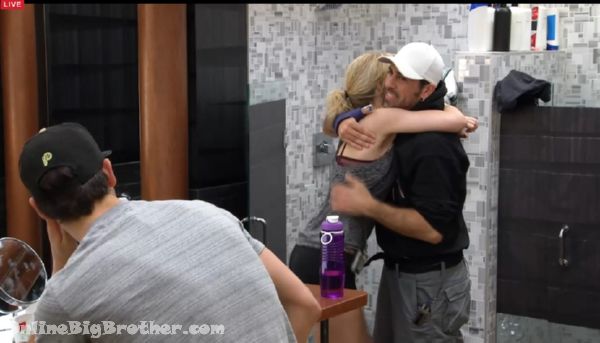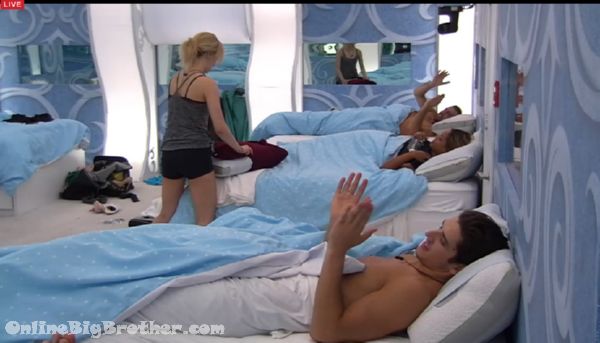 1:34am Bedroom For brittnee Ashleigh makes a Bobby out of a pillow and one of his shirts.
(LOL look at teh picture below Brittnee drags "Bobby" under the covers)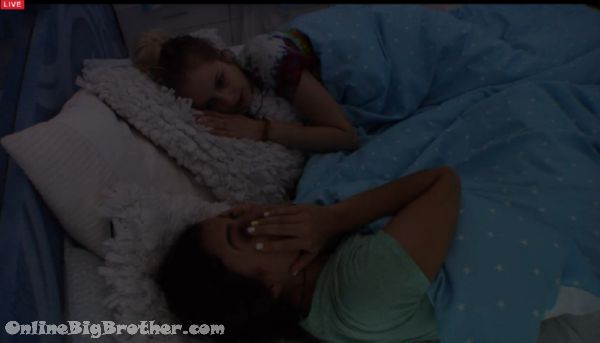 1:40am Pilar and Sarah Bedroom
Sarah tells her how special of a guy Kevin was Pilar starts to cry.
Pili cries says she was with Kevin 24/7
Sarah – I feel really upset about Willow too
Pili – Why didn't you vote for her
Sarah – I wanted to work with you guys .. I didn't think i had the votes.
Sarah explains she thought the guys wanted to keep Kevin so she thought if she voted Pili maybe one of the guys would think the same.
Pili – I'm glad she didn't leave alone.
Sarah – I hope she doesn't hate me
Sarah – I'm so heart broken she is gone but at the same time glad it worked out the way it did and you're still here.. Because she was so close with everyone… I'm shocked they were going to vote to keep her
Sarah says she's so confused "Zach was gunning for Zach harder than Kevin"
If you are outside Canada and want to watch the FREE Big Brother Canada Live feeds sign up for a VPN service here https://www.hidemyass.com/vpn/r16399/. It's safe to use, easy to set up, and cheap. Need to know more check out this post explaining how to set it up.
[polldaddy poll=8849979]